Much more than just a place to prepare food, the kitchen has truly become the centre of the modern home – key to both everyday living and entertaining.
For Nick Valmas, Senior Designer with Harvey Norman Design & Renovations, each kitchen he designs is as unique as the people who will be using it. "When designing a kitchen it's vital to consider how the space is going to be used," Nick says. "Does the dining furniture or outdoor furniture need to flow into the kitchen, and what's the balance between the two?"
We ask a lot from out kitchens these days, and according to Nick, practicality now plays a much bigger part in design than texture, colour and feel. "The kitchen has to be the preparation area, the storage area, a social area, the place where you can sit with an iPod – the kitchen has really become the hub of the home."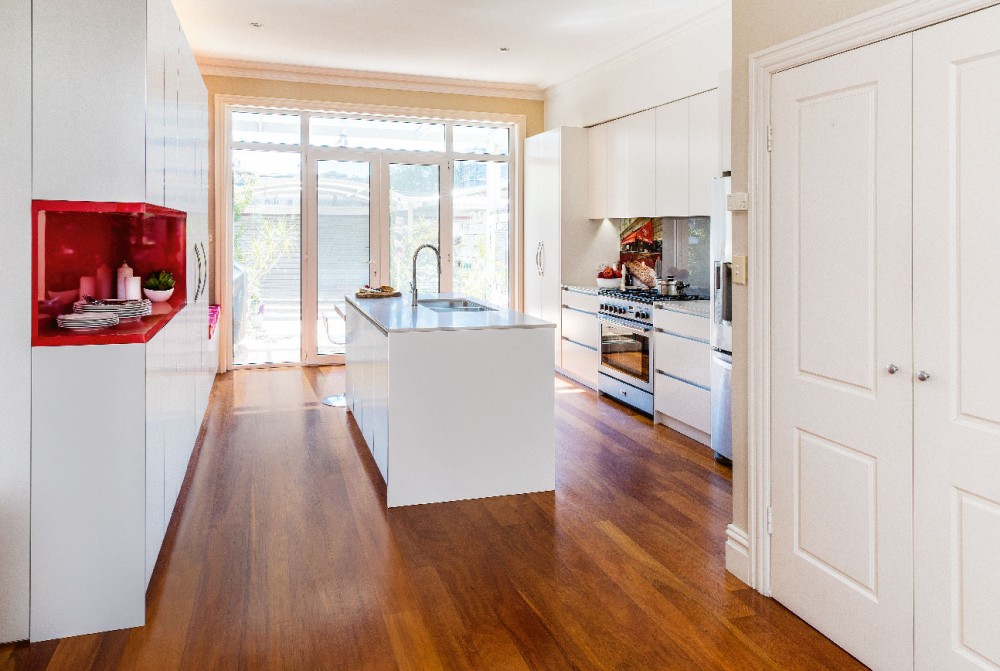 While practicality plays a huge part when planning a kitchen renovation, the process is about creating a kitchen that does more than just getting the job done. With such a significant investment of both time and money going into the project, the finished product must be stunning. "Aesthetically it's all about that 'wow factor'," says Nick. "We don't want to just replace the appliances and cabinetry like-for-like, it's about truly transforming the space."
More than happy to share his trade secrets, Nick outlined the six key areas to think about before renovating your kitchen:
1. Introducing Colour Into Your Kitchen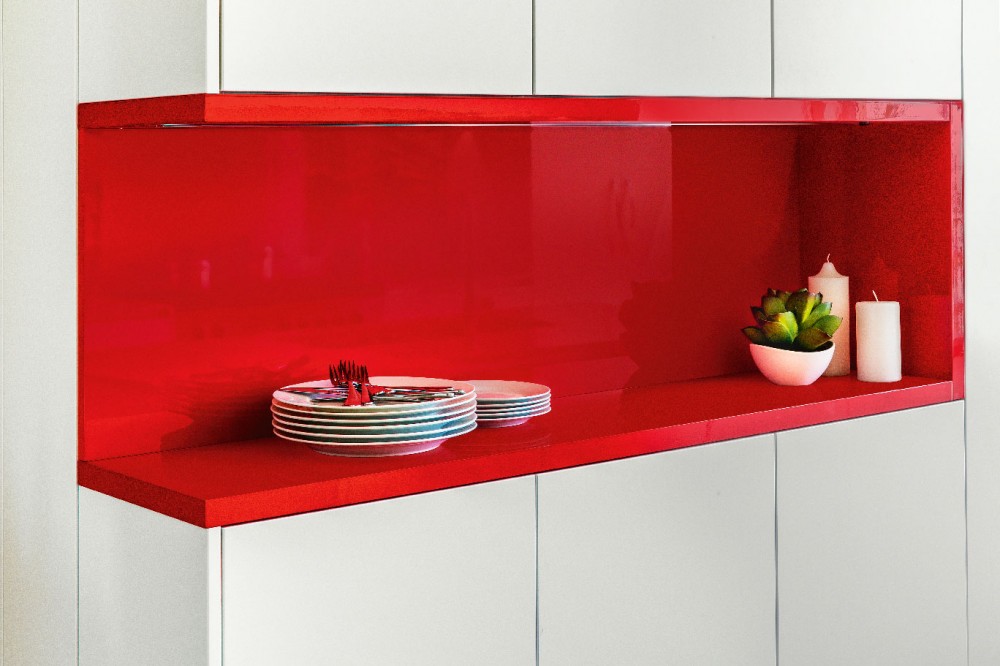 Adding colour to your kitchen can really transform the feel of the room. A splash of bright colour can instantly change the character of the space, while the judicial placement of a secondary tone or different texture can produce a truly stylish effect.
Nick believes that Australians are typically a conservative bunch when it comes to adding colour to the kitchen. He admits that he enjoys the challenge of encouraging a client to add colour and gets excited when he gets the go ahead to inject a splash of colour or texture.
"When meeting with a client, the first thing I look at is the colour palette of the house. There's no point having a red kitchen if there is blue throughout the rest of the home. Not just wall colours, but the flooring as well. Are they planning on redecorating the house? Refurnishing? If it's a blank canvas then we'll go for what's in vogue and current, but I generally look to find colours that are timeless as well. I don't want to suggest a colour scheme that we're going to look at in two years and think 'That's so 2016'."
2. Engage a Designer and Embrace Exciting Possibilities
By engaging a designer for your new kitchen you'll ensure the end result is much more than a simple update of the existing space.
When Nick first meets with a new client the first discussion can often go for several hours. "The initial appointment is where I'll bounce ideas off the client, pick their brain and really get a gauge for what suits them and what they're after," he explains. "I'll have a look at the existing kitchen, measure the space and really get a feel for it. Do we want to open the space up more so it flows through to other rooms? Are there any challenging angles or curves to work with?"
"After that I'll create what I like to call a 'wishlist'," Nick continues. "I want to get a sense of how flexible they are in terms of finishes and colours – how 'out there' they are willing to be. From there I'll have an idea of the design approach, whether it will be more conservative or if we can go crazy with finishes, features and things like that."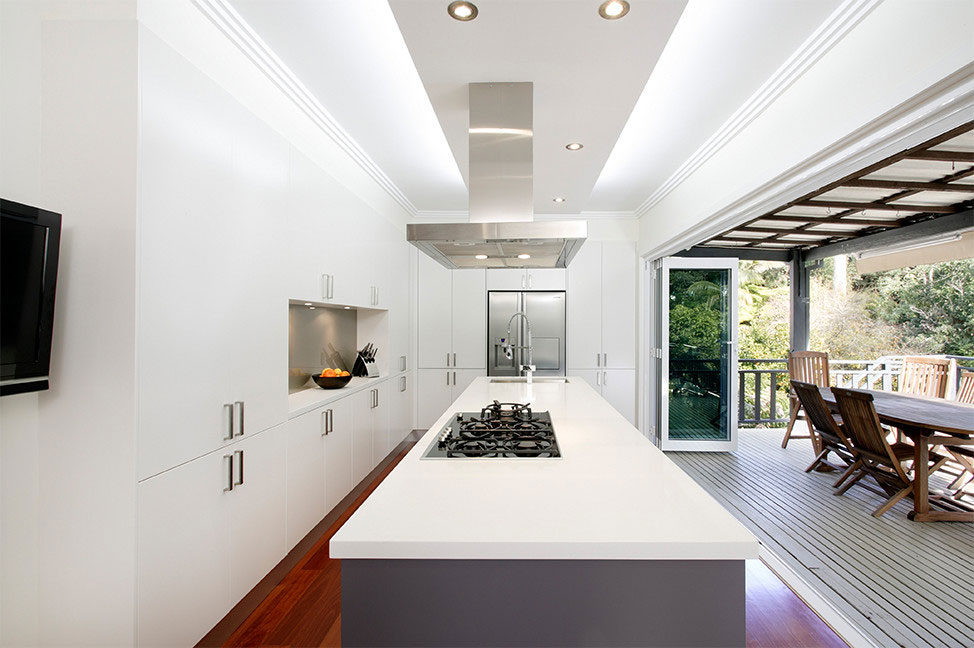 Nick has recently been working for a client with a warehouse conversion apartment. "After taking a look at the space I threw something a bit left of centre at them – relocating a cooktop from a back wall to an island. Some kitchens just don't suit the island layout, but this one was perfect for it. Every client is different, and every home is different, so you really have to take it on a room-by-room basis. They were looking at a shade of white, which was a predominant colour in the building and is also a conservative colour that has longevity. Now we're going to do a two-tone highlight in the joinery as well as some open-featured cabinetry to tie it all in."
Nick admits that the design element is the 'fun part' for him. "The only real challenge is budget," he explains. It's important to Nick that he educates his clients on what they're looking at and what will fit within their budget – be that in terms of finishes, textures or appliances. "In the same amount of space you could easily spend $10,000 or $100,000."
3. Be Realistic About Storage
It seems that some of us can be a little too focused on our need for storage space, succumbing to the temptation of cupboard overkill. "Some clients see a wall and automatically assume they need to whack cabinets everywhere," Nick admits. "The way around this is to first be brutally honest, and then if they really feel that they need the storage space we add it to the design program and show them a version with cupboards everywhere so they can see the difference. They'll see version A compared with version B and say 'Hey, you were right'."
Nick recommends getting out the old notepad and writing a list of all the things you think you've got in your kitchen – strictly from memory without having a sneaky look. Apparently most of us will have forgotten 40% of what we keep in the kitchen, and if we can't remember it the chances are that we haven't used it for some time and might not need it any more. "It's important to know what you have and what you actually use regularly in order to know how much storage you'll need," he advises.
There are many clever ways to fit more storage into your kitchen, such as taking advantage of the height of your kitchen to gain some extra space, or using clever shelving mechanisms that get full use out of those corner spaces. Nick says that he will often relocate sinks, ovens and cooktops to maximise the space when designing a new kitchen.
"We do everything from small kitchens where you can barely stretch your arms out to kitchens the size of a barn," explains Nick. "As a designer, when I walk in to a room I have to see it as an empty room. If you see what is already there it will influence your impressions."
4. Consider Integrated Appliances
Appliances are obviously going to be a key part of your kitchen – without them you've got a glorified pantry – so it's vital to know how you want to use the space.
"I can't start designing until I have an idea of what type of appliances a client wants," Nick explains. "It's not about model numbers, but size and function. We can offer advice on specific models once we know what the client's needs and budget are."
As the range of options is seemingly endless, there are a few important questions to consider when choosing your appliances. How do you like to cook? What kind of entertaining do you do? Are you going to be better off with two wok burners or two ovens?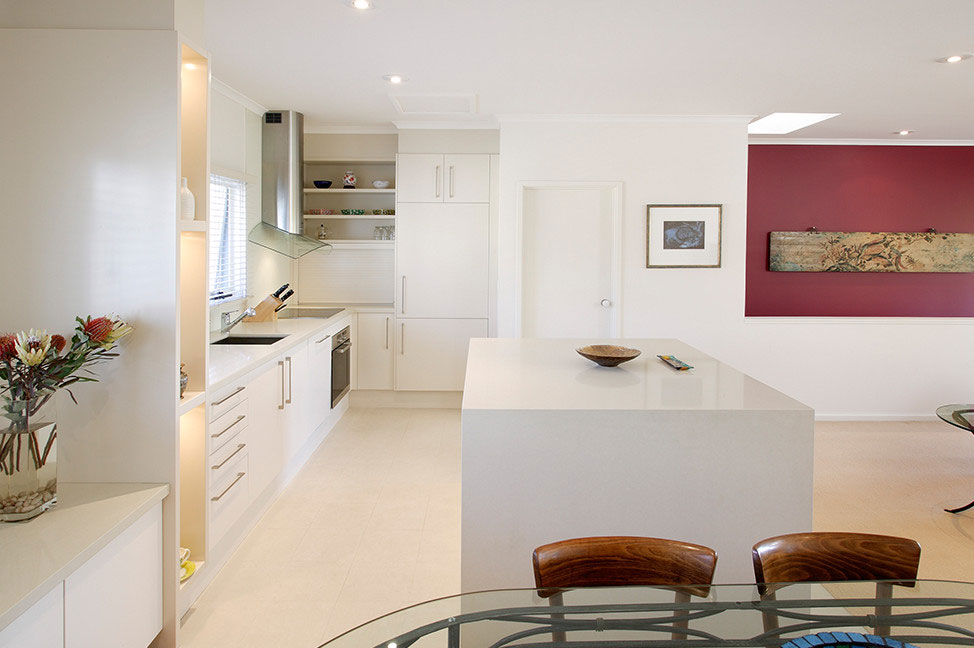 By choosing to install integrated appliances you can have the combination of supreme performance and premium design. Take the humble fridge for example. It's fairly safe to say that the majority of us would be a little uneducated in terms of integrated fridges. They're not something you see every day, and even if you saw one you might not realise it. That's the beauty of an integrated fridge – it completely blends in with the cabinetry in the kitchen.
"These days, people are after clean lines and a streamlined look, and the best way to achieve that is by having your appliances integrated and built-in," clarifies Nick. "We can do fully-integrated fridges that don't even have handles, you just press on the panel and it pops open an inch and a half so you can put your hand in. If you've accidentally bumped it, the fridge door closes back up automatically."
This is where modern kitchen design starts to sound a lot like magic.
5. Observe The Latest Trends
When it comes to design and kitchen trends, Nick asserts that clients are looking for different textures within their countertops and cabinetry, whether that be a bold splash of solid colour or a judicial use of timber grain.
"With more time being spent at home there is much more desire for a timber look and feel," explains Nick. "A mix of flat and texture is very much 'in'. It's Modernism with a textured element introduced. Timber, flat colours, concrete, a mirrored splash-back and kick. That's been the look the last three years."
Take a page out of European culture, where there is as much emphasis on how something looks as how it works. A typical European kitchen is redesigned every 8.6 years on average, as opposed to our Australian kitchens which might see a change every 15.5 years. This approach sees the kitchen more as an extension of furniture, as opposed to an investment mindset.
"Aussies want good looks but also want it to last a million years – leading to the popularity in reconstituted stone and Caesarstone in recent years, with Australia being the second biggest market in the world after the USA. Natural stone is more popular and costs less, but engineered stone doesn't stain and therefore will retain its colour for much longer."
6. Avoid The Common Mistakes
Without doubt, the biggest mistake that gets made when renovating is to solely rely on tradespeople and skip the design process, resulting in a kitchen where the individual pieces don't come together to produce a quality whole.
"We do a lot of work on kitchens that are only five years old where the elements just haven't worked together in the space," said Nick. "You can have a bunch of great appliances, but if they don't function together within that space the whole thing doesn't work."
Ready to Renovate?
Perhaps you're ready to renovate or you're just toying with the idea? Either way, you'll want to find someone you can trust who has plenty of experience in the field. Nick Valmas and the team at Harvey Norman Design & Renovations have over 30 years of experience, completing more than 20,000 renovations during that time. Their combination of excellence in design, project management and installation has made them one of the most reliable brands in the business – just the kind of people you should look for when thinking about renovating your kitchen.
Take a stroll through the massive showrooms and you'll be truly inspired by the possibilities. By seeing and feeling these wondrous options in person, you'll get an understanding of how different appliances can work together and how amazing storage solutions can be created to suit any space. Make an enquiry online or call 02 9737 6350 to have a designer come to your home and help bring your dream kitchen to life.