The latest range of beds and bedroom furniture at Harvey Norman is perfect for fighting that seasonal sluggishness by creating layers of style and comfort, especially when paired with our stunning selection of bed linen in a range of exciting styles and colours.
These interior decorating ideas will brighten up your bedroom décor in no time!
Soft and Striking
Sometimes winter just drags on forever! Make the long winter season more bearable by transforming your bedroom into a place that's soft yet striking, with soothing textures, bold colours and contrasting accents.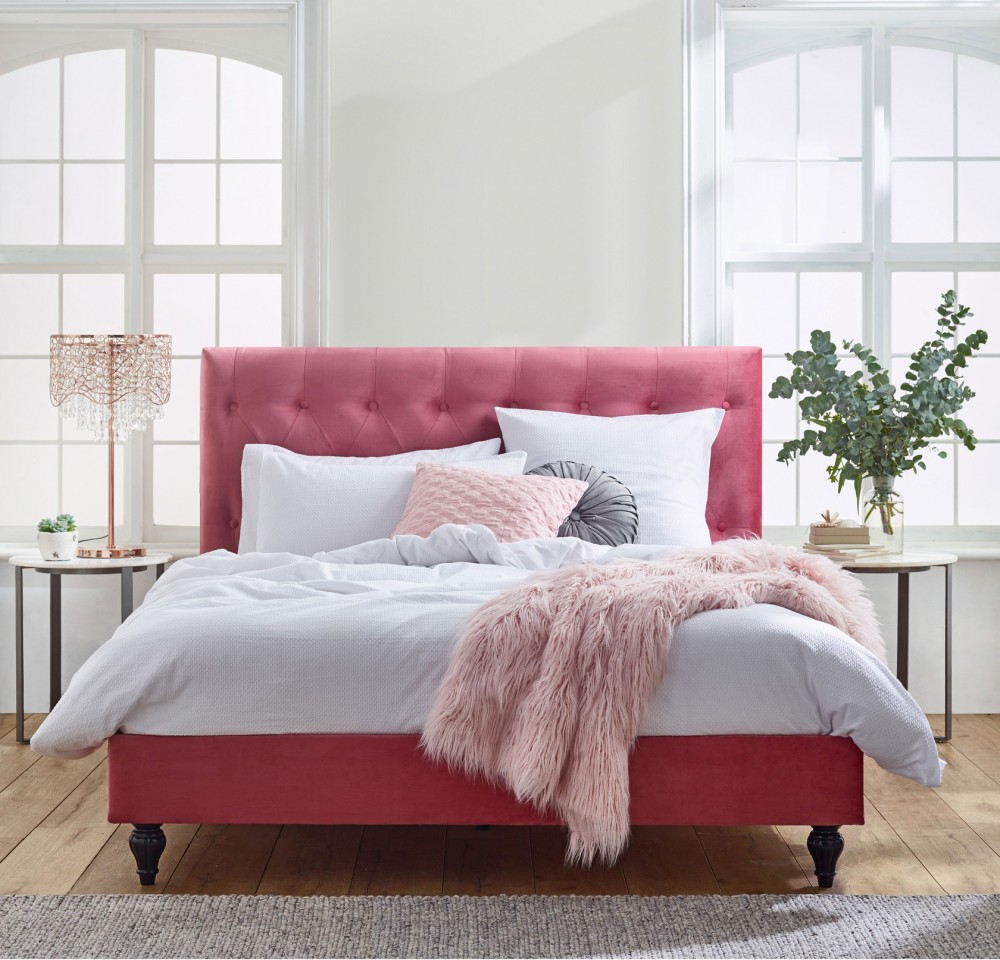 Make a style statement in your master bedroom with the Adelle Queen Bed. Featuring an elegantly tufted bedhead, carved timber legs in a beautiful dark stain finish and 'Mystere Blush' fabric upholstery, the 'Adelle' will make a welcome addition to your private sanctuary. You can also select the colour of your choice from our extensive collection of fabric customisation options. Make the colour take centre stage with a simple, stylish quilt cover such as the Molly Queen Quilt Cover, in a crisp white palette, and complete the look with a throw and cushion in pastel pink as well as an intricately designed lamp in rose gold. Remind yourself that spring is right around the corner with a simple glass vase full of your favourite greenery.
Chic Tranquility
Feeling fried and frazzled? Need a space where you can catch your breath and re-centre yourself? Make your bedroom an oasis of calm with solid, dependable lines in a subtle two-toned colour scheme. Give a simple yet eye-catching pattern pride of place to soothe tired eyes, and don't forget to make space for your favourite textures.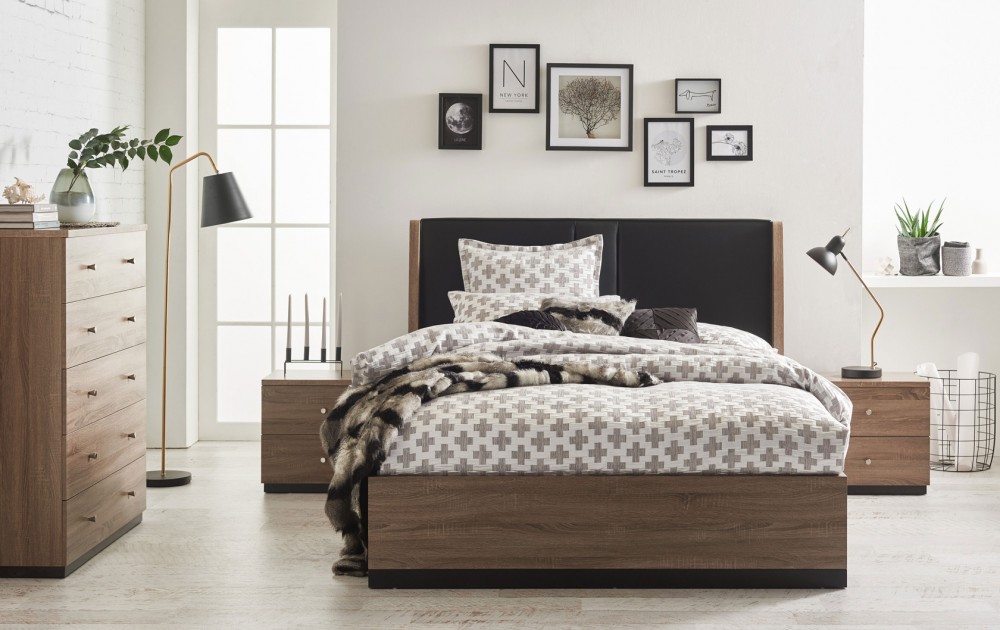 The sleek, contemporary design of the 'Dallas' Queen Bed is accentuated by the on-trend two-toned colour palette of the bed frame. Classic black panels settle confidently against the hushed natural tones of the timber bed frame, tallboy and bedside tables. Complement the look with the geometric pattern and luxuriously textured fabric of the 'Ford' Quilt Cover Set in Slate. This is a great colour scheme to give your space a sense of serene stability.
Cool and Collected
Are you a discerning go-getter? Then this smooth and sophisticated look is for you. Dark and angular, yet soft in just the right places, it evokes a sense of quiet confidence. This style is all about precision, paying attention to vectors and a conscious contrast between symmetry and asymmetry.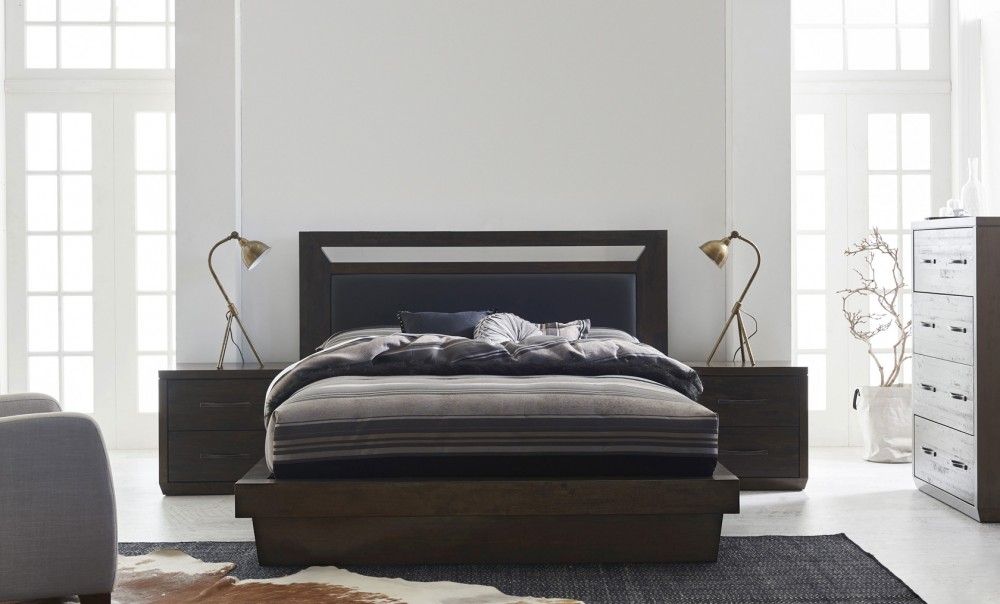 Bring an air of poised perfection to your room with the distinguished design of the 'Mendes' Queen Bed. The striking silhouette and rich colour palette really spread their wings in modern homes when paired with the linear style of the 'Jett' Quilt Cover Set. Soften the look with dove grey cushions and table lamps in a brushed gold finish, as well as a simple combination of layered rugs for extra depth.
Room to Grow
If you've got a mini-me or two about the place, starting to want their own space and their own style, look no further than Harvey Norman's selection of kids' bedroom furniture. Youngsters need something a little fun and quirky with a timeless charm to accompany them through those rollercoaster tween years.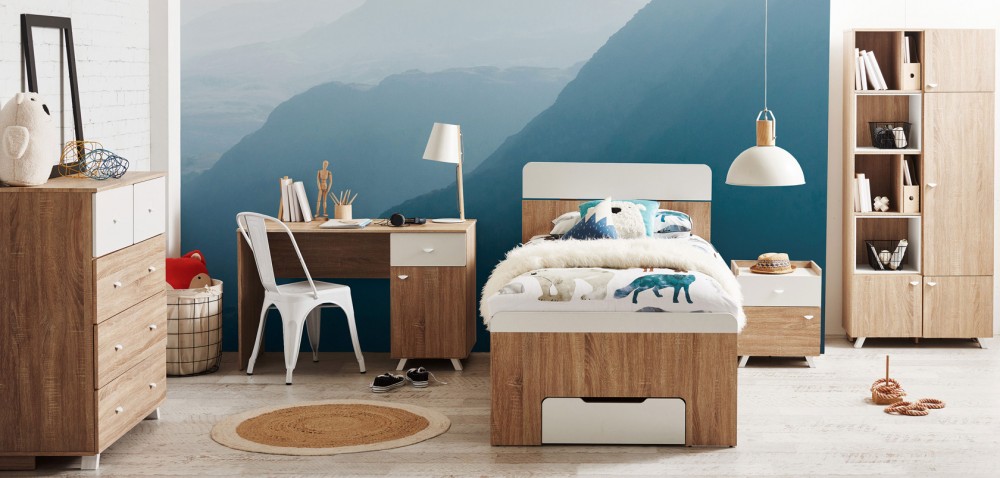 How about the Scandi-inspired aesthetic of the 'Maali' Single Bed? This cool, colour-blocked style is a great choice for kids of all ages. A bed base with storage helps minimise the mess in compact homes where space is at a premium. Encourage young imaginations to pick out bed linen that's going to bring them joy, like this cute and colourful 'Tundra' Quilt Cover Set, featuring an artistic selection of happy wildlife.
Don't underestimate the effect your environment can have on your mood! Surround yourself with inspiration and you'll find it in everything you do. Find many more styles and ideas in our gorgeous bedroom furniture and bed linen collection online, or visit your local Harvey Norman store to see them in person.