In need of an interior update but not sure where to start? Take inspiration from Harvey Norman's stylishly versatile range of Australian made furniture.
Amongst its many advantages, Australian made furniture boasts beauty, endurance and outstanding craftsmanship. Even better, instead of wasting hours hunting down the perfect sofa or dining table, our Australian made furniture is customisable and gives you the flexibility of adapting a piece to suit your vision.
At Harvey's HQ, we thought we'd get the ball rolling by showing you how easy it is to use key Australian made furniture pieces to fashion two distinct interior design styles: the Hamptons Look and the Modern Look. Read on to discover the key pieces we've chosen for these designs, and discover why furniture made in Australia is at the forefront for style and versatility.
Why Choose Australian Made Furniture?
Crafted locally, Australian made furniture is the premier choice when creating a coherent look in your home. This is due to the many options available for customisation.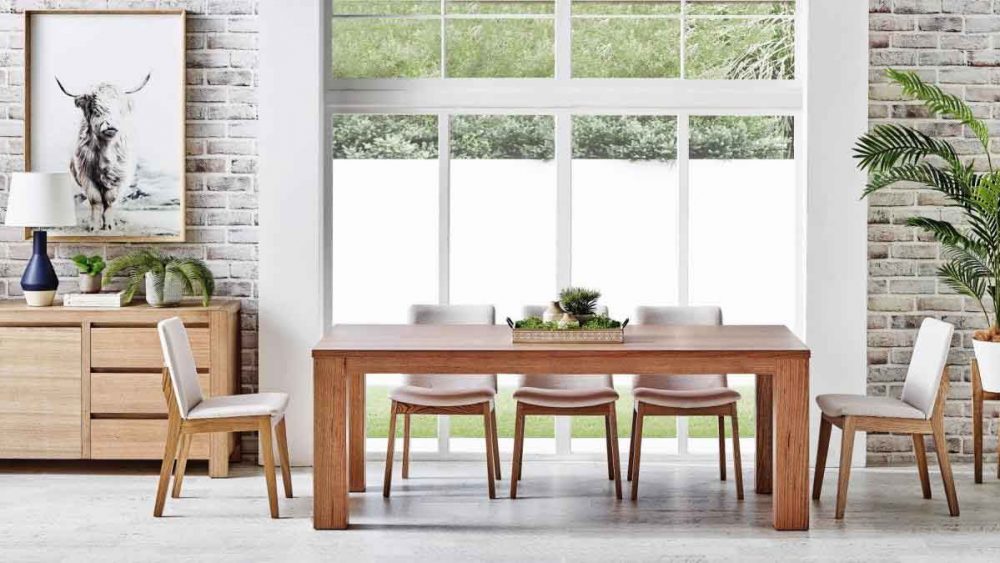 Customisable furniture in Australia allows you the freedom to choose your preferred size, colour or finishes so you can easily tailor your new piece to suit your space and style. Here, we've chosen from our extensive range of Australian sofas and dining tables to recreate the perennially popular Hamptons Look and Modern Look. With a bit of know-how, both looks are simple to achieve and are certain to instil an enduring character to your living spaces.
The Hamptons Look with Australian Made Furniture
Inspired by the luxury holiday vibe of New York's glamorous Long Island, the Hamptons Look has become an Australian style favourite, and for good reason! The signature combination of high society grandeur and relaxed, coastal freshness offers a breezy antidote to our oppressive summer temperatures.
Broadly speaking, the Hamptons Look's nautical-inspired aesthetic is defined by white timber finishes, natural textures and tranquil shades of oceanic blues in a light, airy space. Testament to its origin in the vacation retreats of the rich and famous, the goal of this aesthetic is to evoke a sophisticated yet laid-back atmosphere for entertaining and relaxing.
If this sounds appealing, you'll be pleased to know you don't need a Hollywood star's budget to achieve the Hamptons Look in your home. With a couple of Australian made furniture statement pieces and simple styling ideas, you can be sipping a Long Island iced tea in your own Hamptons retreat in no time!
Achieving the Hamptons Look begins with key furniture basics. Plush, inviting sofas and generous, uncluttered dining settings are stylists' go-to pieces when crafting a recreation of sophisticated Hamptons furniture in Australia. They choose sofas with fabric upholstery and timber dining tables to establish a foundation for the look's characteristic blue palette and nature-inspired textures. Fortunately, high quality Australian made furniture fits the bill perfectly with its combination of fine craftsmanship and customisable options. The following are our favourite examples of an Australian made sofa and Australian made dining table that quintessentially embody the Hamptons Look.
Hamptons Look Australian Made Sofa: 'Eastport' Fabric Sofa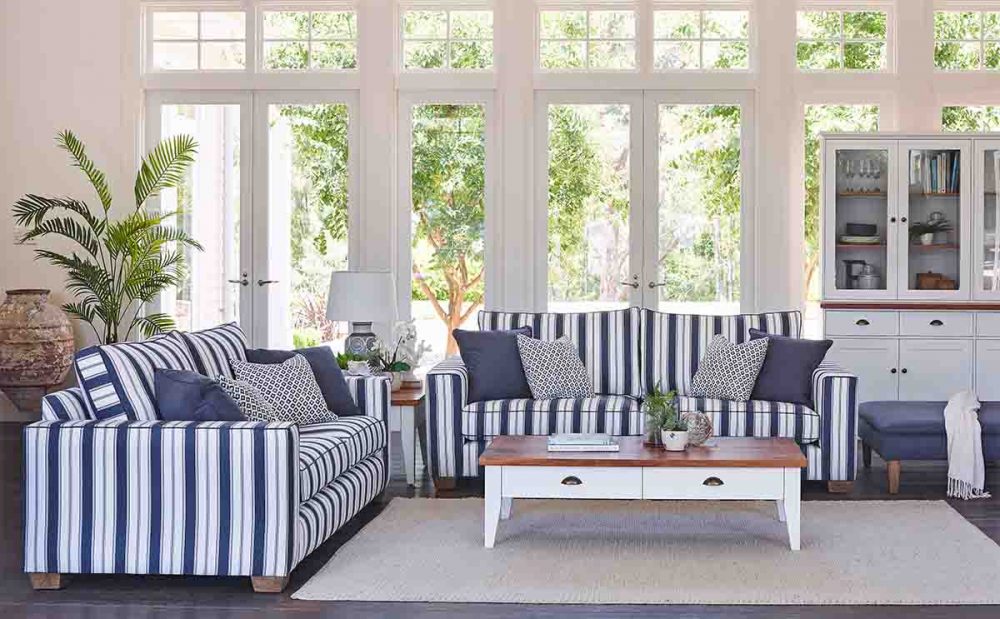 'Eastport' Fabric Sofas evoke the easy living of the Hamptons with their plump cushions in a low, linear frame. Pictured here in 3-seater and 2.5-seater options, the 'Eastport' is available in a huge range of sizes.
Customisable in a selection of colours, we've featured the 'Eastport' Marine fabric here. The nautical blue and white stripe of this fabric will instantly establish the Hamptons aesthetic in your living room – and to enhance the design, we love that this Australian made sofa comes complete with coordinating cushions.
Extend the blue tones through other accessories too, including the 'Eastport' Fabric Ottoman. Available in a selection of fabric options, this ottoman is expertly designed in proportion to your chosen sofa.
To finish the look, we suggest matching your 'Eastport' Australian made sofa with the pictured 'Brampton' Coffee Table (available to order from Harvey Norman). As you're about to see below, the 'Brampton' Australian made furniture collection exemplifies Hamptons style.
Hamptons Look Australian Made Dining Table: 'Brampton' in Blackwood Timber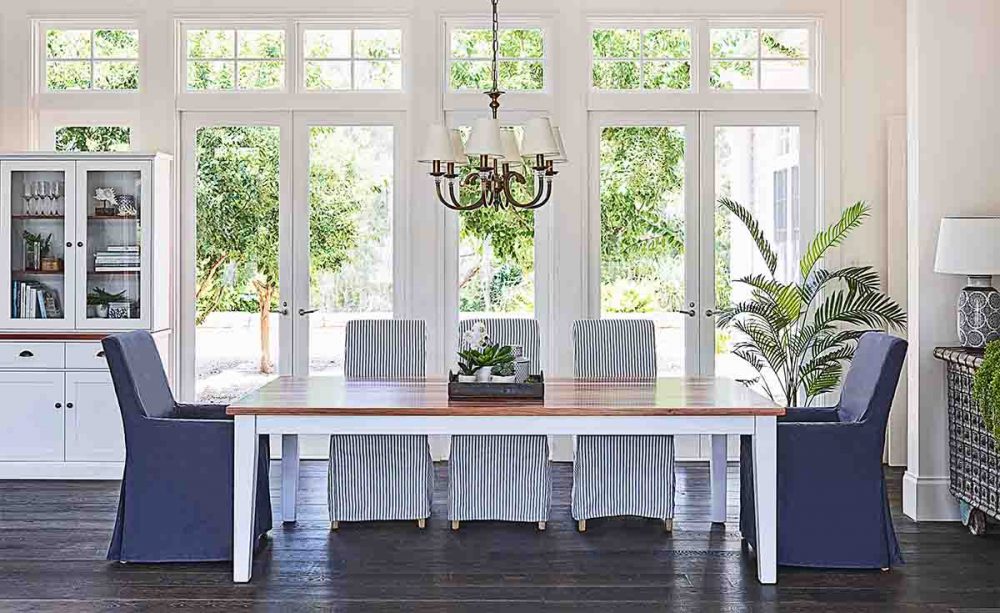 For carefree Hamptons-style dining, look no further than the 'Brampton' Dining Table – part of the aforementioned 'Brampton' Australian made furniture collection.
Crafted from long-lasting Blackwood timber, each 'Brampton' Australian made dining table possesses a unique character thanks to the timber's naturally occurring grain variations. Showcase your tabletop's individual beauty by keeping the surface clear with minimal styling. Remember, the Hamptons home is clean, not cluttered!
To achieve a classic Hamptons finish, we've selected a crisp white design for our 'Brampton' table's hand painted trim and legs. If you are seeking a different look, however, a darker domino colour is also available. Both finishes are expertly rendered by Australian craftsmen using Australian made paints.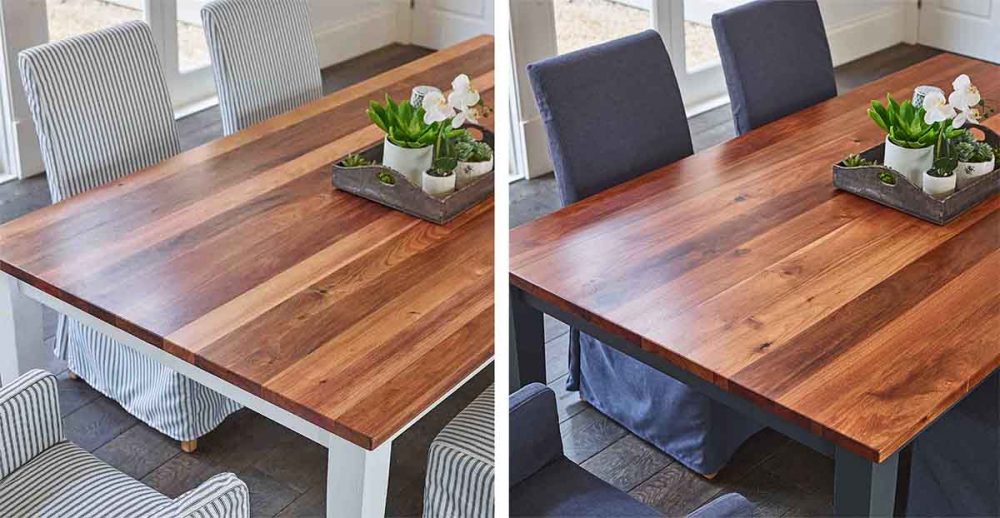 With your Hamptons statement pieces in place, there is one last aspect to address before rewarding yourself with that Long Island iced tea. Elegant storage solutions will ensure the maintenance of your new Hamptons Look living space remains simple and effective. After all, every Hamptons regular needs somewhere to keep their Oscars, right?
For an authentic Hamptons-style feel, the coordinating 'Brampton' Buffet and Hutch each boast ample storage space in a classic, American North East Coast Colonial design.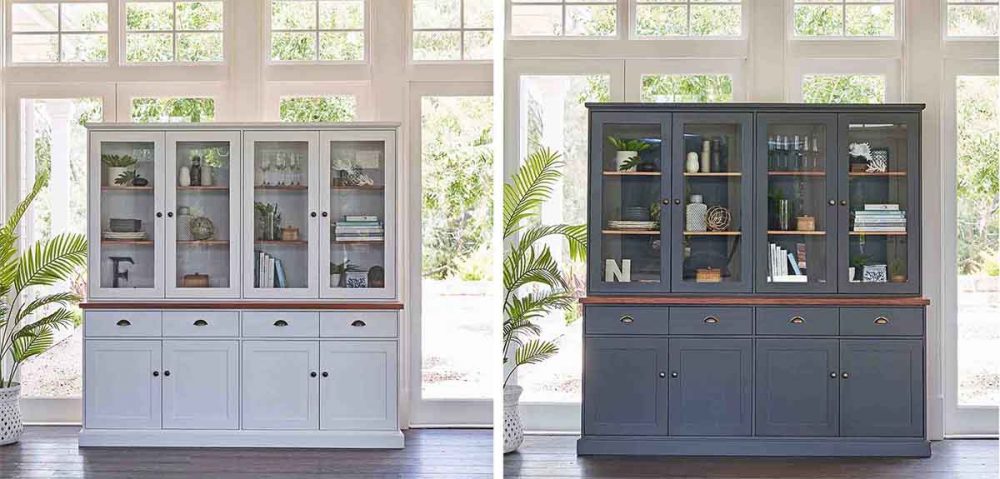 The buffet (bottom) and hutch (top) are available separately for supreme versatility. However, serious Hamptons Look devotees should consider pairing the two to create a striking set piece with plenty of room for keeping ornaments dust-free and servingware close to hand. Like the collection's dining table, the Australian made 'Brampton' Buffet and Hutch are constructed from Blackwood timber in your choice of white or domino. To complete your new Hamptons-style hideaway, we recommend opting for white. Now, where's that iced tea?!
The Modern Look with Australian Made Furniture
If your idea of timeless sophistication is more Mad Men than Martha's Vineyard, adopting the understated Modern Look will lend your living spaces a compelling, urbane edge.
Not to be confused with contemporary style, the Modern Look is a specific expression of design principles that originated in the Modernist movement at the turn of the 20th Century. Taking its final shape during the mid-1930s to the mid-1960s, the Modern Look is alternatively known as 'Mid-Century Design'.
Stylists define the Modern Look by three key tenets: organic, simple, and functional. Emphasis is on natural materials such as wood, neutral or earthy colours, and clean lines without unnecessary ornamentation. The core belief 'form follows function' favours design that clearly presents its intended purpose by eliminating 'fussiness'. This stream-line approach to styling means the Modern Look is particularly suited to our contemporary open-plan homes.
Due to the Modern Look's enduring popularity, it is easy to find modern Australian furniture at Harvey Norman that embodies these principles.
Even better, by choosing from ranges of customisable sofas or customisable dining tables in Australia, you can adapt a piece to suit your existing scheme. This maintains the Modern Look's clean finish by reducing the need to integrate your new piece through heavy accessorising.
As stand-alone statement pieces are crucial to achieving simplicity and functionality, we've chosen an Australian made dining table and an Australian made sofa that both offer a strong platform for styling the Modern Look in your home.
Modern Look Australian Made Dining Table: 'Tenterfield' in Solid Victorian Ash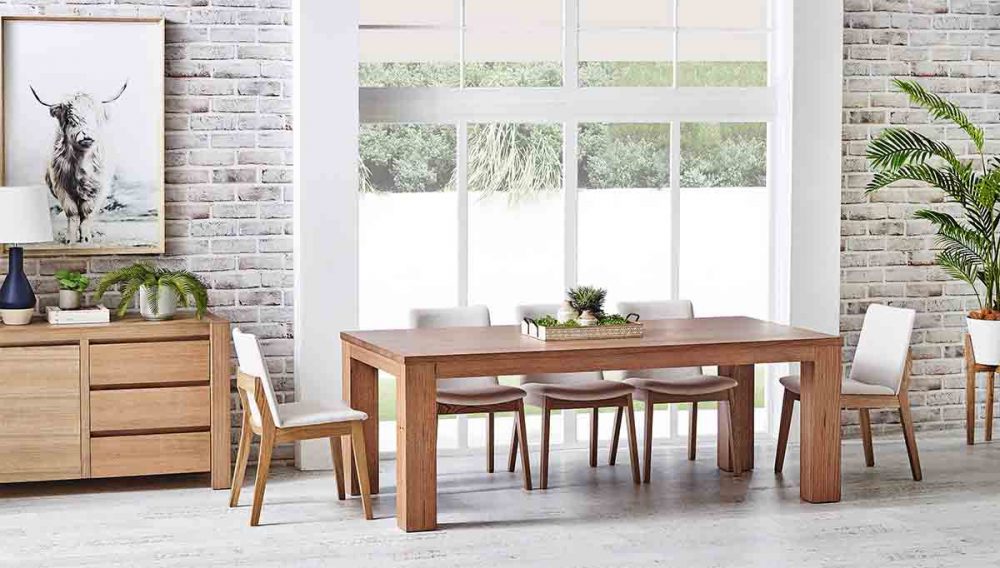 The 'Tenterfield' Dining Table effortlessly ticks all the Modern Look boxes while showcasing the outstanding craftsmanship of Australian dining tables. Crafted from solid Victorian Ash, this table's strong, utilitarian design allows the natural beauty of the timber to speak for itself. As one of our favourite customisable dining tables in Australia, the 'Tenterfield' is available in a range of sizes and stains.
To complete your dining setting, the 'Tenterfield' Dining Chair exudes the crisp functionality of Modern Look Australian furniture in an eye-catching form. The high back timber detail is complemented by customisable fabric upholstery. Here, we've chosen Zepel 'Bolt' fabric in Silver from over 100 fabric options available in store. Keep your look simple by using your fabric choice to anchor your colour scheme or go classic Modern with a nature-inspired neutral.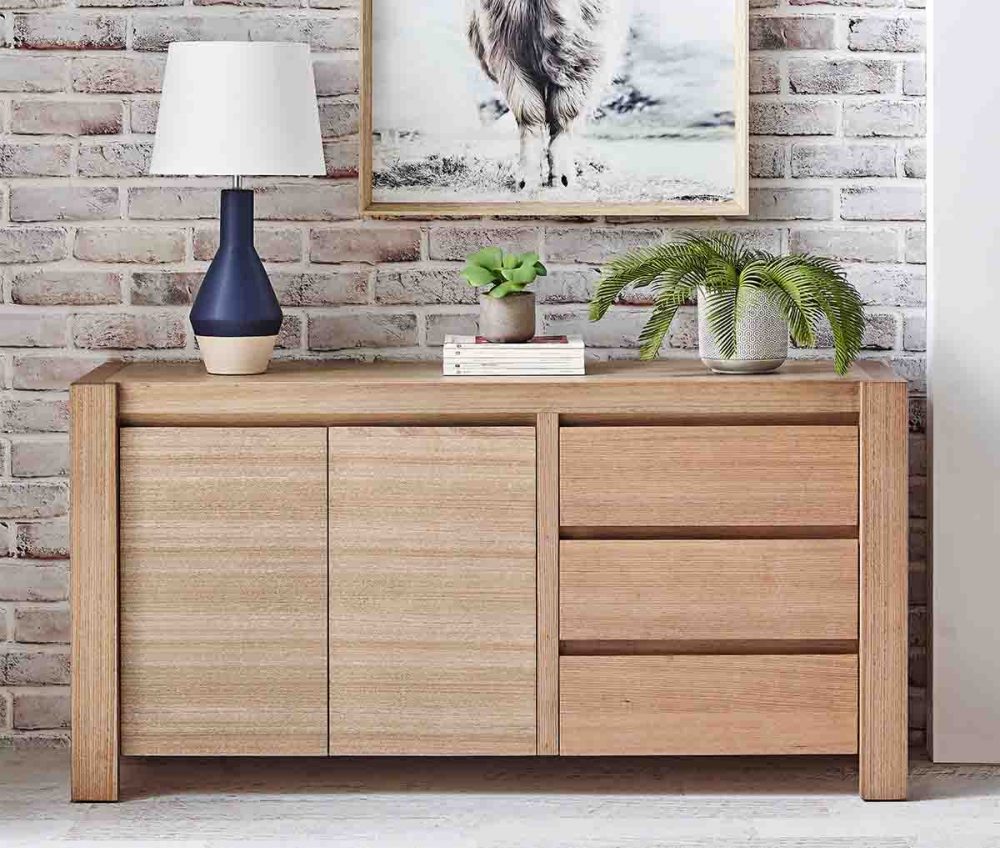 More than clean lines, the Modern Look's emphasis on functionality and simplicity demands clean, uncluttered spaces. After all, your dining table can't serve its purpose if it's a dumping ground for bits and pieces! Fortunately, the coordinating Australian made 'Tenterfield' Buffet in Victorian Ash provides generous storage while maintaining a recognisably Modern aesthetic. Featuring 2 doors and 3 drawers for optimal organisation, the 'Tenterfield' Buffet displays a neat, understated profile that doubles as a compelling, independent visual statement. Choose from a range of stains to colour match your 'Tenterfield' dining table with ease.
Modern Look Australian Made Sofa: 'Plaza' 3.5-Seater Fabric Sofa with Chaise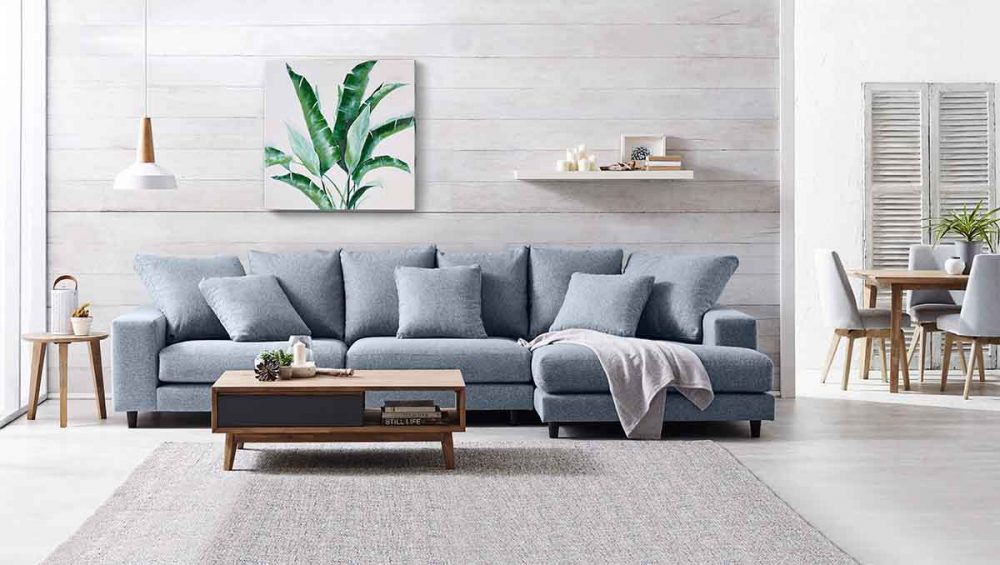 Simply put, a Modern Look sofa is not functional unless it is comfortable. After all, if you can't find the perfect lounging position for lingering over your Don Draper-style Old Fashioned then your sofa isn't serving its purpose!
When styling the Modern Look from the range of customisable sofas in Australia, look for pieces like the 'Plaza' 3.5-Seater Fabric Sofa with Chaise. This Australian made sofa is a contemporary reimagining of the mid-century Lawson sofa with its plush backrest of individual cushions in a low, rectangular frame. Featuring juxtaposing sleek lines and sumptuous cushioning, the 'Plaza' exemplifies the Modern aesthetic by ensuring every curve has a function. And that function is pure comfort!
Adding to its Modern Look credentials, the 'Plaza' features a classic mid-century-style Chaise. The 'Plaza' is available in a range of size and fabric options and comes complete with a 10-year structural warranty.
Discover More High-Quality Australian Made Furniture
Inspired to try out the Hamptons or Modern Look in your home? Or maybe you're curious as to how our featured Australian made furniture could fit into your existing style? Remember, this is just a selection of the Australian made dining tables and Australian made sofas available at Harvey Norman. Discover our full range of Australian made furniture online or visit your local Harvey Norman where our friendly, expert staff will be more than happy to help you achieve the look of your dreams!
View More Australian Made Styles
To view more exciting interior looks crafted with Australian made furniture, check out our earlier blogs:
• 6 Australian Made Furniture Looks For Your Home
• Celebrating Our Great Southern Land With Australian Made Furniture
In each article, you'll discover some truly beautiful Australian made sofas and dining, and pick up a few interior design style tips along the way.