Autumn and winter bring a cooler change to our lives, but change doesn't have to be a negative. A new season is a chance to try something new – whether that's an activity that pushes you outside of your comfort zone or just a fresh look in your wardrobe or home.
If you're looking to make a change, then you'll be keen to know about the latest in bedroom trends for 2019. Well, look no further – Harvey Norman is happy to give you a rundown on everything you'll need as inspiration – from bedroom furniture and manchester, to bed styling tips to complete the look.
There's no need to ask 'what bed should I buy?' – simply scroll down for the top five looks for Autumn/Winter 2019!
1. A Touch of Velvet
Whether it's on the bed, quilt cover, bedroom accent chairs or across accessories like cushions and throws, velvet is a massive trend for Autumn/Winter 2019. Velvet has long been loved for its warm and inviting tactile experience, and it's an easy way to add a luxurious touch to your bedroom. Consider velvet when thinking about upholstered bed frames or when looking for a new quilt cover. For a more selective approach, choose a few velvet accents in chairs or cushions.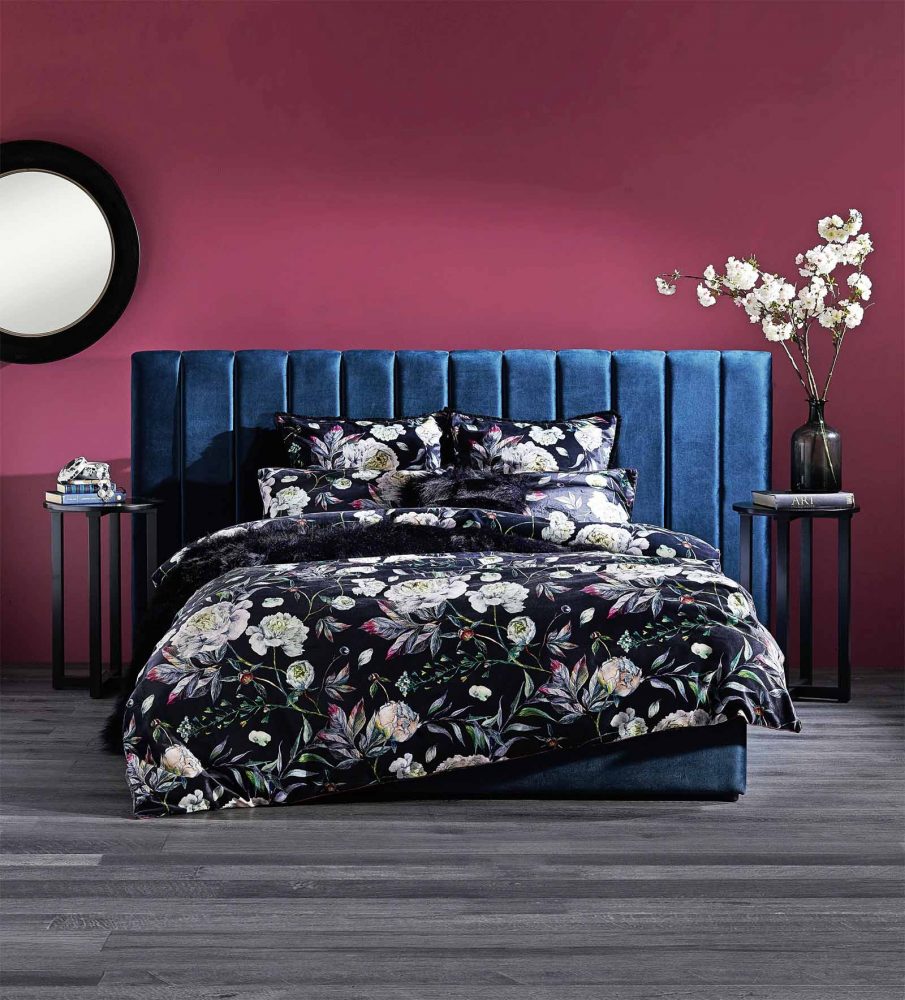 We'd recommend the stunningly beautiful Australian Made 'Boston' Bed – new to Harvey Norman. The wide bedhead makes a fantastic centrepiece in any bedroom, and we've chosen the deep colours of Wortley 'Genova Navy' fabric for the upholstery to make a bold statement in luxury. To make a perfect pair, we've matched this bed with the 'Leah Night' Velvet Queen Quilt Cover Set with additional European Pillowcases.
2. A Grand Tradition
Some designs become classic for a reason, with timeless appeal and an elegance that never goes out of style. Some hallmarks of the traditional look include the use of opulent linens, furniture items with buttoned detailing (a diamond configuration is most common), and luxurious touches like a mirrored finish on occasionals like bedside tables and lamp tables.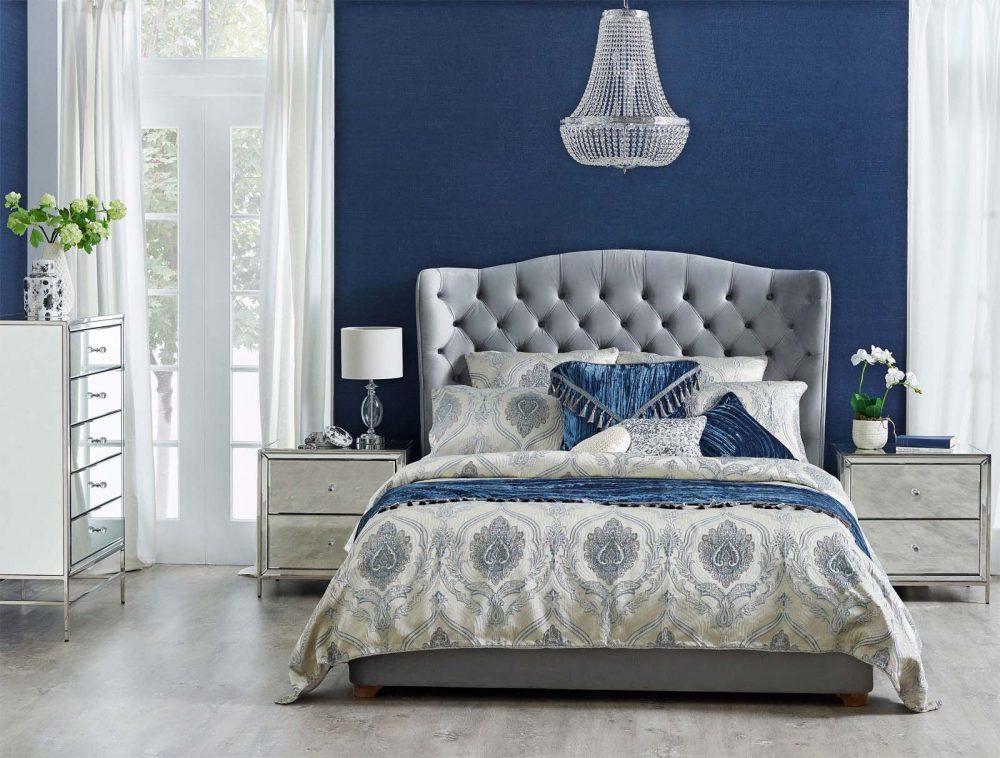 A great example of the traditional look put into practice is the 'Waldorf' Bed, shown above with the 'Moreno' Quilt Cover Set and the 'Venetian' European Pillowcase, Cushion and Throw (all in blue).  A favourite mirrored bedside table of ours is the exquisite finish on the 'Davis' 2-Drawer Wide Bedside Table with Stainless Steel Trim, which is also available with Black Trim and in a Slim option.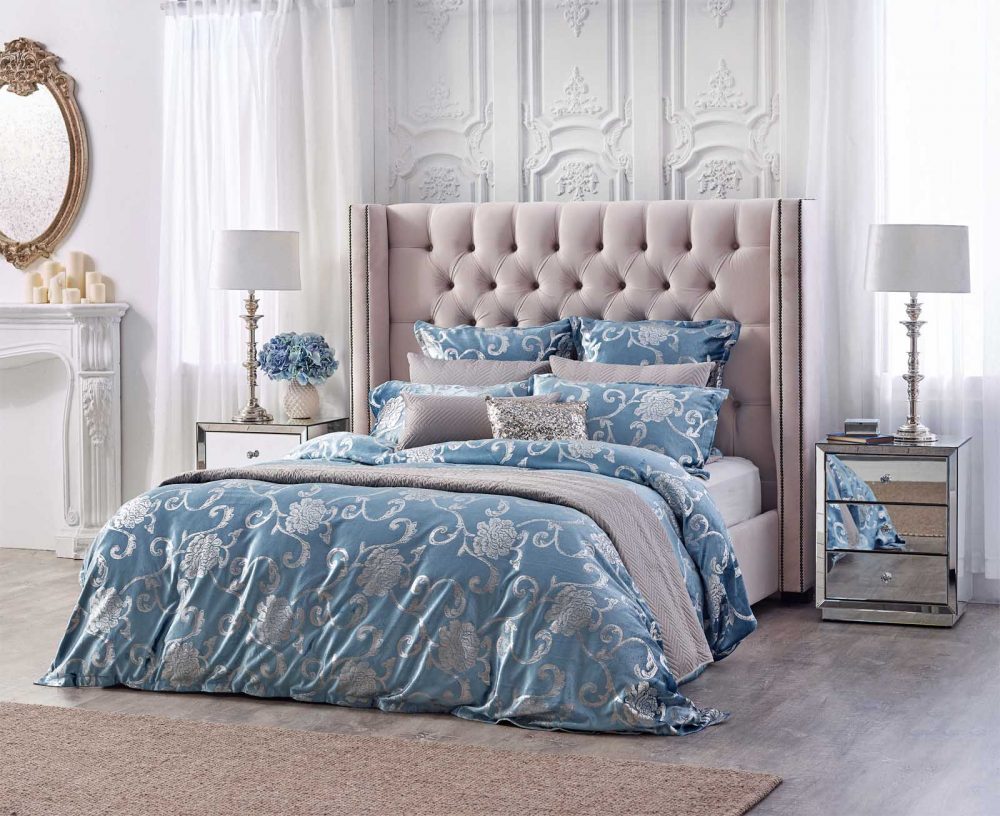 For another variation on the traditional look, here's the 'Platinum' Queen Bed – shown above upholstered in Warwick 'Caitlin Bone' fabric. We've paired this stately bed with the classically-decorative 'Toulouse Velvet' Quilt Cover Set and the mirrored finish of the 'Alison' 3-Drawer Bedside Table in Silver (also available in Black or White).
3. Provincial Elegance
If you're looking to capture a balance between comfort and elegance in your bedroom, then the allure of the provincial style might be just what you desire. This style is typified by furniture with natural and light coloured timbers featuring elegant formwork such as turned legs and carved patterns, combined with upholstery and manchester featuring pretty florals in light colouring. It's a look that provides a refined touch with a sense of history, while still remaining warm and welcoming.
The 'Domenique' Bed – shown above with the 'Ashby Dove' Quilt Cover Set features delightfully curved and detailed formwork in a bright timber finish.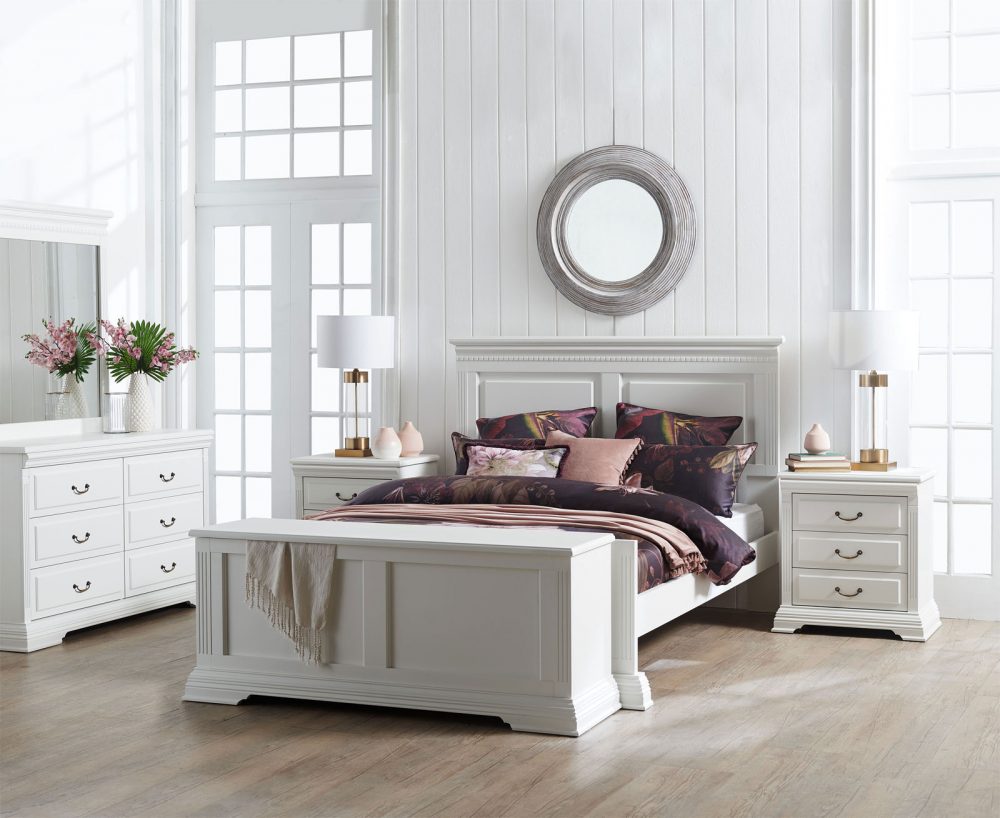 For a painted timber look, the Australian Made 'Victoria' Bed, shown above, makes a great statement in old-world charm and comfort. We've paired it with the 'Neve' Quilt Cover Set to provide a contrast that makes this picture perfect.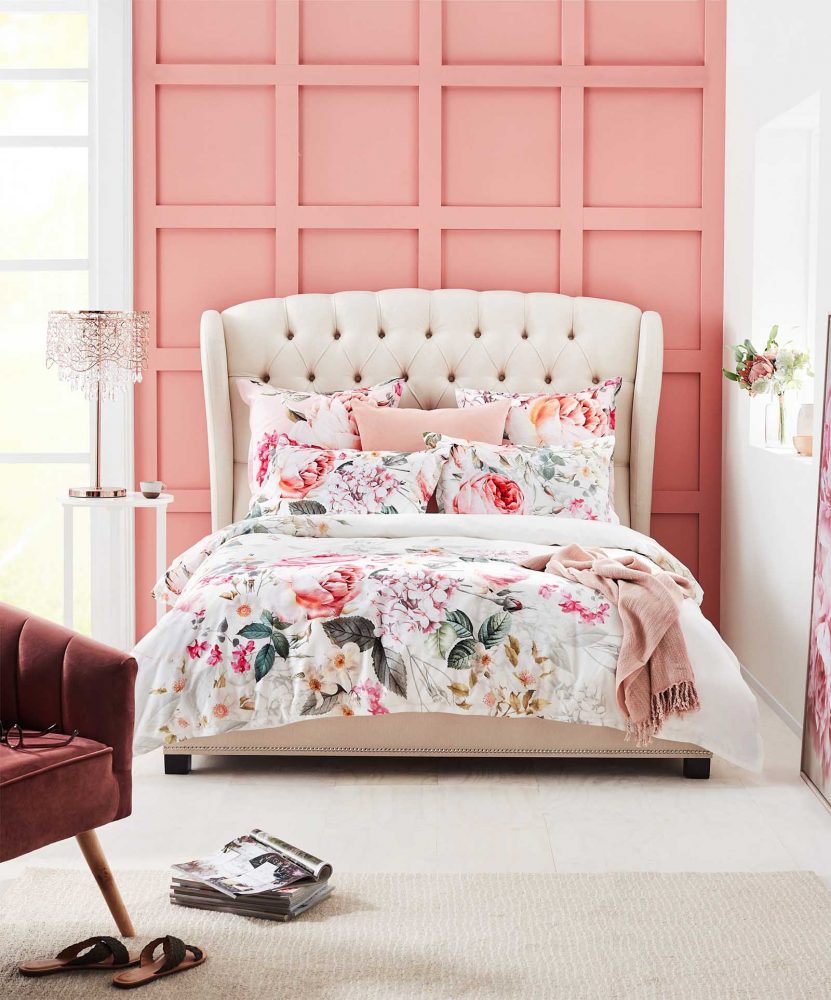 For an upholstered variation on the provincial theme, the 'Beatrice' Bed is simply stunning. We've paired it with the 'Annah' Quilt Cover Set for a delicate floral finish, as shown above.
4. Coastal Country
Why save that beach vibe for holidays? That feeling of escaping to a place by the sea, away from the hustle and bustle of city life, is something you can capture at home with the right touches. The coastal country look combines the freshness of white furniture with panelled detailing, and adds splashes of blue for that ocean feel. The look is completed with some delicate florals to bring in a touch of the country.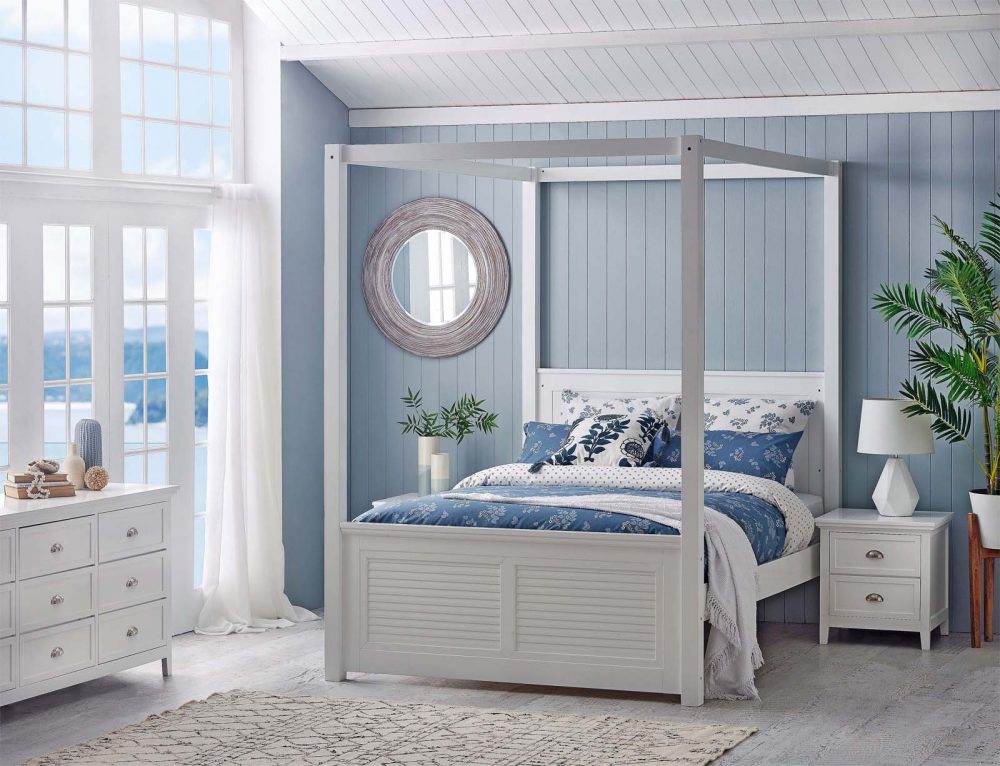 You'll feel like every day is a holiday with the 'Lilly' 4-Poster Bed, as seen above with the 'Thelma' Quilt Cover Set. While maintaining a relaxed feel, it also provides a sense of permanence and established identity.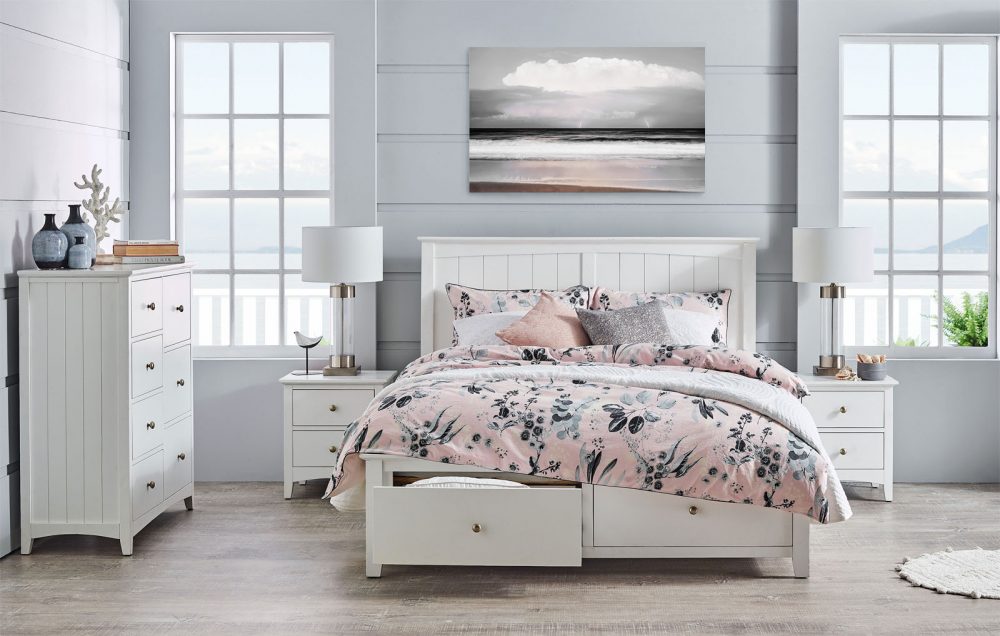 For something a little more laid-back (and with bonus storage – who doesn't need more storage?) take a look at the 'Tiffany' 2-Drawer Bed, which we've pictured above with the delicate light touch of the 'Laurina' Quilt Cover Set, which draws its inspiration from the Australian landscape, with a delightfully pretty modern touch.
5. Hinterland Hideaway
Step outside the urban and get back to nature with relaxed timber tones, touches of greenery and on-trend contemporary stylings: these are the hallmarks of the hinterland look. Evoking elements of nature outside the everyday, this is a style that features sleek timber bedroom furniture with great details like drawers, LED lights and plenty of storage. Green and millennial pink are your key colours here, and bed linens and accessories will feature loads of botanicals: think ferns, palms and flowers.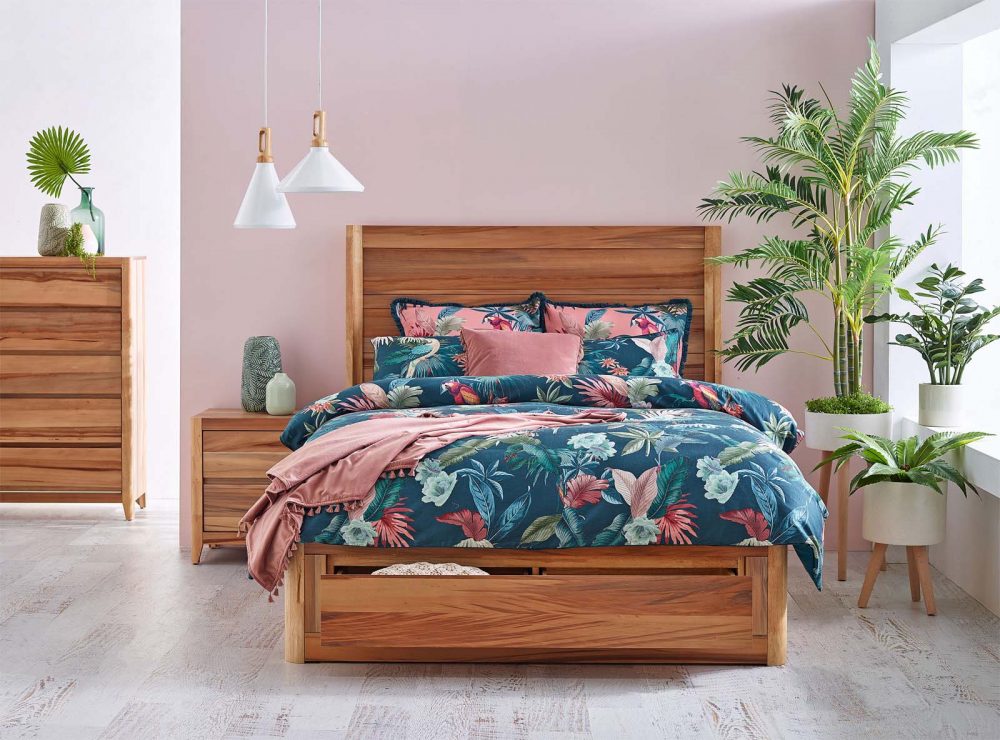 Pictured above is the fabulous 'Fuji' 3-Drawer Bed with its superb timber patina that evokes the rustic while delivering the stylish. Paired with the 'Fernanda' Quilt Cover Set, it creates something really special.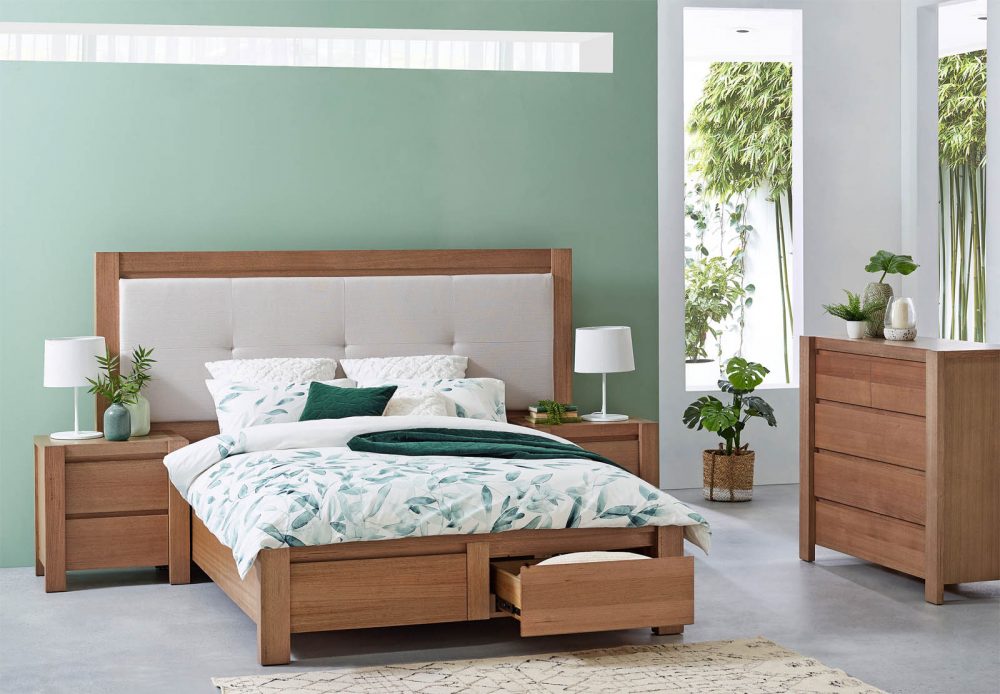 Above is the Australian Made 'Tenterfield' 2-Drawer Upholstered Bed, which leans a little more towards the Scandi in terms of its form and lines, especially when paired with the 'Amelie' Quilt Cover Set.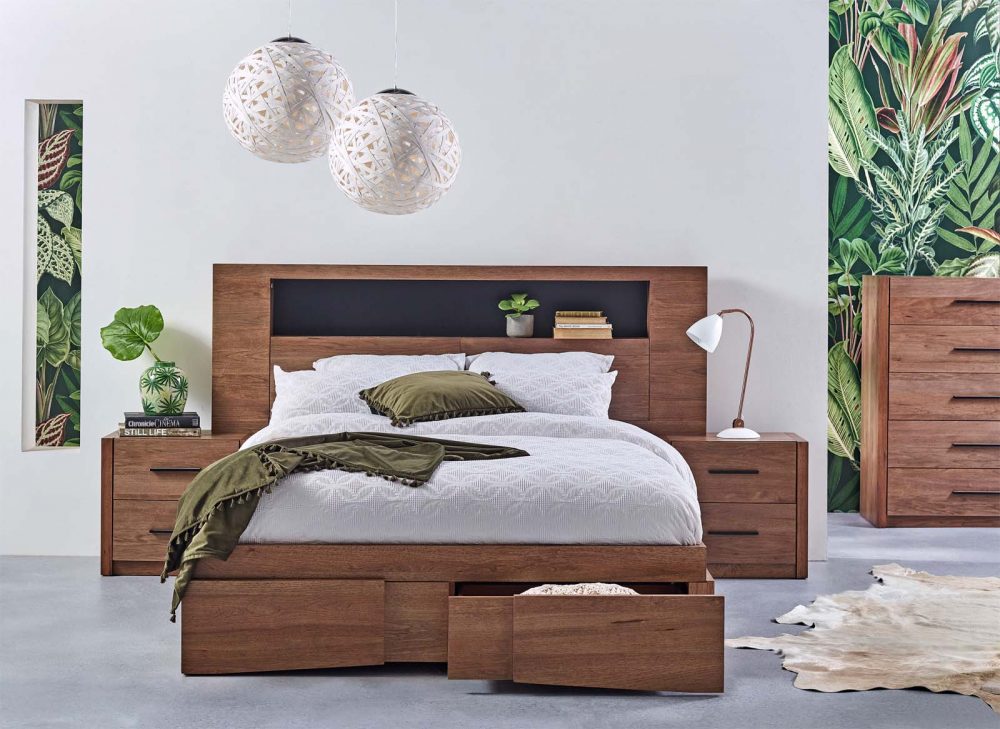 And last but by no means least, here's the delightful 'Delta' 2-Drawer Bed, which skews towards a more refined rustic look with a finer grain detail in the darker timber, complete with storage in the bedhead and lights for night time reading! The 'Delta' has been perfectly complemented in the above image with the 'Rumi' White Quilt Cover Set, which features a combination of large and small waffles for a contemporary texture.
Seen something you love? Feel inspired? If you're looking to refresh your bedroom this season then you can easily shop online or head in to your local Harvey Norman store to speak to our friendly, expert staff. We'd love to help you complete your look.