Winter is upon us. And retreating into a warm, cosy bed of layered bliss has to be one of the best things on a wintry night. If you're looking to revamp your bedroom into a winter sanctuary then you're in the right place! At Harvey Norman, we've compiled a list of the top five décor trends that will get your bedroom winter-ready.
1.  Velvet Everywhere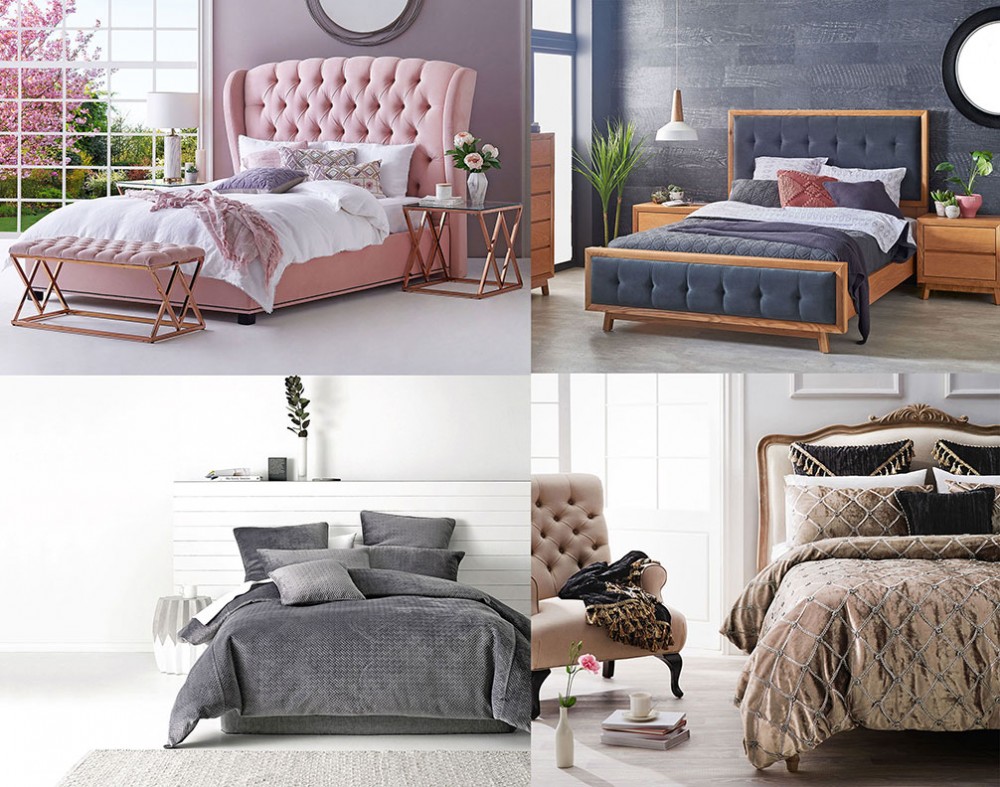 We all know and love the distinctive soft feel of velvet. It's plush, sophisticated, and perfect to snuggle into. There's no denying it – velvet is the ultimate winter companion.
Bring a vintage flair to your bedroom with a tufted velvet queen bed like the 'Beatrice' Queen Bed. Upholstered in Warwick plush petal fabric, the 'Beatrice' is a combination of elegance and contemporary design – a perfect centrepiece of any winter bedroom.
A stunning bedhead makes for a standout piece. Make an even bolder statement with a tall, buttoned-back, tufted bedhead upholstered in velvet fabric. The elegance and luxury of the velvet upholstery instantly makes a room more warm and inviting.
Velvet also works great as fabric for bed linen. Velvet quilt cover sets are so soft and so warm you'll want to cocoon in bed for days! Look for bed linen that has an eye-catching textured design that complements your bedroom furniture. Subtle tones of pinks and greys work great if you want to keep a neutral colour palette. Taking a minimal approach with neutral colours can also make accessorising a breeze.
View our favourite velvet picks here.
2.  Dark, Cosy Colours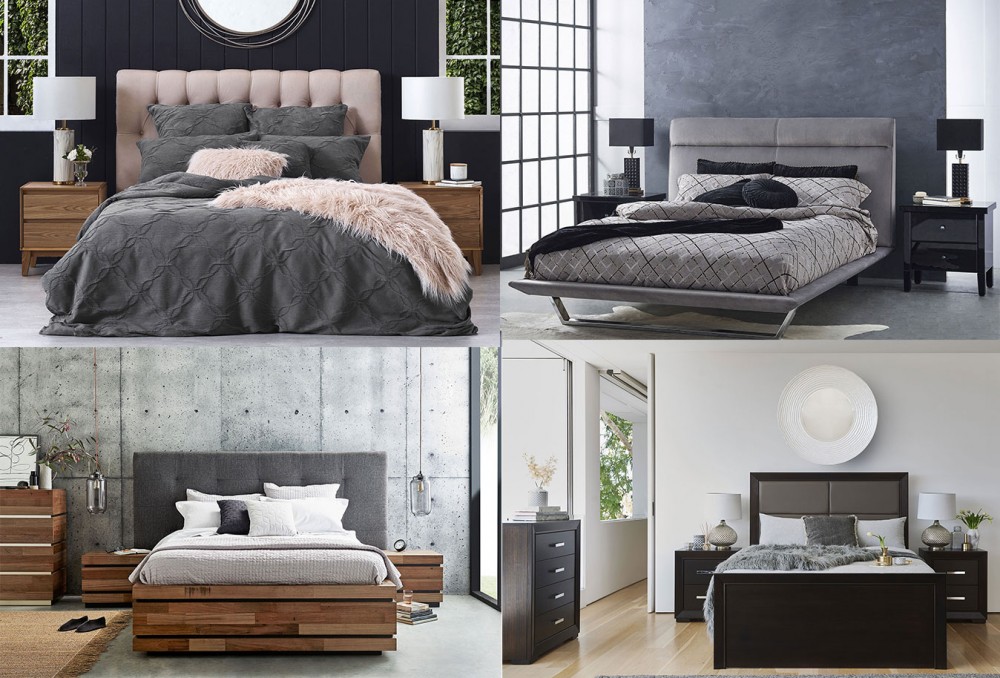 If you think dark colours are gloomy and depressing, think again. When executed well, dark palettes in the bedroom can create warmth and a sense of drama. So, don't be afraid to use stormy shades to help fashion a stylish and relaxing space for winter.
When going for a dark look, it's essential to create contrast while keeping in mind a sense of balance. Develop a dramatic effect with raincloud greys, charcoals, and blacks. Use these colours on your bedhead, quilt cover, stylish cushions, or even as your wall paint. Make sure to balance all the moodiness with the warmth of timber furniture, and a splash of soft pink or crisp white cushions, soft throws, and other accessories.
Mix it up with different materials to add more depth to the space. Use different textures in your fabrics such as velvet, linen, jersey, and faux fur. Don't forget the textures on your hard surfaces, too. Timber furniture goes hand-in-hand with dark colours. A bedside lamp with distinct textures or subtle patterns like marble also makes a great accent piece in a dark background. The silvery sheen of metallic works well with this look too. Opt for mirrors, bedside lamps, and other accessories with metal accents to heighten the drama.
Introduce this trend into your bedroom with our top picks here.
3.  Bold Floral Prints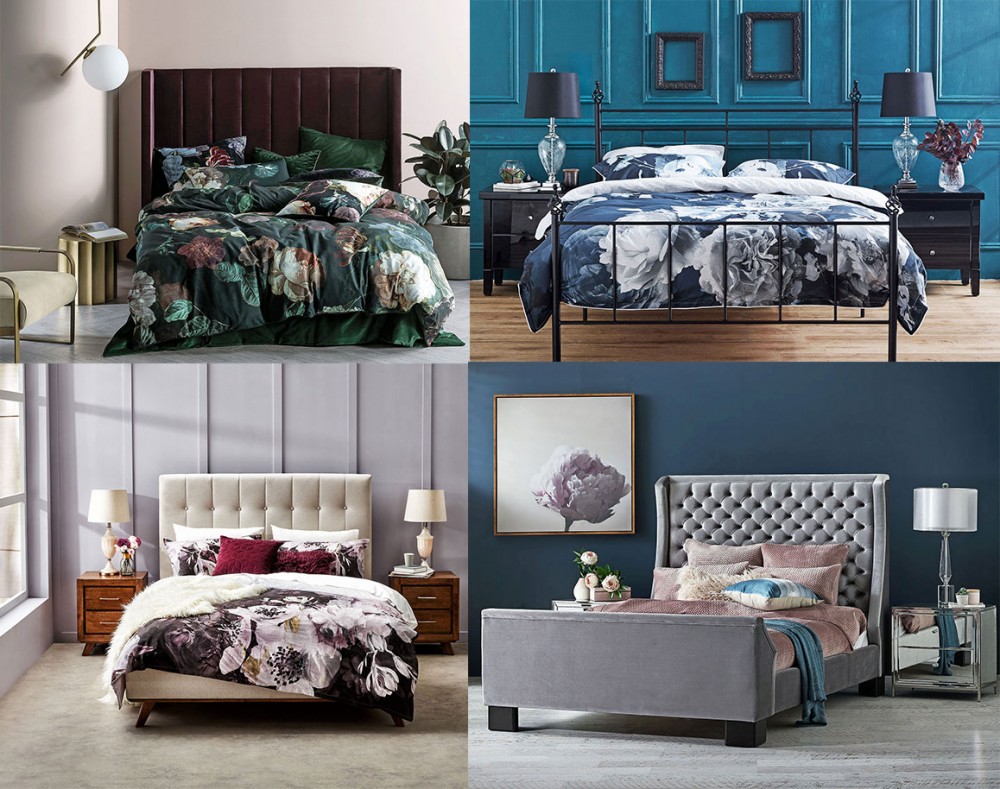 Floral prints give comfort, warmth and a touch of romance to any space. Introduce floral prints to your bedroom through a floral wall art, bed linen or if you're really brave – wallpaper.
You don't have to settle for just the print version of florals – opt for the real deal with a beautiful bouquet of your favourite flowers or leafy greens as a great way of adding freshness to complete the winter garden look. Plus, you don't want to commit to real plants if you're not much of a green thumb – faux plants work just as well in brightening up the room.
Dress  your bed in a floral quilt cover with deep, bold colours like purples, dark blue, indigo, and forest green for extra warmth and depth. A quilt cover with an extravagant print creates a stunning visual centrepiece of your bedroom for the season.
Floral prints are inherently dramatic – tone the drama down with a warm throw, a few stylish cushions, and pillows in white, beige, light grey, or other neutral colours. Voila! Now your bed of blooms is a tad more relaxed and inviting.
Check out some of our floral favourites here.
4.  Rustic Timbers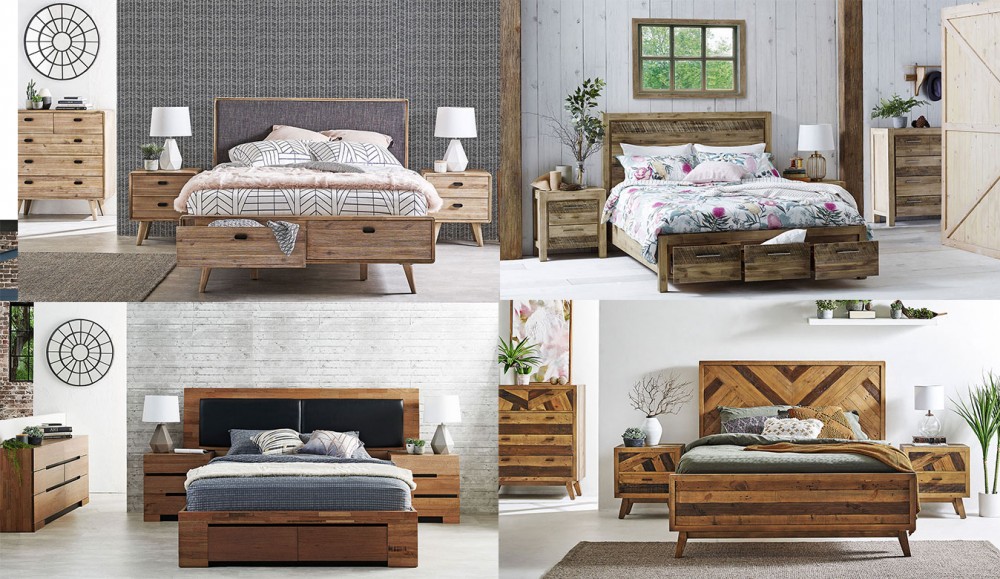 There's something about the natural and homely allure of timber that is so appealing. Nothing says 'cosy winter vibe' more than rustic interiors and timber furniture.
The use of timber creates a mood that is calm and inviting. With so many varying types of hardwoods and stains to choose from, you can use timber in both classic decors and more contemporary bedrooms.
Timber beds with upholstered accents are on trend. And for good reason. The simple wooden grain on a timber bed frame is soothing, yet stylish. While the upholstered bedhead provides extra comfort, especially for reading or binging on Netflix shows in bed.
The raw beauty of timber with its beautiful shades of brown present a very earthy feel. Combine this with soft textures, subtle tones, and a bit of greenery to instantly make your bedroom a warm, rustic paradise. Consider mixing contemporary and rustic elements in order to create a balanced, yet elegant décor.
Achieve a rustic appeal. View some of our favourites here.
5.  Layering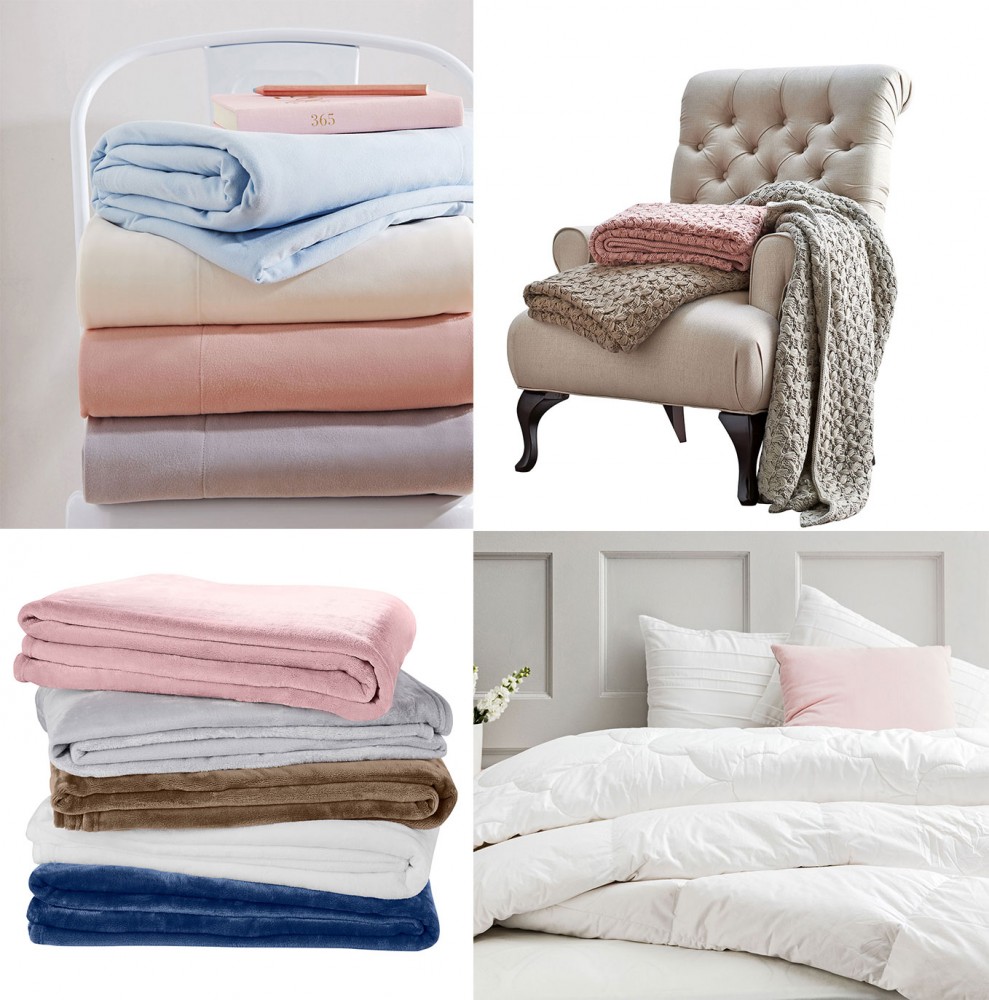 Now that your bedroom is looking perfectly ready for winter, it's time to turn your attention to the practical stuff – layers for comfort and warmth! Layering up is the best way to make your winter bed toasty and snug.
Here's a hot tip: the most ideal way to make your bed warm is to layer it from the bottom up. Start with an electric blanket. Look for an electric blanket that has multiple heat settings, and a timer. It'll give you a more comfortable heating experience for a restful sleep even on the coldest nights.
Then, add a Microflannel sheet for the extra layer of quality warmth. Microflannel sheets are so cuddly soft you'll want to drag it everywhere with you.
For the next layer, add the perfect winter quilt. Invest in a high quality quilt. Luxuriously soft, a wool quilt will keep you warm during the chilliest of winter nights. The wool fibres in the quilt have natural temperature regulating properties and they adjust to the body's temperature so you don't wake up feeling too hot or too cold.
Top your bed with one of our luxurious throws to complete the look and for an extra layer of warmth. Nothing beats the feeling of cocooning yourself in a warm and cosy bed of layered goodness.
Find our top layering options here.
Are you ready to transform your bedroom into a winter sanctuary that is as stylish as it is cosy? Check out our huge bedding collection to get you started or head in to your local store and chat to our friendly bedding experts.