I love the holidays – sleep debts are repaid, batteries are recharged and you feel energised and ready to take on a new year of work, school, and personal improvement projects. It's the perfect opportunity to declutter your home and reorganise your office or study space.
Here are some of my top home office furniture picks from the Harvey Norman Back to School, Back to Work catalogue. This season's eclectic home office collection features a varying mix of styles – ranging from classic to contemporary – for both large and small spaces. So, whether you live in a compact apartment or a sprawling house –you can achieve the look you want and take charge of your workspace.
Big Storage for Small Spaces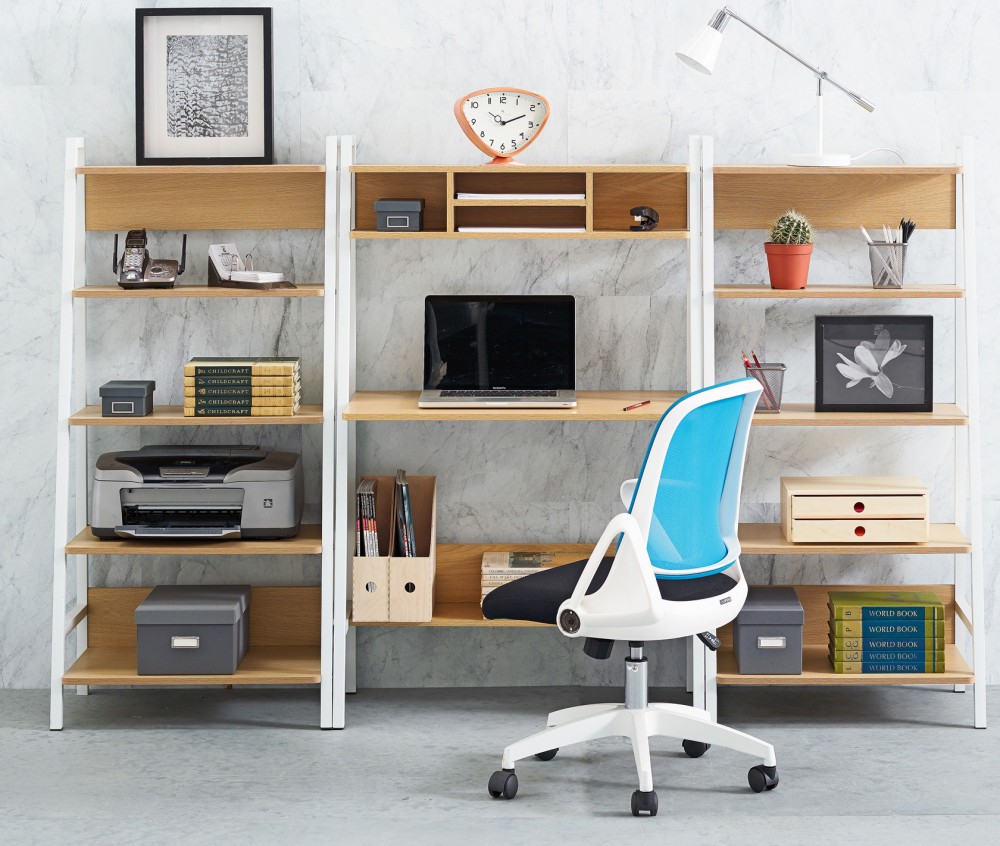 I love the 'Stubi' 3-Piece Desk and Wall Unit – with clean lines, a two-toned Scandi-inspired colour scheme of crisp white and beige, plus plenty of open storage space – it will add a light and airy feel to your home office, library or study. The 'Stubi' will make a great children's desk and is the perfect place to house school-related items, including textbooks, notebooks, laptop, printer and all other fiddly knick-knacks kids tend to collect. My favourite thing about its sturdy yet lightweight design is that it separates into three stand alone pieces – this means you can easily move the individual pieces around to create a configuration that will suit the size of your home, even if you live in an apartment or a terrace with stairs and tight corners.
Pair your new desk with the eye-catching 'Evo' Office Chair. Its contemporary, colour-blocking style makes it pop for a fresh, fun look.
Simple Lines for Calm Minds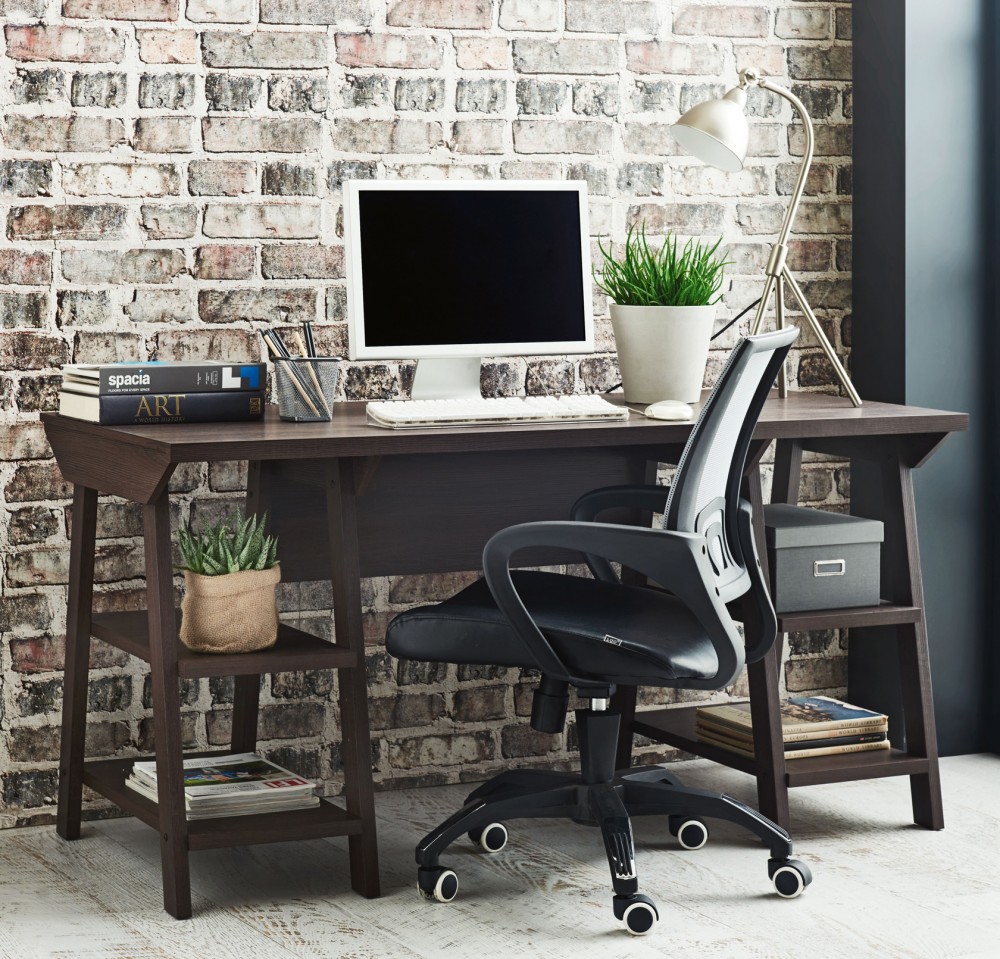 The executive style of the 'Florentine' Desk is enhanced by a strong walnut colour stain, making it a solid choice for driven professionals. The 'Florentine' includes four built-in shelves that are ideal for office storage, so all your important paperwork and work paraphernalia can be kept close by. Pair with the sleek curves and excellent back support of the 'Webster' Office Chair.
Versatile Style for Creative Teens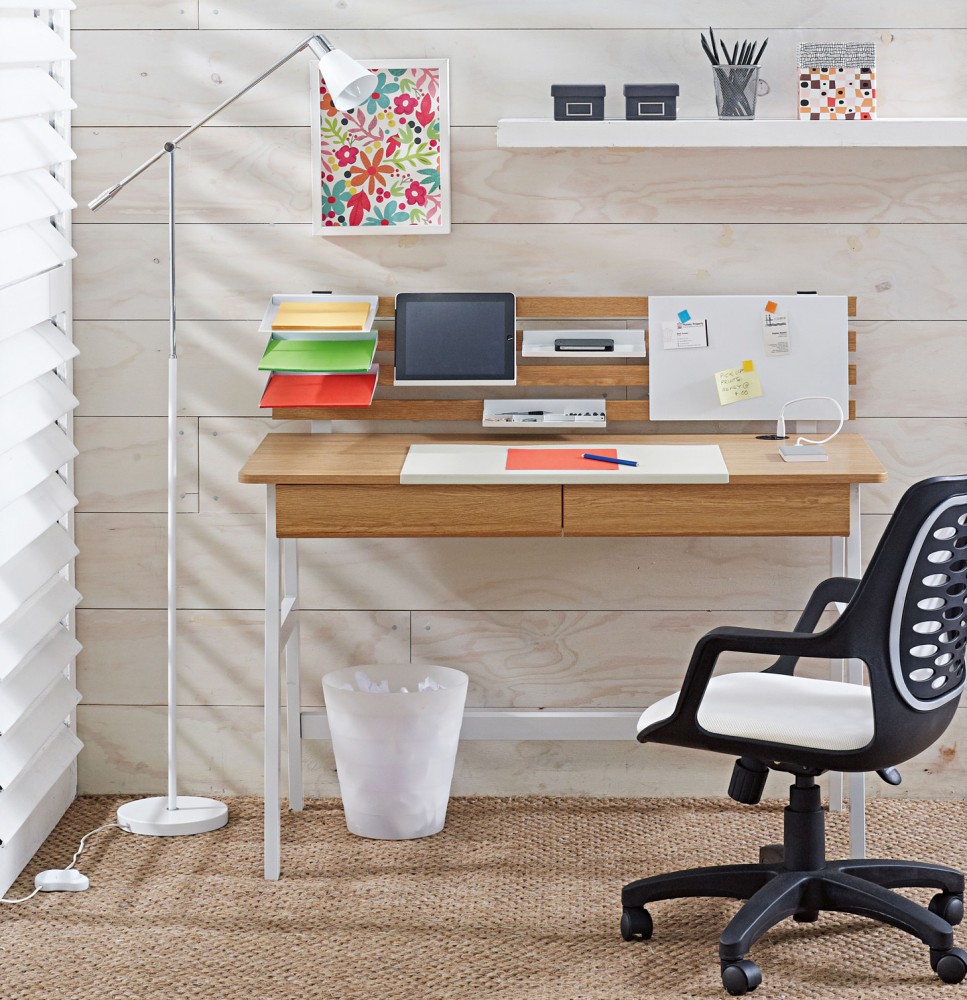 The 'Kitson' Student Desk is a top choice for keeping school-aged children organised and on track with all their homework. The 3-port USB is great for keeping mobile and student devices charged without the mess of cables. The added flexibility of moveable metal trays and whiteboard provides a structured storage system that busy parents will appreciate. Plus, the two large yet discreet drawers provide ample space to put away stationery and supplies at the end of the day.
Concrete Chic for Urban Professionals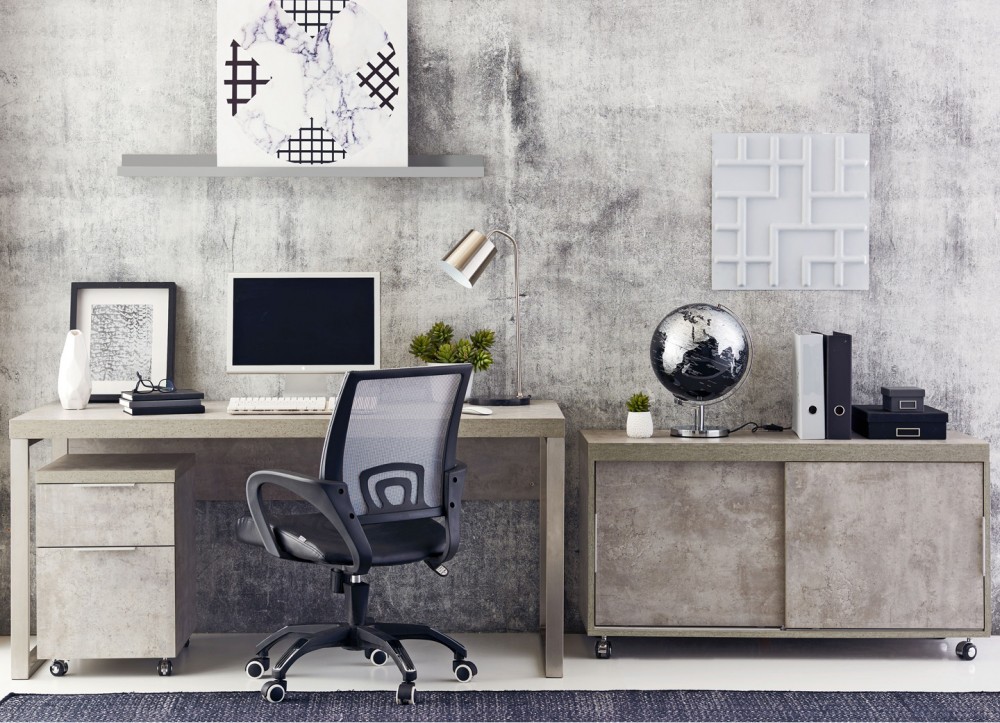 The urban edge and contemporary aesthetic of the 'Block' 3-Piece Desk Set is a concrete choice for style-savvy professionals wanting to create a smart workstation. The set features a desk, filing cabinet, and credenza – giving you plenty of storage space.
Executive Style for Executive Tastes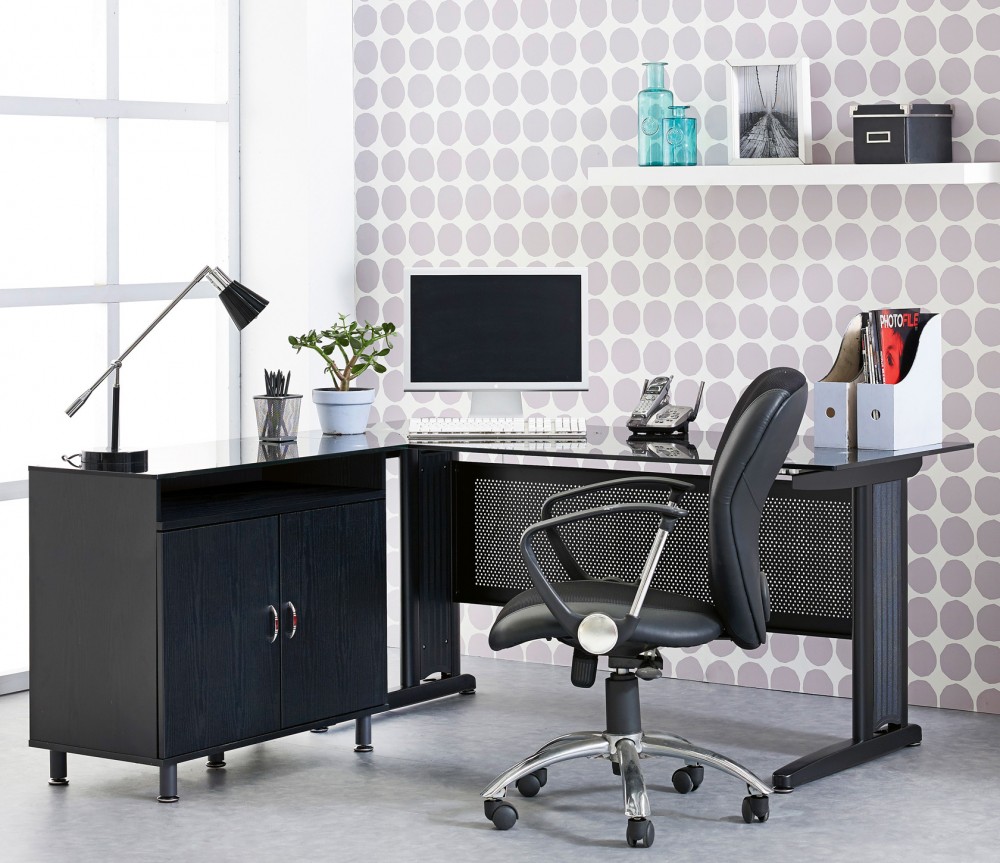 If you want to create a fuss-free work environment, then the 'Apex' 1600mm Desk is for you. Available in black or white, its classic and professional design features a flawless, tempered glass desktop for reflecting on your achievements. Pair it with the matching credenza (available separately) for a complete home office solution.
Adjustable Desks for Rising Stars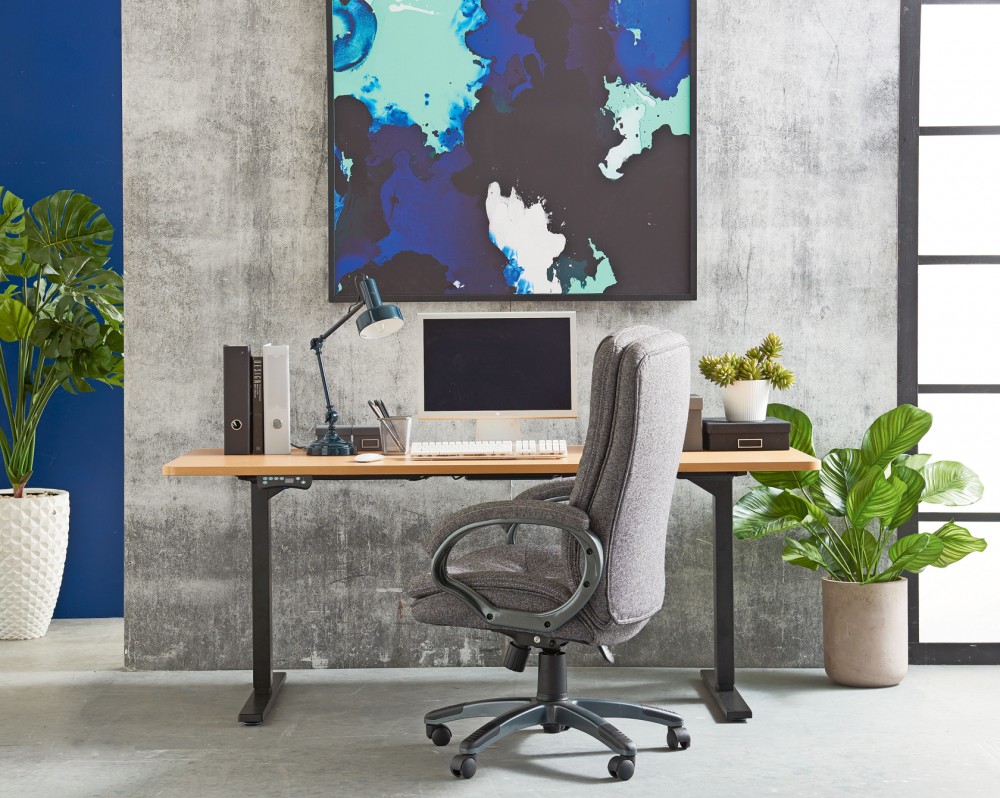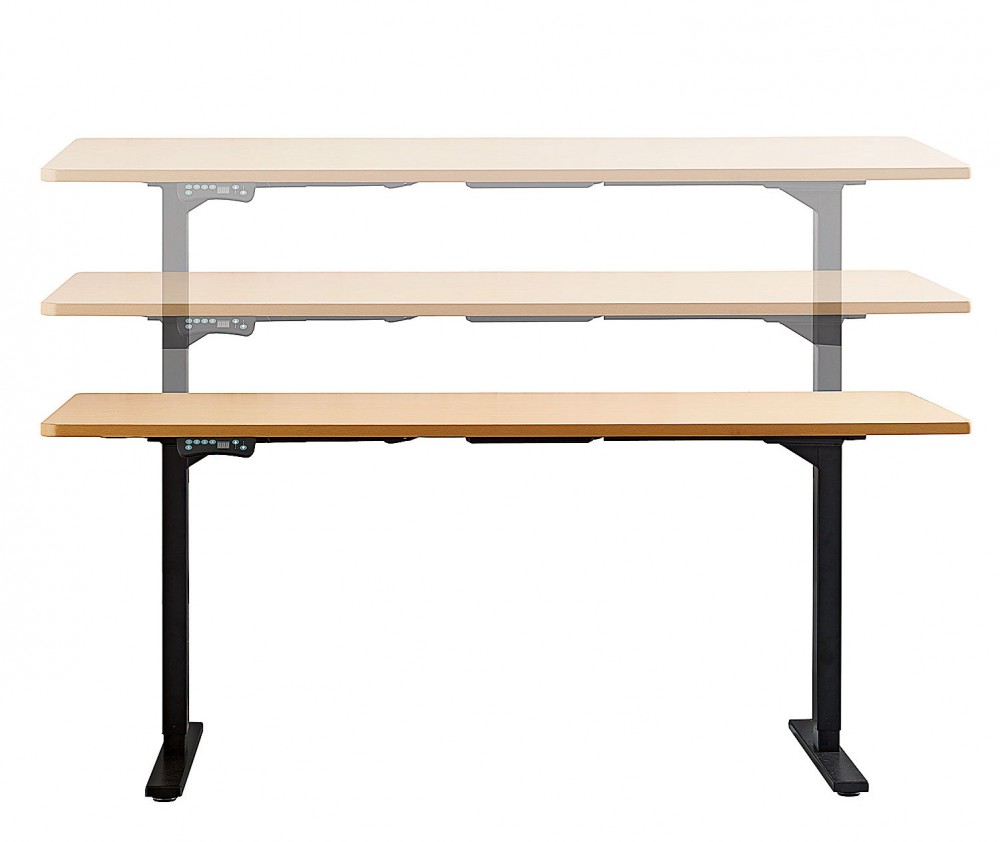 If you're a workaholic and find yourself chained to your desk for hours on end, catching up on correspondence, charts and schedules, then a standing desk is just what the doctor ordered to get you on your feet, stretching your muscles and straightening your spine. The 'Sit To Stand' 1800mm Desk includes a powered, height-adjusting mechanism that allows to you comfortably break up your day between a wide range of standing and sitting positions with ease.
High-Back Computer Chairs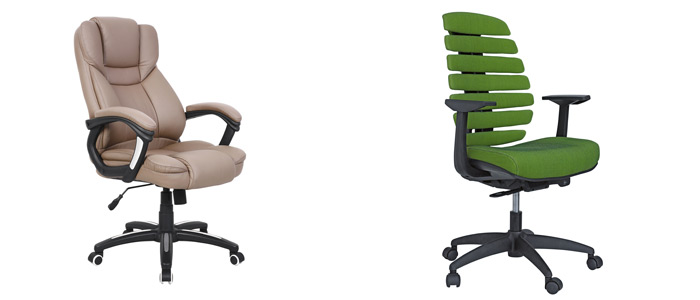 Regardless of whether you go with a traditional or adjustable desk, you're going to need a good desk chair. Choose from space-saving mid-back office chairs or opt for the excellent support of high-back chairs. The super comfortable seating and cushioned armrests of the 'Brighton' Office Chair (above left) add that extra touch of luxury demanded by office executives, while the distinct style of the 'Asana' Office Chair (above right) makes it stand out as a bold statement piece without compromising on comfort. Both are available in a range of colours, perfect for every decor.
Office Storage Made Easy
So you have your workspace sorted, and can sit at it. Now where are you going to put all your stuff?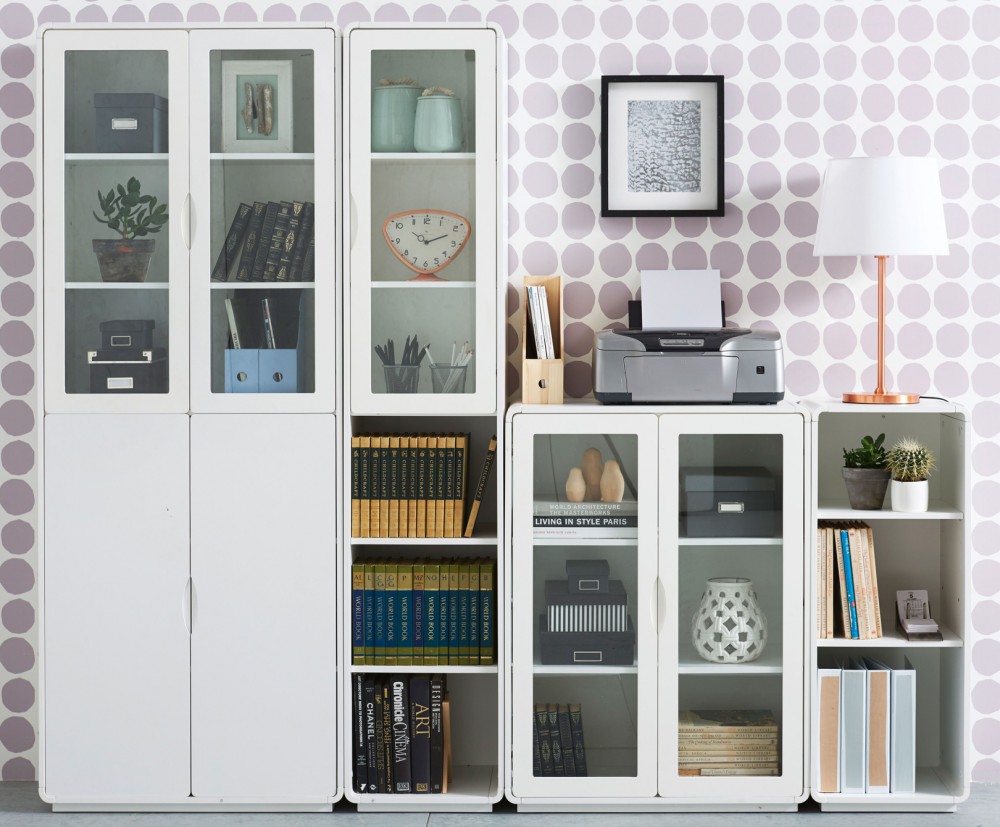 My absolute favourite would be the clean lines and streamlined style of the 'Charlie' Bookcase Collection – it would be at home in any decor, plus it is one of the best home office storage options available. Available in four configurations (6-shelf slim, 6-shelf wide, 3-shelf slim and 3-shelf wide), it allows you to keep all your home office essentials organised and on display for easy access. The optional glass or wooden doors (available separately) can be easily installed at home.
Feeling inspired to improve your home office or study? Check out the featured styles and other exciting home office solutions online or visit your local Harvey Norman store to speak with our friendly home office furniture team.