There's no denying it. The nights are getting chilly and the days are getting shorter. It's time to bring out the beanies, scarves, gloves and coats and rug up for winter!
Winter may conjure images of stark skies, bare trees and frosted morning dew, but it also evokes warm thoughts of crackling fireplaces, snug slippers and late weekend mornings curled up in bed with a good book and a mug of hot chocolate.
With the cold weather right around the corner, now's the time to transform your bedroom into the perfect hibernation haven. Here at Harvey Norman, we've designed a list of everything you need to create your ultimate sleep space: from unbelievably comfortable mattresses and sumptuous quilts to beautiful bedroom furniture.
Your Winter Comfort Zone
Which is the best mattress for you?
Harvey Norman offers a variety of mattresses and ensembles from the leading brands, all with their own unique benefits.
For unrivalled support and comfort, look no further than the King Koil Platinum Posture Range. Featuring DualFlex technology, Micro Comfort Coils and naturally breathable Latex, this range of mattresses and ensembles is perfect for a supportive and restful night's sleep – not to mention those late morning lie-ins!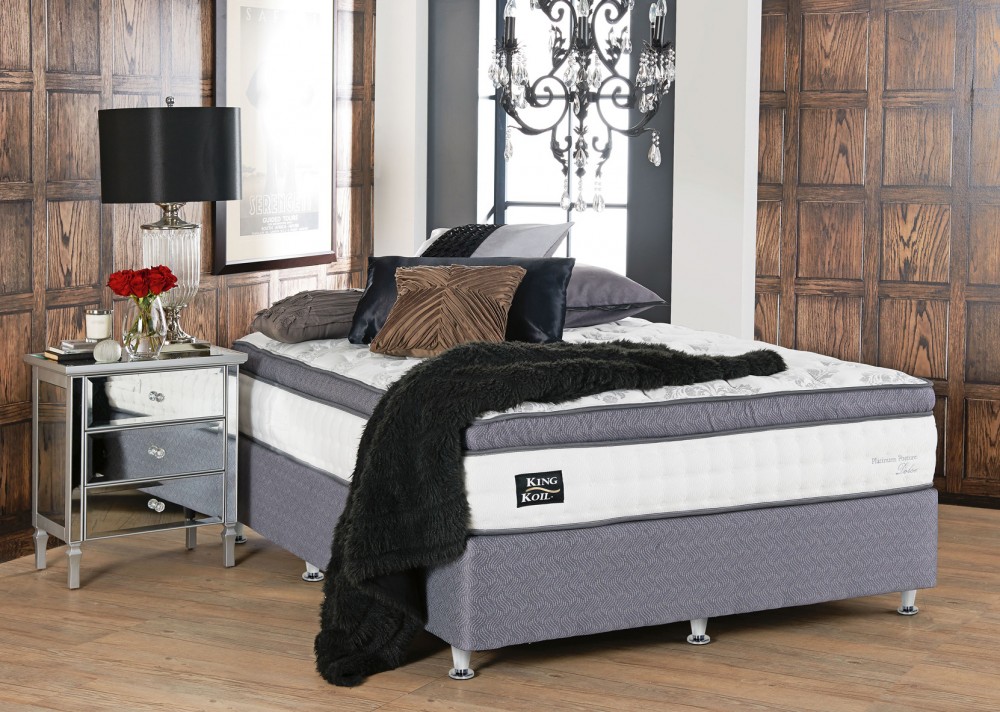 The Sealy Posturepedic® Exquisite Range offers the innovative ReSTII® support system, designed to provide you with the perfect night's sleep. In addition to this, the range also offers ComfortCore® Plus with Gel-Infused Visco Elastic for more conformance exactly where it's needed. Then there's the SmarTex™ fabric treatment, designed for a cooler, more comfortable sleep. The system responds only when it's needed to disperse heat, meaning you won't get uncomfortably hot under all those extra winter blankets.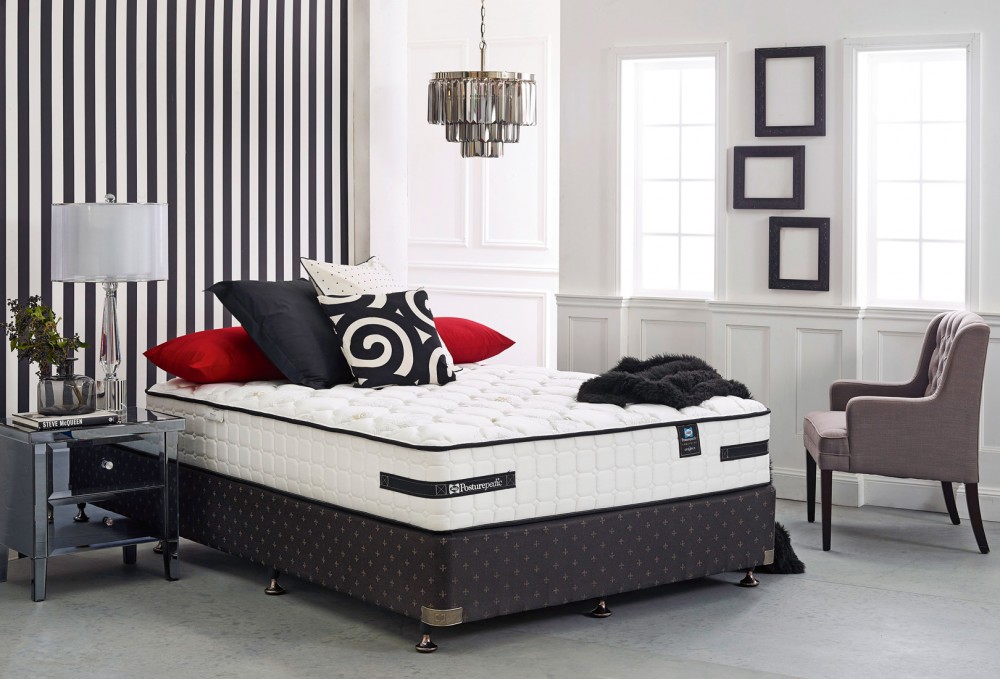 Snuggle down for the perfect night's sleep with the lavish Beautyrest Black® Range. This range of mattresses epitomise the ultimate in luxury, featuring advanced Pocket Coils and Micro Diamond Infused Memory Foam for an unparalleled sleep experience. Get yourself cosy and keep the night-time chills at bay for a rejuvenating night's rest, or treat yourself to a Sunday morning sleep in.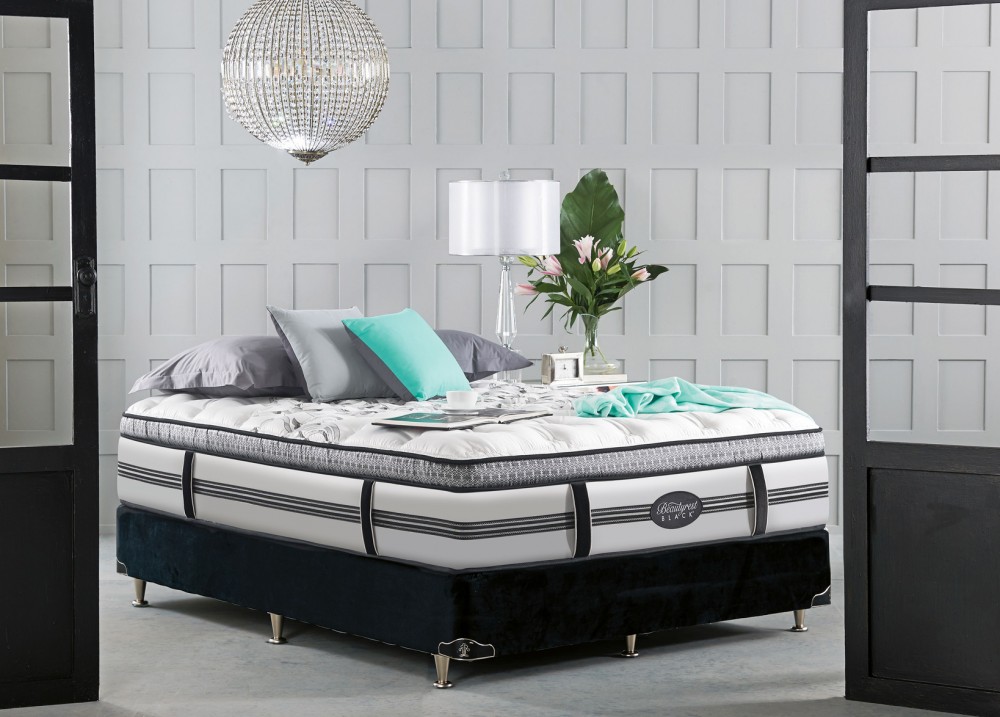 Soft, medium or firm? The TEMPUR Range offers a choice of 'feels', meaning you can choose the variant that's just right for you. TEMPUR also offer the Zero-G Adjustable Base, which features seamless reclining action and a wall-saving design, meaning that as the bed adjusts there's no need to move the surrounding furniture. The Adjustable Base is ideal for winter when you just want to stay in bed while the wind howls outside, binge-watching your favourite TV show.
Whether you wish to snooze, read, watch TV or use your laptop, adjust the base to your preferred position and enjoy the superior support and full-body comfort that the Zero-G provides.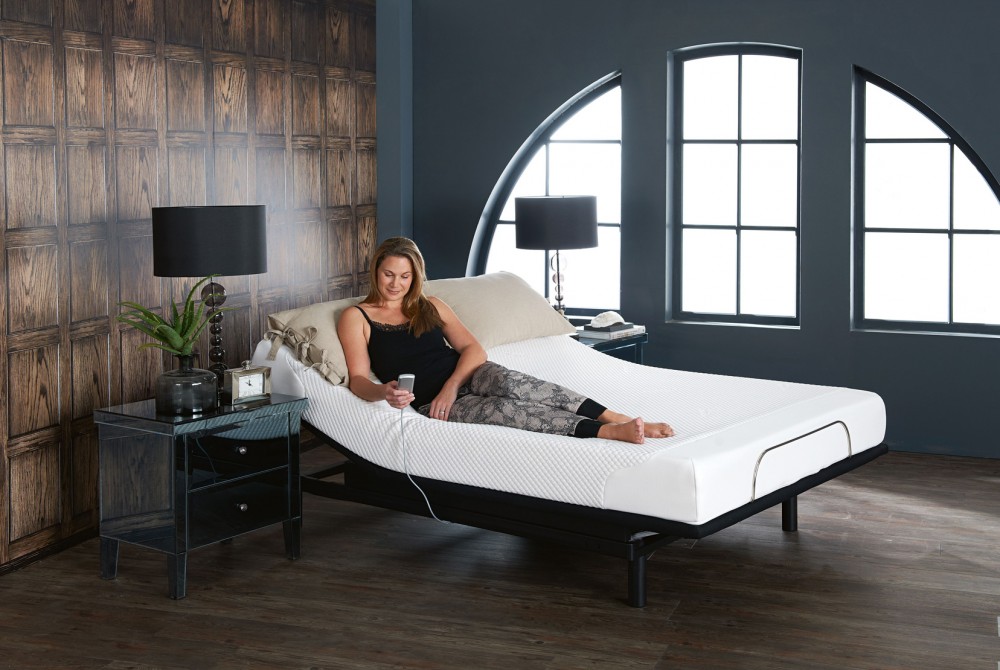 Winter Warmers
What's the best way to keep warm this winter? A sumptuous quilt, of course!
The Gainsborough Luxury bedding range is exclusive to Harvey Norman, and has been designed to provide you with the ultimate in comfort.
Lightweight and soft yet extremely warm, the Gainsborough Luxury 80/20 Goose Down and Feather Quilt will keep you cosy throughout the night. This high-quality quilt is perfect for winter, featuring box cassette stitching to keep the filling in place to consistently distribute warmth. In addition, it's machine washable so you can keep your bedding fresh and clean.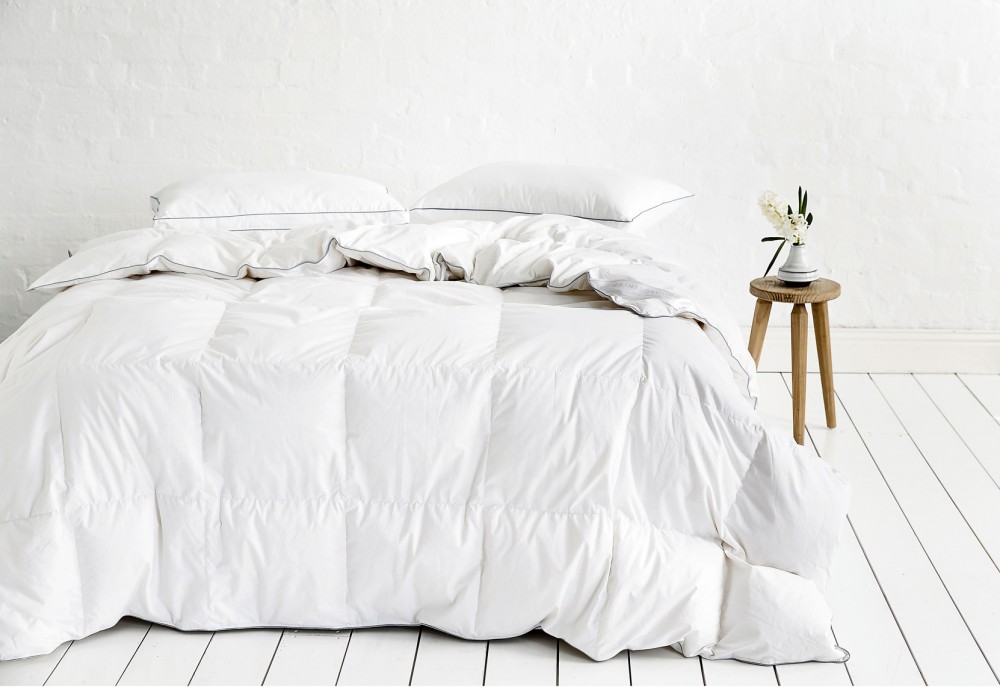 Also from the Gainsborough Luxury collection comes the Deluxe Sustans™ Wool Blend Quilt, an alternative to down that combines wool and innovative Sustans™ fibre. It's treated against bacteria and dust-mites, so allergy sufferers can still rug up and sleep comfortably.
The Herington Excel Microfibre Quilt is also recognised by the National Asthma Council Australia, and is filled with wonderfully soft, low allergy polyester fibres for the benefit of allergy sufferers. Sleep restfully this winter without having to worry about allergens!
For those who want to be extra cosy, Harvey Norman also stock a range of high-quality electric blankets to keep you toasty warm.
The Bambi Moodmaker Cotton Electric Blanket is encased in pure cotton sateen for perfect comfort, and comes with dual controls so you and your partner can each set your own desired temperatures. It's also machine washable and can be tumble-dried for extra convenience.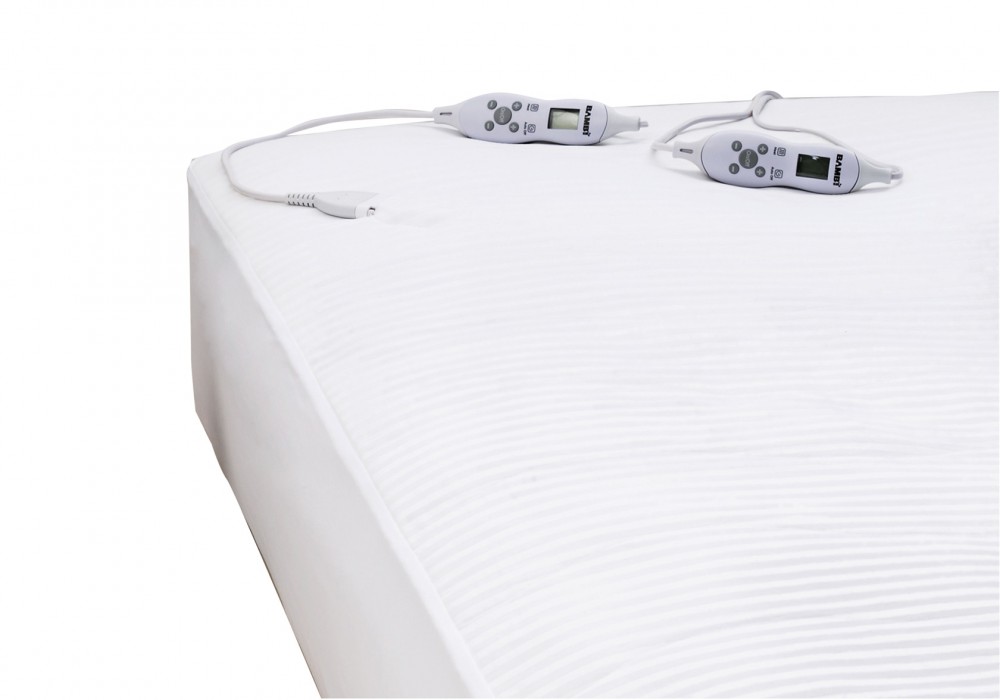 Gainsborough Luxury's Fitted Electric Blanket is also conveniently machine washable, and features an automatic overheat safeguard so you can enjoy a peaceful night's sleep. This luxurious electric blanket will keep you warm and comfortable all through those frosty nights!
Shop online or visit your local Harvey Norman to discover the best electric blanket for you.
New Season Looks         
If your bedroom is beginning to look as dreary as the weather outside, maybe it's time to think about investing in a piece of modern bedroom furniture. Create the perfect winter retreat with these new season pieces that will be sure to renew any space.
Check out these top picks from our latest catalogue.
'Beatrice'
Channelling the cool colours of the season, the 'Beatrice' Queen Bed casts a calm and regal appeal. With its buttoned-back, upholstered bedhead and stately design, this piece is sure to become your bedroom's new centrepiece.
The hand-tufted bedhead is just perfect for resting against, wrapped up nice and warm in your doona watching TV on an icy night!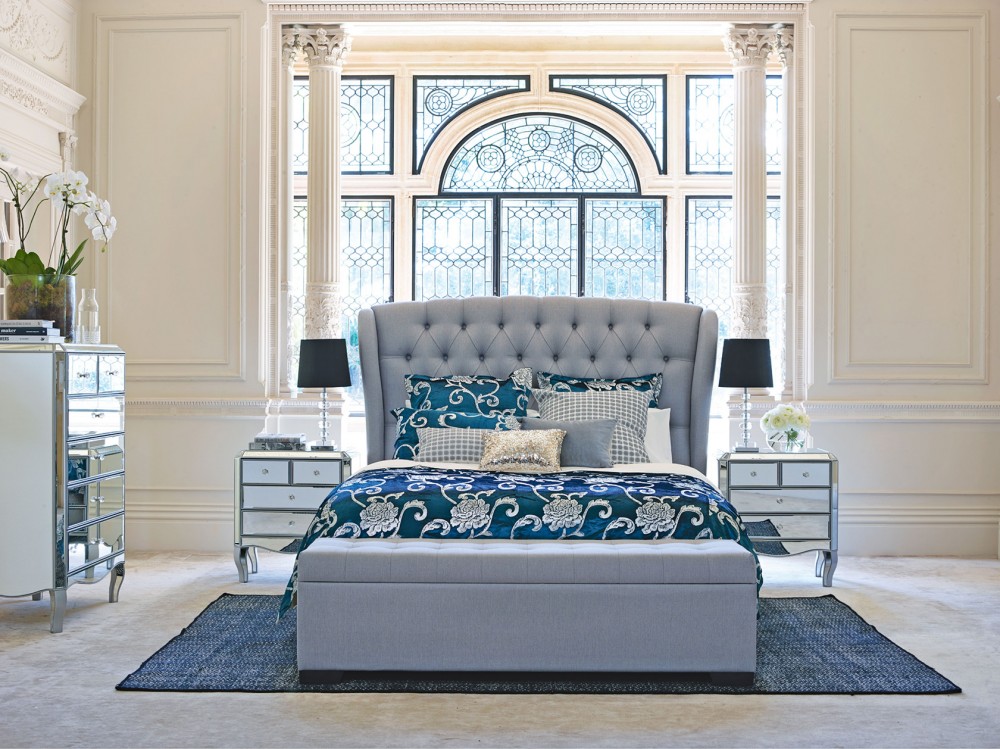 'Fairhaven'
This gorgeous bed offers old-world charm; inviting you to slow down and relax amongst the hustle and bustle of the day's demands. While the weather cools down, you too should be taking time out to chill.
Classic style never goes out of fashion, and with its beautifully crafted Combination Victorian Ash design, the 'Fairhaven' Queen Bed will remain a mainstay for many years to come.
Dress this bed with wintry, cool bed linen and throws in soft greys and deep blues and muted mauves.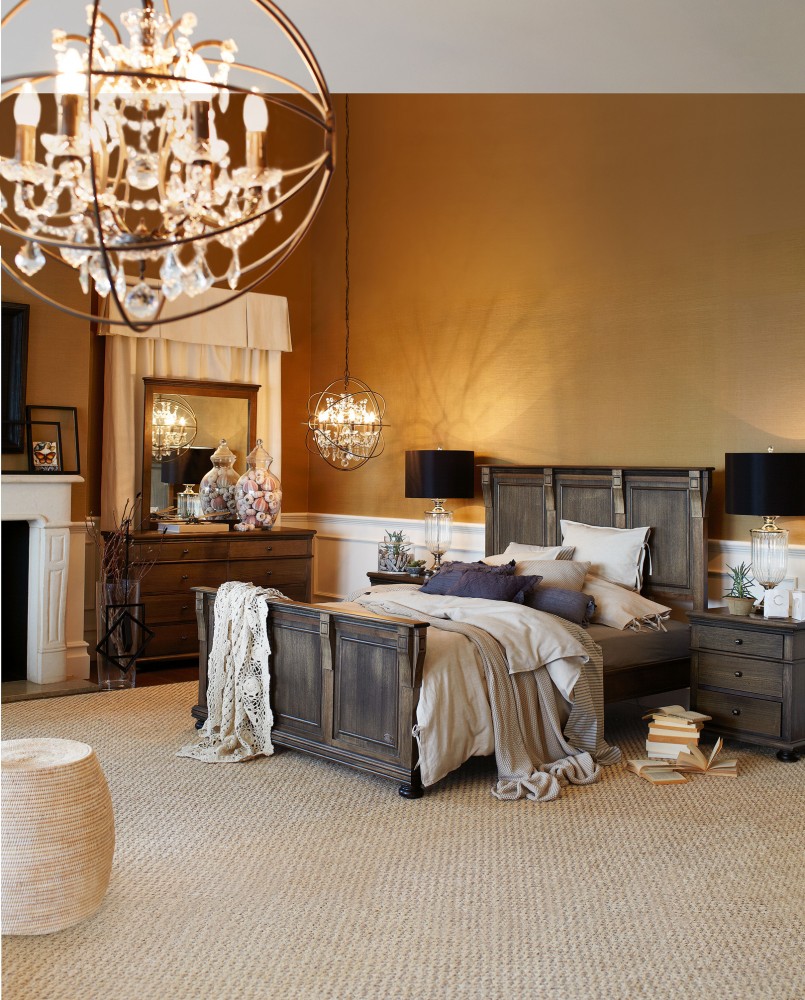 'Hudson'
Add a little light to those grey and dreary winter days with the 'Hudson' Queen Bed!  With its modern, timber frame and cheerful finish, this contemporary bed will create a whole new atmosphere in your bedroom.
Not only does the 'Hudson' look amazing, it's functional too. Storage beneath the bed allows you to keep extra blankets off the floor or crumpled on top of your bed. There's also shelving at the foot of the bed, perfect for a display of books, photos, or any other odds and ends you can think of!
To complete the look, make sure to match those lovely natural timber tones with a bright and vibrant quilt cover set.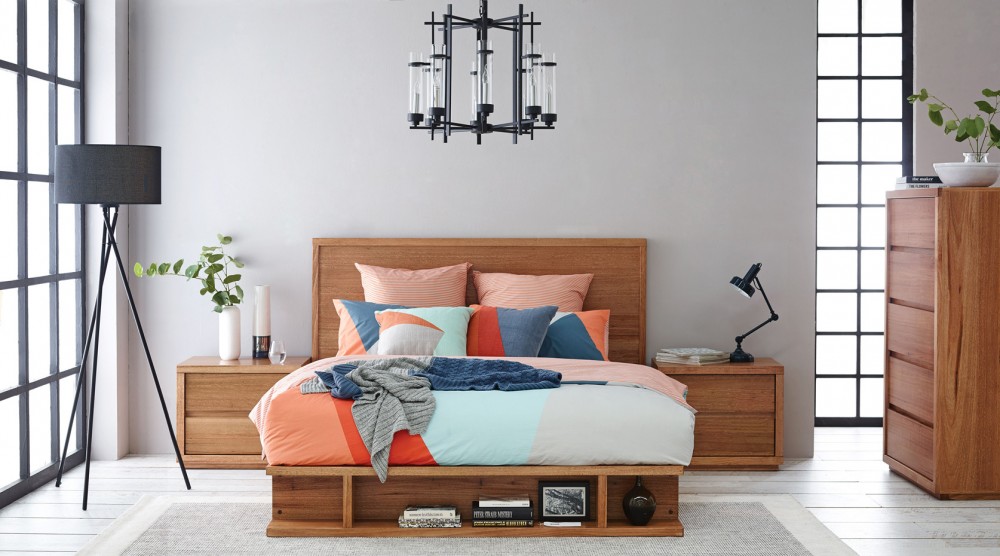 'Jett'
Complete with convenient storage drawers in the bed base, the 'Jett' Queen Bed offers contemporary style as well as a great storage solution for smaller rooms. Store your electric throw in the bed base drawers, ready to use for those extra cold nights!
The added benefit of this bed is that you're free to customise the colour and fabric to your taste. Whether you're after something in cool tones or more summery shades, you'll find something to suit from our wide range of choices.
So before the weather gets too chilly, pop down to your local Harvey Norman store to talk to our friendly staff about our great range of quality mattresses, quilts, electric blankets and new season beds. Winter-proof your bedroom now and beat the winter blues!