These days, everyone understands the importance of a good night's sleep. From your physical health to mood and productivity, getting adequate, regular rest is absolutely essential. If, like many of us, you're looking to improve your sleep, you shouldn't look past an upgrade in your bedding as a potential game-changer.
Quality bedding products that are attuned to your individual needs can make all the difference in the world when it comes to finding the deep, restorative sleep you require to be your best self. Luckily, here in Australia our local industries produce some of the finest bedding products in the world. From Australian Made beds and mattresses to Australian  Made pillows and quilts, you'll always find bedding designs of the highest levels.

Even better, when you sleep with Australian Made bedding you can rest assured you're supporting Australian jobs and putting money back into the local economy at a vital time.
Read on for just a sample of the many benefits you can expect when you shop for an upgrade with our extensive Australian Made bedding range here at Harvey Norman.
Australian Made Manchester
When you think of upgrading your bedding to ensure a good night's sleep, your first thought is probably investing in a great quality mattress.  However, from Australian Made pillows to quilts, mattress protectors and toppers, there are a number of smaller changes to also be made that can have huge benefits. Our range of premium Australian made Manchester has the variety and quality to ensure you'll find the perfect product for your needs and budget.
Australian Made Pillows
The right pillow is an absolute sleep essential. A pillow that isn't suited to you can lead to sleepless nights as well as aches and pains that stay with you throughout the day. A well chosen pillow will transform your bed into a luxurious sanctuary and help you experience the kind of deep, uninterrupted sleep you can only dream of today.
The perfect pillow for you depends on a number of factors including the balance of comfort and support, and a profile suited to your sleeping style and posture. Our extensive range of Australian Made pillows has excellent options for a huge range of personal needs and preferences. What's more, when you shop Australian made you can rest assured that affordably priced options meet an excellent quality standard.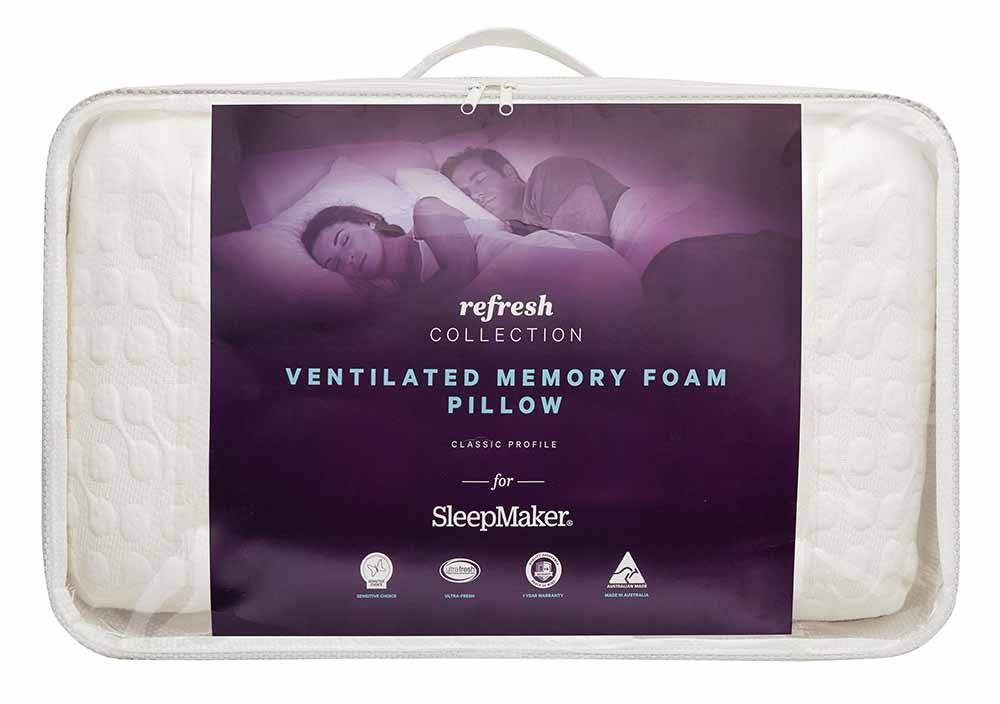 If you're looking to invest in a pillow that provides optimal support while maintaining a soft, comforting feel, an Australian Made pillow like the SleepMaker Refresh Memory Foam Pillow will be a great option for you. Memory foam is a dense material that softens on contact with the pressure of the human body, naturally adapting to the contours of your head and neck for even, gentle support that relieves pressure and prevents strains.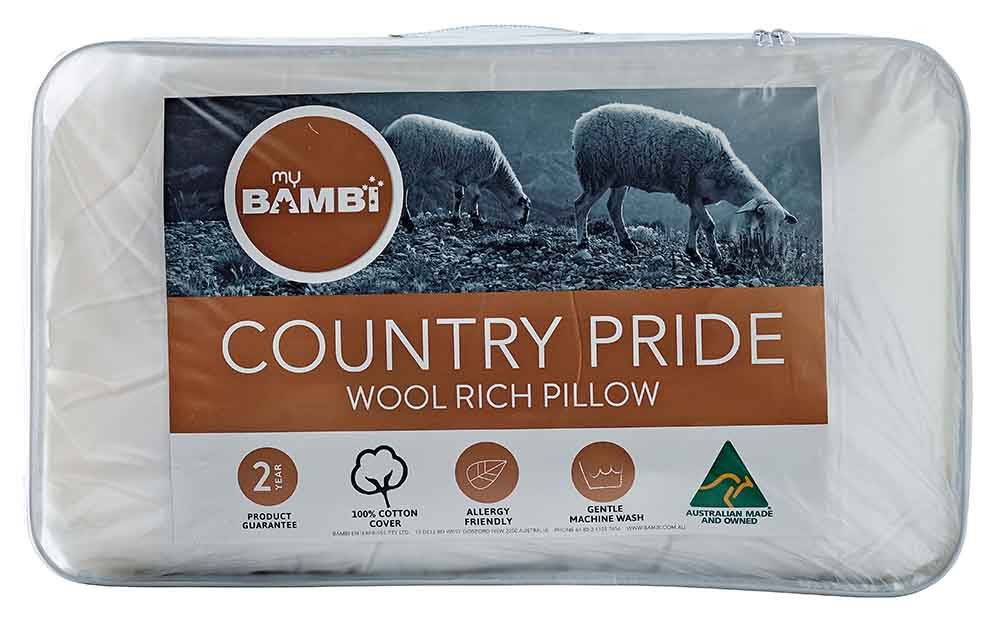 If you're after a more traditional pillow that still delivers cosy comfort and support in equal measure, consider a wool rich pillow like the Country Pride Wool Rich Standard Pillow.
A generous blend of wool and polyester provides an economical and easy to clean option that also maintains the classic feel and natural breathability of wool. For added peace of mind, the materials used are hypoallergenic and asthma friendly. All in all, this is a versatile, high quality pillow, suitable for a range of climates and sleeping styles.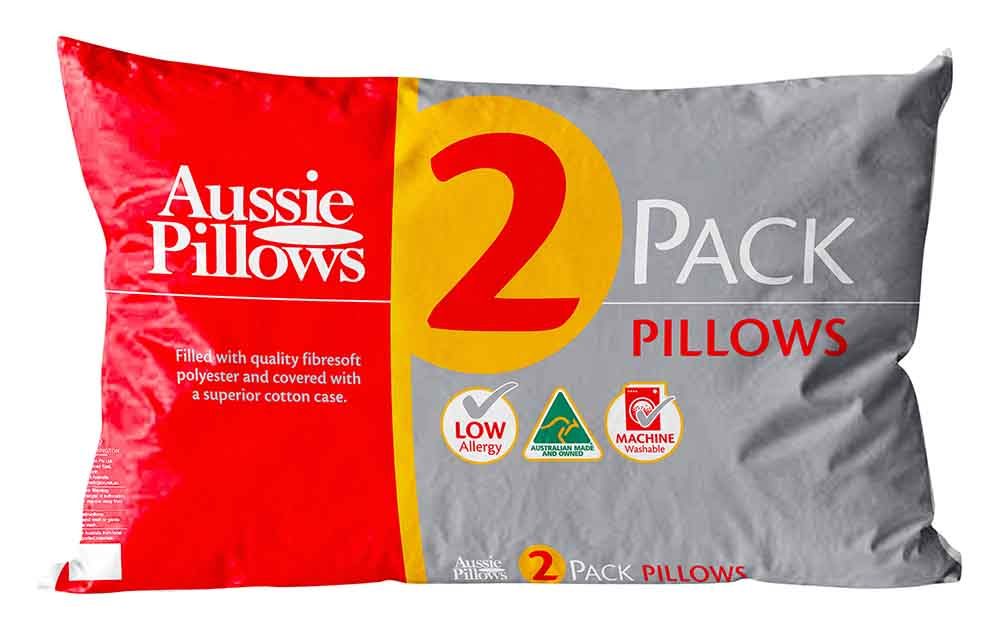 A key drawing card of Australian made Manchester and bedding is the combination of guaranteed quality and excellent value. With two pillows available for a price you might expect to pay for a single pillow of similar quality, the Aussie Medium Pillow Twin Pack is a great example of the value for money on offer.
Lofty, fibresoft polyester lends these pillows a luxuriant feel, while medium firmness makes them a suitable option for a wide range of sleeping styles and preferences.
Australian Made Quilts
Of course, bedding is not all about what's under you. Just as important as pillows and mattresses, but often neglected, is a quality quilt to help you stay snug and secure through the night.
Now, beyond the fact that each of us sleeps differently, the vast range of climates in Australia means that when it comes to a quilt, individual needs are inevitably different. Our large range of Australian Made quilts, however, means there's an option to suit everyone. From heavier, winter weighted quilts designed to keep you warm, to cooler, lighter quilts, it makes all the difference to invest in a premium quilt that works for you.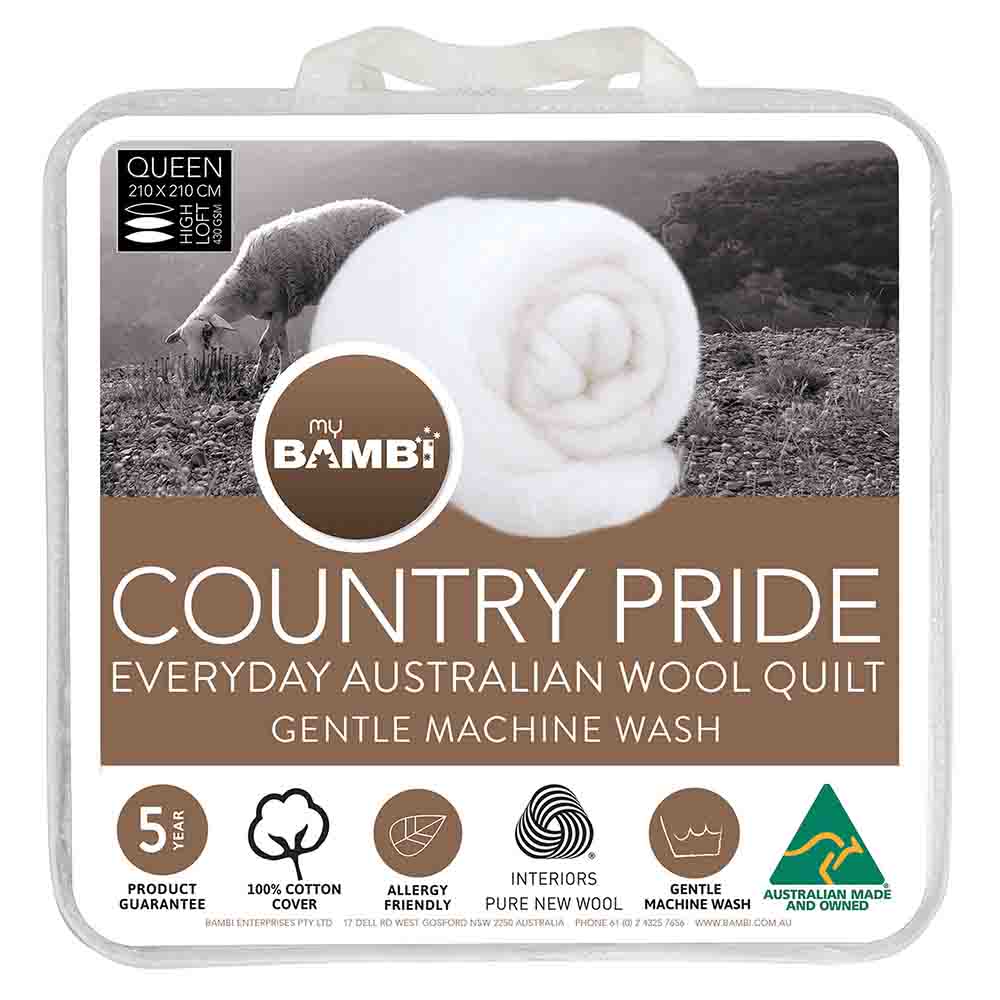 For a versatile quilt, there's no better choice than wool. Wool acts as temperature regulator rather than an insulator, transporting moisture away from your body on warm nights to help you stay cool, but keeping you cosy and snug on cold nights.
The Country Pride High Loft Wool Quilt is filled with high-quality, Australian Pure New Wool. This means the material was shorn from a living sheep and not subjected to any processes that might damage its fibres, allowing it to maintain all of its miraculous temperature regulating properties.
If you're a warm sleeper you may want to consider a light loft option in the Country Pride Quilt.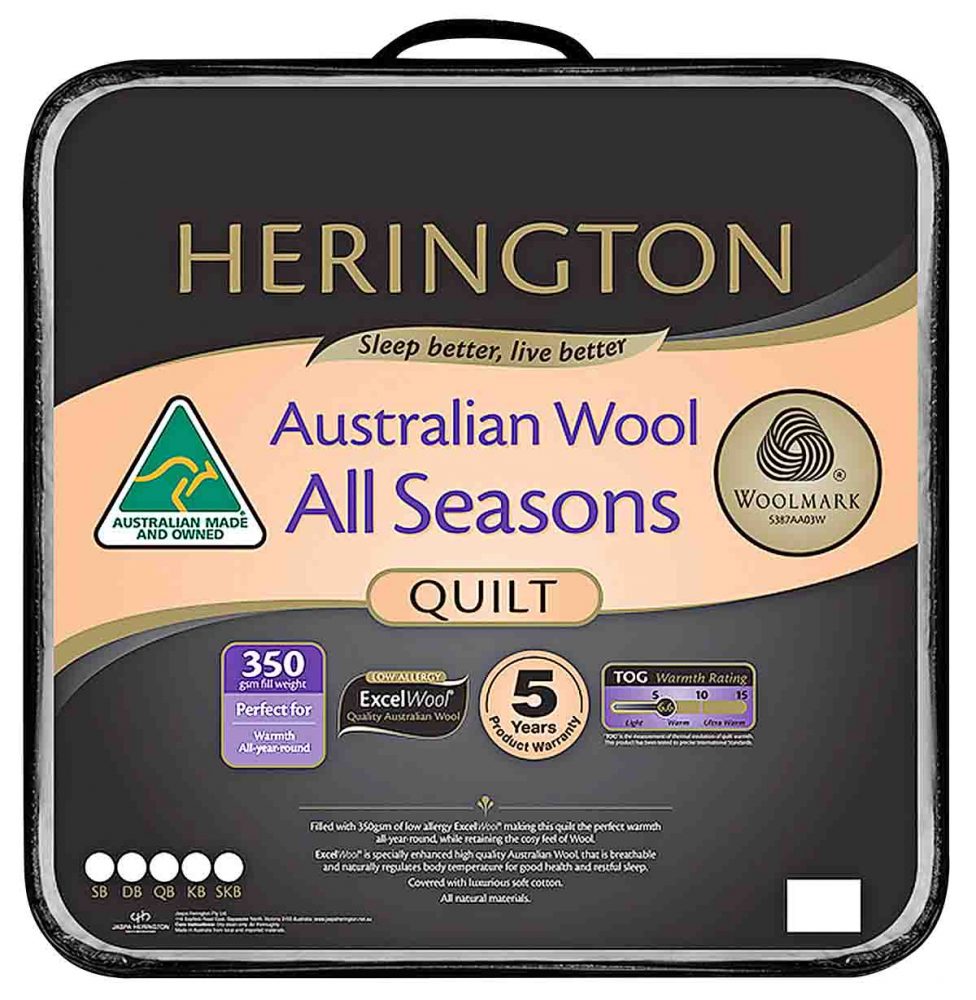 Another premium, wool-filled Australian Made quilt, the Herington All Seasons Quilt uses 350gsm of ExcelWool – enough to give you that snug, tucked-in feeling without ever feeling heavy, even at warmer times of the year. ExcelWool is an Australian wool that is specially enhanced to promote its temperature regulating effects for improved sleep health and quality.
The quilt also features a premium 400-thread-count Japara cotton cover, a durable, allergy-friendly option that prevents small fibres from escaping the casing over time.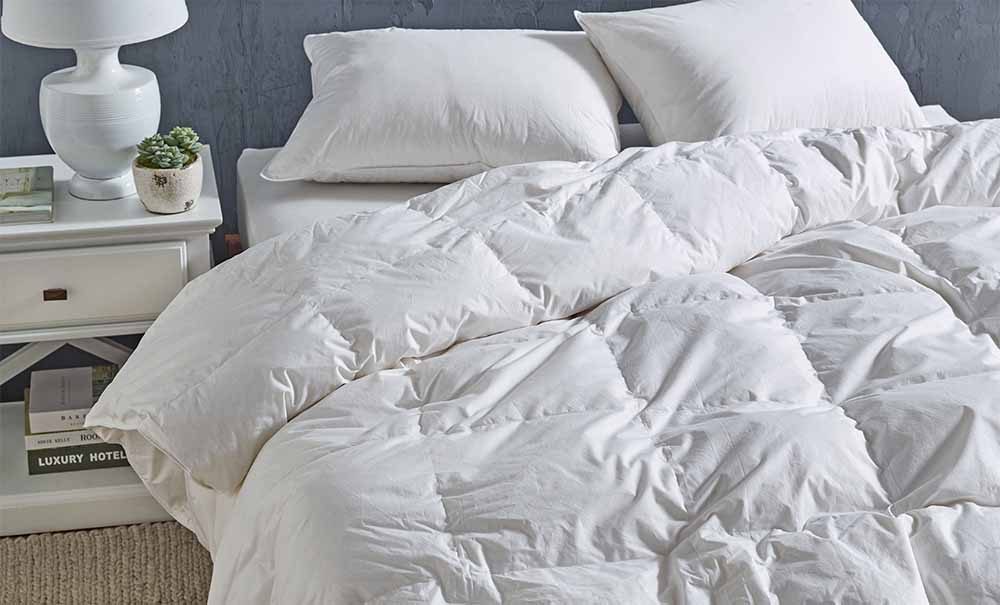 Natural feather and down fibre have become become synonymous with luxury and indulgence in bedding. Down is a layer of soft, fine, quill-less feathers that sits beneath the tougher exterior layer. A highly effective natural insulator that is also lightweight and breathable, it's easy to see why down has become such a sought-after material for quilts and other Manchester.
Available in a 50/50 Duck Down and Duck Feather for a light in weight, year round option, or the generous 80/20 Duck Down for a warmer, more insulated, night's sleep.
These options mean this Australian Made quilt, which uses Australian sourced feather and down, offers the insulating effects and luxurious feel of down at a very accessible price point. The addition of feathers also makes for a lighter, more airy quilt – perfect for warmer climates.
Australian Made Mattress Protectors & Toppers
If you're going to invest in a top-quality new mattress, it only makes sense to protect it from otherwise inevitable stains and damage with a mattress topper. Our range of premium Australian Made mattress protectors and toppers won't just protect your mattress, they'll also help shield you from allergens and provide an added layer of comfort and support.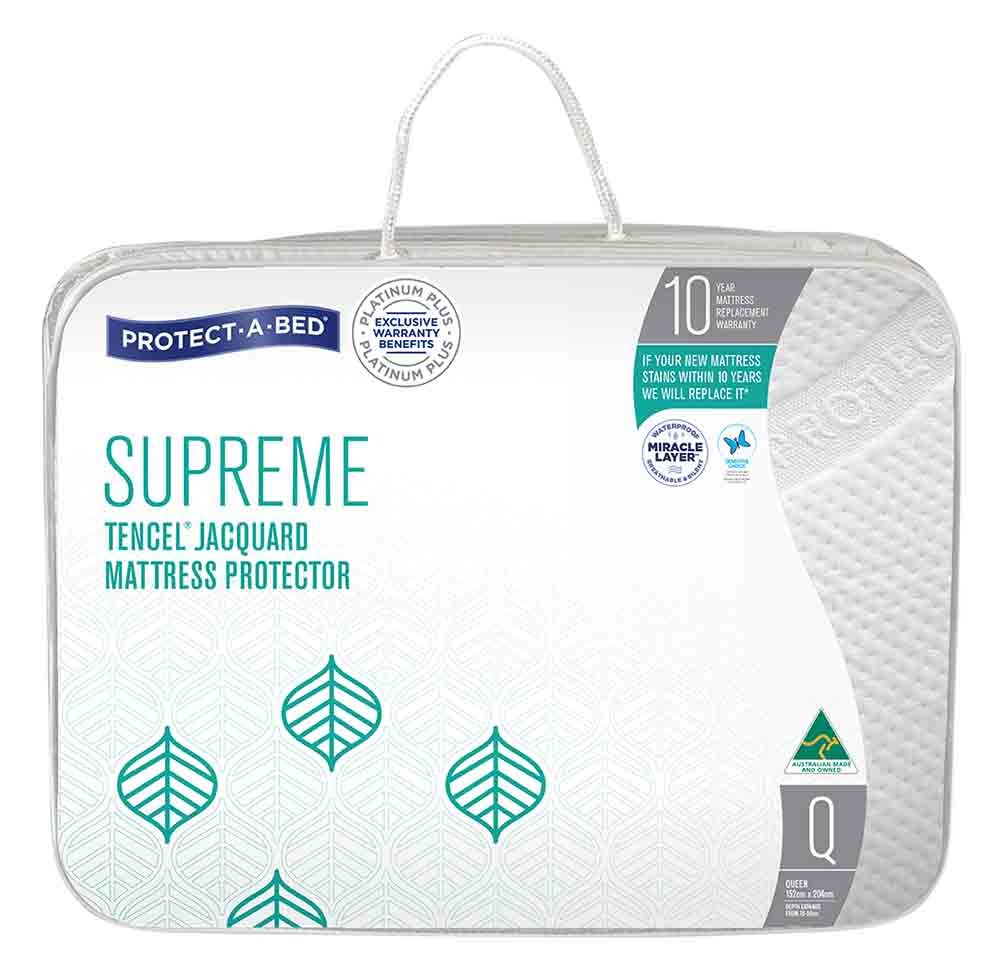 The Protect-A-Bed Supreme Tencel Waterproof Mattress Protector features a Miracle Layer™, a waterproof yet breathable skin that protects your mattress against spills and stains while protecting you from dust mites, mould, bacteria and other allergens.
It'll also help you stay comfy and cool with Tencel™ fibres, a modern, eco-friendly fabric that is known for its softness and temperature regulating properties.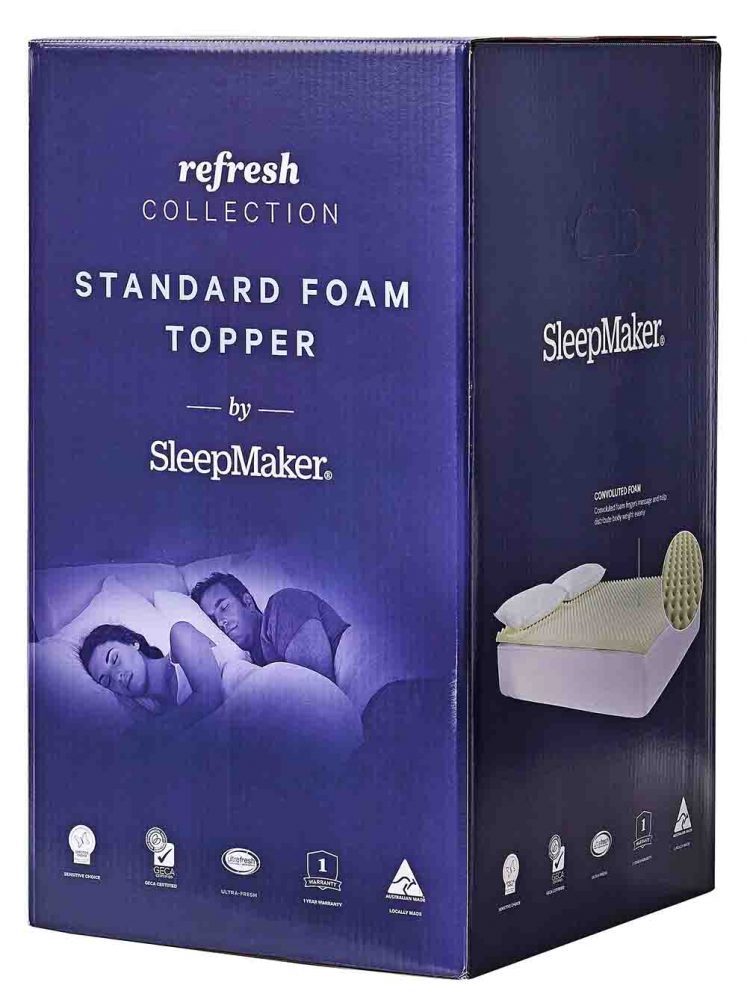 The SleepMaker Refresh Mattress Topper features convoluted foam that promotes air circulation and even bodyweight distribution for a healthier, more restful sleep. The foam is treated with Ultra Fresh, an antibacterial compound that controls a range of potential allergens and irritants.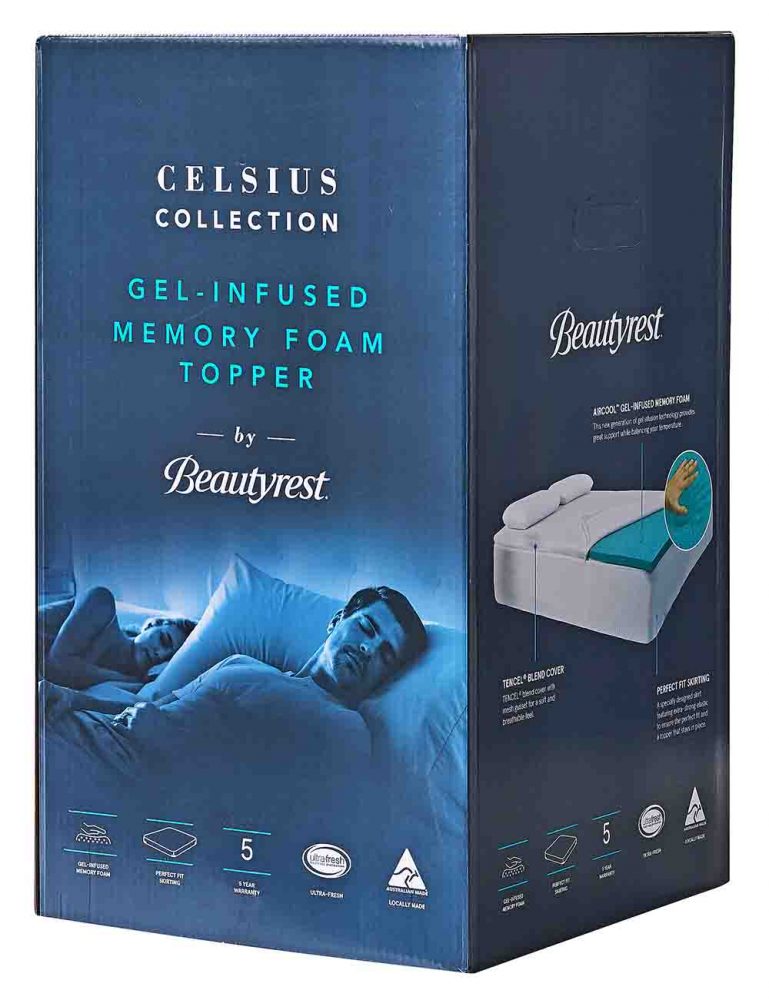 With a highly breathable Tencel and polyester blend and a supportive 4cm layer of gel-infused memory foam, the Beautyrest Celsius Mattress Topper is a premium Australian Made mattress topper that truly deserves its name.
Adding a layer of luxurious comfort to rejuvenate your mattress, AirCool™ gel enhances airflow and disperses heat, helping you stay cool and fresh even in the hotter months.
Australian Made Bedroom Furniture
Putting together a bedroom that's a joy to sleep in involves more than just Manchester, Mattresses and other accessories. At the heart of any bedroom is a Bed Frame, and finding the right one is among the most personal shopping decisions you can make.
Again, choosing to shop Australian Made has a range of undeniable benefits. Australian Made Bedroom Furniture is all manufactured according to the highest standards, and designed to suit Australian trends and lifestyles. Best of all, our Australian Made Bedroom Furniture is customisable, so you can easily tailor a range of details to craft an Australian Made Bed that perfectly matches your space and personality.
Buying Australian Made Furniture is also a great opportunity to support local industries and craftspeople, putting money back into the community at a critical time and ensuring Australian furniture manufacturing can continue to flourish into the future.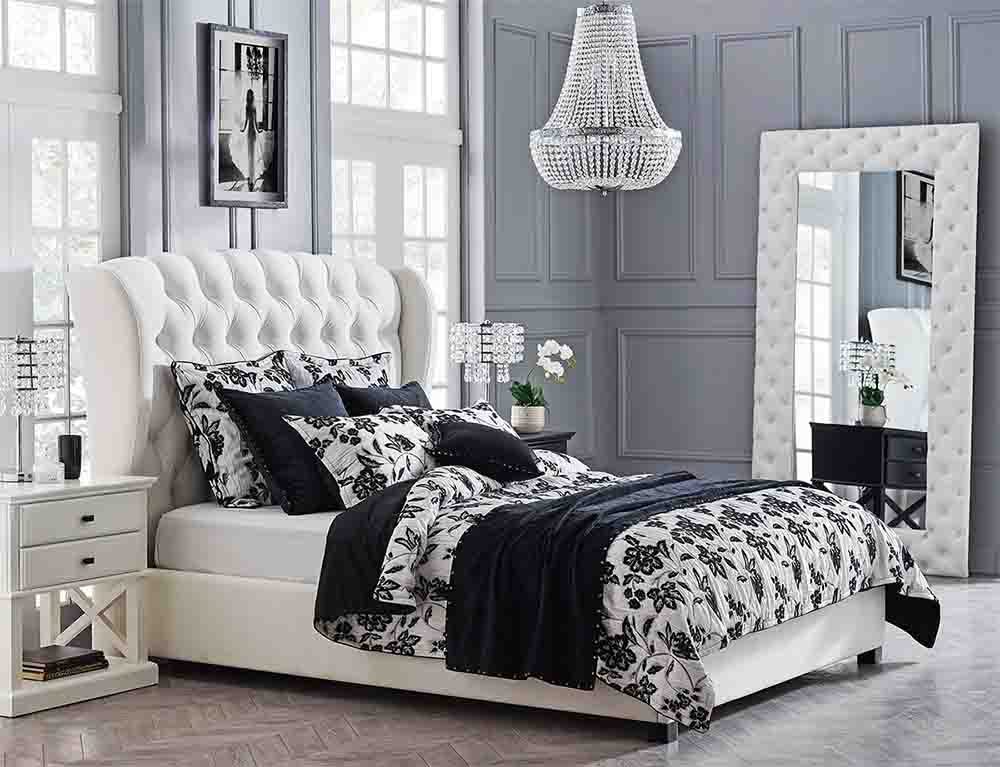 Australian Made Fabric Beds
Our extensive ranges of Australian Made Fabric Beds are customisable from top to bottom. Express your style and harmonise with existing décor by choosing your preferred fabric, height and style, colour of feet, diamond buttons, stud detailing for a touch of flair, or even built-in drawers for a stylish and space-saving storage option.
The 'Beatrice' Bed makes a grand statement with a tall bedhead featuring hand-tufted button detailing. Pictured above in 'Warwick' Plush Optic fabric, you can put your personal stamp on this classic piece with your selection from a range of fabric upholstery options. The huge range of Australian Made Bedroom Furniture makes it effortless to craft coordinated looks. For a complete bedroom makeover, consider combining the 'Beatrice' bed with a matching bedroom chair or mirror from the 'Beatrice' Bedroom Collection.
Showcasing the variety of Australian Made Bed designs on offer, the 'Adelle' sports a more contemporary, minimal profile that is no less elegant and impressive. Available in a range of sizes and fabric options, the 'Adelle' will fit right in to any modern bedroom. The diamond-stitched bedhead can also be purchased separately to add a touch of flair to your existing bed.
The feet of the 'Adelle' are also completely customisable from a range of styles and stains.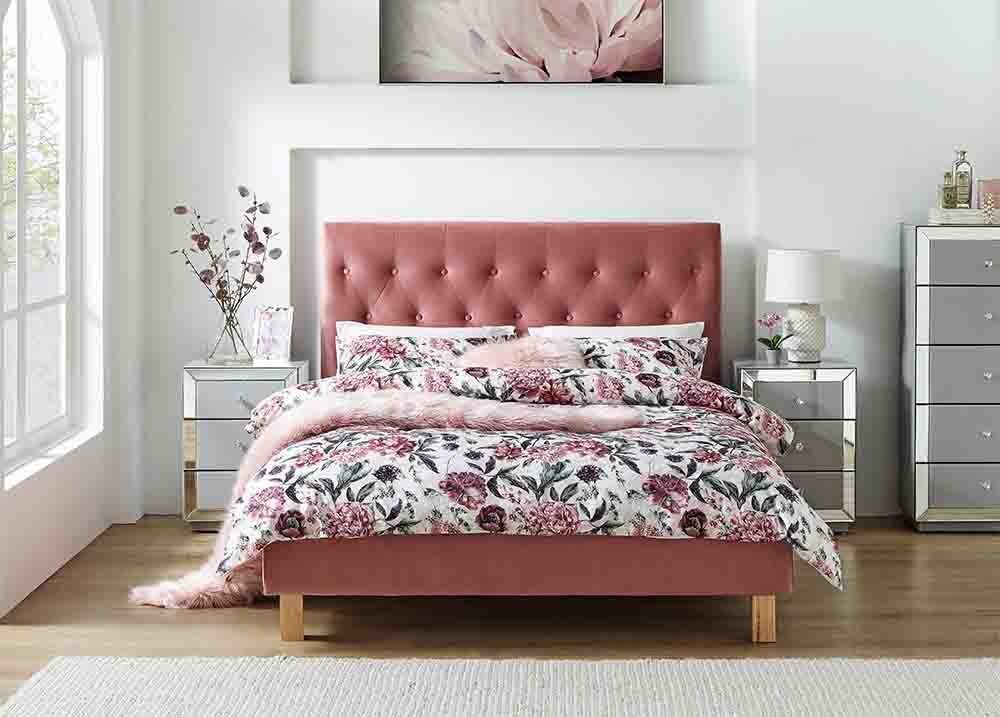 Australian Made Timber Beds
For a bedding alternative that's both organic and sophisticated, consider timber. Besides its natural beauty, quality timber constructions are also extremely sturdy and durable. Our Australian Made Timber Beds all meet excellent standards in craft and design, making any purchase from the range an excellent investment in the future. Many are crafted from premium Australian timbers, so your purchases contribute to two key Australian industries at once.
Choose from an array of distinctive timber stains to style the perfect piece for your bedroom.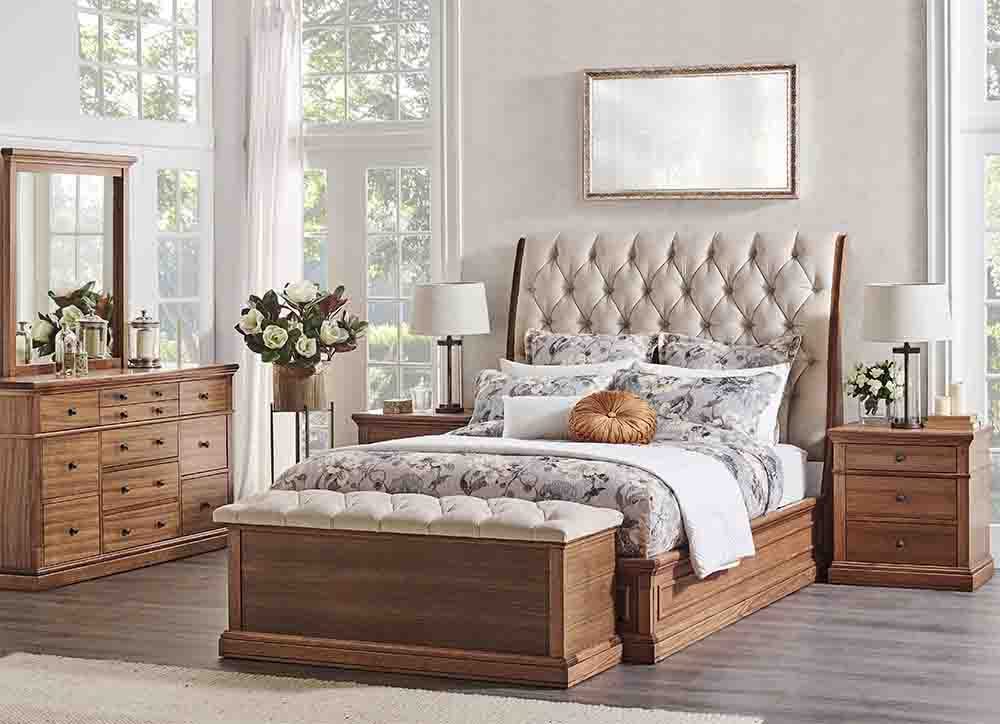 A combination of timber and fabric detailing lends the 'Mornington' Bed a homey, rustic charm. The bed base is built to last from Victorian Ash timber with warm, traditional design features.  Pictured in an 'Amber' stain, the 'Mornington' can be modified with your preference from nine other timber stain options. You can also customise the fabric bedhead to craft a coherent style statement, or round out your new-look bedroom with other pieces from the 'Mornington' collection.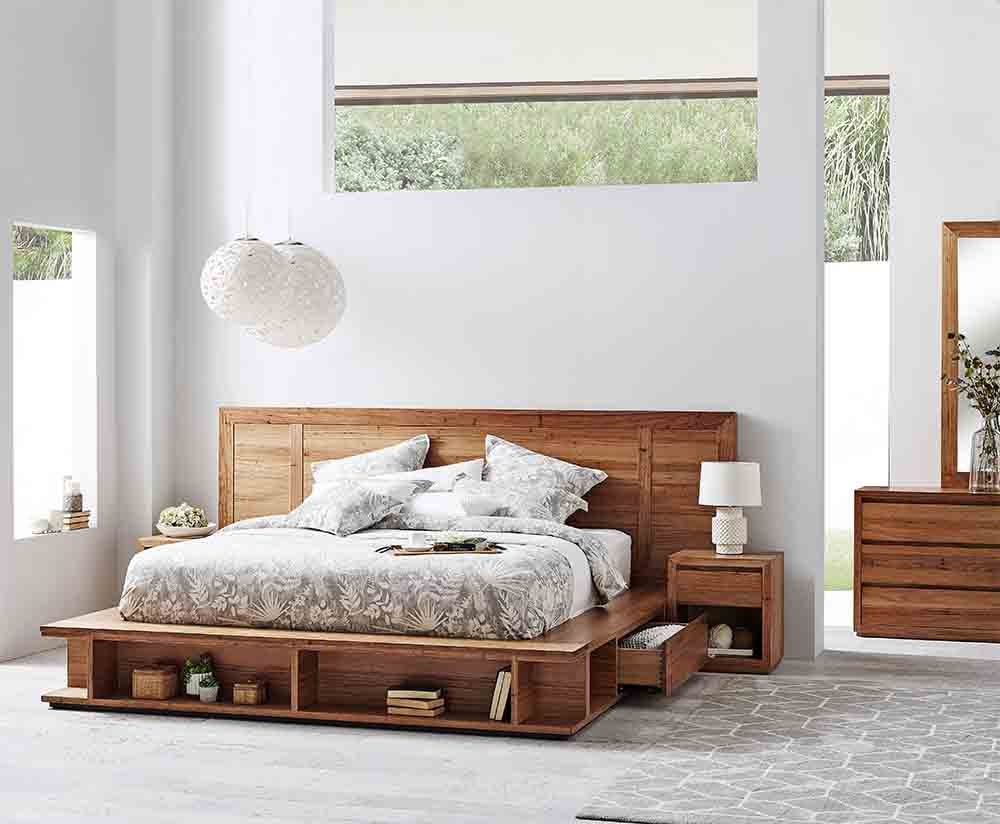 Timber Bedroom Furniture is about more than just rustic traditionalism. Highlighting the versatility of the material, the 'Stratton' combines the natural beauty of its Australian Silver Top Ash Timber with ultra-modern, geometric forms. A range of built-in shelves and two storage drawers make for a clever, attractive storage option. Featured in a timeless 'Natural' stain, it can be customised with your choice from a number of timber stains including 'Cameo' and 'Smoke'.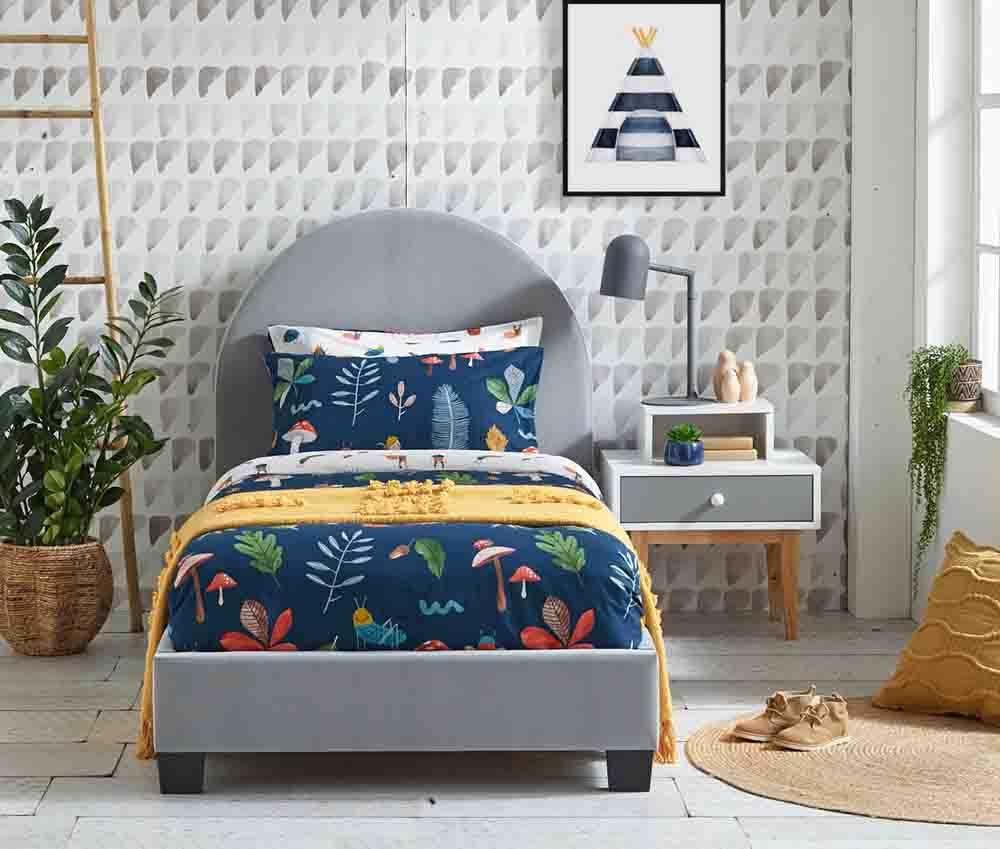 With the mix of quality and value that Australian Made Bedroom Furniture brings to the table, there's no need to settle for inferior, disposable products when it comes to bedding for the kids. From fun and functional bunks and other options ideal for younger kids to mature, stylish beds that teens will age into and keep loving, our range has everything you need to give your little one the bedroom of their dreams.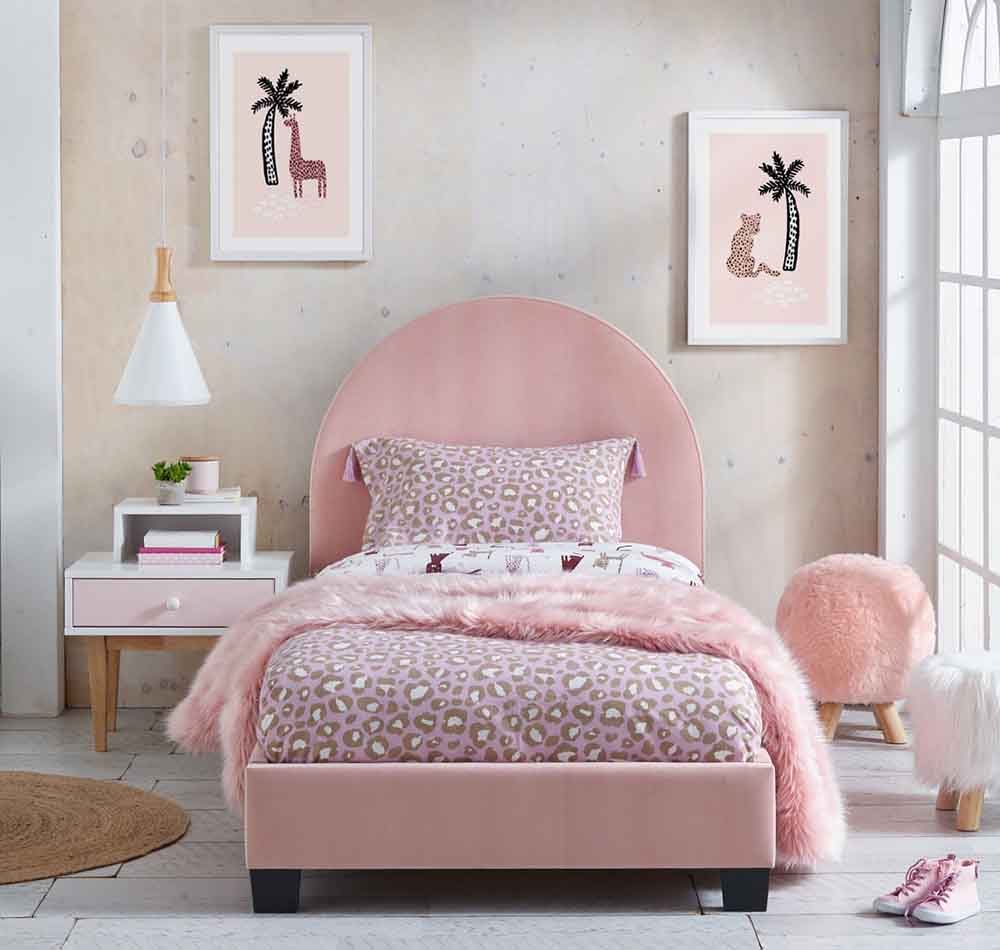 One great example is the all-new 'Chloe' Bed.  With a soft, elegantly minimal profile, the 'Chloe' has universal appeal. Style it to suit a range of ages and personalities with your choice of Manchester. Like all our Australian made kids' beds, it can also be customised with a range of colour options to express your child's individual sense of style and help make their bedroom a space they'll take pride in. Featured above, the 'Panache' Blush fabric (left) and 'Panache' steel fabric showcase all the difference that a colour change can make.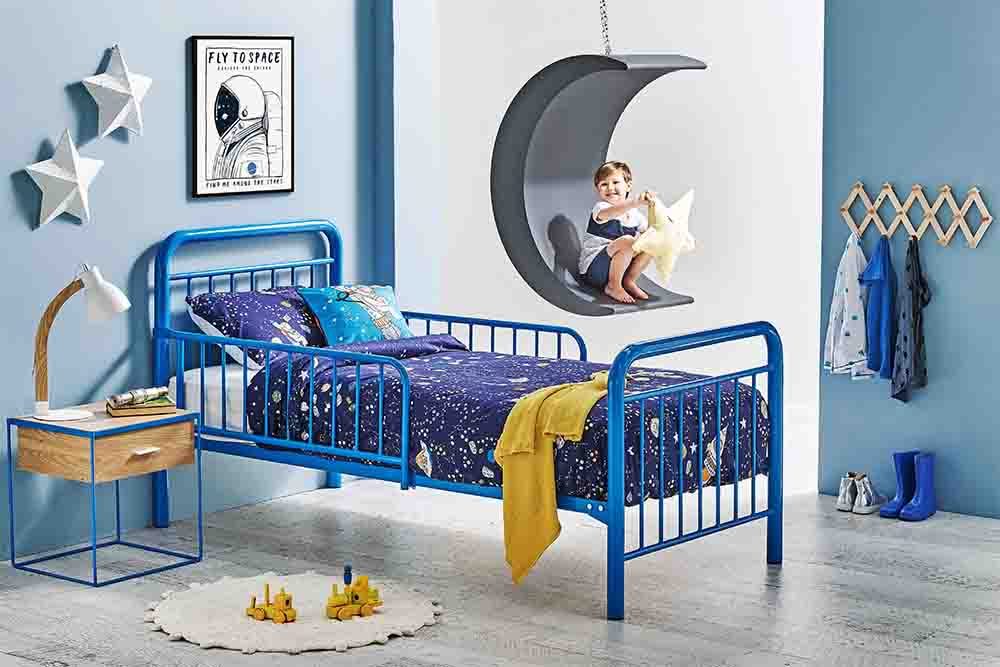 Our Australian Made Bedroom Furniture range also includes a number of options suited to younger children and toddlers. Removable side rails and a bright, satisfyingly simple design make the 'Cali' the perfect choice for a kid that's too old for a cot but not yet ready for a more grown-up bed like the 'Chloe'. With 16 vibrant colour options, you're sure to find one your child will love.
Australian Made Mattresses
Last but certainly not least, buying a new mattress is the biggest step you can take to transform your sleep quality for the better. The Australian Made mattress industry is a world leader in its field, with a range of local brands driving constant innovations to provide unparalleled comfort and support. With a huge variety of top-quality mattresses, available in a range of feels and sizes to suit differing sleep styles, you're guaranteed to find the perfect sleep solution for you. Plus, your Australian Made mattress purchases support Australian jobs and help local bedding brands continue to lead the way globally.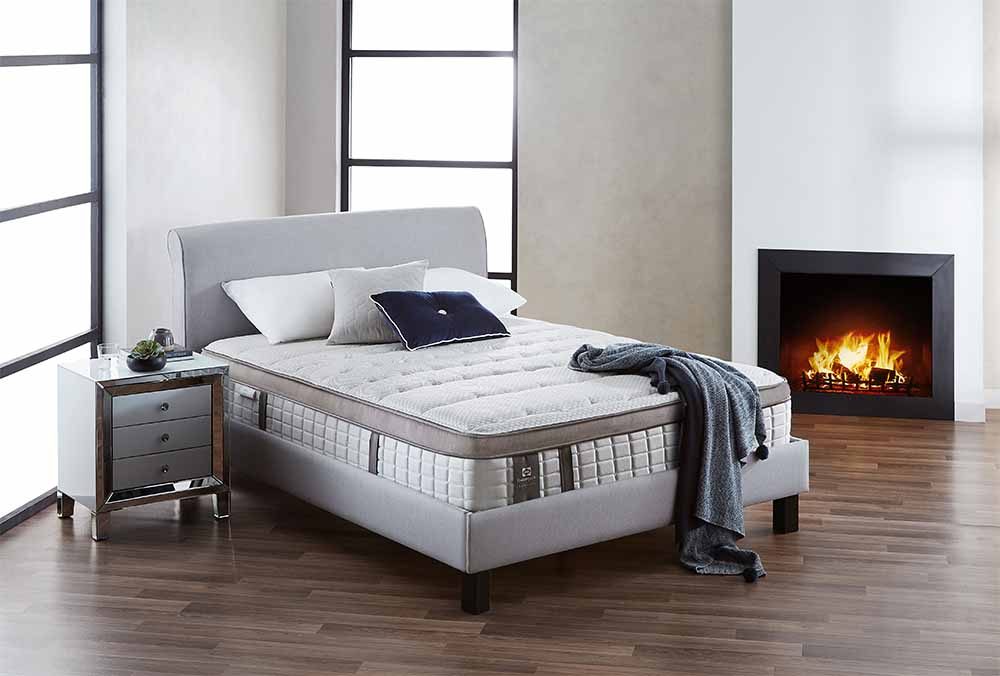 Sealy
As a result of years of rigorous testing and orthopaedic research, Sealy has become synonymous with cutting-edge sleep technology and intelligent mattress design. Their famous Posturepedic® Technology is carefully designed and hand-layered by skilled Australian craftsmen to help you sleep easy and wake up rested, free from aches and strains.
The Sealy Posturepedic® Exquisite™ Vienna Mattress  features a patented ReST®II three stage responsive support system, which adapts to your body type and sleep patterns, providing personalised support. A Gel Infused ComfortCore® layer offers additional cushioning and relieves lower back pressure, so you'll be comfy in bed and feel better throughout the day.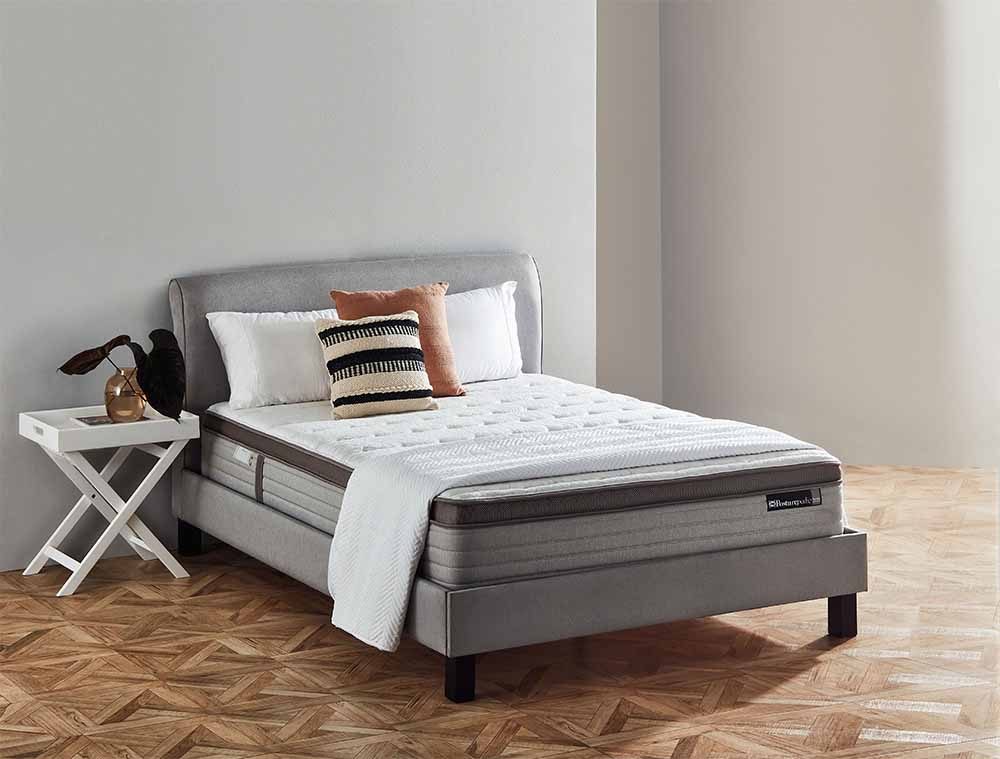 The Sealy Posturepedic® Elevate Ultra Geneva Mattress features Sealy's innovative Titanium AlignSupport™ system. Sensing your body's weight, the intuitive coils that form the Titanium AlignSupport™ system effortlessly adjust to support your body's natural alignment. This sets the stage for a deep, rejuvenating sleep, leaving you feeling refreshed in the morning.
A.H. Beard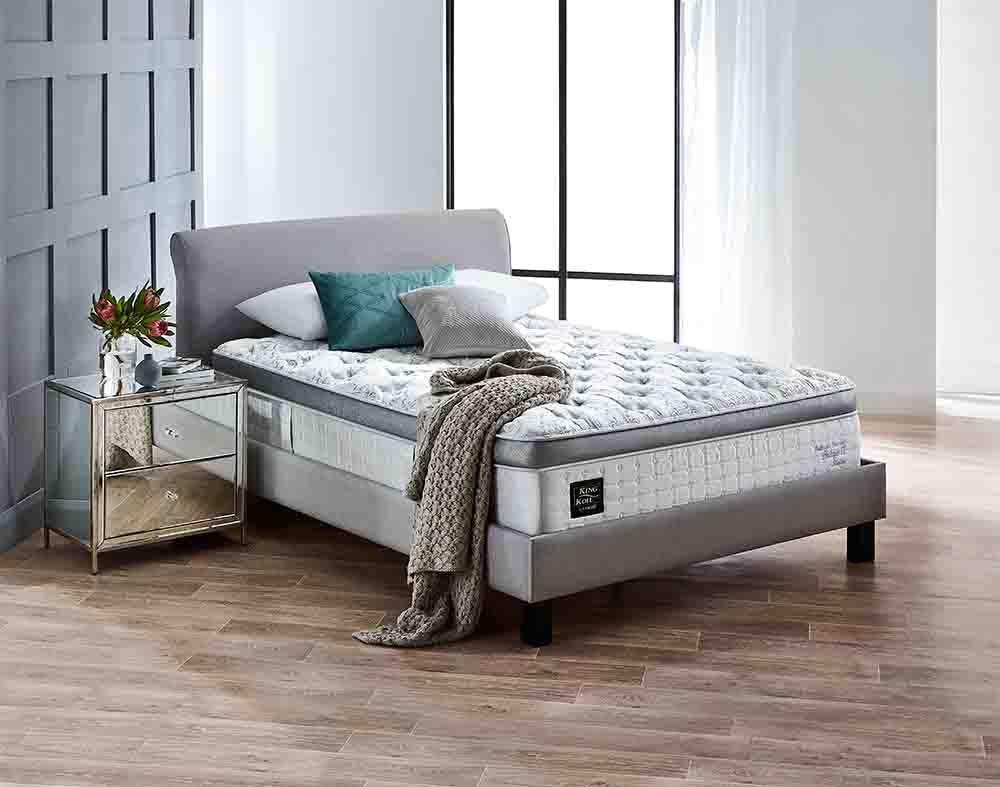 A proudly Australian owned family business with a history dating back to 1899, A.H. Beard has earned its reputation for consistent excellence and innovation. When you choose an A.H. Beard mattress, you are helping continue this brand's legacy, as well as supporting over 400 highly skilled Australian workers who produce their quality mattresses.
The King Koil Platinum Posture Bellagio II Mattress features A.H. Beard's unique Micro Comfort Coils. These springs allow the mattress to precisely conform to your body as you sleep, providing a new level of comfort and pressure relief.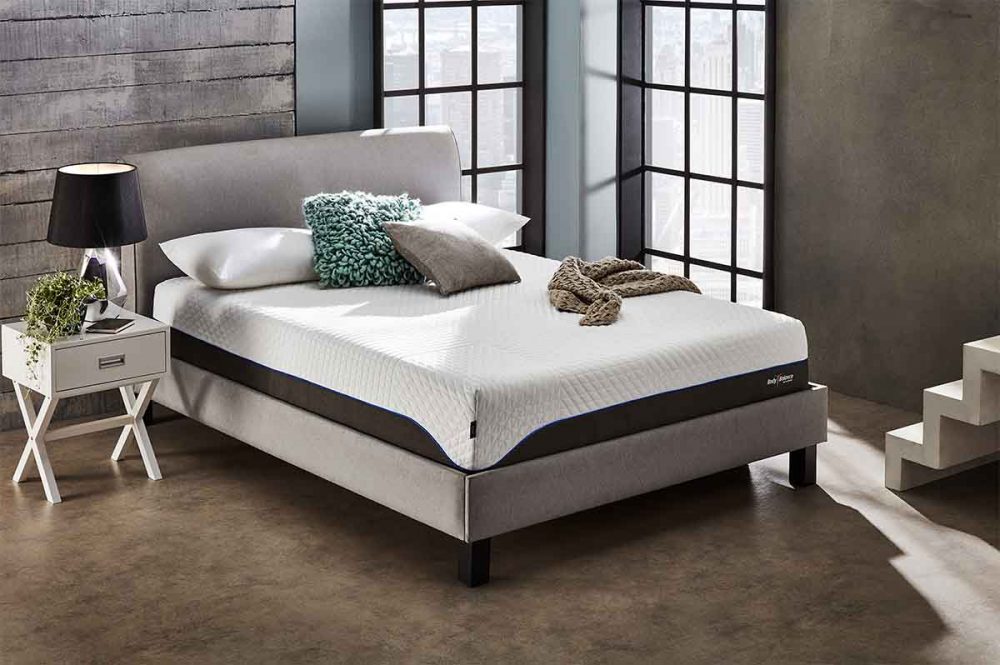 A.H. Beard's luxurious Body Balance range is all about providing adaptive comfort and support that is perfectly balanced for your individual needs. Special Body Balance Memory Foam cradles your body's curves and alleviates pressure points for a more comfortable sleep. Sleeping on the Body Balance Lotus Mattress is a truly indulgent, sumptuous experience. It also provides the optimal support to ensure healthy posture and a restful night's sleep.
SleepMaker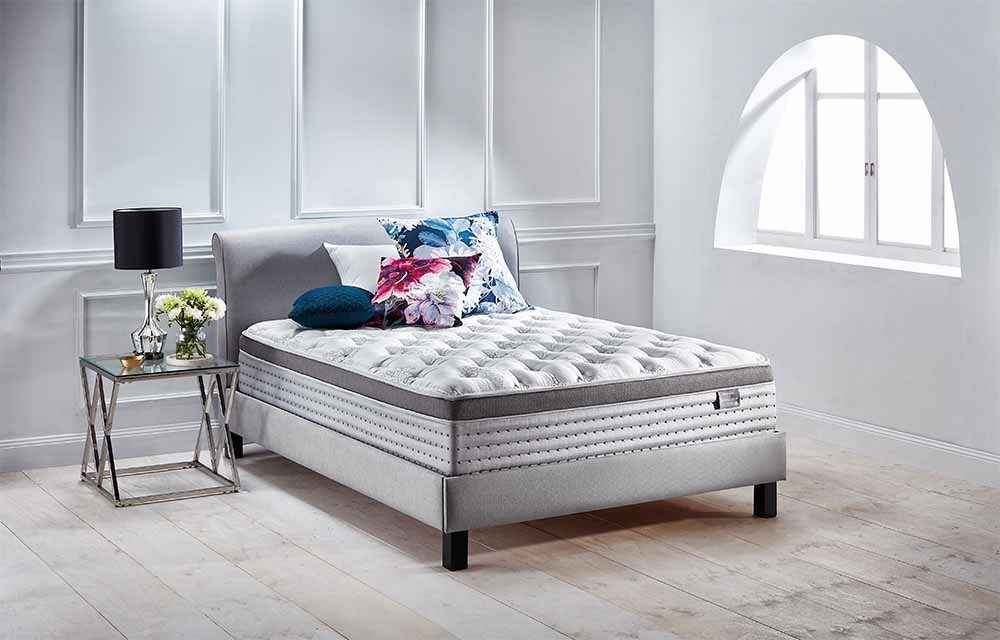 Founded over 80 years ago, SleepMaker® is a company with a serious commitment to producing the highest quality products and doing it with the best local materials and workers. Every SleepMaker® is an Australian made mattress through and through.
The SleepMaker® Arizona Deluxe Mattress is made with innovative Graphene Infused Memory Foam that supports you while also dissipating heat to keep you cool. Meanwhile, a strong 5-Zone pocket spring coil system works to give your body greater overall support.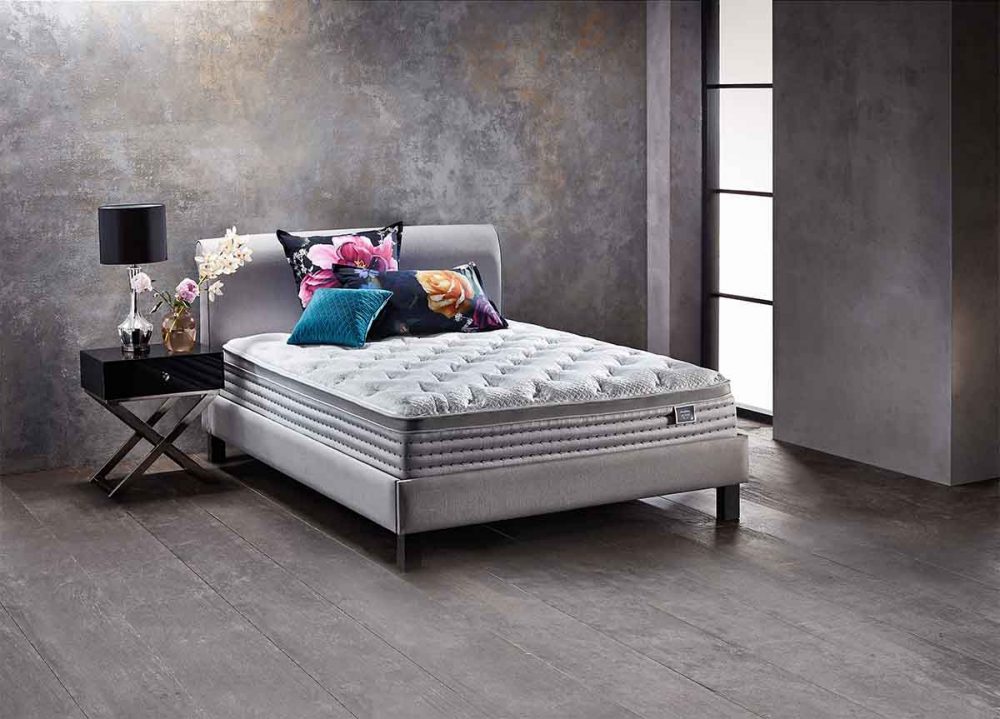 For a natural source of temperature regulation and soft, soothing comfort, the SleepMaker® Alaska Mattress features a wool fibre layer. Both SleepMaker® options also feature KulKote, an advanced technology originally developed for use in space. By absorbing heat and only releasing it when necessary, this infusion helps you stay cool in summer and warm in winter. This is an Australian made mattress that will easily accommodate a wide range of sleep style and climates.
Discover More Australian Made Bedding
Now that you've seen a glimpse of what Australian made bedding has to offer, you're probably ready to start looking for the perfect fit for you from our comprehensive range. Browse the range online or head to your local Harvey Norman to begin your bedding journey today. If the options are overwhelming, our friendly and knowledgeable staff will be happy to advise you, or you can start by consulting the handy Beds & Mattresses Buying Guide on our website.