Winter is settling in. With chilly mornings and longer nights, you'll probably be feeling the urge to spend a lot of your time snuggled up indoors. That makes it a great time to explore winter furniture options that bestow a sense of style and comfort upon your home.
When looking for such winter furniture, we strongly recommend high-quality Australian made designs. Supremely crafted Australian made furniture will keep your home looking fashionable for countless winters to come. Plus, you'll be supporting Australian manufacturers at a crucial time.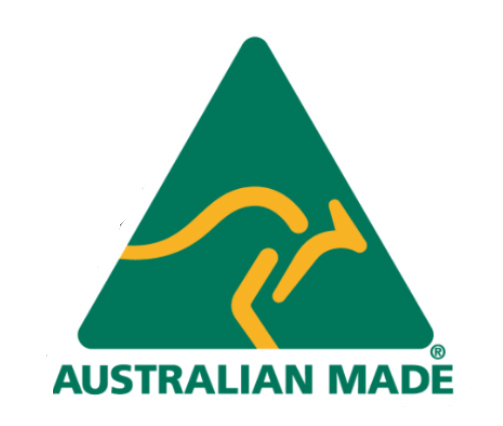 To get you inspired, here are a few of our favourite winter interior styling options from Harvey Norman's extensive Australian made furniture range.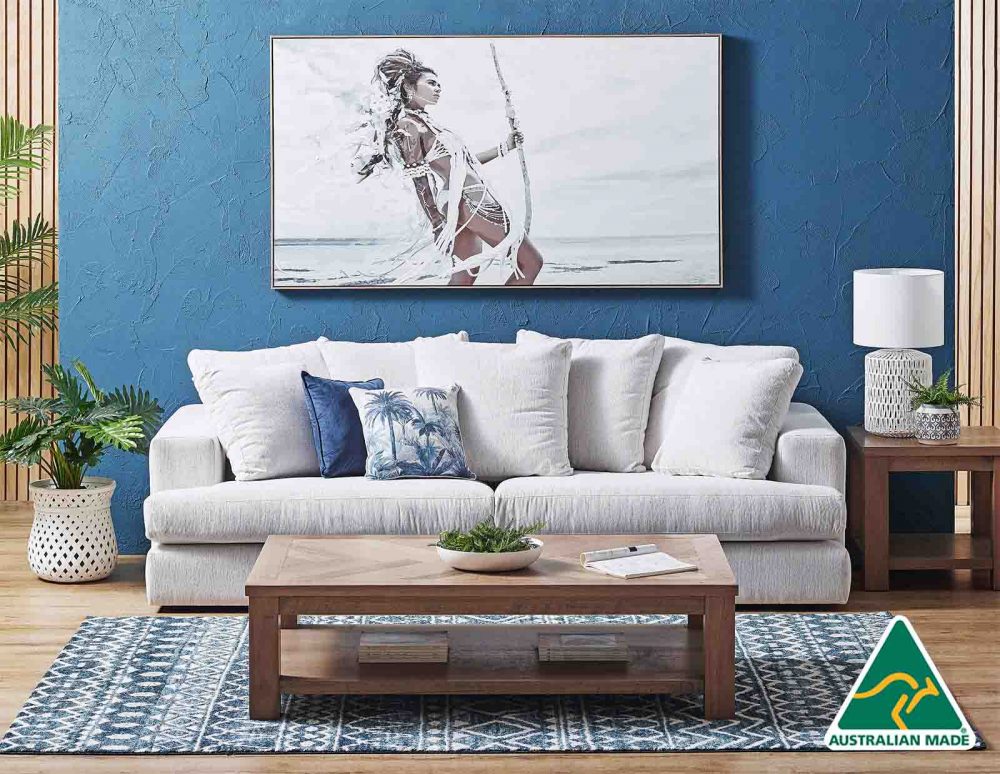 At the heart of a cosy, welcoming home is a good sofa. With that in mind, we're going to introduce you to a few Australian made sofas that have the ability to transform any living room into a delightful winter sanctuary.
The first of these Australian made sofas is the 'Cavana' Fabric Sofa, featuring an inviting, soft deep-seated design, as pictured above. This is a winter sofa that truly beckons you to curl up and take refuge with a book, a favourite TV show or the company of a loved one.
Wide armrests and a scatter back design make for a laid-back, homey feel – perfect for entertaining guests or sharing a cosy winter day with family.  Featuring plush foam seating and an array of sumptuous fibre-filled cushions, the 'Cavana' is a sofa you can dive into. And, once you take the plunge, you'll never want to leave.
Customise with a range of fabric options to complement existing décor and choose your size to perfectly suit your needs and space. With casual grace, the 'Cavana' Australian made sofa will lend a sense of warmth and relaxed charm to any contemporary living space.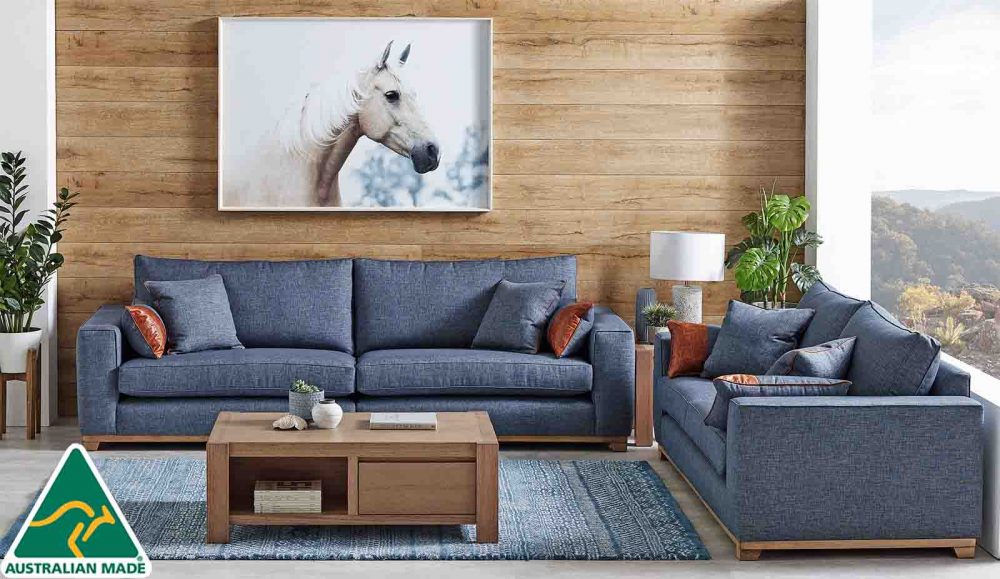 For a winter sofa that's every bit as cosy as the 'Cavana' but with a more refined, less casual feel, consider the 'Orson' Fabric Sofa. With a streamlined design featuring clean lines and subtle contrasts, the 'Orson' Australian made fabric sofa has an elegant minimalism that will elevate the tone of your winter interior styling.
You can match your existing colour scheme or create a soothing winter atmosphere with a selection of fabrics including the tranquil, organic navy option pictured above. Unique leather accents on the cushions add a hint of flair, as well as a rich, textured element that is perfect for evoking a sense of warmth in the colder months.
As handsome as it is, the 'Orson' Australian made fabric sofa is not all about the looks.  Deep seating with plush five-layered foam cushioning upholstered in firm polyester offers all the comfort and support you could want for countless lazy days and restful evenings indoors. A mix of square and rectangular cushions completes the aesthetic, and provides the flexibility you need to get snuggled up in just the right pose.
Like all the Australian made sofas featured here, this is not only a fantastic winter furniture solution, but an investment piece for the future thanks to excellence in craftsmanship and design. Radiata pine block legs and a sturdy timber frame combine with premium fabric upholstery to ensure the 'Orson' has the durability to keep you comfy and warm for many winters to come.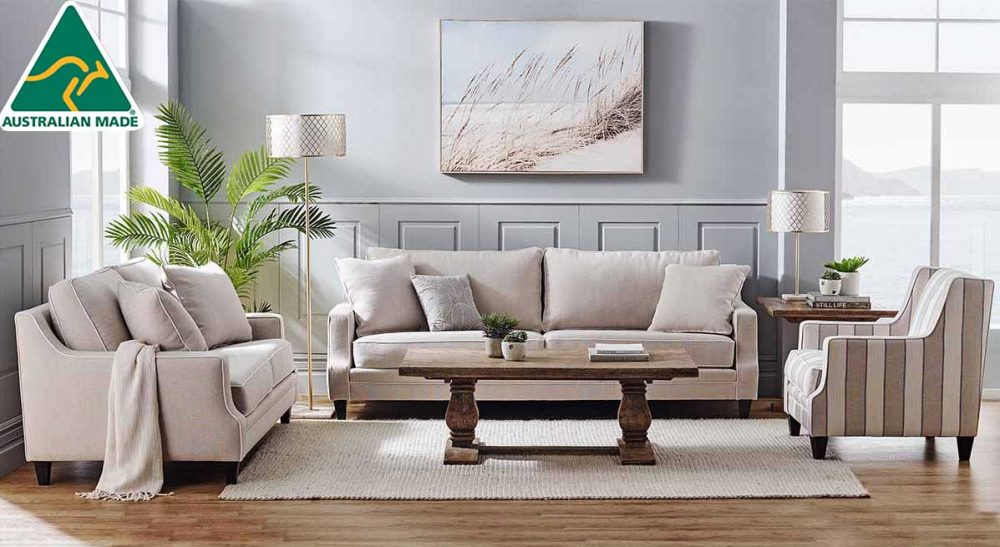 For a classic winter sofa that evokes memories of happy winters past, you can do no better than the 'Renoir' Fabric Sofa. Even if you didn't grow up with a similar lounge in your home, the timeless Hamptons design and soft curves of this piece are certain to bring up warm feelings of nostalgia for simple, joyous times spent together with family in front of the television or fireplace.
While its classic French-inspired styling and tapered timber legs contribute to a sense of sophistication, subtle curves and open forms make the 'Renoir' Australian made sofa an inviting setting for winter relaxation. Thick fabric upholstery and no-sag zig-zag springs ensure this timeless piece provides the best in modern comfort.
The 'Renoir' Australian made sofa is available in a range of fabric options, with chic piped details in complementary colours. Pictured above, Avalon fabric in a familiar natural tone with white piping makes an excellent choice for a winter sofa.
With a strong timber frame and premium upholstery, this is another Australian made sofa that's built to last, letting you enjoy magical memories with friends and family for countless winters ahead.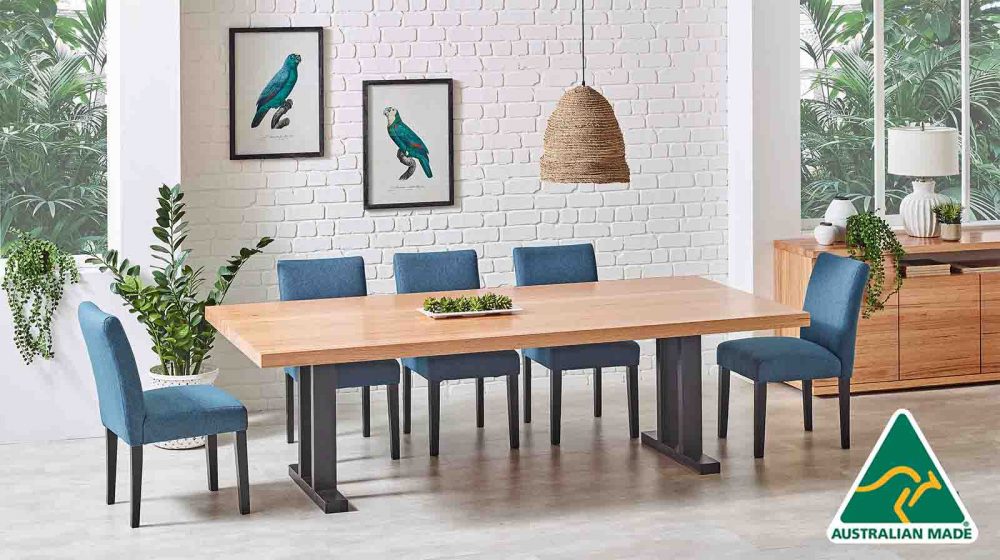 While sofas are important, they aren't the be-all-end-all of winter furniture.
In the colder months, venturing out to socialise at restaurants isn't always the most appealing option, and there's no way to enjoy the season quite like a warm, delicious home-cooked meal shared with family and friends.
If you want to do this the right way, you're going to want to do it in style and comfort. That means you're going to need a great dining table. No matter your tastes, the versatile 'Dixon' Dining Table, pictured above, is an excellent candidate for this role.
Modern, yet natural, the warm hues of a large, solid timber tabletop make the perfect centrepiece for a hearty, convivial winter meal. The 'Dixon' Australian made dining table can be personalised with your choice of Victorian ash or wormy chestnut timber, both featuring unique organic markings and grain patterns, and both available in your timber stain colour of choice.
Steel legs in a dark grey finish give this Australian made dining table a stylish, contemporary edge, without compromising the warm, homey feel created by the timber. Like the tabletop, the legs are also highly customisable. Make them yours with your selection from a wide variety of leg design options.
A quality winter dining table is best matched with a cosy set of dining chairs like the refined and comfy 'Barcelona' Dining Chair (also pictured above). Thick Warwick fabric upholstery gives this chair a plush feel, while oak timber legs and frame make for a durable and elegant complement to any dining setting.
Discover More Australian Made Winter Furniture
This has been just a glimpse at the stunning range of top-quality Australian made furniture available at Harvey Norman. If these examples have inspired you to refurnish this winter and transform your home into a beautiful and luxurious sanctuary, you can browse our full range of Australian made furniture online or visit your local Harvey Norman where our expert staff will be delighted to guide you on your winter interior styling journey!
Earlier this year, we showcased our favourite timeless interior design looks, all styled with Australian made furniture. Check them out here for more Australian made furniture inspiration!