Looking to update your home? Our great range of lounges, dining, and occasional furniture from the Your Home, Your Style catalogue is the place to start. We've identified five key looks that are immediately going to inspire you to create the home of your dreams.
Look 1: The Hamptons
Do you spend your day dreaming of the seaside? Don't wait for your next holiday – you can create the beach-house effect at home with this relaxed yet quietly sophisticated style.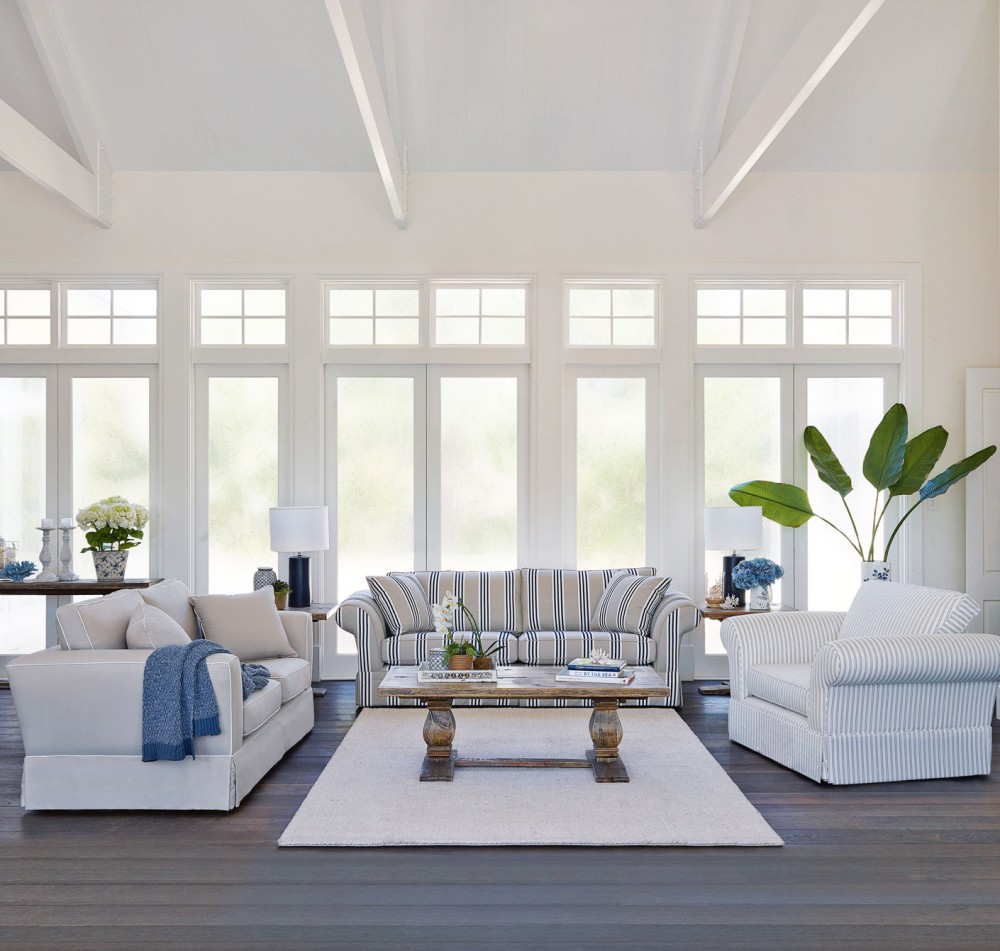 This look is all about natural light, crisp whites and nautical themes. We love the relaxed mix-and-match style of the 'Crowdy Bay' 3-Seater Fabric Sofa (pictured centre) in Hampton Sand Stripe upholstery and 1.5-Seater Fabric Armchair (pictured right) in Long Island Sand upholstery – they instantly set the tone with a fresh take on nautical stripes. To balance out these strong prints, bring in a more neutral solid colour but with textural personality, such as the piped edging and valance details of the 'Harrington' 2.5-Seater Fabric Sofa in Eastend Sand (pictured left). Complete the look with the 'Nebraska' occasionals range, featuring a bold and rustic design and natural woodgrain that evokes harbourside summers.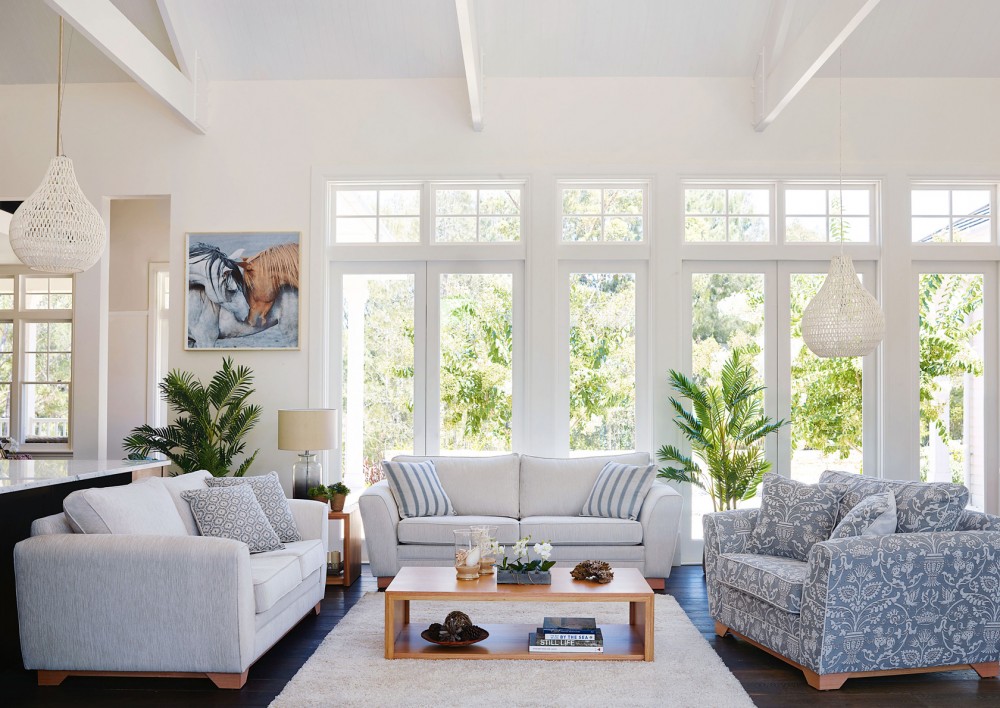 For a more restrained approach, move the stripes from statement sofas to smaller decorator items, and mix different prints in corresponding colours. The 'Sloane' Fabric Sofa range is perfect for this approach – it comes in a very wide range of fabrics and colours, and the natural Victorian Ash base feels confident yet unassuming. It also comes with scatter cushions for effortless co-ordination. Pictured above are the 2.5-Seater (left) and 2-Seater (centre) in Warwick Vitani Linen upholstery which have been paired with the bold Warwick Sarafina Dew print of the 1.5-Seater Armchair and the sleek 'Madison' occasionals range. Add ferns or seashells to bring the beach inside.
Look 2: Cosmopolitan Style
Create a fuss-free, streamlined aesthetic for refined, city-style living. To achieve this look in your home, embrace slate grey, classic black and crisp whites to highlight unique pieces.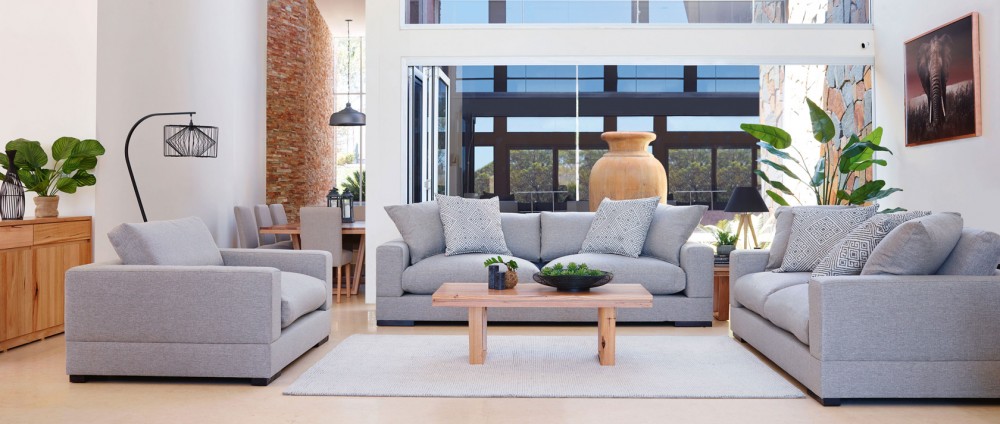 The cosmopolitan look is a great chance to play around with super smooth, sophisticated lines and industrial accents. Choose the 'Langham' range in Linderman Ash upholstery for its ultra-modern low-back seating and break it up with the square detailing of the co-ordinating scatter cushions in Simbra Coal. We love this range as, like all our Australian Made lounges, it can be customised in any fabric (prices will vary), so finding the perfect colour for your home is easy. For finishing touches, pair with the metallic tones of the 'Finley Black' Floor Lamp with the blonde woodgrain of the 'Cathy' occasionals range. Add leafy foliage for an indoor-outdoor feel.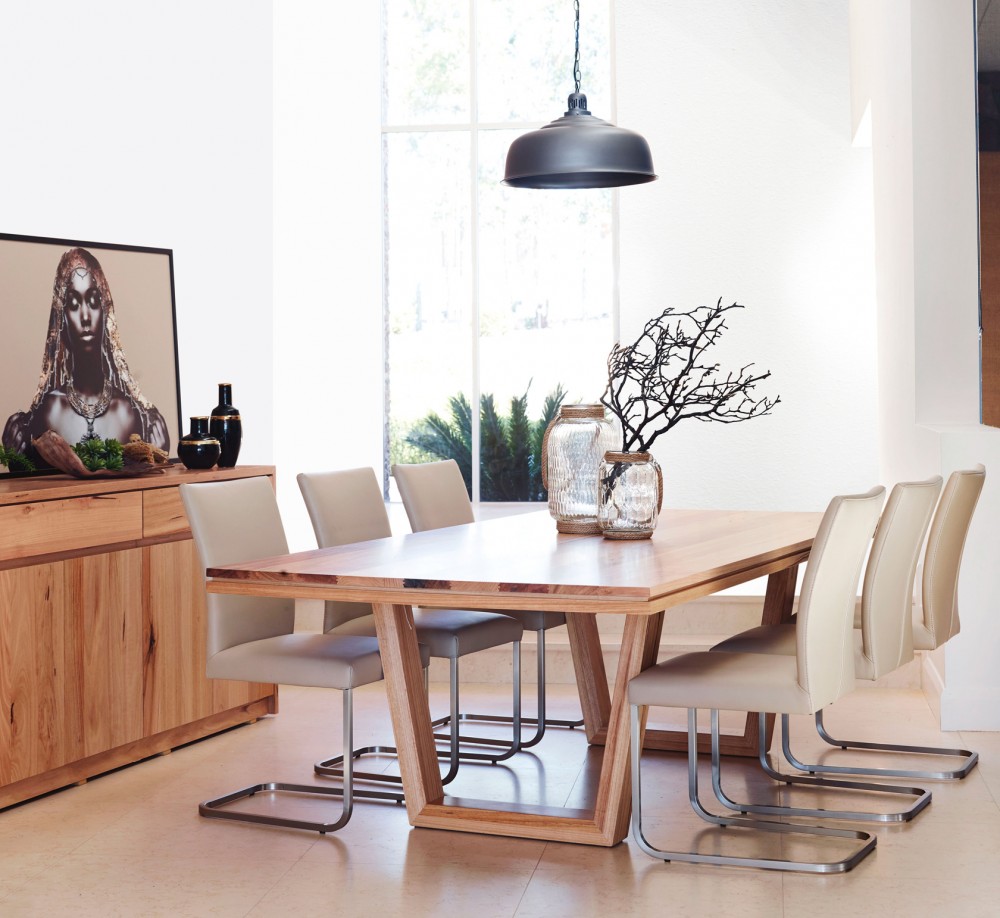 You can continue the look with the 'Cathy' Dining Table. The harmony of the modern lines and natural woodgrain is simply stunning, and is on-trend with the metallic accents of the 'Cathy' Leather Dining Chair (available in a selection of colours).
Look 3: Casual Chic
When you need to unwind, kick back in deep seats and plush cushions for a look that is immediately chilled-out and casually cool.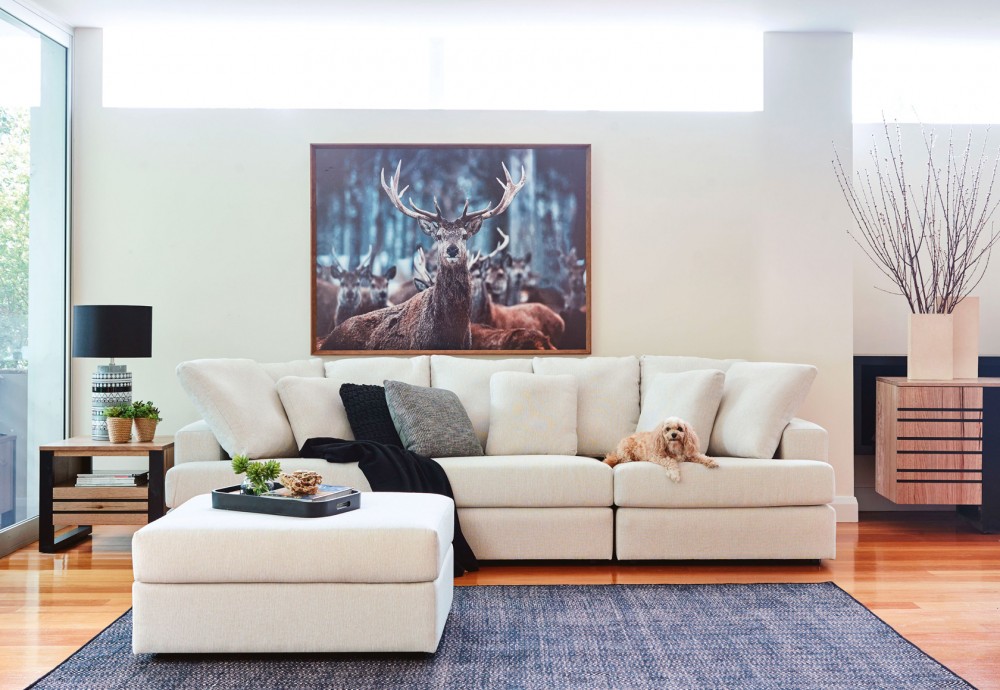 The 'Portobello' Fabric Sofa, shown in Lindeman Linen upholstery, is available in 18 colours or to order in custom fabrics for easy integration into your décor. It is shown here with the 'Derwent' occasionals range and 'Totem' Table Lamp, which adds a quietly dramatic pop.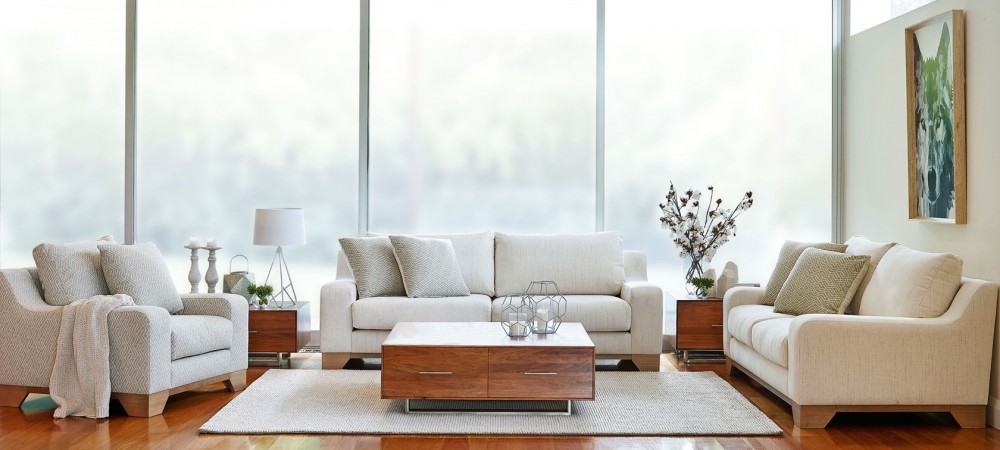 Achieve a breezy and restful look with the 'St Ives' Fabric Sofa range. The 3-Seater and 2.5-Seater are shown here in Sioux Linen upholstery and feature print Drumlin Limestone on the 1-Seater and scatter cushions for an uncomplicated but co-ordinated style. Warm it up with the lovely Victorian Ash timber of the 'Balfour' occasionals range.
Look 4: Modern Elegance
Create a timeless style with taupe tones, natural textures, and subtle silver accents.
To achieve this look, choose the 'Parklane' Dining Table and occasionals range. The enduring warmth of the Silvertop Ash timber is wonderfully offset by the metallic detailing on the table and buffet. The fabric dining chairs bring to mind more traditional dining, but still feel current and fresh in the Zepel Premier Gull upholstery.
Look 5: French Provincial
Elegant, lavish and welcoming, with a clear nod to the romance and good taste of yesteryear, this look will have your guests saying 'Ooh la la' the minute they walk in the door.
Combining  ornate details and a warm colour palette is so simple with the 'Alma' Fabric Sofa range – the traditional rolled arms, antique-style wingback and opulent feet moulding make it an instant classic. Choose the 3-Seater and 2.5-Seater in Shabby String Harbour upholstery for its muted floral detailing, then tie the whole look together with the feminine, vintage feel of Harbour Crystal fabric on the armchair, footstool and scatter cushions.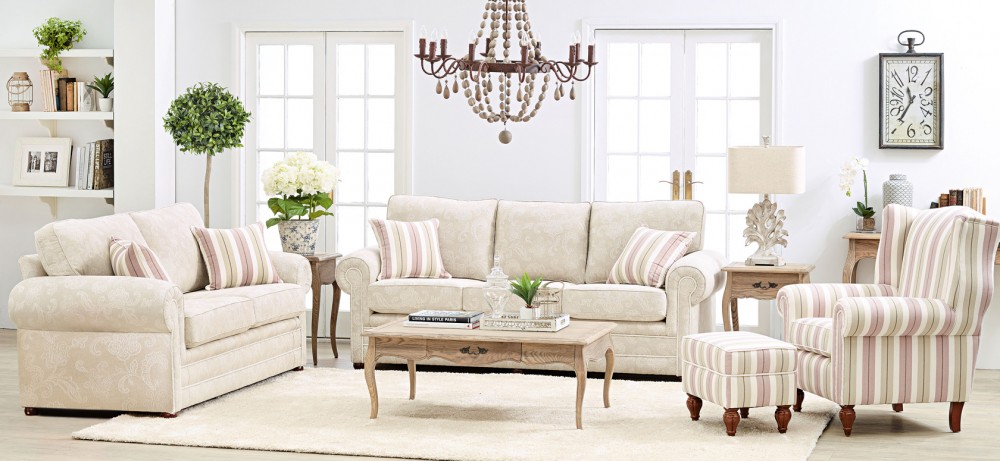 Have we inspired you to update your lounge room or dining area? Check out our beautiful furniture collection online or visit your local Harvey Norman store to speak with our friendly furniture team.