Get excited, people – you'll be shopping up a storm during Harvey Norman's Shop Frenzy! Whether you buy in-store or online, you can be confident we'll slice the price on lots of amazing products. For instance, you can get 6×4-inch prints of your photos for just 5c each… and that's only the beginning of the bargains.
Harvey Norman Shop Frenzy is 25 hours of money-spending madness. You have the option of shopping in-store or online (and picking up goods from your local Harvey Norman outlet). Ensure you don't miss out by taking advantage of our easy payment option: 60 months interest free, no deposit and no interest with monthly repayments until April 2018 (offer ends 24th April).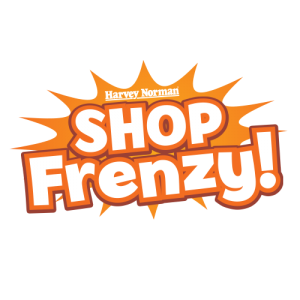 Our stores are open from 6pm to 9pm on Tuesday 23rd April and 9am to 7pm on Wednesday 24th April (trading hours may vary, so check your local Harvey Norman shop for details).
To prepare for the rush of retail activity online, here are a few tips for Harvey Norman Shop Frenzy:
Know what you want to buy by doing your research beforehand.
Determine the price you're willing to pay.
Try logging onto the website a few moments before Harvey Norman Shop Frenzy begins.
Use multiple devices (e.g. laptop, tablet, smartphone etc) to increase your chances of logging in. In fact, you can recruit friends to help you with your frenzied mission.
As soon as you've logged in, go straight for your desired product(s) – leave the general browsing for after you've secured your buy(s).
Now you're armed with the info to handle the Harvey Norman Shop Frenzy, go crazy and shop, shop, shop!