Harvey Norman is searching for Australia's coolest work space, so take a picture and #shareyouroffice on Instagram to win!
Simply post a photo on Instagram of your favourite home office and you could be in the running to win a $500 Harvey Norman gift voucher or one of four $50 Harvey Norman gift vouchers to jazz up your home workspace. You can enter the competition in three easy steps:  
1) Follow @harveynormanau on Instagram.
2) Post a photo on Instagram of your favourite work space.
3) Include #shareyouroffice and @harveynormanau in your post (and make sure your Instagram account is not set to private – Privacy must be turned off to enter).
Enter now – it's easy!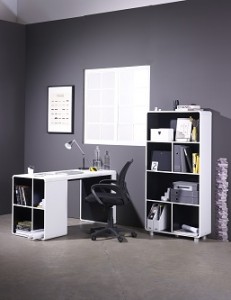 Set up your home office, study or work station with stylish and practical office furniture — like desks and suites — from Harvey Norman. A cleverly designed home office environment will stimulate and inspire you in equal measures. And to ensure positive energy for maximum organisation and productivity, consider these five Feng Shui tips:
Keep your office separate from living areas. Have a dedicated work space – don't do business in your bedroom or on the dining table.
Energy flows from the front door, so have your office relatively close to the front of the house – avoid dark corners and basements.
Place your desk in a "command position". The farthest corner from the entrance is best, so that you can see everything in the room and everyone entering.
Get rid of clutter – it blocks the flow of energy. Anything you use daily should be at arm's reach; everything else should be neatly sorted, filed or stored.
Decorate with plants – they bring the outside in and can help remove toxins in the work space.