Whether you're hosting a summer get-together or just want to spend the day lazing outdoors and soaking up some much-needed vitamin D, you're going to want to do it in style and comfort – and these days, the options are endless. With advancements in outdoor furniture, Australians have learned to design outdoor spaces that are every bit as functional and visually appealing as a modern living room.
To help you create an up-to-date outdoor entertaining space that suits your home and lifestyle, we've put together this quick guide to the trending outdoor furniture materials that are poised to be key in the 2020s. From cement and aluminium outdoor furniture, to timber and wicker furniture designs, we'll show you stunning options in each material, all available at Harvey Norman.
The Versatility of Aluminium Furniture
Light-weight, solid and durable, aluminium outdoor furniture is a reliable mainstay that continues to find new life in the latest fashions and innovations. Available in subtle neutrals as well as bright bolds, settings in this material can be easily adapted to your personal style preferences. Check out these two great examples of the versatile range of aluminium furniture in Australia.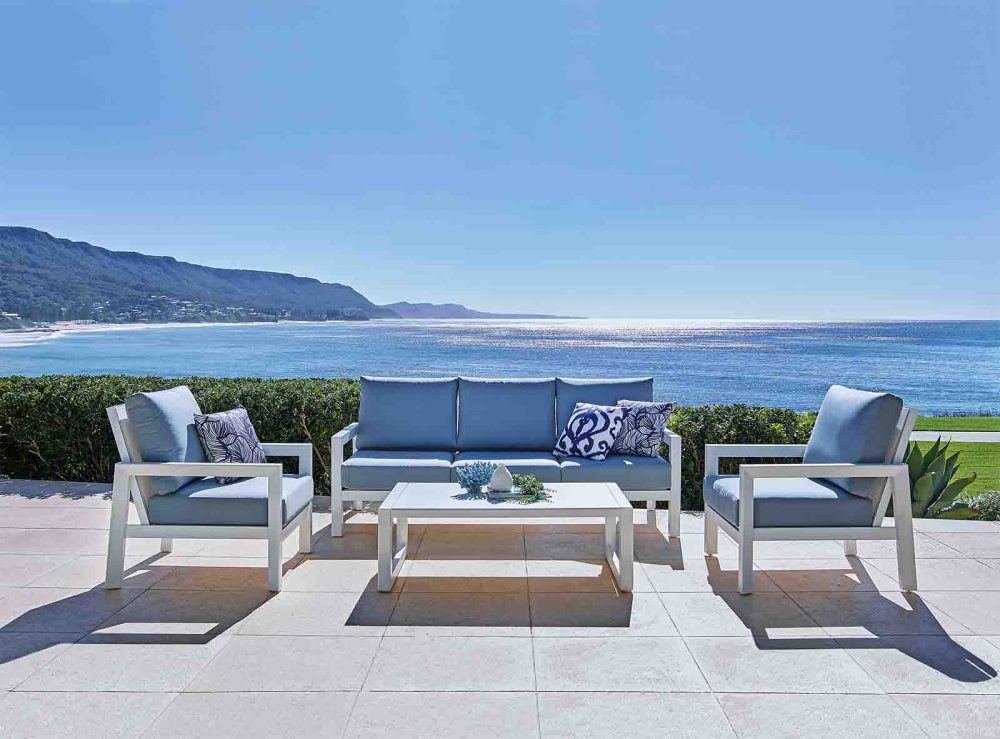 A sturdy, geometric frame makes the 'Largo' 4-Piece Outdoor Lounge Setting a highly durable option that is also surprisingly lightweight and easily rearranged. The same sleek, minimalist design also captures an industrial aesthetic that is set to remain on-trend in the 2020s.
Matched with the modern aluminium slatted top coffee table, the low-slung aluminium outdoor lounge and armchairs are inviting options for a relaxed summer get-together. Weather-resistant olefin fabric cushions and a powder-coated aluminum finish make this an exceptionally low-maintenance setting. Style it in bright white as pictured above, or in gunmetal for a more reserved appearance.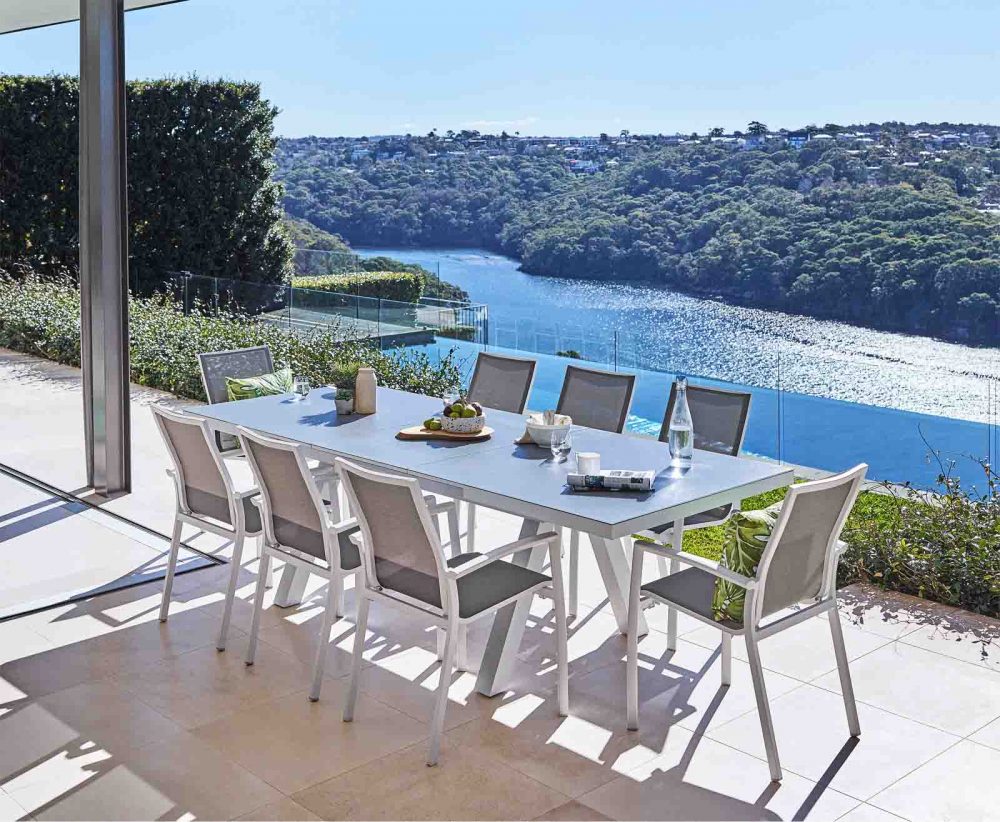 If you're looking to make the most of your outdoor entertaining space, you can't do better than the 'Portofino' 9-Piece Outdoor Extension Dining Setting, featuring an extendable aluminium outdoor dining table and a matching set of aluminium and textilene chairs.
A handy smooth-slide pop-up extension mechanism allows you to extend the aluminium dining table up to 260cm to accommodate a large gathering with ease. On the other hand, you can stack the chairs and contract the table to free up space and take full advantage of your outdoor area in the summer.
A coated glass tabletop layered with thick fabric gives this piece a unique touch – just as durable and low-maintenance as an aluminium top dining table but with a softer, warmer feel. The clean lines and ultra-light textilene fabric of the matching chairs complete this setting's breezy, coastal vibe.
Choose from a range of bright or subtle colour options to make a personal style statement with your outdoor space.
The Timeless Appeal of Concrete & Cement Furniture
Concrete and cement outdoor furniture is a fresh design trend with perennial appeal. Whether you're going for an industrial edge or a rustic, earthy feel, you're bound to find the ideal piece for your space from the expanding range of concrete and cement furniture in Australia.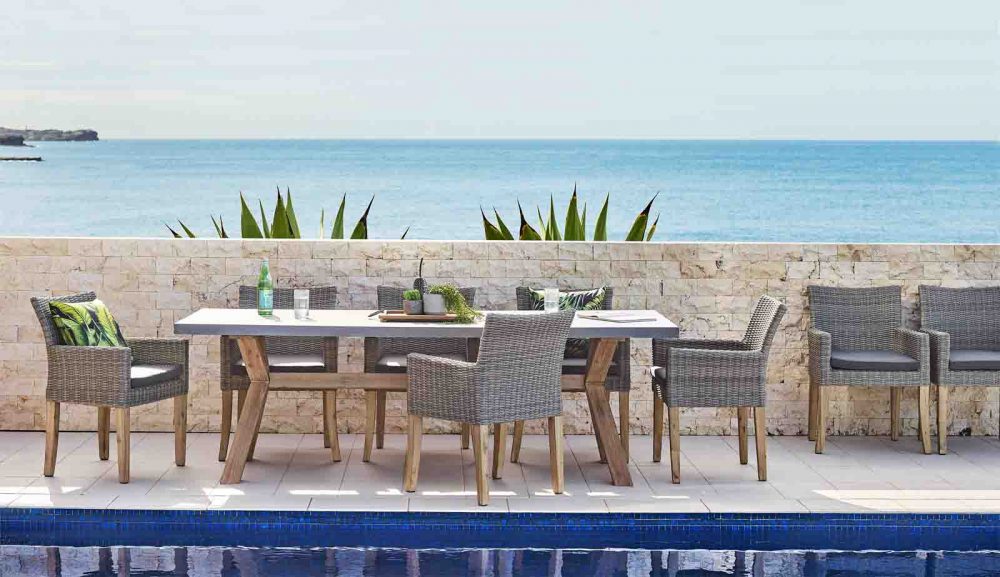 If you want to craft an outdoor entertaining space that is both chic and laidback, the 'Paso' Collection might be just the setting you need. The modern look of the solid concrete tabletop is balanced gracefully with the natural feel of its cross-legged acacia timber base.
Outdoor dining in Australia is all about relaxing, sharing old memories and making new ones. Matching chairs with acacia timber legs, and rope backs and arms (pictured below) lend this collection a homey, casual vibe that will set the mood for unforgettable days and evenings in the great outdoors.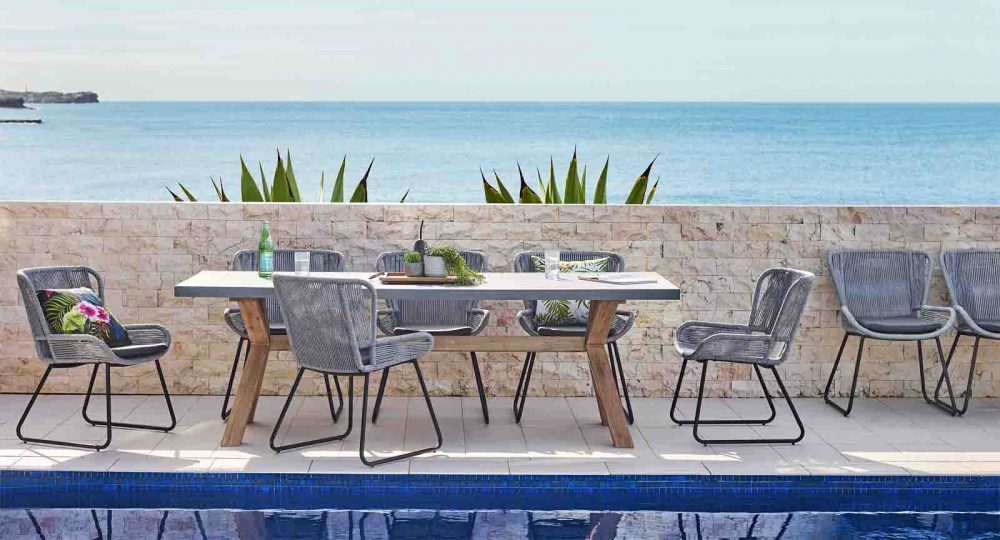 For a unique and fun twist, swap the poly-cement top dining table for a taller and more intimate cement top bar table and a matching set of outdoor bar chairs. Ideal for sharing drinks and swapping stories under the stars.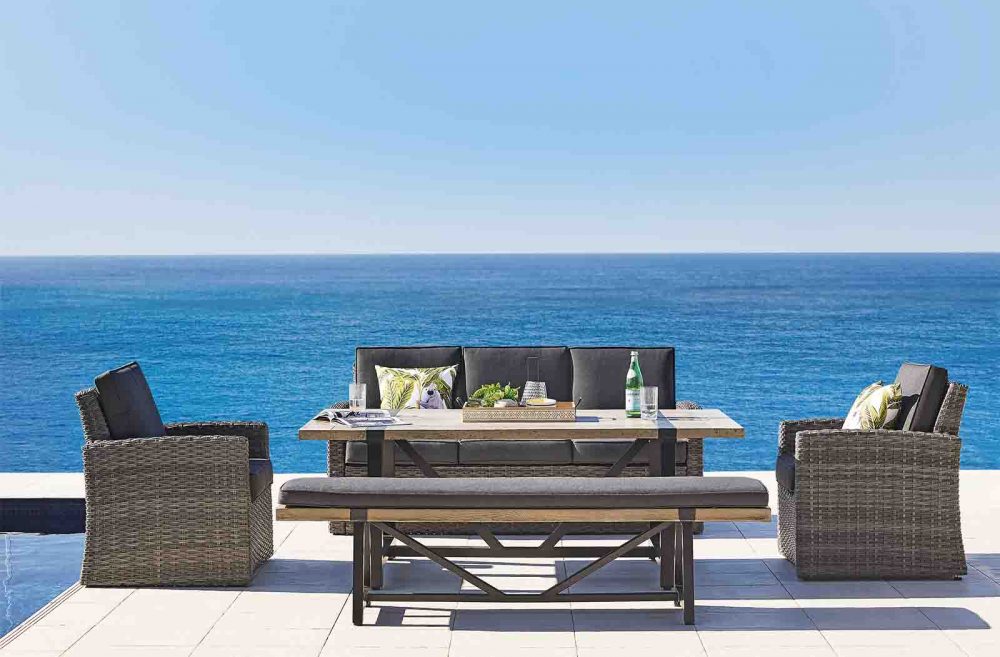 Mixing materials is only set to become more popular in the 2020s, and the 'Vigo' Outdoor Lounge/Dining Setting is a great showcase for this outdoor design trend.
A glass-fibre reinforced concrete tabletop is both modern and durable. The timber-look finish of the GRC top dining table has a rustic feel that contrasts with the cool, urban edge of its powder-coated charcoal aluminium legs.
Tailor your own personalised outdoor dining and lounging area with your selection of comfortable wicker-backed lounges and chairs or chic and casual outdoor cushioned benches.
The Enduring Charm of Wicker Furniture
Wicker outdoor furniture is a classic for good reason. Pieces crafted in this material have a familiar, relaxed vibe that will have all your guests feeling at home and make your outdoor area a place you never want to leave. Modern hand-woven synethic wickers capture that classic look and feel with improved durability and weather-resistance for a hassle-free experience. Read on for two examples that explain the enduring popularity of wicker furniture in Australia.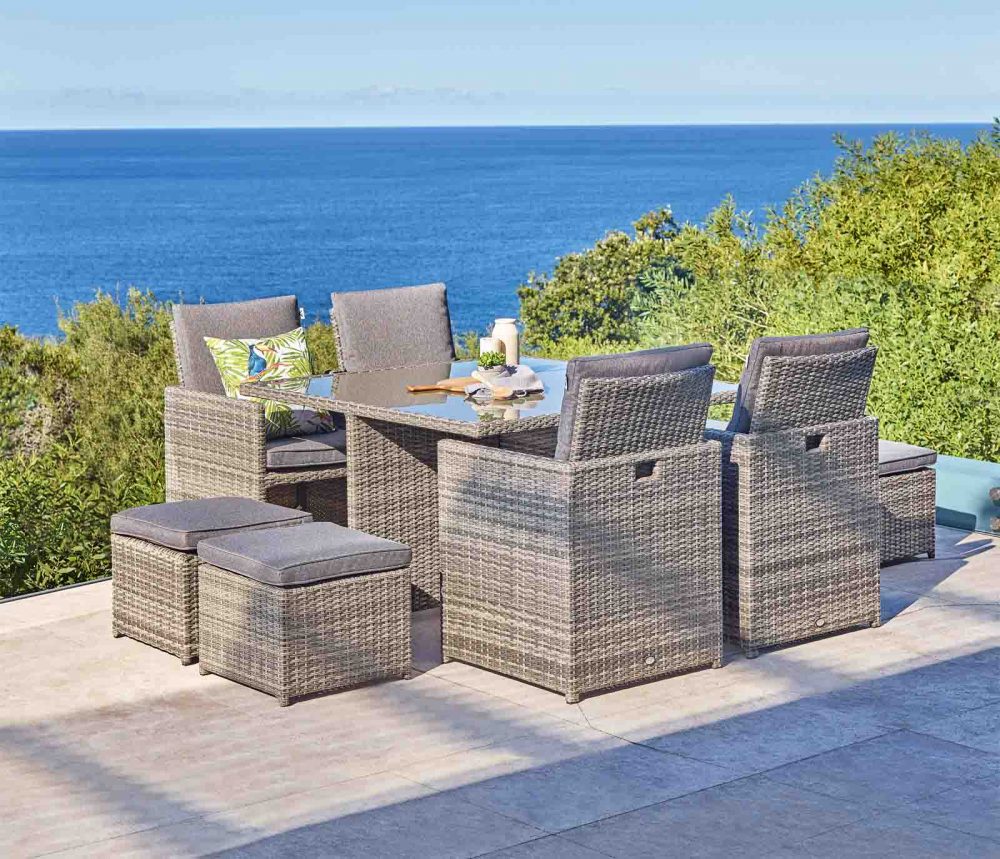 The 'Mours' MKII 9-Piece Outdoor Square Dining Setting is an elegantly simple wicker outdoor dining setting that is ideal for casual and intimate outdoor entertaining. With a rust-resistant aluminium frame and durable wicker, this piece is ready to stand the test of time, while its tempered glass tabletop is both elegant and easy to clean.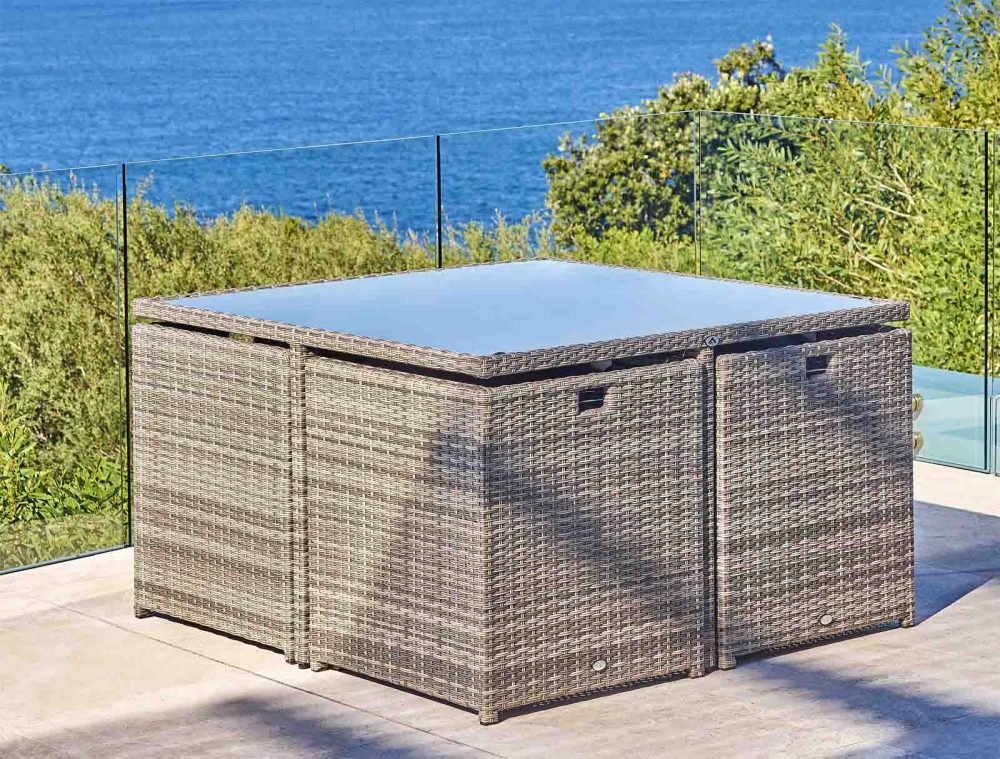 Including matching wicker outdoor dining chairs and ottomans, the 'Mours MKII' is available in 5-, 9- or 11-piece configurations to suit your space and your entertaining needs.  Fold-away chairs allow you to tuck the setting into a box shape for a smart space-saving solution and an attractive compact profile.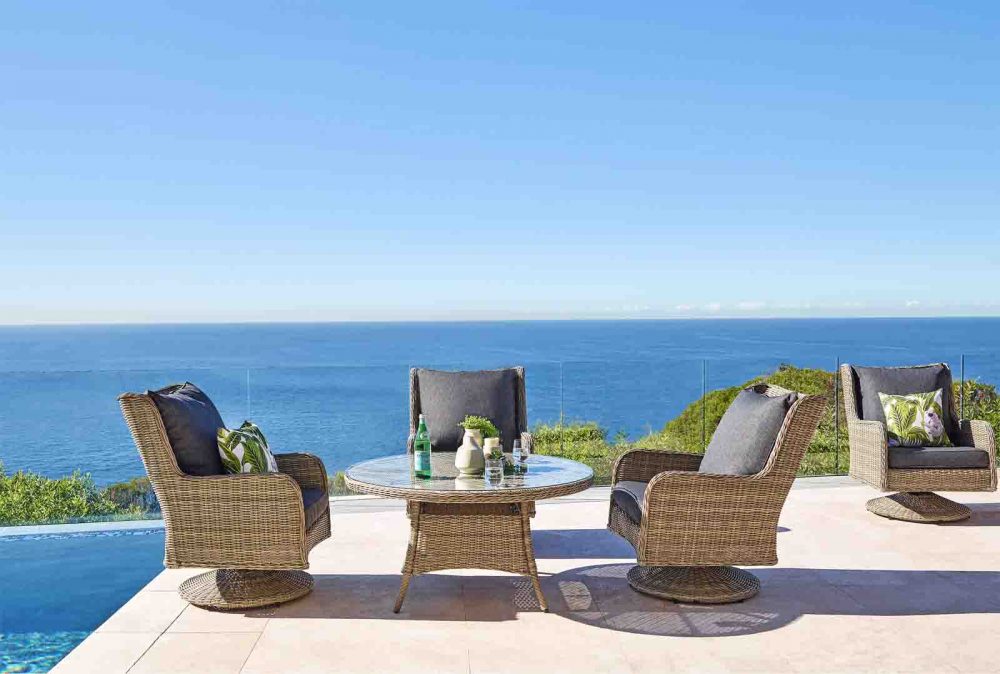 The 'Austin' 5-Piece Round Dining Setting is the height of casual, familiar style. Wicker legs, frames and bases are lightweight, weather-resistant and give the setting a welcoming feel. A set of generously cushioned wicker outdoor swivel armchairs ensure the ultimate in comfort.
The 5-piece setting is perfect for smaller, more intimate gatherings, but the 'Austin' range is also available in other configurations so you can adapt it to suit any space or occasion.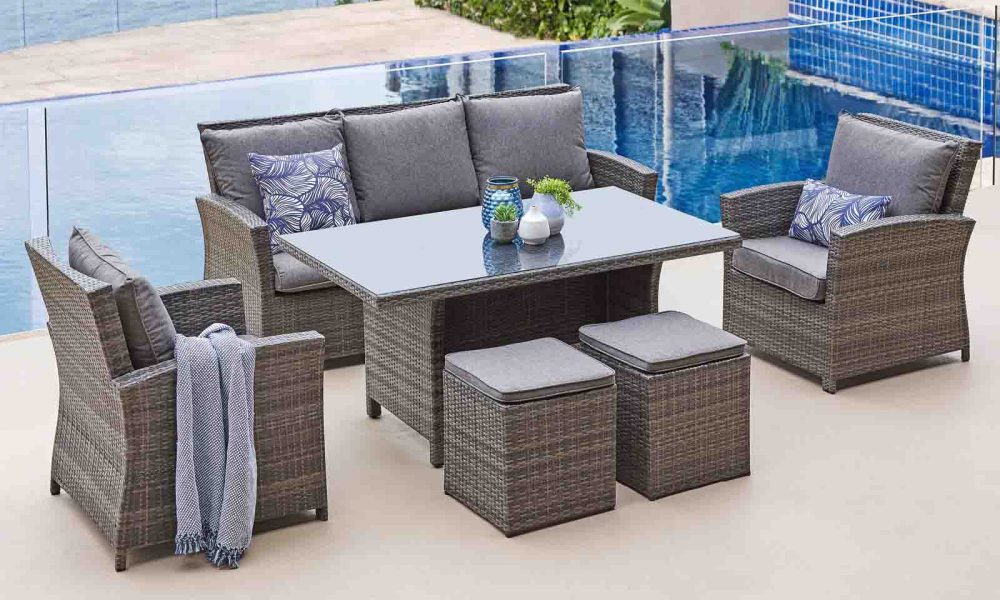 For an alternative take on the classic wicker outdoor dining setting, try the 'Malta' 6-Piece Lounge/Dining Setting, featuring a 3-seater wicker outdoor lounge, 2 armchairs, 2 square ottomans and a mid-height outdoor table. The mid-height design offers a uniquely laidback approach to outdoor dining, allowing you to indulge in feasts, conversations and everything in between in a relaxed environment.
This is a piece that is full of possibility. Let your guests stretch out on the generous 3-seater as you relax and chat after a meal. Or, at larger gatherings, extra guests can even take a seat on one of the comfortably cushioned ottomans.
Subtle curves and muted charcoal hues lend this setting a touch of sophistication, offsetting the cosy ambiance of wicker.
The Natural Beauty of Timber Furniture
For an outdoor space at harmony with nature, you can't go past timber outdoor furniture. The latest design trends blend timber with other materials and the surrounding environment to create stunning new styles. Read on for just a sampling of the great value timber furniture in Australia, using a range of premium timber varieties that each possesses its own unique character.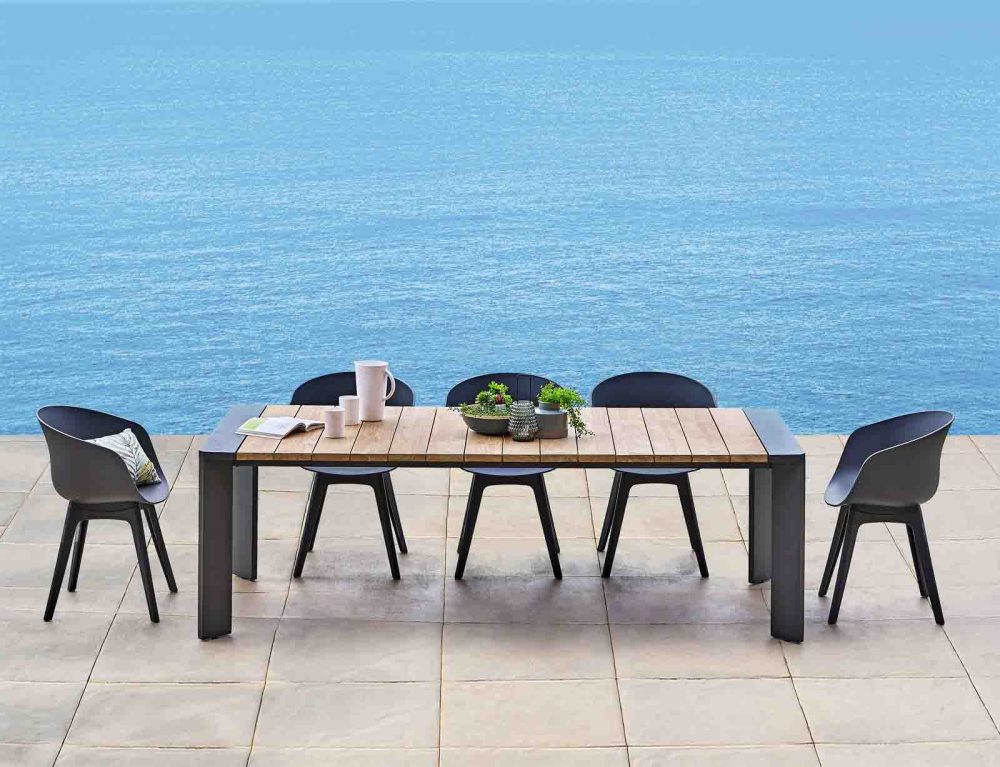 Full of personality and refinement, the 'Alias' 9-Piece Outdoor Rectangular Dining Setting is a statement piece that combines the timeless appeal of timber outdoor furniture with the latest in contemporary design trends. A natural oil finish lends protection from the elements while maintaining the natural beauty of the wood.

Lightly toned teak timber slats on the timber top dining table make a striking contrast with the dark powder-coated aluminium of the frame and matching chairs. The setting's distinctive tub-shaped chairs offer an ultra-modern edge. Or, you can mix-and-match with alternative seating arrangements pictured above to suit your mood and space.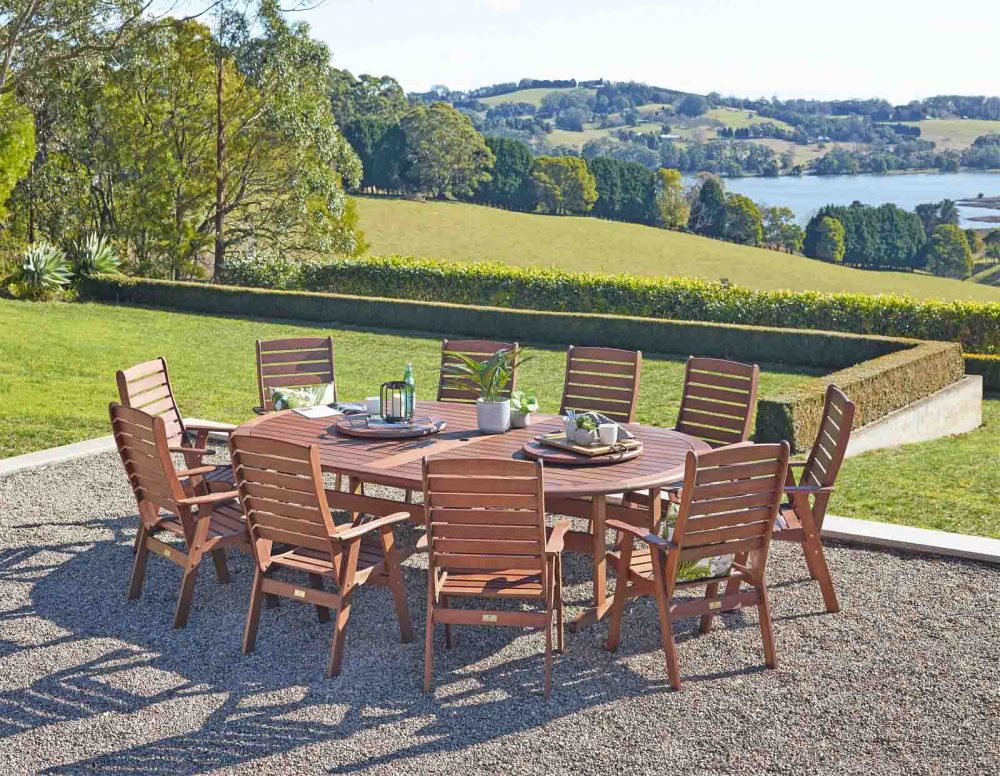 If a big get-together is on the agenda this summer, you can do no better than the 'Montreal' 13-Piece Outdoor Oval Dining Setting.
Featuring a spacious 270 x 170cm timber outdoor dining table, this setting can accommodate up to 10 people. An oval shape and 2 built-in lazy susans encourage a convivial, sharing vibe, and take the stress out of serving food and drinks at larger gatherings.
Both the table and timber outdoor dining chairs are crafted from rich, red-hued Karri Gum timber, known for maintaining its natural beauty as it ages over time.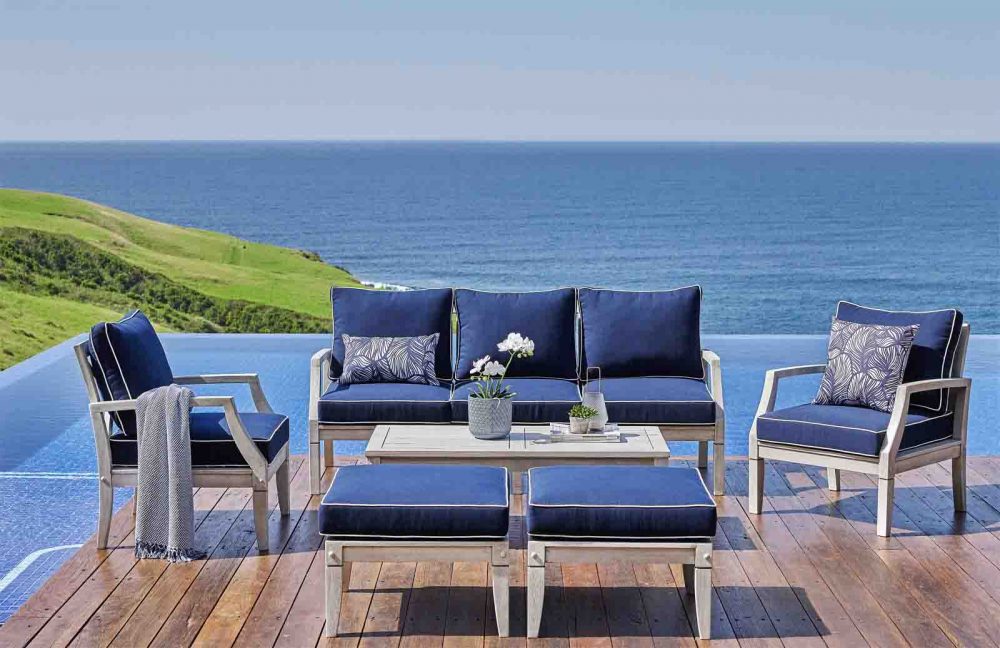 For a relaxed outdoor space that blends into the natural palette of the Australian landscape, check out the 'Cesano' 6-Piece Outdoor Lounge Setting.
Including a 3-seater timber outdoor lounge, 2 armchairs, 2 rectangular ottomans, and a rectangular coffee table, the 'Cesano' encourages an easy-going, indulgent approach to the summer months.
White-washed eucalyptus timber provides a refined touch that evokes the spirit of a sun-drenched Australian summer. Add to this the deep blue of the plush fabric cushions and you have a piece that lets you bring the vibes of a beach holiday home all year long.
Both the dense hardwood and fabric of this collection are suitable for the outdoors. They're highly resilient to the weather, making for a striking outdoor setting you can enjoy in all its glory for many years to come.
Aluminium, Cement, Wicker or Timber – Find Your Dream Outdoor Furniture Setting
Feeling inspired by any of the pieces we've featured? Browse our summer collection online for more examples of the latest outdoor furniture in all materials and styles including aluminium, cement, wicker and timber, or head to your local Harvey Norman and let our staff help find the ideal piece for you.