Who doesn't love the outdoor life? In this wonderful sun-drenched country, we enjoy a climate that makes al fresco dining and get-togethers possible year-round.
Of course, the highlight of the Australian outdoor living calendar has to be the summer months. Those extended daylight hours means there is plenty of time to soak up the amazing weather with a backyard BBQ, family get-together, or catch-up with old friends. What could be better than good food and great wine, overlooking the backyard or perhaps even the sea?
This is why a cleverly-designed outdoor entertaining area is an essential part of the modern Australian home. It's not just a great place to relax; it's a chance to make a real design statement and create a stunning summer look.
To help you make the most of the Australian outdoor living lifestyle, here are 5 summer style tips from Harvey Norman.
#1. Timeless Timber
Timber is a great way to create a uniquely Australian look this summer. Australia is home to a wide range of stunning native timbers that captivate the eye, while also being hard-wearing and long-lasting. Karri Gum is one such variety. A lovely golden-to-reddish hardwood, Karri Gum's natural length means it can be cut into long sections with a fantastic, uninterrupted grain.
The 'Montreal' 13-Piece Outdoor Dining Setting brings the natural beauty of Karri Gum to the fore. Providing ample space for you and nine of your guests, the 'Montreal' outdoor setting is simply ideal for a sunset dinner party out on the deck. There's plenty of room on the oval dining table for a succulent seafood banquet – not to mention the accompanying wine – while two included lazy susans provide easy access to your fabulous feast.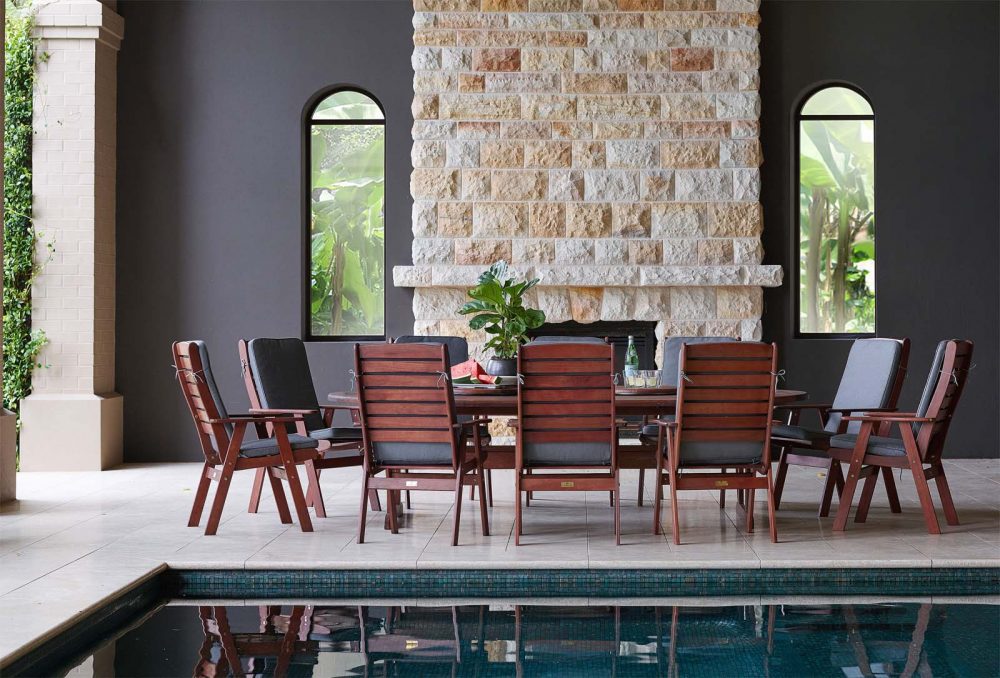 Another wonderful treat offered by the table's oval design is the convivial atmosphere it creates. Is there anything better than laughing with friends and family on an Australian summer evening?
The 'Hayman' Outdoor Dining Setting is a great example of the beachy, coastal style that charming Aussie timbers like Acacia can bring to your patio furniture. Featuring sharp, straight and modern lines that will look trendy on your balcony or deck, the 'Hayman' is finished in Patrick grey giving an authentic, weathered look to the timber.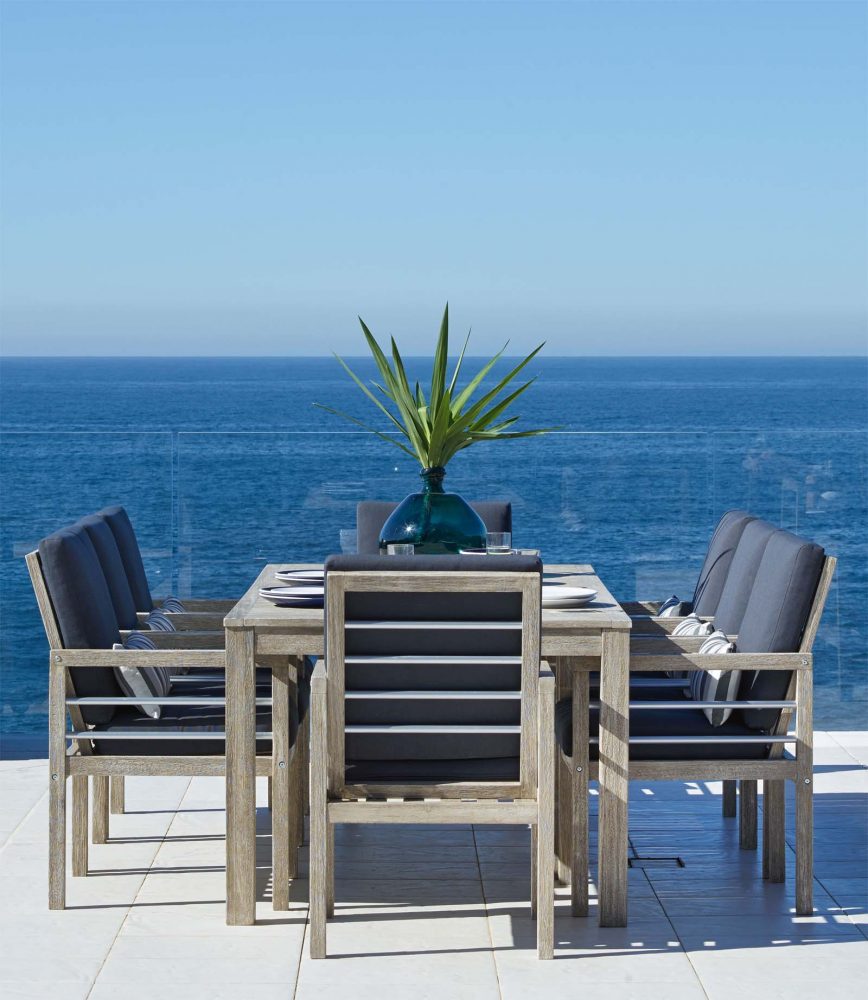 As pictured above, the 'Hayman' also comes with oh-so-comfortable navy seat cushions which are compatible with a wide range of decor. Available in both 6 and 8-seat configurations, this timber outdoor dining setting gives you options to work with based on the size of your outdoor entertaining space.
#2. Wonderful Wicker
Wicker is an Australian outdoor living classic – and a sure-fire way to achieve that timeless summer style. A lightweight, flexible, low-maintenance material that the Ancient Egyptians were even fond of, wicker is perfect on decks, al fresco areas and balconies. It's able to withstand outdoor elements and carries with it a quintessential outdoor character.
Like timber, wicker's natural tones pair well with a range of colours, decorations and adornments, making it an excellent choice for creating a magical al fresco area to entertain friends and family.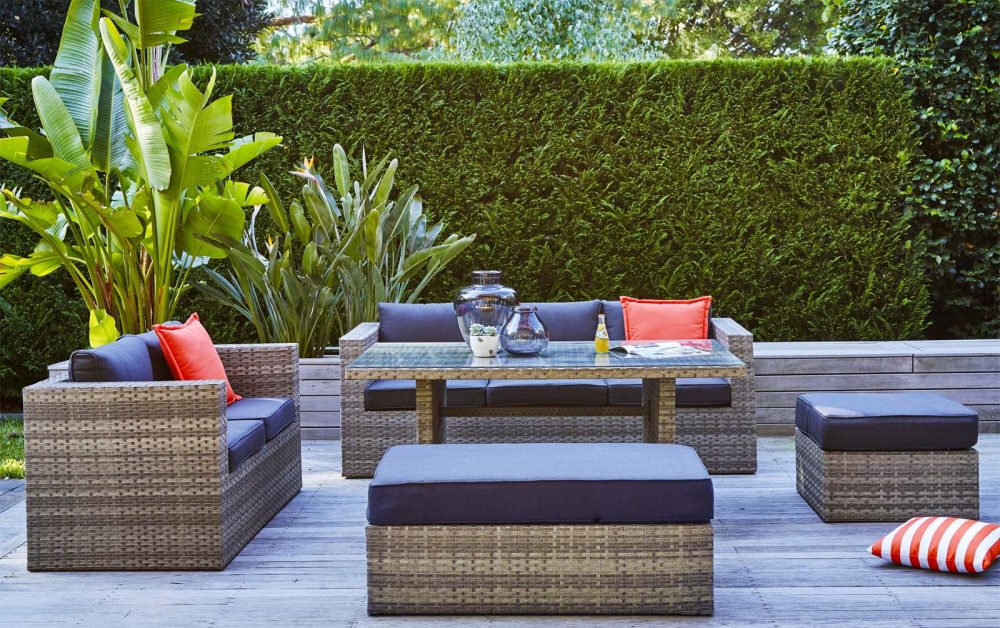 Exemplifying the effortless, breezy charm that wicker brings to outdoor spaces is the 'Valetta' 5-Piece Outdoor Setting. Consisting of a dining table, a 3-seater sofa, a 2-seater sofa, a square ottoman and a rectangular ottoman, there's plenty of room for you and your guests to lounge around and catch up on those endless summer evenings. By laying dinner out on the sleek, easy-to-clean tempered glass dining table, the festivities will keep going long after the sun has set. Pair the setting with 'Hali' outdoor scatter cushions or even a throw to add your own touch.
The flexible and modern 'Gili' Outdoor Lounge Setting is another gorgeous example of the qualities wicker brings to summer outdoor furniture.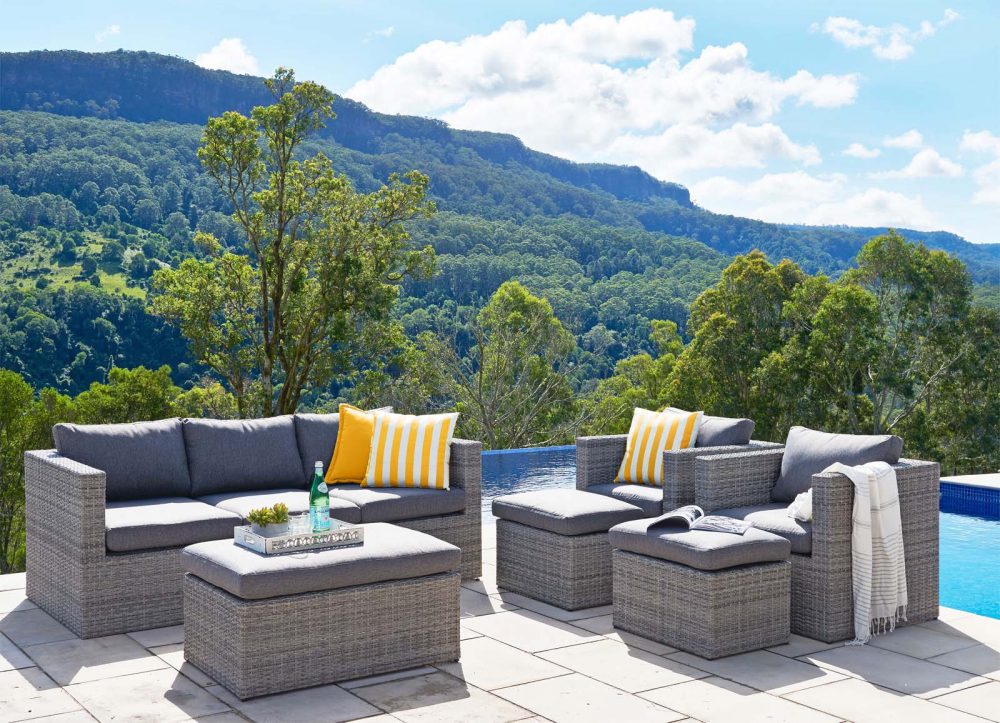 Easily able to seat 8 people in cushioned comfort, the 'Gili' is a great option for soaking up the sun by the pool with the people that matter.
The wicker and aluminium base materials can be accentuated with bright accessories such as cushions to really liven up your patio furniture.
The 'Gili' also has a hidden talent! By pushing the 3-seater sofa together with the two ottomans and coffee table, you can create a daybed. This means you can lay back, relax and stretch out, truly soaking in the great outdoors.
#3. Pod Perfection
One of the hottest outdoor furniture trends this summer is pod chairs. What could be better than relaxing in the backyard, maybe with a few friends, and gently swinging in the evening breeze?
Pod chairs are a top summer tip for creating a resort-style feel right in your very own backyard. A prime example of this is the 'Nest' Double Pod Chair which will instantly bring the holidays home, as well as create extra space for your guests.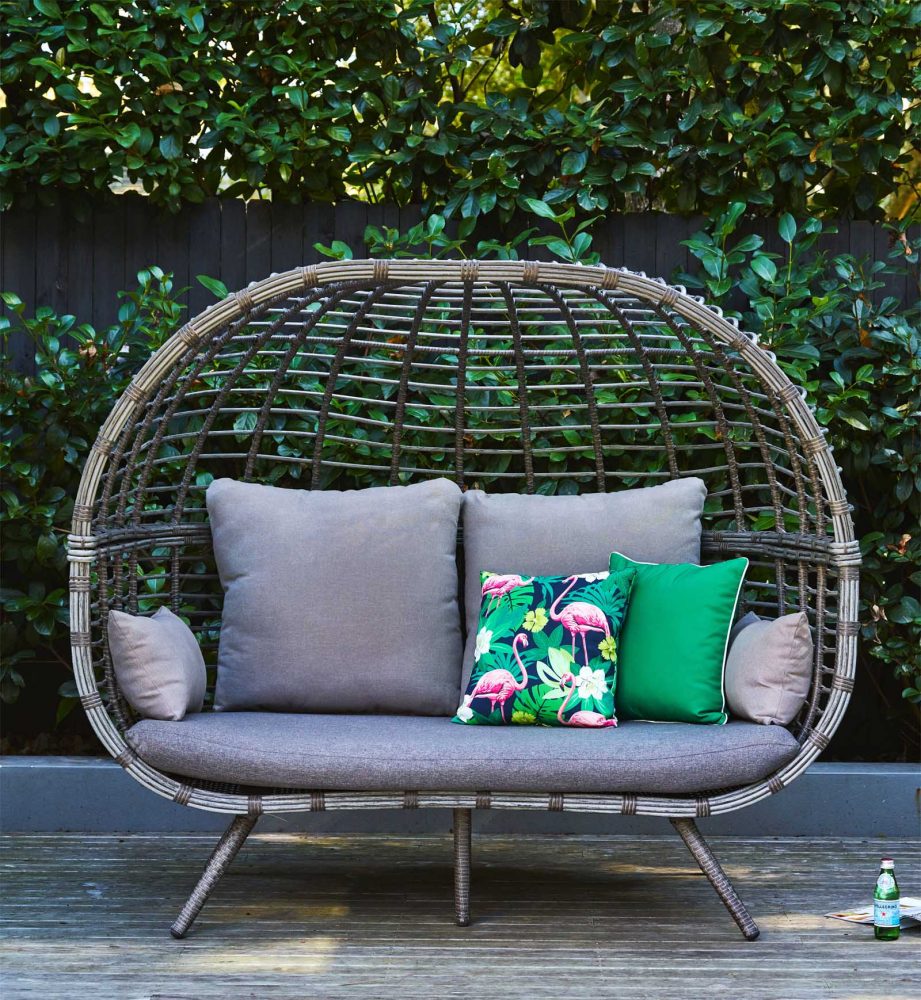 The wicker construction means the 'Nest' is both durable and stylish. A hot tip is to pair your wicker furniture such as the 'Nest' with the plush and attractive 'Avoca' cushion range (available separately). The 'Avoca' cushions, replete with colourful fern-leaf print, will bring an easy and bright summer touch to your outdoor space.
The 'Nest' is also available as a single chair – perfect for a moment of quiet reflection and relaxation by the pool. That's what a summer staycation should be all about.
#4. Bright and Bold
Summer in Australia is synonymous with bright colours – a glistening blue sky, golden sand, and a shimmering turquoise ocean. Bold and bright statement pieces are such an easy way to add a touch of the season to your home and will really pop under the Australian summer sun.
A great example of this trend is the 'Sunwave' Sun Lounge. Available in a striking array of summer colours, you can customise the 'Sunwave' to match your personal style with different fabrics and patterns.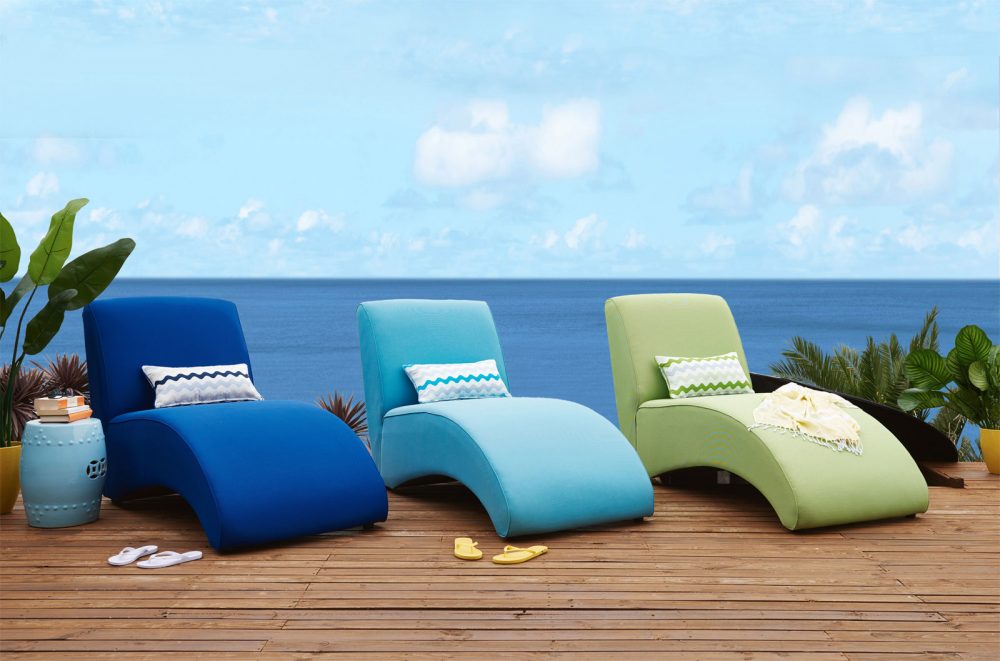 Conjuring images of the rolling surf, the 'Sunwave' isn't just a visual statement piece. The unique shape of this outdoor lounge, in tandem with soft foam cushioning, encourages you to stretch right out – ideal for reading a book by the pool.
Constructed with marine-grade plywood and reticulated foam, the 'Sunwave' will stay stylish for many summers to come. Made right here in Australia, this is an outdoor sunlounge designed specifically with an Australian summer in mind.
#5. Outstanding Ottomans
Our final top tip for a great summer look is to accessorise your outdoor setting with an ottoman! Ottomans are perfect for so many uses – putting your feet up for added comfort, as a side table for drinks or snacks, or even additional seating in a pinch.
Our summer ottoman range makes it easy to add these features to your outdoor space. Bright, trendy and customisable – they're just right for summer living.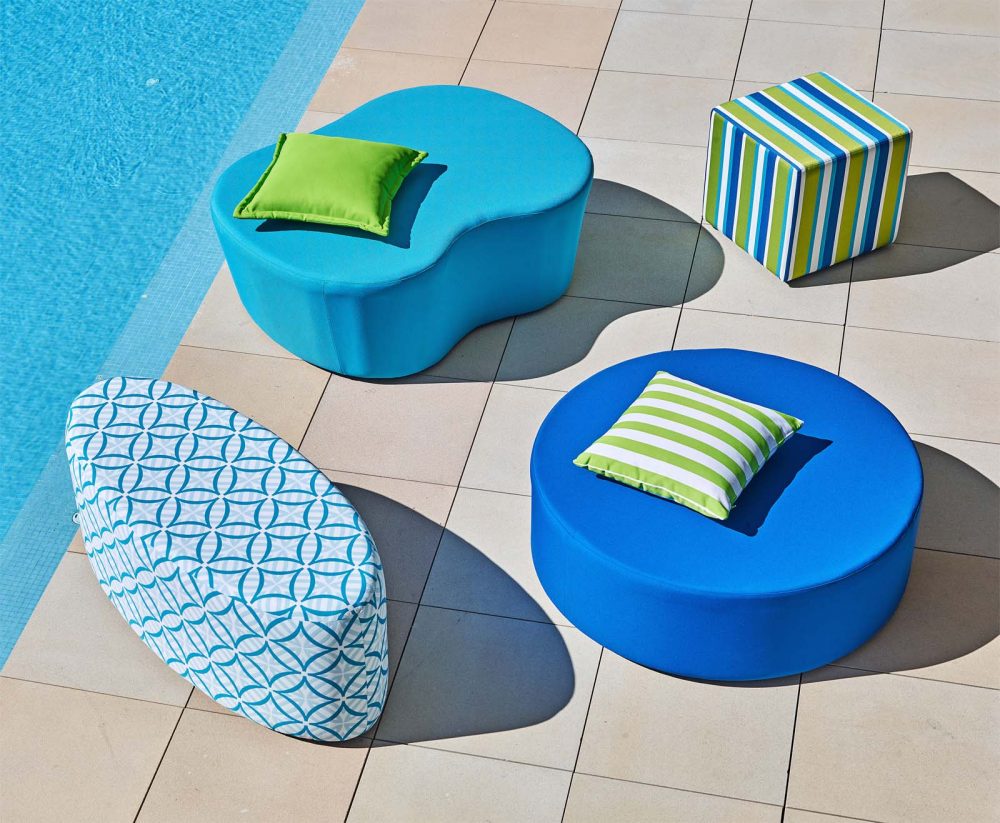 The 'Sunrondo'  (bottom right) is a great starting point and optimal for those partial to simple shapes and bold colours. It features Australian-made reticulated foam and tough fabrics – ideal for the great outdoors.
The 'Sunboat' (bottom left) will bestow a classic summer print upon your al fresco space, while the 'Sunpeanut' (top left) is just right for those looking for an on-trend piece that will add a finishing touch. The 'Suncube' (top right) is perfect as an additional seating option or even a side table for an outdoor lounge.
Start Crafting Your Australian Outdoor Living Summer Look
There's plenty of ways to achieve a summer look for your outdoor entertaining area – meaning you can enjoy the best of Australian outdoor living. For all the latest furniture trends and summer styles, browse online or head to your local Harvey Norman store, where our friendly, expert staff would love to offer you more summer inspiration and help with any questions you may have.