Al fresco dining is one of those perks of Australian living that we just love! The barbecue, the Sun, and the fresh air eternally have a way of making a good meal great.
This year, more than ever, the idea of having our own al fresco escape has taken on even greater significance. After all, an outdoor haven offers a relaxing reprise from the increased hours we've been spending inside our homes.
With this at the fore, we here at Harvey's HQ were delighted to explore Harvey Norman's new range of Outdoor Furniture. With a focus on outdoor rejuvenation, we couldn't wait to see the transformative designs on offer.
Three designs in particular stood out for us from the captivating new outdoor furniture range. To spark inspiration, we've showcased them below – as well as three trending outdoor furniture favourites from Harvey Norman that we've fallen in love with over past summers.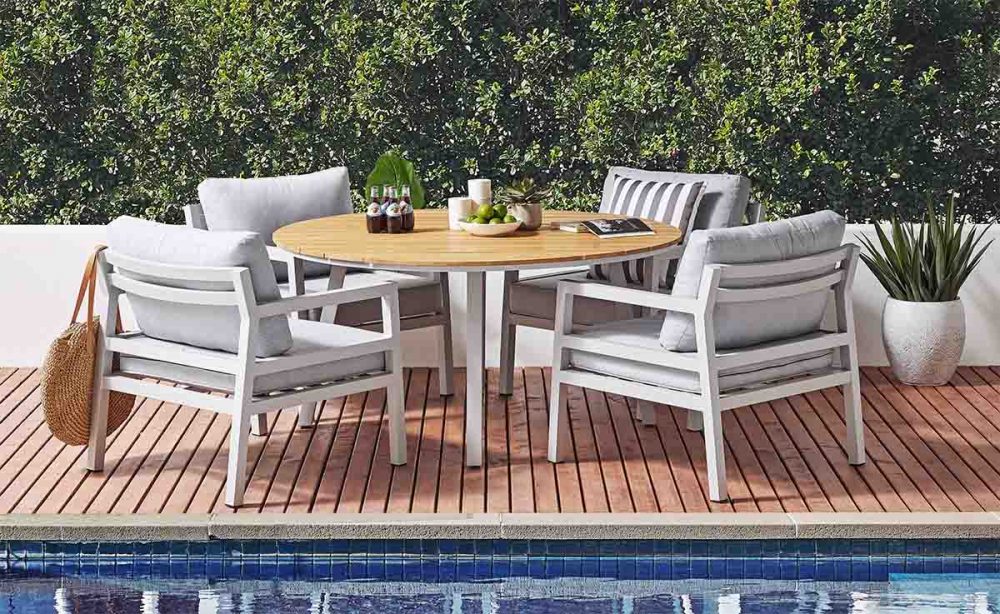 The 'Bruno' 5-Piece Dining Setting struck our eye because it really is the perfect setting for a relaxed but intimate poolside gathering.
This charming outdoor setting features a sturdy and attractive timber tabletop, coupled with extra-wide seating aluminium frame chairs and weatherproof cushioning.
Hosting a pool party with your most cherished will be a must in summer. The dining setting's spacious outdoor tabletop affords plenty of options for the entertainer, with room for platters, barbecue meals, or simple finger foods. This means you won't need to leave the tranquility of the pool!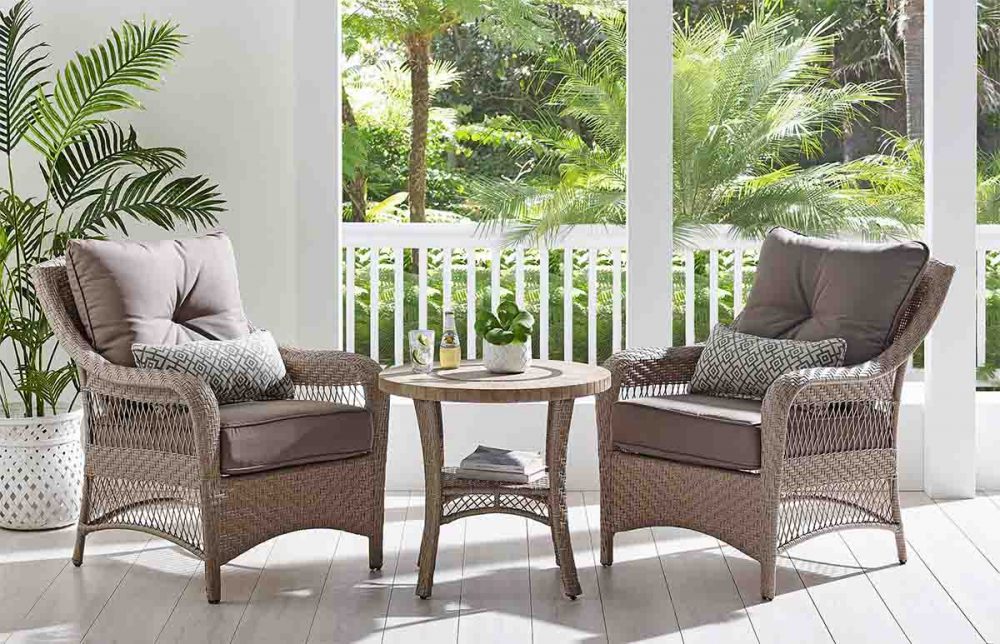 Perfect for that space by the garden or the apartment balcony, the 'Barbuda' is an outdoor chat setting that provides a great excuse to enjoy a cuppa and bicky with a friend.
All of us here have been quite taken by the hand-painted outdoor tabletop, which complements the classic wicker finish. Meanwhile, thick-cushioned seating on the outdoor chairs provides comfort for those who love to simply sit and enjoy the serenity of the open-air.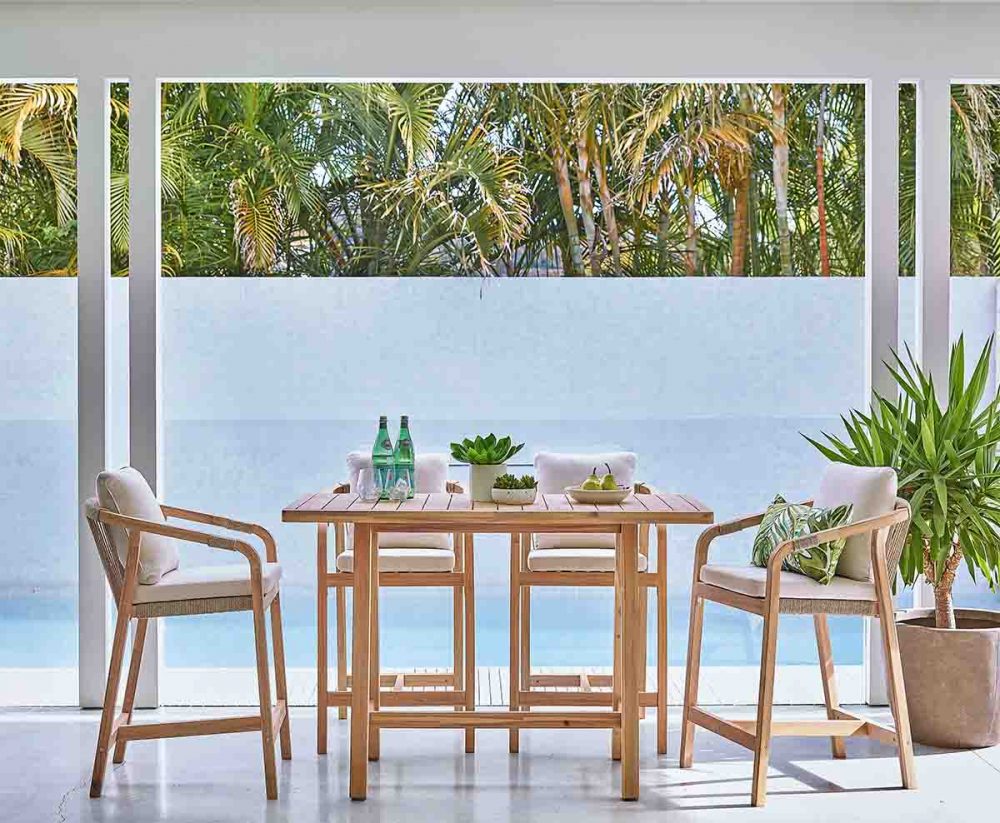 The 'Rimini' is a masterfully crafted outdoor bar setting.
Brimming with the aesthetic character that only timber can provide, this outdoor bar setting's look is accentuated by the fine rope detailing of the chair backing. The solid Acacia timber construction of this new design ensures you'll be enjoying everything from breakfasts to social drinks on the 'Rimini' for years to come.
Outdoor Furniture That's On Trend!
Harvey Norman's new outdoor furniture range is exciting and transformative. As it should be. And as it always is.
To see what we mean, here's three currently trending outdoor furniture designs from Harvey Norman that we've successfully utilised to rejuvenate our outdoor spaces over the past couple of summers.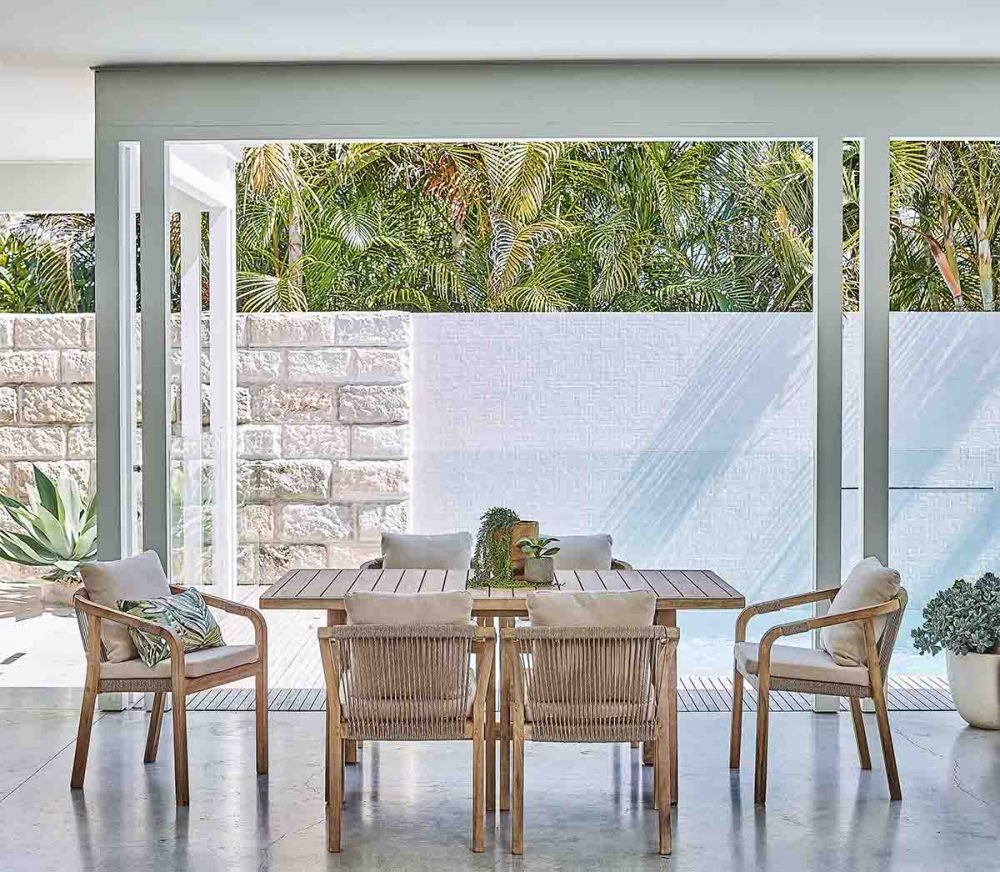 As seen, the new 'Rimini' outdoor bar setting is a must-have for any serious outdoor entertainer! But did you know it's not actually the first piece designed in the 'Rimini' Outdoor Collection?
Australia had already been introduced to the charm of the 'Rimini' with the collection's 7-piece rectangular outdoor dining setting. Perfect for a breezy al fresco barbecue with loved ones, the 'Rimini' 7-Piece Outdoor Dining Setting offers an intimate ambience.
This outdoor dining setting is durable and resistant to daily wear and tear thanks to its Acacia timber construction, while the attractive rope woven chairs with cream coloured cushioning promise to add a homely and inviting element to your outdoor space.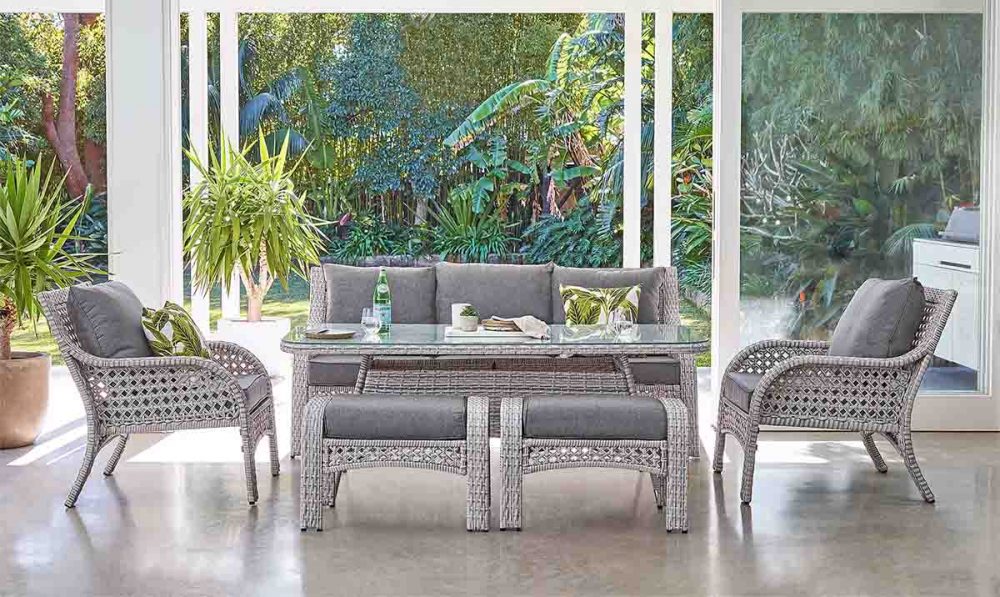 The 'Fraser' 6-Piece Outdoor Lounge/Dining Setting is a timeless classic sure to charm even the fussiest guest. Put simply, this is an outdoor furniture range that boasts elegance.
The 'Fraser's' mid-height glass-top dining table features an aluminium frame with a retro style wicker finish, offering a classic dining experience at any time of day. The 3-seater outdoor sofa and two outdoor armchairs provide comfort and style with ample cushioning for a relaxing time with visual appeal, while the two ottomans can double as seating for the junior members of the family or a comfortable support to put your feet up.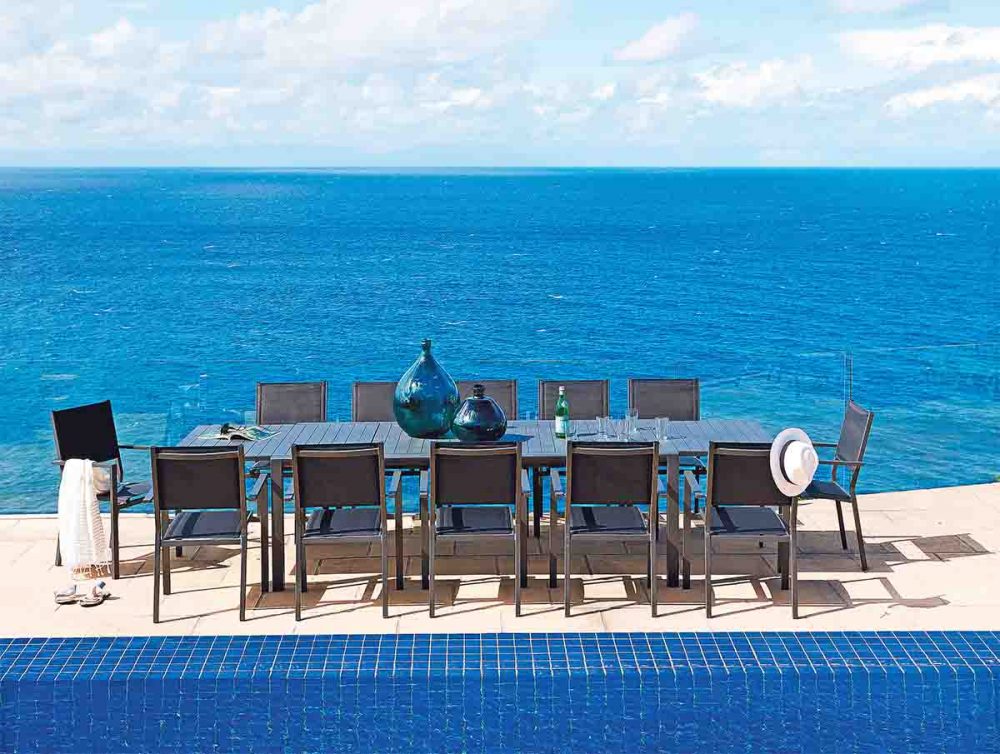 The 'Bon' Outdoor Dining Setting continues to inspire Australia to host amazing outdoor entertaining get-togethers!
This outdoor dining setting combines clean minimalist design with a classic patio style for a refreshed look that will easily complement any outdoor decor, allowing family celebrations to enjoy the perfect backdrop. The modern gunmetal aluminium frame is lightweight and weather and rust resistant, making for a low-maintenance sleek look. Plus, when the party's over and the guests have retired from the festivities, you can simply return the table to its smaller size and stack the extra chairs for easy storage.
Where To Buy New & Trending Outdoor Furniture
Whether it's dynamic new outdoor furniture or trending outdoor furniture that's already popular in backyards across the country, you can view it all from Harvey Norman online. Of course, you can also see Harvey Norman's outdoor furniture range for yourself in person at your local store, where the friendly, expert staff will be happy to help with any queries you have.
It's time to create that al fresco dining experience that Australian living is all about!