The season of fresh blooms, sunny days and blue-sky lounging has finally begun. And, with fear of stating the obvious, there's really only one place to enjoy the glorious Australian spring weather: outdoors!
To help you make the most of the Australian outdoor living experience this spring, we've put together this inspired collection of outdoor furniture and BBQs – all of which you'll be able to find at Harvey Norman. Each piece offers a certain wow-factor, making this the perfect way to transform your outdoor area into a beautiful and functional space, ready for backyard lunches and sunset drinks with family and friends.
For our top spring furniture ideas, must-have BBQ offerings, and design tips that will show you the best ways to entertain outdoors this season, keep on reading!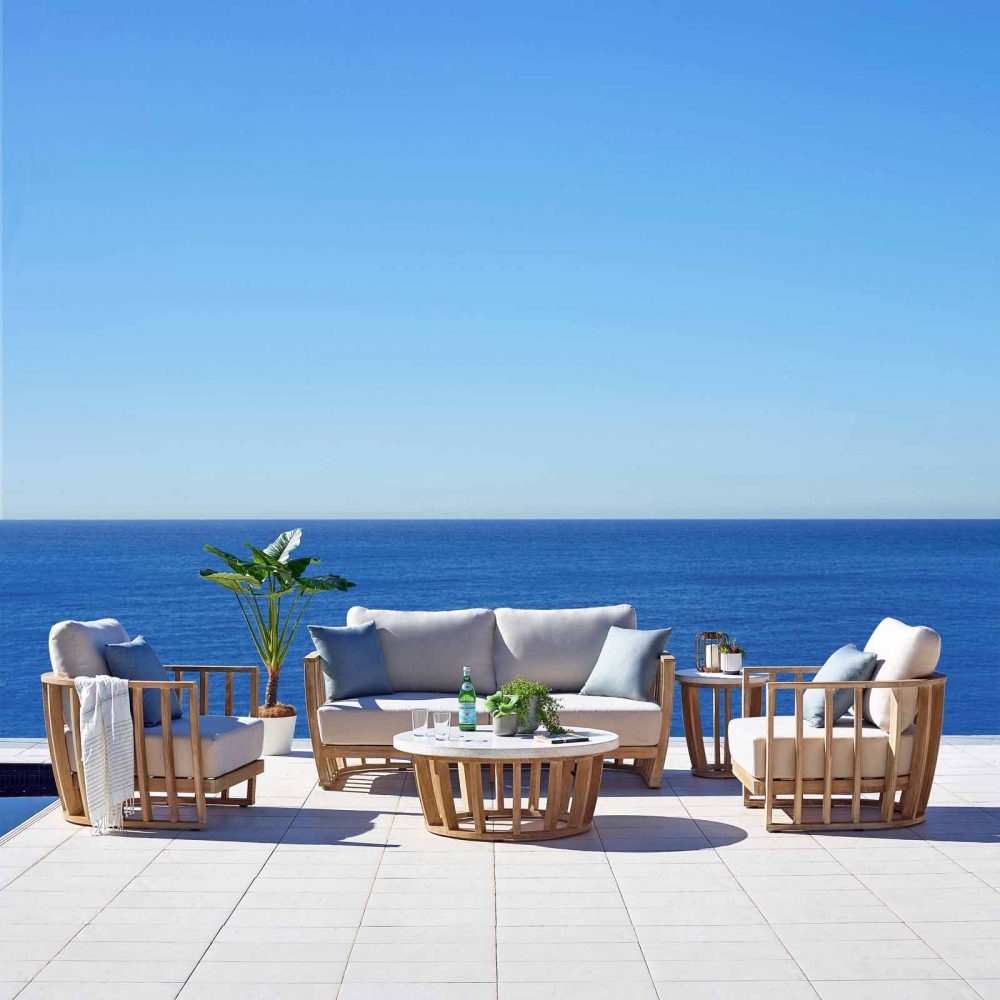 Nothing says 'laid-back lounging' more than the 'Woodland' 4-Piece Outdoor Lounge Setting. Boasting plush seat and back cushions, this lounge offers an inviting space for you and your guests to soak up the sunshine.
The open vertical slat design of the timber frame and the terrazzo tabletop exude a unique, contemporary aesthetic that is perfect for springtime. Not only that, the acacia timber construction is strong and resistant to wear and water making this lounge perfect for outdoor entertaining all year round!
Add an extra layer of plush comfort and a subtle pop of colour to the 'Woodland' with the included scatter cushions.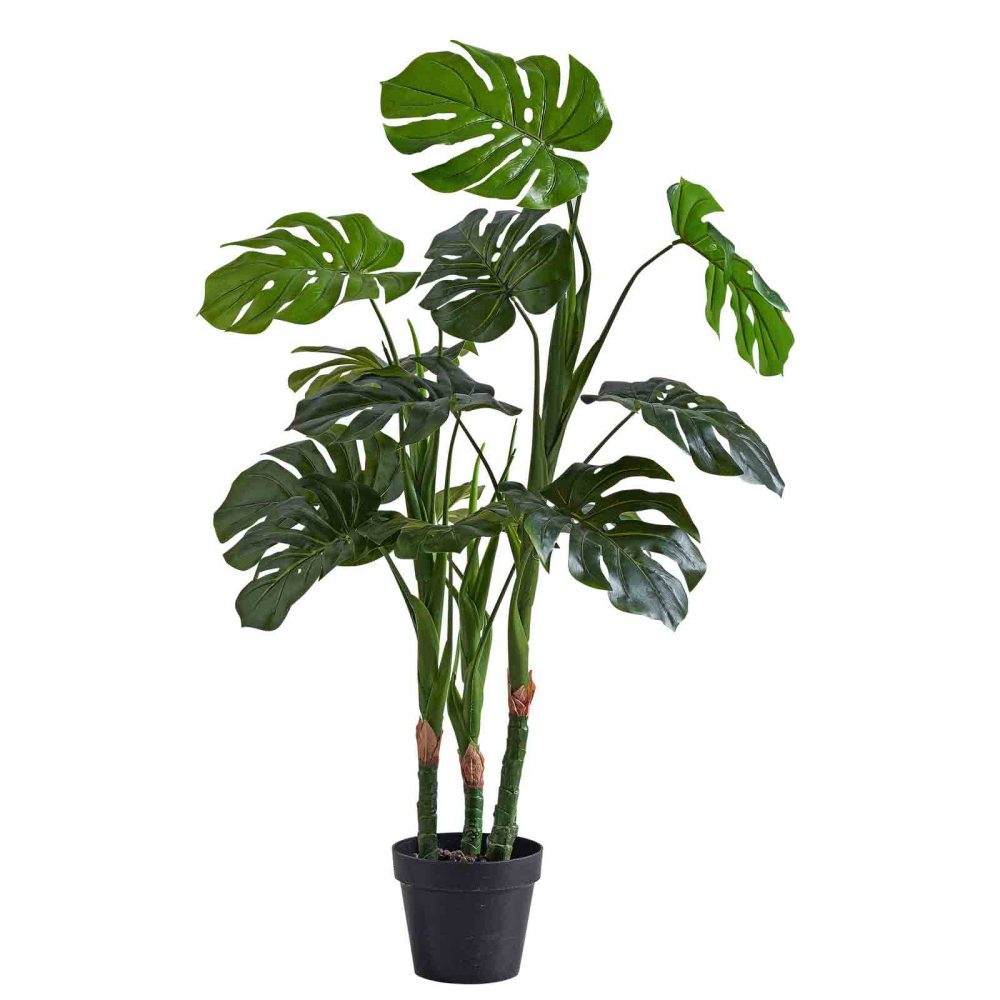 Design tip: Complement the neutral colour palette of this outdoor setting with the 'Monstera' 100cm Potted Plant. You can also add more life to the coffee table by accessorising with small potted greenery. Choose a few different varieties of plants to make the setting more interesting.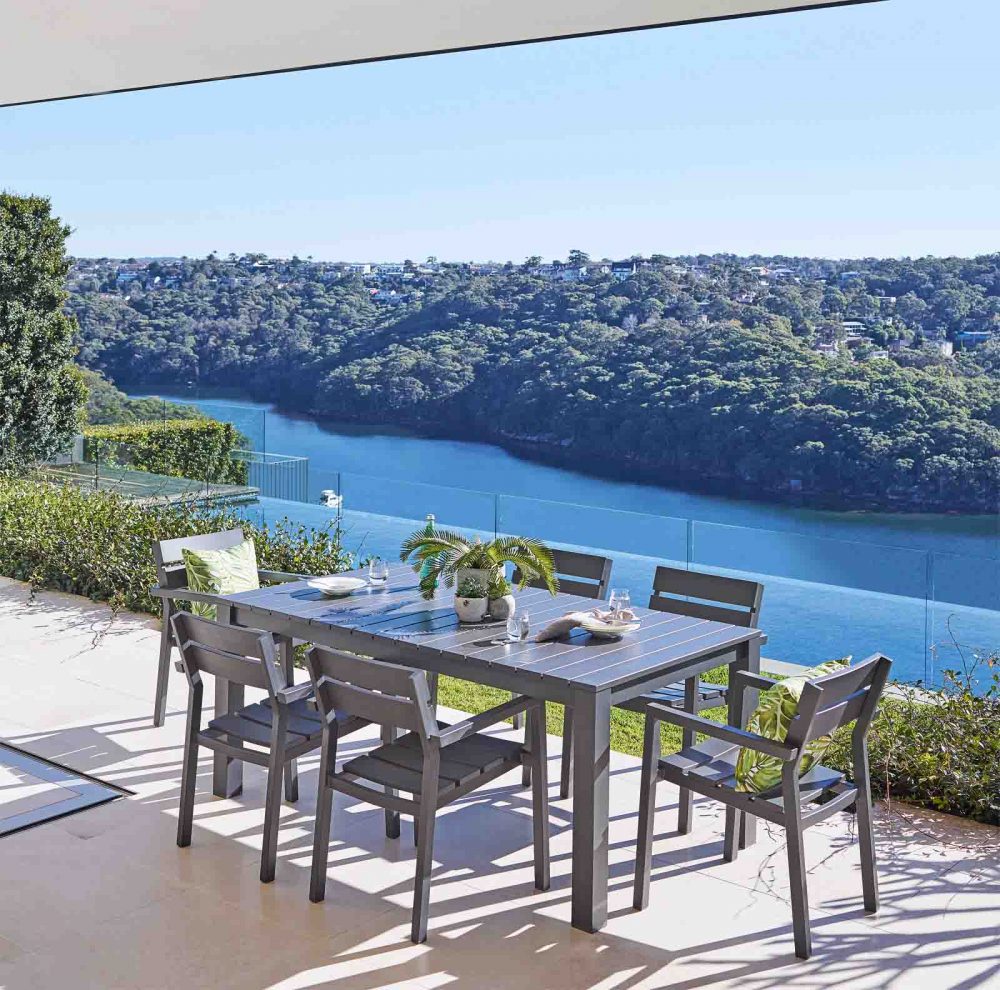 Feast your eyes on the chic, monochrome design of the 'Quay' Outdoor Collection. Inspired by the industrial design trend, this collection features sharp corners and a sleek, minimalist look that will bring a touch of chic to any al fresco space. Pictured above in Gunmetal, the 'Quay' is also available in White.
Perfect for enjoying your meals outside, the 'Quay' 7-Piece Outdoor Dining Setting displays trendy sophistication through its dark aluminium framing and open-slatted tabletop. You also have multiple configurations to choose from including bench seating, bar setting and spacious dining settings. And after your meal, relax under the sun on the 'Quay' Cushioned Sunlounge!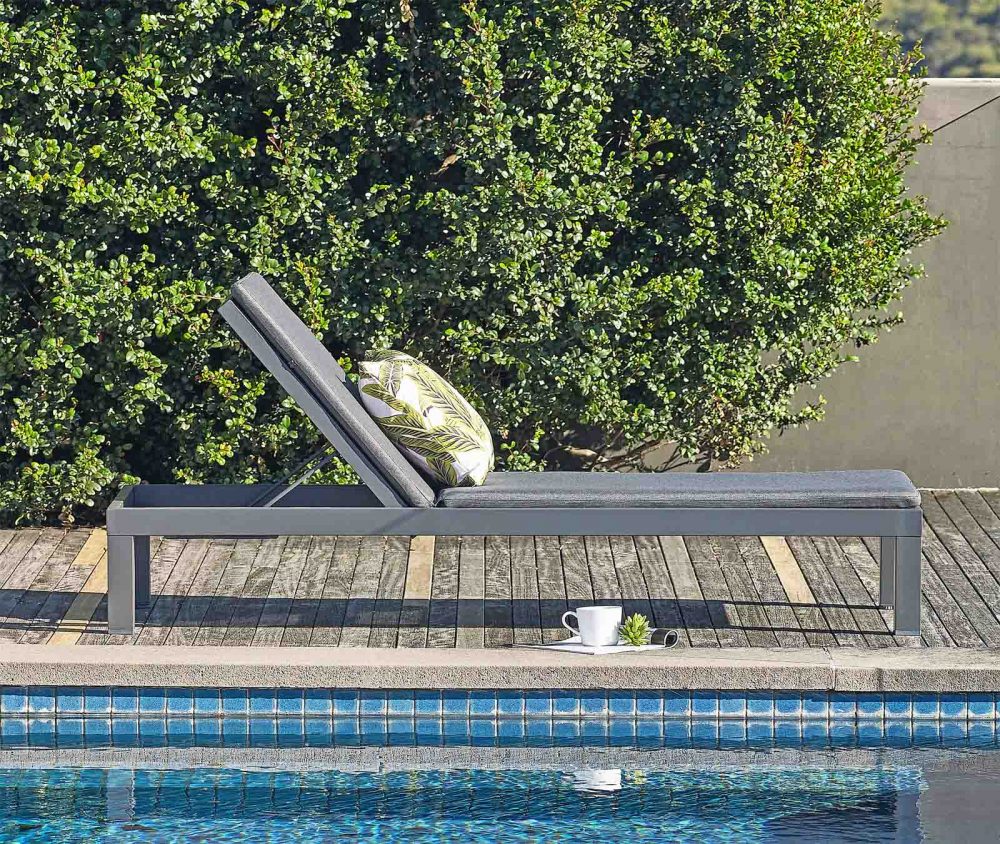 Boasting an aluminium rust-resistant frame with durable powder-coated finish, the 'Quay' collection can endure the test of time, making it ideal for al fresco entertaining.
This contemporary collection looks stunning as it is, but incorporating accents like a vase full of spring foliage as a centrepiece and placing patterned cushions on the chairs make for an even more picturesque outdoor dining experience. Try not to overdo it – one or two accent pieces are enough to keep your outdoor entertaining space trendy.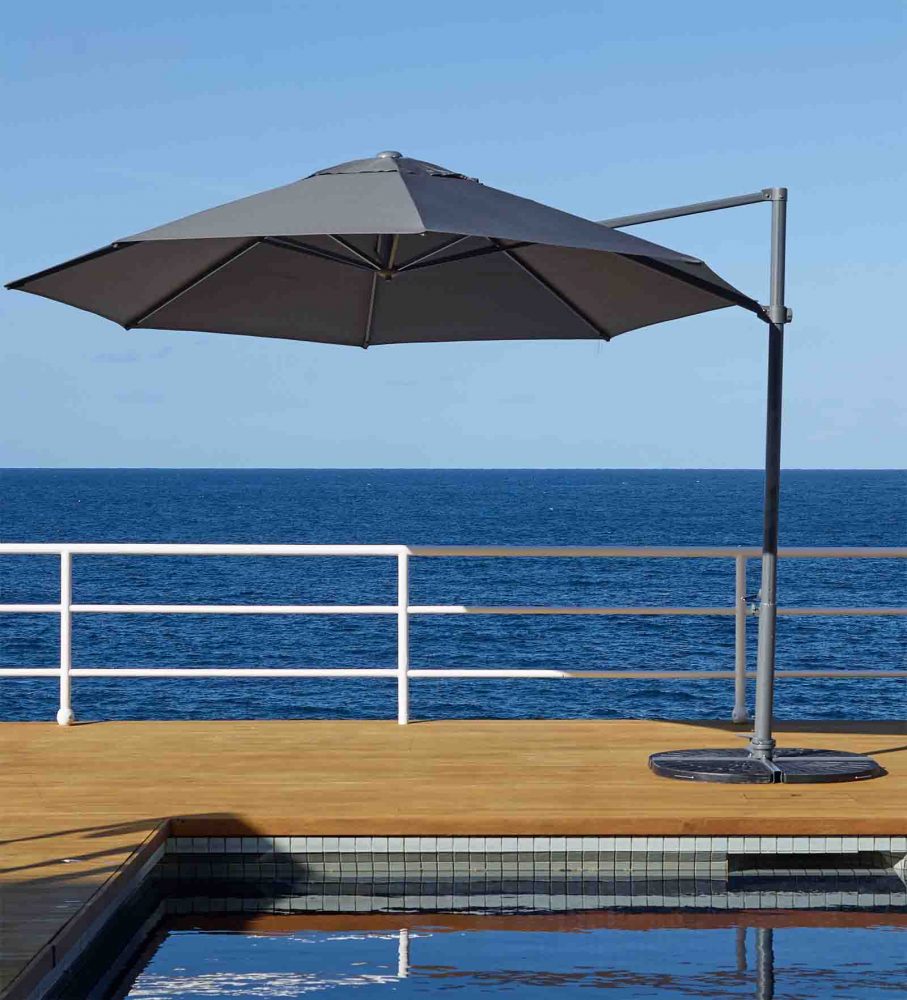 Design tip: Why not add some shade to your outdoor area with the 'Pambula' Outdoor Umbrella. Make sure to opt for an outdoor umbrella in a colour that complements your outdoor setting.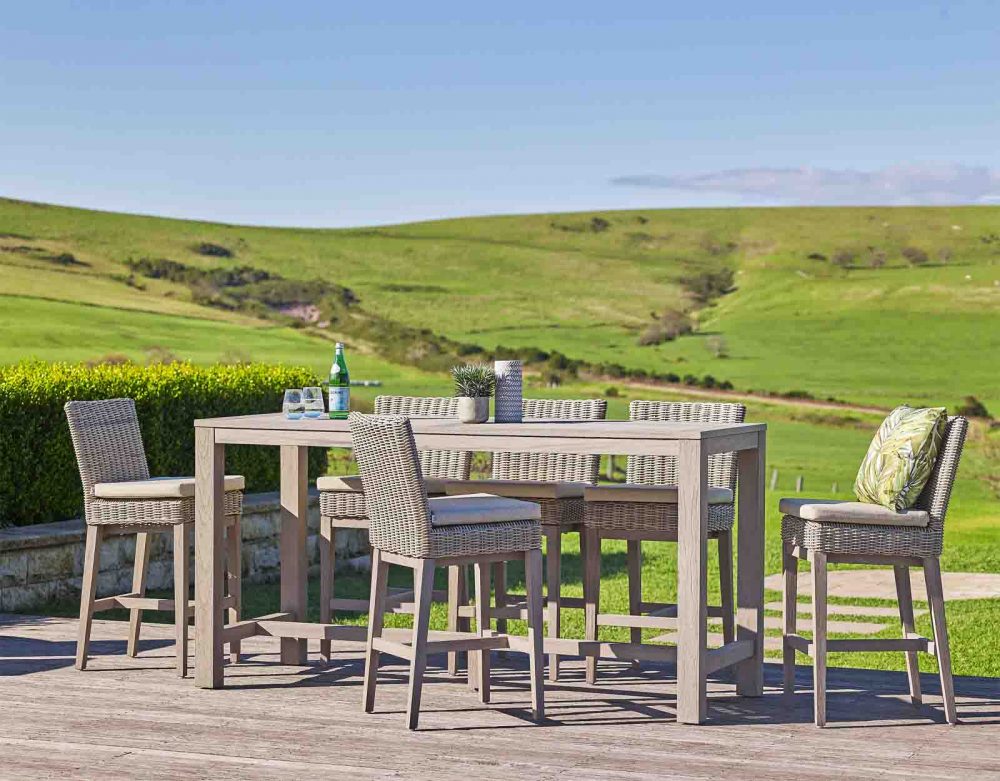 The classic wicker exterior of the 'Alberta' Outdoor Collection is a sight to behold with its gorgeous finish and quality craftsmanship! Timeless, versatile and elegant, this collection will look beautiful as the centrepiece of any patio.
Add a casual dining option to your al fresco area with the 'Alberta' 7-Piece Outdoor Bar Setting. Featuring durable resin wicker weaving and solid teak timber, this bar setting provides a durable and versatile outdoor dining solution for years to come.
Spend your days in the sun on the 'Alberta' Outdoor Lounge. The sofa pieces are sold separately, so you can create the outdoor lounge of your dreams. This outdoor sofa offers spacious seating for all your guests – with plush seat and back cushions for added comfort and a teak timber coffee table for all your drinks and snacks.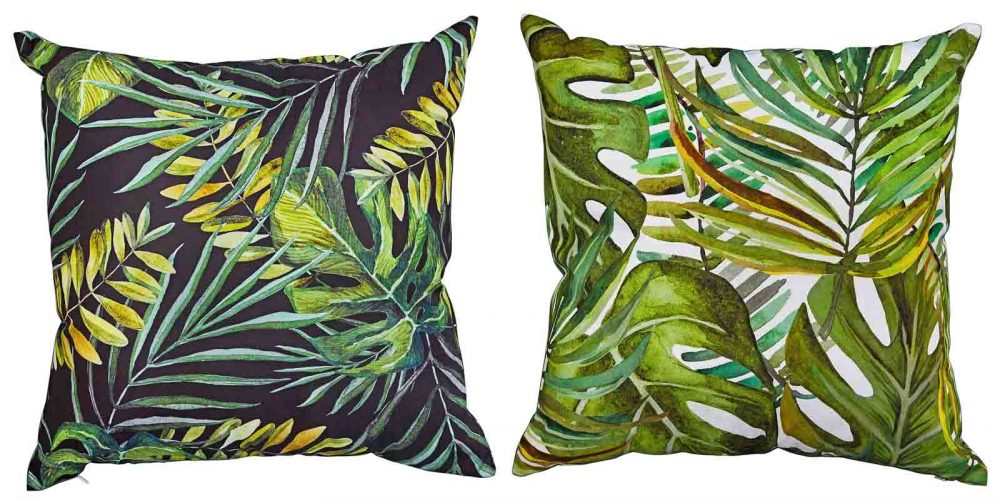 Design tip: Show off your creativity and make the neutral colour palette of the 'Alberta' Outdoor Collection  pop with personality with the 'Monstera' Outdoor Cushions.
Don't have the luxury of throwing a big backyard bash? You can still create the perfect spring patio hideaway with the intimate 'Burton' Outdoor Collection. This collection provides the perfect balance of style, durability and versatility with its gorgeous wicker finish and hard-wearing aluminium frame. The 'Burton' is also available in multiple configurations to suit your needs.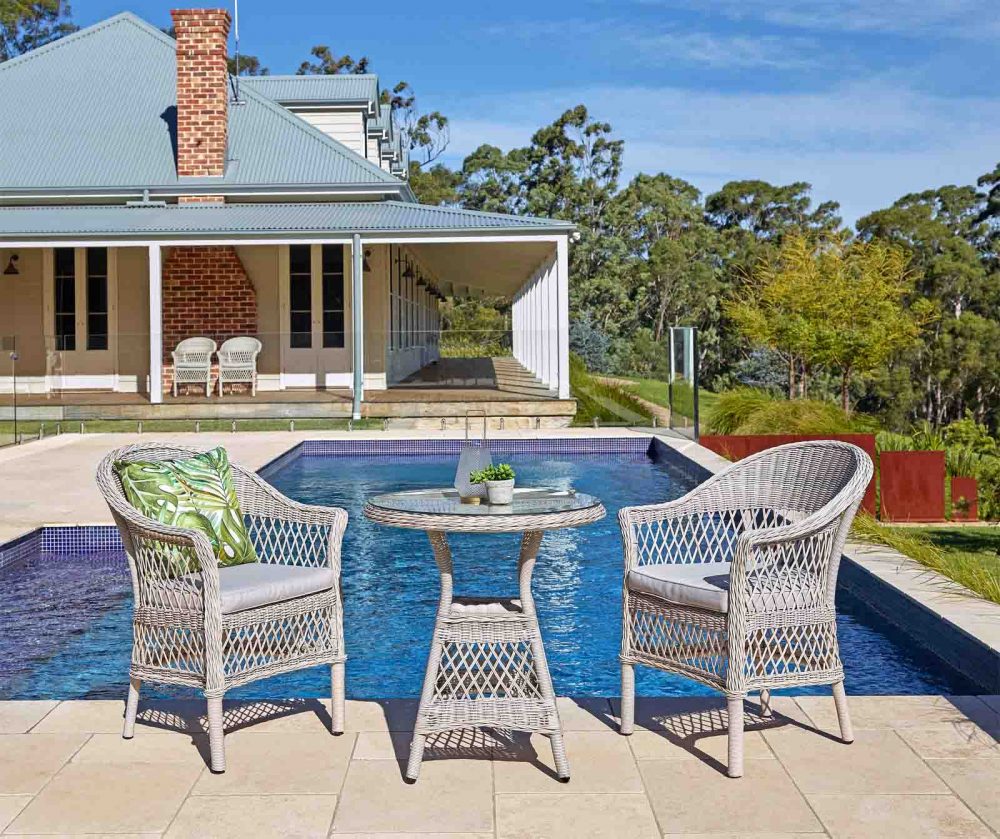 A small yet intimate setting, the 'Burton' 3-Piece Chat Dining Setting is the perfect place to catch up with friends and family over morning tea or evening wine. If you have a bigger space to fill, the 'Burton' also comes in a 7-Piece Rectangular Dining Setting.
The stunning wicker finish will blend harmoniously into any outdoor space. And its neutral palette gives you a blank canvas for colourful accessories like cushions, vases, candles and springtime foliage!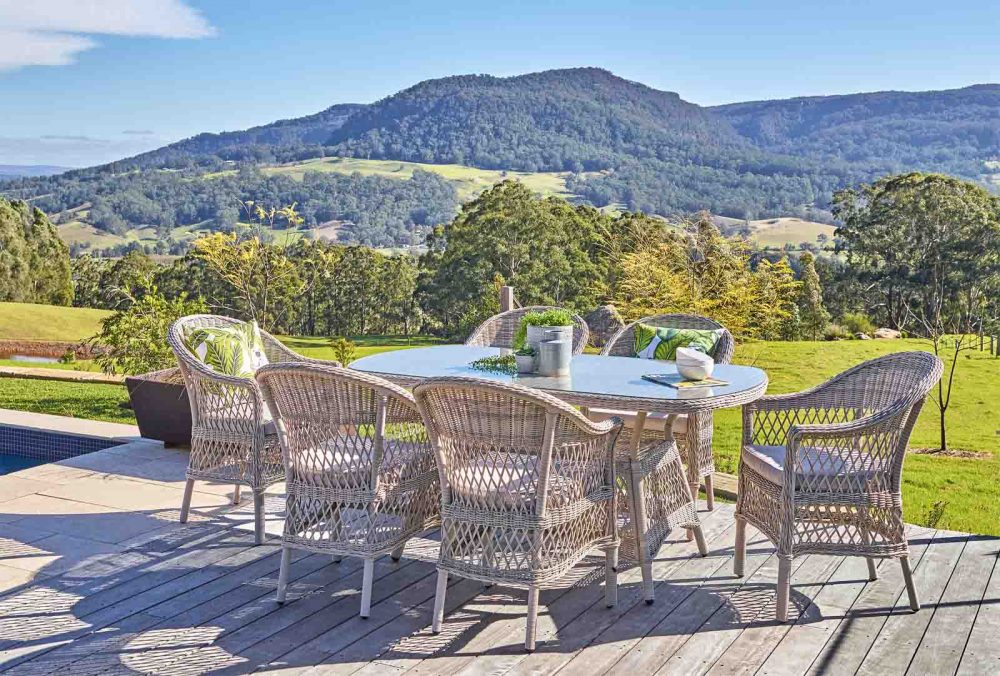 The 'Burton' Dining Settings feature a tempered glass tabletop and an extra shelf underneath for an extra element of convenience. Plus, the outdoor dining chairs are cushioned to keep you and your guests comfortable. Outdoor entertaining has never been more effortless with the 'Burton'.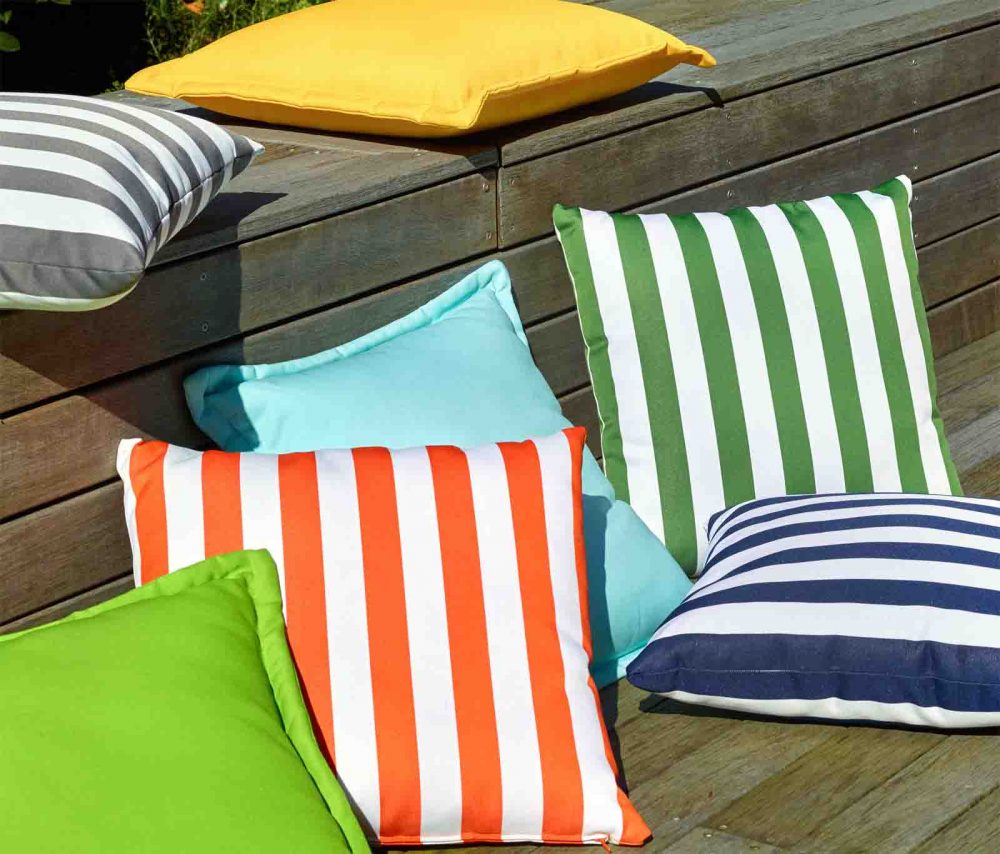 Design tip: Add depth and dimension to your outdoor setting with the 'Hali' Scatter Cushions that come in fun, bright hues, to truly celebrate springtime.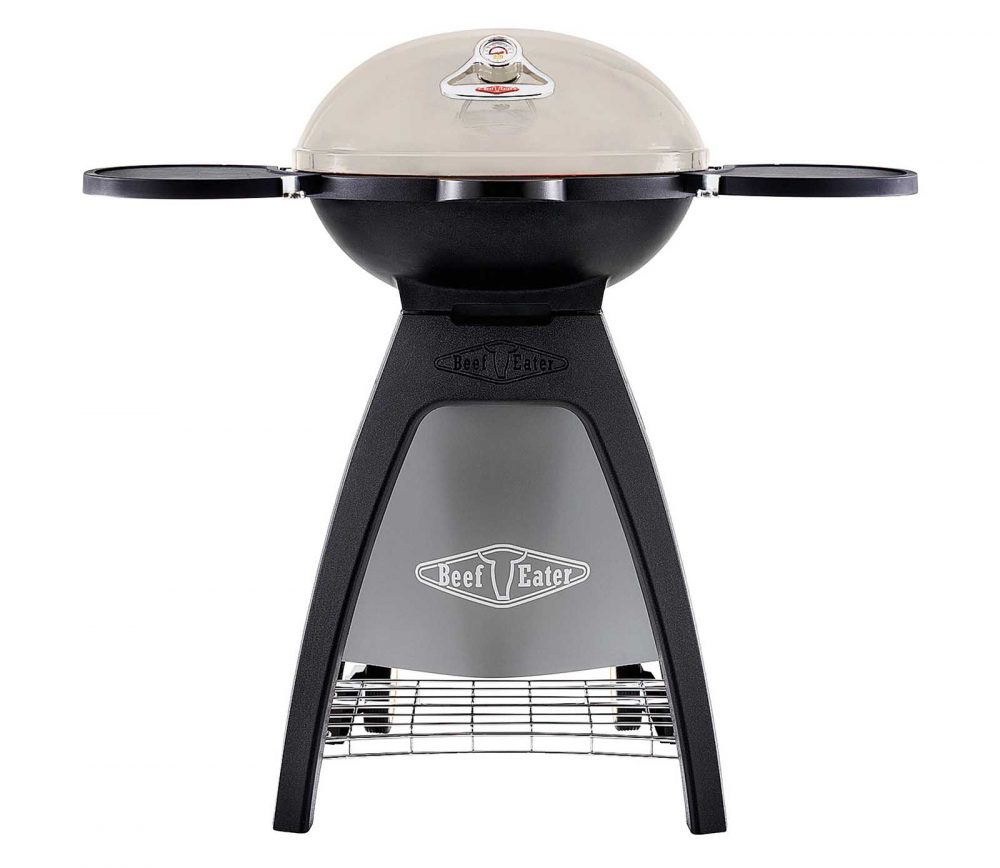 You don't have to have a big outdoor space to throw a great backyard barbecue. The BeefEater BUGG BBQ with Trolley and Full Length Cover offers a portable design that makes it ideal for smaller outdoor spaces. Packed with features like a 50/50 grill and flat plate, temperature gauge and Quartz Start ignition, the BeefEater BUGG BBQ will get the job done for events big or small.
Pictured in Grey (exclusive to Harvey Norman), the BeefEater BUGG BBQ is also available in Graphite and Amber to match your decor. Plus, this BBQ is natural gas compatible – a true must-have for any barbecue aficionado. Wheels are included for easy manoeuvrability.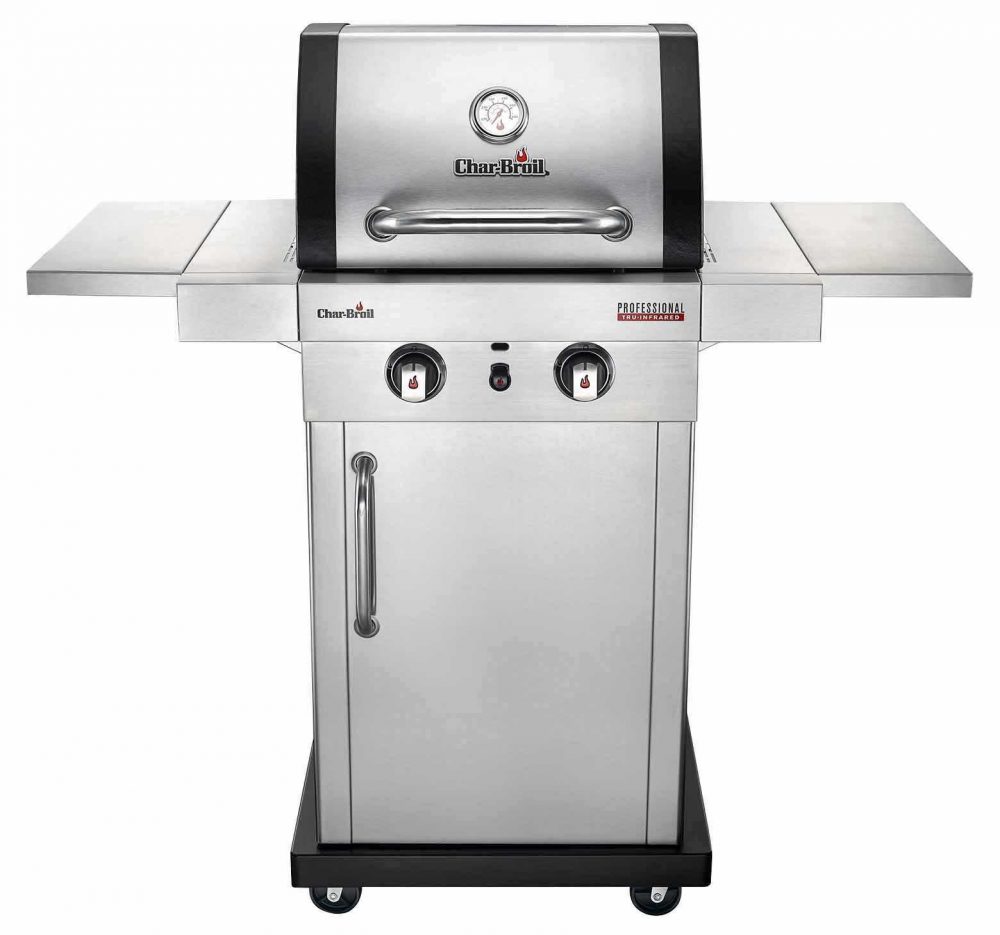 Is space at a premium but you still want a BBQ that gets you fired up for outdoor entertaining? The Char-Broil Professional 2-Burner Stainless Steel BBQ is exactly what you need. Compact (also available in larger sizes), packed with features and natural gas compatible, this BBQ will make al fresco entertaining a breeze.
The Char-Broil Professional BBQ boasts TRU-Infrared cooking technology, which distributes heat evenly across the cooking surface to eliminate hot and cold spots and retain flavour other grills let escape. This means you'll be enjoying juicier steaks, burgers, seafood or whatever else you love to throw on the barbecue!
The Char-Broil Professional BBQ features folding stainless steel side shelves, providing you added space for preparing or warming food. It also has a stainless steel hood and doors as well as control panel and side shelves for long-lasting durability. Full length cover and wheels are included for your convenience.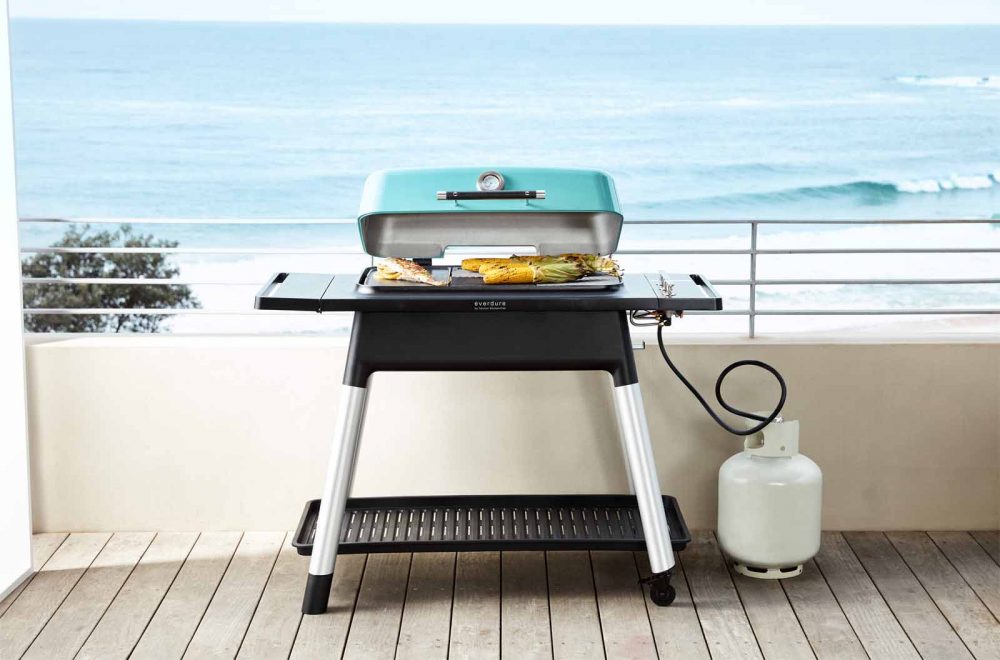 The Everdure by Heston Blumenthal FURNACE 3-Burner Gas BBQ with Stand is an award-winning BBQ. And it's not hard to see why. With a construction so unique and a style so elegant, the Everdure by Heston Blumenthal FURNACE 3-Burner Gas BBQ will effortlessly become a focal point in any al fresco space. You're spoilt for choice with a stunning selection of colours: Mint as pictured above, Graphite, Stone and Orange.
Bringing a new level to home barbecue, the Everdure by Heston Blumenthal FURNACE 3-Burner Gas BBQ performs as well as it looks. Compatible with natural gas, the Everdure by Heston Blumenthal FURNACE 3-Burner Gas BBQ with Stand also boasts a fast ignition system and three powerful gas burners for ease of use and super-fast searing.
A feature worth noting is the soft-close high hood, which has been engineered to make convection cooking simple. Once closed, heat circulates around the food thanks to the contours of the hood, locking in flavour and ensuring delicious, quality cooking.
The Everdure by Heston Blumenthal FURNACE 3-Burner Gas BBQ with Stand includes temperature gauge, wheels with locks and a storage shelf.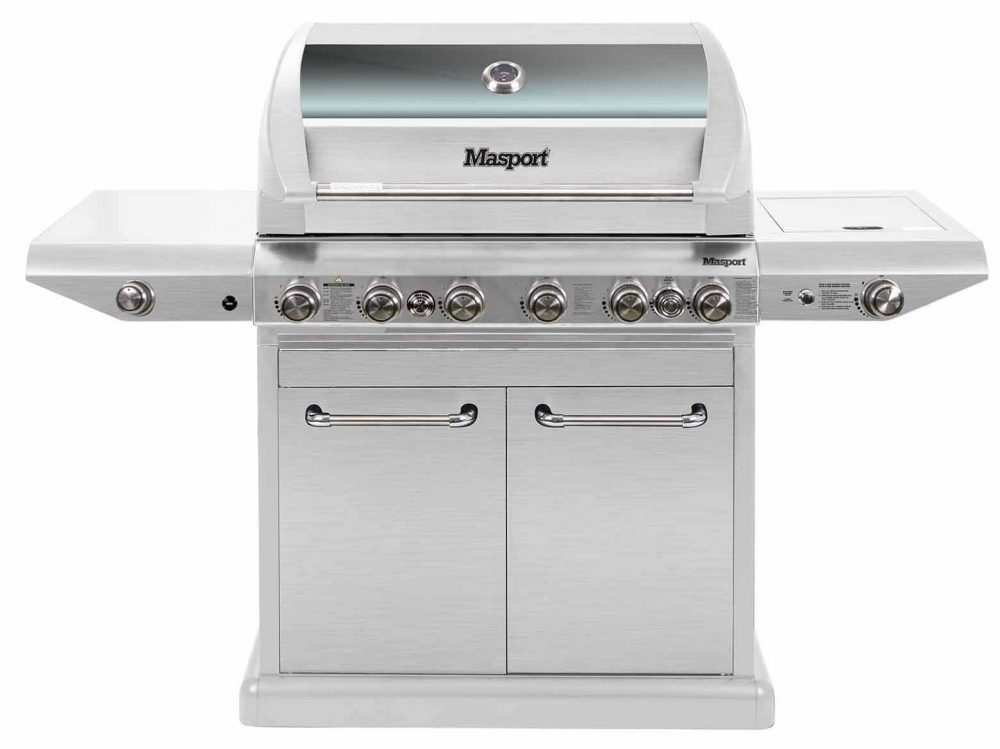 Exclusive to Harvey Norman, the Masport Commander V2 6-Burner BBQ boasts a quality 304 stainless steel construction with an integrated stainless steel smoker grill, a wok burner and rear burner. With incredible design and advanced features, the Masport Commander V2 BBQ will serve you and your guests an enjoyable barbecue experience like no other.
Featuring a large cooking surface and a 50/50 grill and flat plate area, the Masport Commander V2 BBQ provides plenty of space to cook a variety of delicious meals at the same time – perfect for large parties!
This BBQ leaves you no opportunity to burn your food as you can easily monitor the cooking progress thanks to its grill lights, temperature gauge and extra large viewing window.
The Masport Commander V2 BBQ is natural gas compatible and comes with a full length cover, rotisserie kit and bottle opener for added convenience.
Are You Ready for Outdoor Entertaining this Spring?
Are you ready to transform your outdoor area into the ultimate space for al fresco spring entertaining? Browse our outdoor furniture collection and BBQs online or visit your local Harvey Norman store and speak to our friendly, expert staff for design inspiration and styling tips!