The sun-kissed festive season is tantalisingly near – and there's no better way to celebrate than with an outdoor soirée in your own backyard.
Having invited friends and family around to soak in those endless summer days, you'll want your outdoor entertaining area looking its finest. The best way to achieve that perfect look is by selecting summer furniture designed with strong, stylish and on-trend materials.
To help you find your dream outdoor setting, explore with us as we look at key materials we're currently loving and our favourite al fresco furniture designs available at Harvey Norman. This is going to be one beautiful summer!
1) Sleek Aluminium
Beyond its strength, aluminium also offers a beautiful aesthetic, with its sleek and minimalist look. For an example of this elegant design, look no further than a couple of our favourite al fresco aluminium designs, the 'Bon' and 'Quay' dining settings.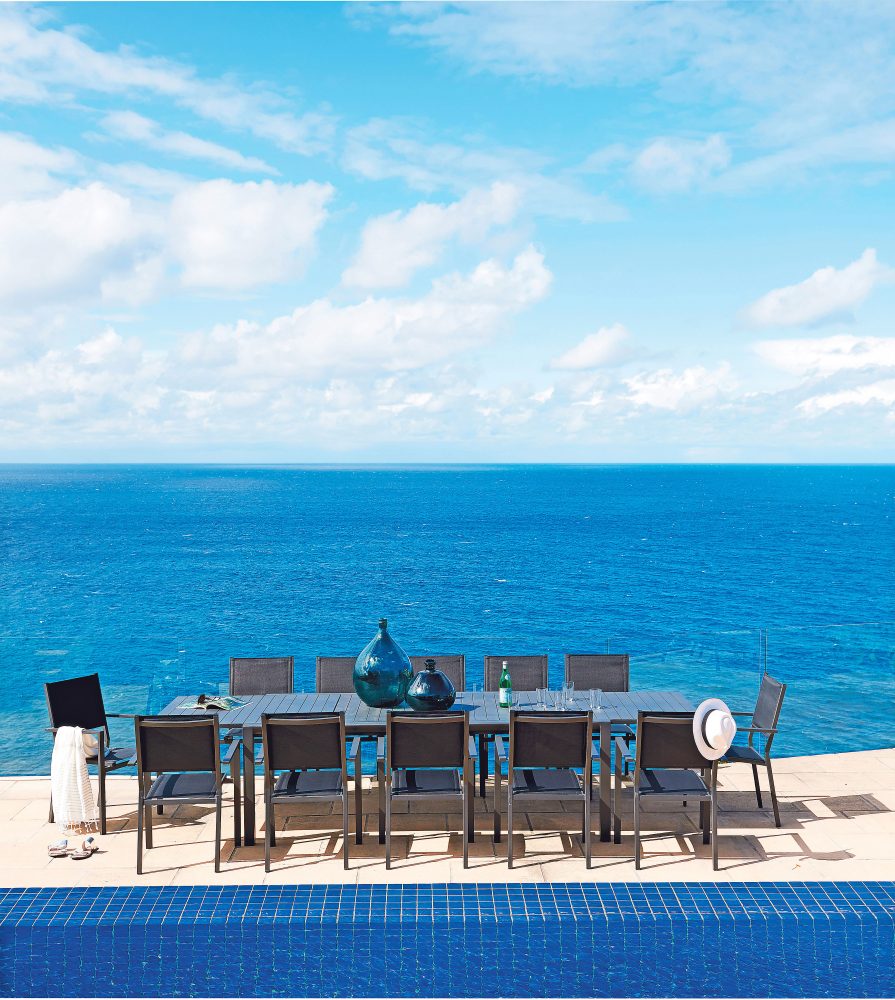 Ideal for big families or the host with the most, the 'Bon' 13-Piece Outdoor Dining Setting offers ample space in a clean, minimalist design. This setting will provide enough room for all your guests while seamlessly blending in with your existing outdoor décor.
Pictured in gunmetal and also available in white, the sleek aluminium framing is lightweight, as well as weather and rust resistant, making for a low-maintenance setting – perfect for the outdoors!
The setting comes with coordinating chairs – designed for stackable storage and easy cleaning – while its monochromatic palette makes it a breeze to accessorise. Place oversized clear glass vases or bowls on the dining table for added interest and incorporate a layer of plush comfort to your chairs with fun cushions in trendy colours, textures, and designs, such as the vibrant 'Avoca' Outdoor Cushions. When it's time for Christmas, make it more festive with touches of greens, reds and festive knick knacks!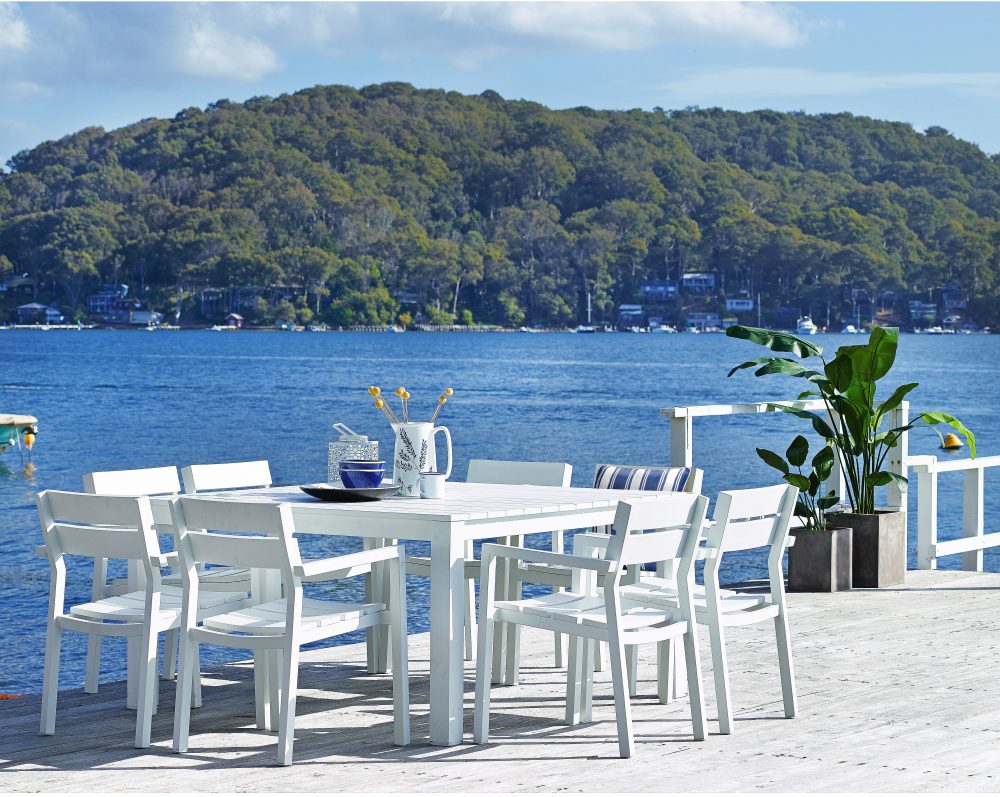 Soak up the sun and feel the sweet summer breeze while sitting in the comfort of the 'Quay' 9-Piece Outdoor Dining Setting. Spacious yet cosy, the 'Quay' is perfect for intimate gatherings, Christmas BBQs, or those casual afternoons spent lounging in the sun.
Inspired by the modern, industrial design trend, this setting boasts sharp corners and a sleek monochrome exterior that will bring a touch of chic to any al fresco space.
Constructed with a durable aluminium frame, available in white or gunmetal, 'Quay' will withstand all the elements – rain, hail or shine!
This contemporary setting looks great as it is. However, incorporating patterned cushions, vases, or interesting lanterns make for an even more picturesque dining experience.
2) Timeless Wicker
Wicker is a classic material that has been used in furniture for centuries – and there's a reason why it's still one of the most popular outdoor furniture trends. Timeless, versatile and elegant, wicker lends itself to a variety of decorating styles – from casual and coastal to traditional and bohemian. Simply put, wicker furniture looks so good – especially when it sits as the centrepiece of your patio.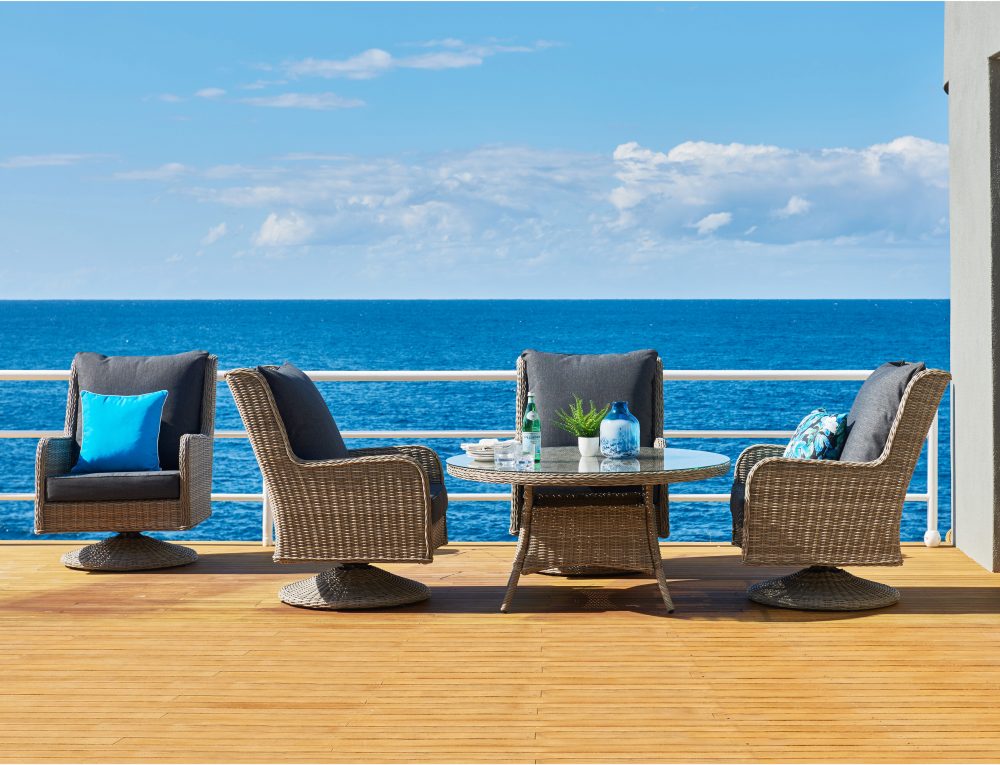 Don't have the luxury of throwing a big backyard bash? You can still create the perfect summer patio hideaway with the intimate 'Austin' 5-Piece Round Mid-Height Outdoor Dining Setting
The earthy tones of the stunning wicker finish and charcoal cushioning will blend harmoniously into any outdoor space.
There's so much to love about this setting, although it's hard to go past the cushioned swivel rocker chairs! The high-back design provides optimum comfort and a classic aesthetic, while the swivel-rocker feature itself just makes the chairs so much fun to sit on!
Complement the brown and charcoal hues with cushions and vases in bright greens and blues for a complete on-trend look.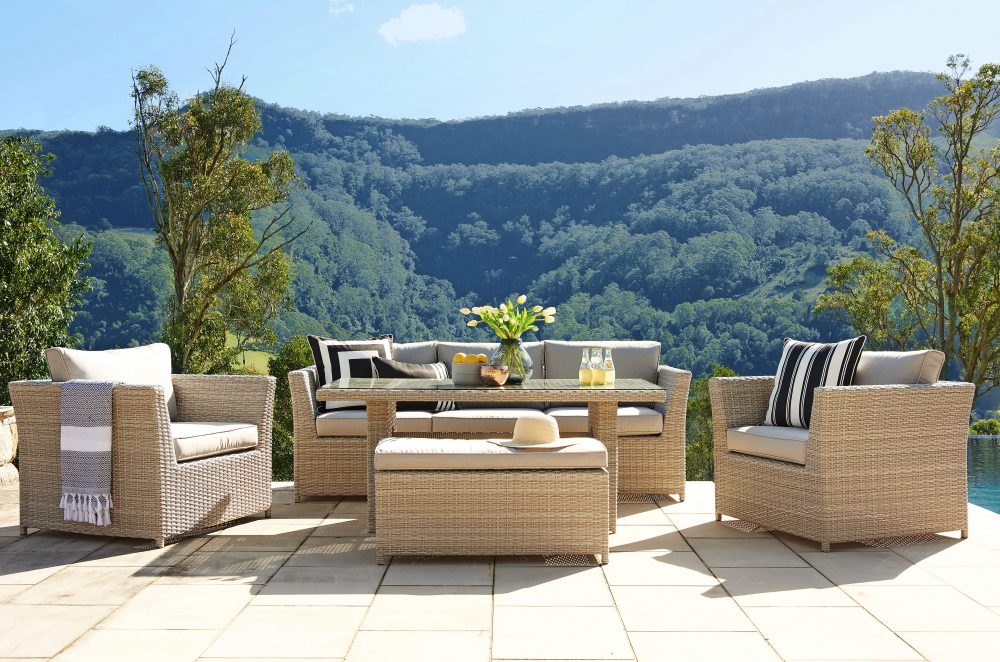 The 'Belbora' 5-Piece Outdoor Lounge/Dining Setting delivers the perfect balance of style, durability and versatility. A spacious yet intimate setting, the 'Belbora' is the perfect place to enjoy your morning tea or evening wine.
Beautifully crafted from hardwearing aluminium and wicker, this summer outdoor furniture is truly made for al fresco living.
The subtle colour palette and contemporary design of the 'Belbora' makes it a delight to accessorise. Outdoor cushions in neutral palettes and trendy patterns will add depth and dimension while staying true to elegant styling. Greenery in oversized vases will also instantly add life to your setting.
3) Timber, a Natural Beauty
There's something so warm and inviting about timber furniture. Maybe it's the natural beauty of the material or its timeless character and rustic charm. Ultimately, timber furniture is an outstanding choice for any outdoor entertaining area.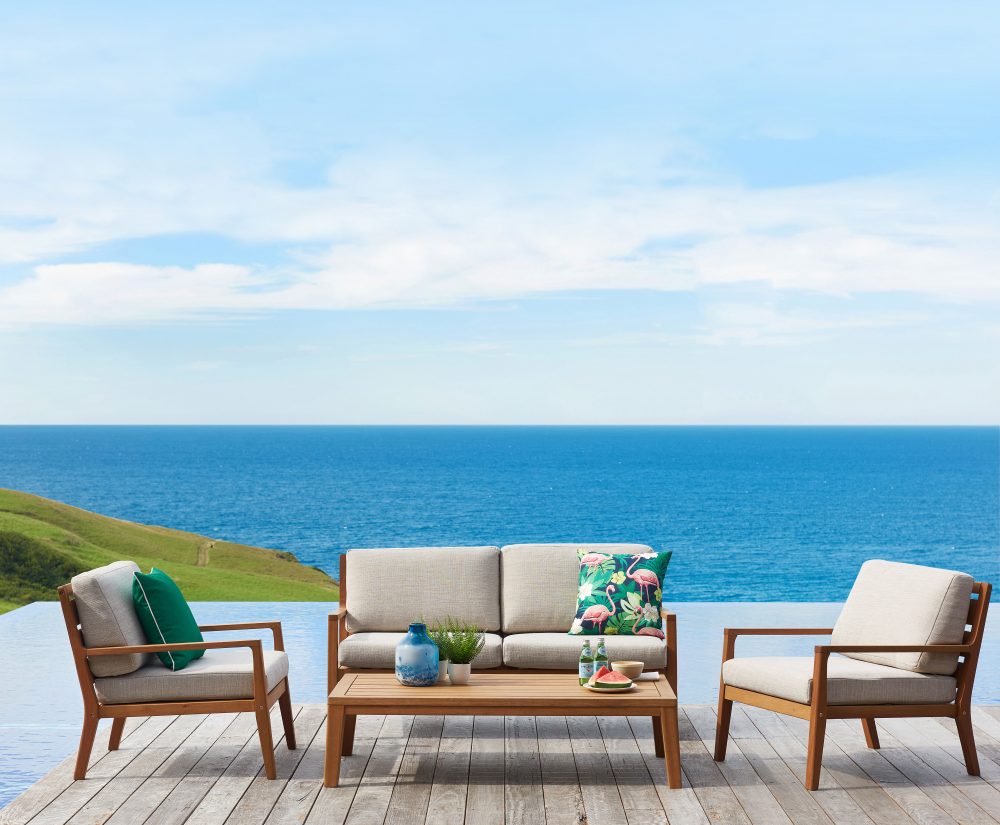 Modest, elegant and with contemporary styling in mind – the 'Louie' 4-Piece Outdoor Lounge Setting is more than worthy of its place in your backyard. The natural beauty of the karri gum wood will effortlessly fit in with any outdoor setting.
Clean and elegant lines make this a gorgeous summer patio furniture selection while its durability against the outdoors ensure that it's also highly functional.
The wide arm and leg profile offer extremely comfortable seating, while the wide slatted coffee table provides ample space for all your summer treats!
Give your setting a tropical vibe with outdoor cushions in bright greens and funky prints, like the eye-catching 'Bayview' Outdoor Cushions. Or satisfy your minimalist desires by accessorising with neutral tones such as white, beige and grey.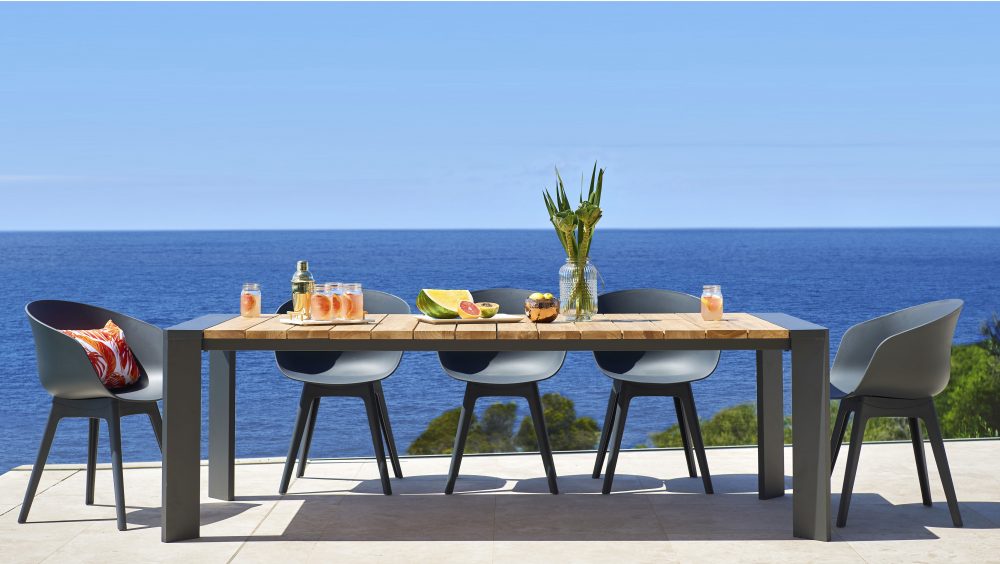 Nothing says 'trendy sophistication' more than the 'Alias' 9-Piece Rectangular Outdoor Dining Setting. Featuring dark aluminium framing and a tabletop constructed with light teak timber slats, 'Alias' is a stunning piece that will stand the test of time.
Choose the bench setting for an intimate outdoor dining experience or opt for dining chairs to set a more casual tone.
For finishing touches, add outdoor cushions in fun and colourful patterns to complement the personality of your outdoor timber setting. Add interest to the timber tabletop with décor accents like a bowl filled with fruits or greenery in clear vases.
4) Set in Stone
Not only is stone and concrete furniture unique and interesting, it can also withstand a beating from all the outdoor elements as well as your toughest guests!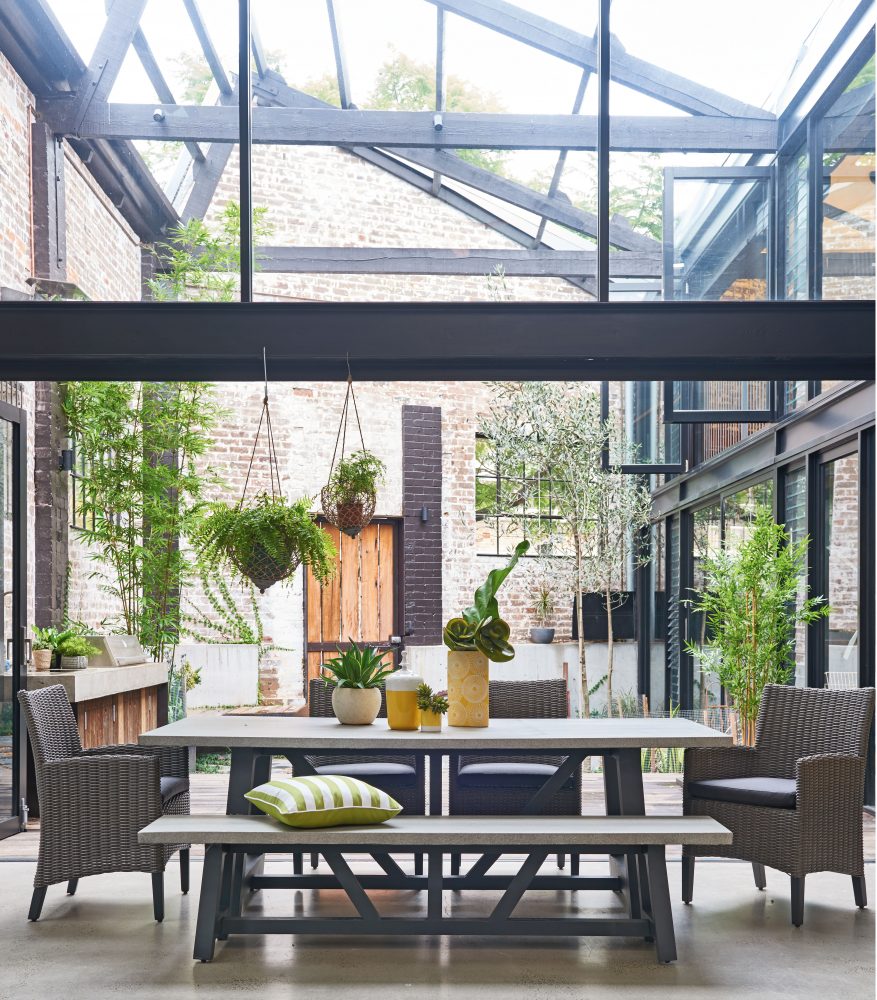 Planning to host a BBQ this summer? The benches of the 'Tonic' Outdoor Dining Setting create intimacy with their communal set up – perfect for festive family get-togethers.
The rustic charm of the 'Tonic' creates an inviting space with its dark aluminium framing and concrete tabletop. This setting will truly be an excellent addition to your outdoor dining and hosting experience.
Make a statement by dressing up the concrete tabletop with greenery in unique, mismatched vases – everything looks good on this table!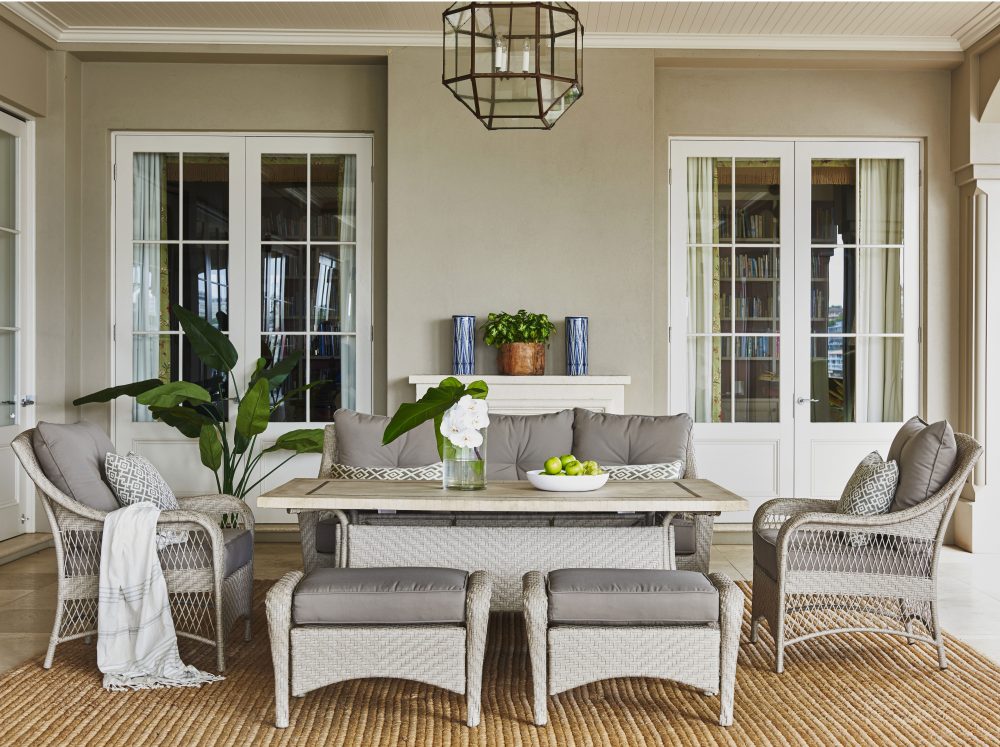 Impart a touch of class to your outdoor entertaining area with the 'Barbuda' Outdoor Dining Setting. Exuding elegance and comfort, this setting makes for the perfect centrepiece on any traditional patio.
The sturdy aluminium framing, stunning wicker finish and beautifully hand-painted concrete tabletop combine to create an inviting dining experience. And those cushioned seats look so cosy, you'll want to spend time outdoors more than ever!
Complement the neutral colour palette of the 'Barbuda' with simple, patterned outdoor cushions. Introduce a hint of colour and festive life to your setting with summer foliage and bowls filled with Christmas ornaments.
What's Your Ultimate Outdoor Setting?
Did any of our featured outdoor furniture catch your eye? Browse our stunning summer outdoor furniture collection online or visit your local Harvey Norman store and speak to our friendly staff.