Shake off your winter blues as the season of blue-sky dining and outdoor lounging is upon us. What better way to welcome the warm weather than soaking up the sun in your outdoor living space with fresh, stylish, and comfortable outdoor furniture.
Whether you want to revive your patio, porch, or poolside setting after its winter neglect, the new season of outdoor furniture range from Harvey Norman, your outdoor furniture specialists – is the perfect way to get ready for summer entertaining. Read on for our five top picks of outdoor furniture sure to help kick start summer in style.
1.     A Monochrome Look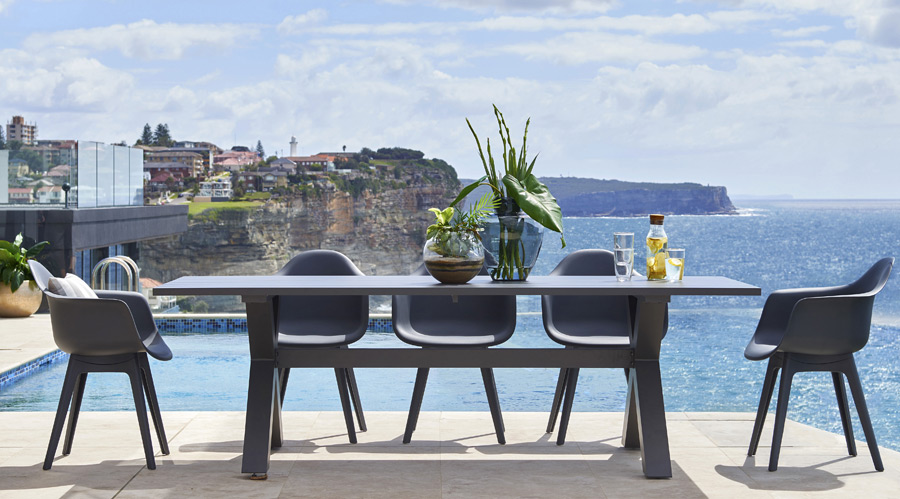 If you're fan of minimalist al fresco furniture, you'll love the monochrome look of the 'Floret' range with its simple yet elegant design. Pictured in Gunmetal and also available in White, the seamless shape of this range makes for comfortable outdoor dining furniture that fits perfectly into a variety of al fresco areas – modern, traditional, or even a tropical-inspired outdoor space.
Featuring an aluminium rust-resistant frame, and chairs moulded for superior comfort, the 'Floret' is ideal for outdoor entertaining.
Need options? There are five different chairs to choose from that can be mixed and matched with the dining table to create the distinctive look that you desire.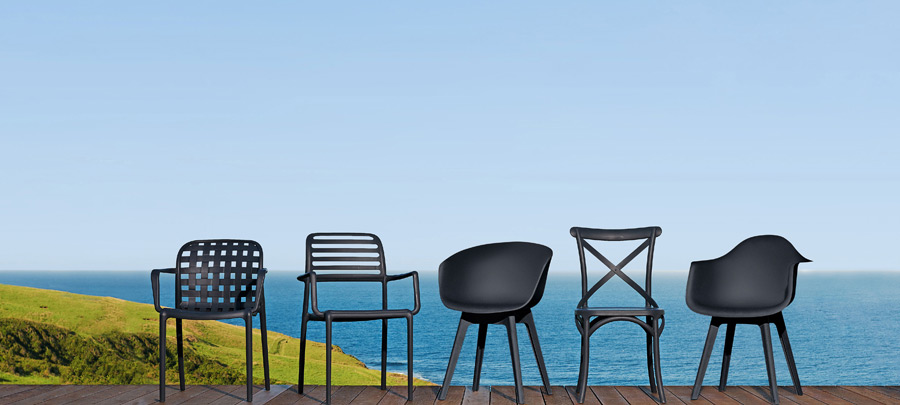 As the finishing touch, add your favourite greenery to oversized clear glass vases or bowls and place strategically on the dining table for instant interest. Add another layer of plush comfort to your outdoor chairs with our 'Avoca' outdoor cushions range boasting on-trend colours, textures, and designs sure to add a pop of colour to your outdoor sanctuary.
2.     Keep It Trendy With Timber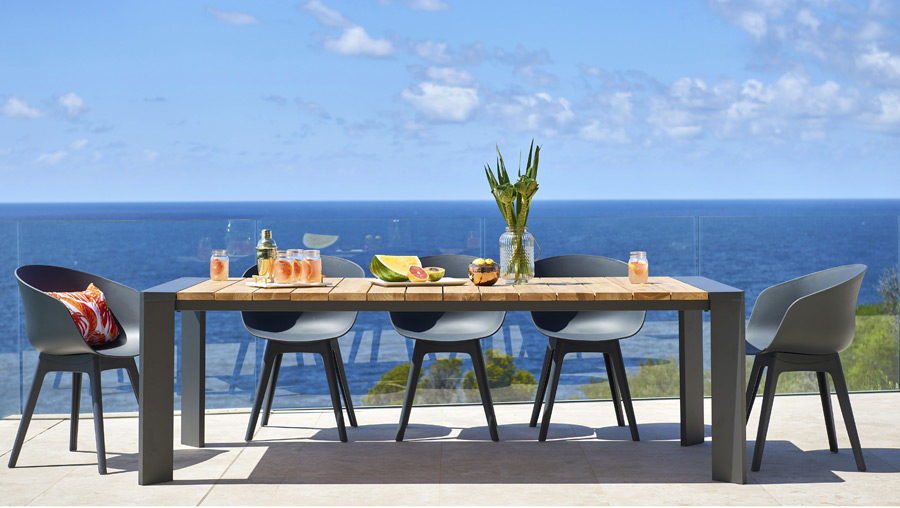 The 'Alias' outdoor furniture range exudes trendy sophistication through its dark aluminium framing and a table top constructed with light teak timber slats – a timeless design that is built to last and perfect for entertaining all year round.
You also have the option to choose between a bench setting or dining chairs.
Once again, if you're going for a certain look, the 5 different chair options (pictured further up the page) can be mixed and matched with the dining table to suit your style.
Make your timber outdoor furniture pop with personality by adding outdoor cushions in fun and colourful patterns. The timber table top looks stunning on its own, but it also makes for a great spot for décor accents like a vase full of spring foliage, scented candles, or even a bowl of seasonal fruit. One or two accent pieces are enough to keep your outdoor entertaining space interesting!
3.     Concrete Table And Bench Tops
Planning to host a BBQ this spring? The bench setting of the 'Munich' outdoor furniture creates intimacy with its communal set up that is perfect for family mealtimes and casual afternoon gatherings with friends.
The rustic charm of the 'Munich' setting creates a relaxing space to entertain with its solid Acacia timber construction and durable fibreglass/cement table and bench top.
Dress up the bare cement tabletop with a jar of flowers or add a simple hurricane with a tea light candle for ambience.
Choose your style! This setting not only offers a rustic charm to your outdoor area, it also offers multiple configurations. Style your space with the stunning 3-piece bench setting – spacious enough for the whole family. Opt for a more classic feel with the 5-piece bench and stool combination (as shown above), or feel trendy with the 7-piece bench and wicker chair setting – it's sure to impress all your guests.
4.     Stunning Wicker
Think outside the square box for your outdoor space with the unique circular design of the 'Hudson' dining setting. Boasting wide high-backed cushioned seating, aluminium framing, and a stunning wicker finish, this intimate setting offers the ultimate in outdoor relaxation evocative of a luxurious tropical resort!
The 'Hudson' offers a spacious seating area for all your loved ones. With the included lazy susan, tempered glass table top, and comfortable high-backed cushioned seats, entertaining outdoors has never been more convenient or enjoyable.
When accessorising, opt for bright outdoor cushions in topaz and turquoise tones reminiscent of jewel-like seas to really create that resort-style feel.
5.     Coastal Comfort
Add a touch of coastal comfort to your own outdoor living space with the gorgeous 'Norfolk' lounge/dining range. Featuring a versatile table that adjusts from a low coffee table to a mid-height dining table, this clever setting easily adapts from lounging to dining to suit your needs.
The 'Norfolk' is packed with stunning and functional features that will make your outdoor space bloom with beauty and comfort. The wicker exterior is a sight to behold with its gorgeous finish and quality craftsmanship. Plus, the resilient aluminium frame and longwearing olefin cushion fabric ensures durability.
The included ottomans are great for when unexpected guests visit and you need extra seating or when you simply want to relax with your feet up, while watching the sunset.
The subtle colour palette of the 'Norfolk' makes it a delight to accessorise. Outdoor cushions in aquamarine hues will add depth and dimension while keeping the coastal vibe in check. Metallic accents will add an air of luxury and are right on-trend.
Are you ready to say goodbye to your winter hibernation rituals and prepare your patio or porch for the upcoming warm weather? Browse our gorgeous outdoor furniture collection online or visit your local Harvey Norman store and set yourself up for a summer of outdoor living.