We Australian's celebrate Christmas a little differently to those in the wintery north of the globe. We bask with friends and family in sun-kissed surrounds, and indulge in Christmas BBQs out in our al fresco spaces. We laugh under the stars, long into our endless summer nights. And we wouldn't have it any other way.
In honour of Australia's love of outdoor Christmas entertaining, here at Harvey's HQ, we've put together a special look at the best outdoor lounges, outdoor dining settings, and BBQs to take your Christmas celebrations to new heights. All available at Harvey Norman, these outdoor furniture and BBQ selections encompass the latest home style trends and innovations – and are an outstanding way to enjoy all the glory of Christmas in Australia.
So, without further ado, here are our picks for this season's best Outdoor Settings and BBQs for Christmas Entertaining.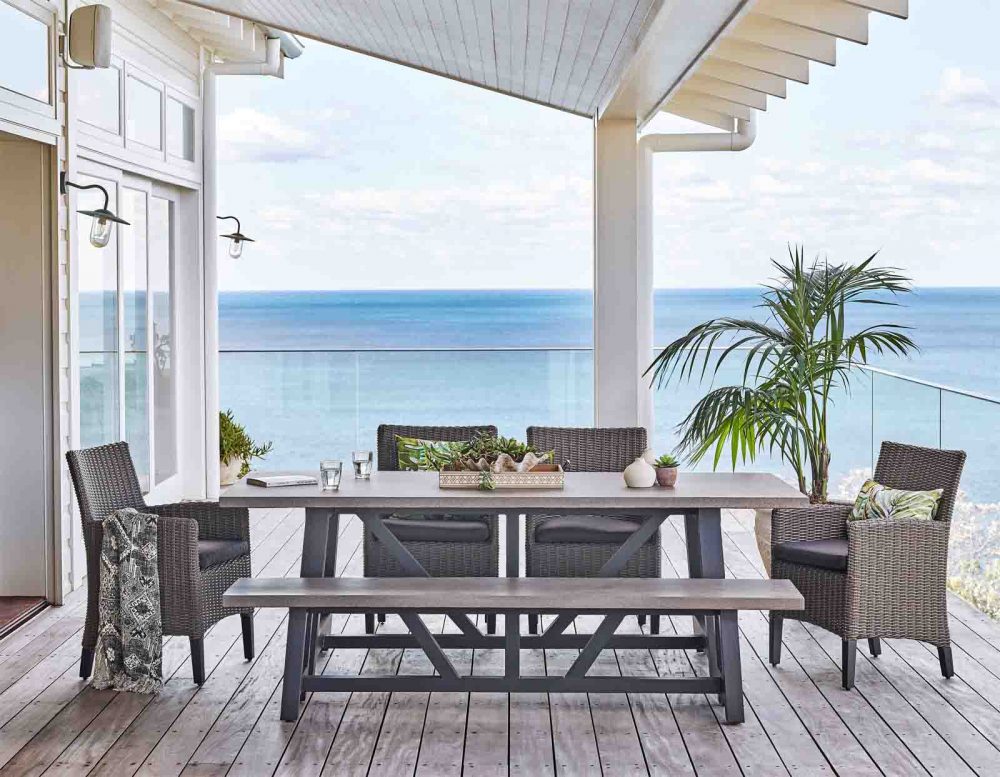 Dine and delight in style this Christmas with the Tonic Outdoor Rectangular Dining Table. Its large concrete tabletop offers a stunning setting to present that mouth-watering Christmas lunch. With a durable construction and beautiful chair upholstery, you'll love that this is an outdoor dining experience that you'll be able to enjoy for years to come. Featuring a neutral beach line design, the Tonic is perfect for harnessing that coastal living feel.
Got the whole family coming over this Christmas? The Tonic Outdoor Rectangular Dining Setting is available in a wide range of configurations, including 6-Piece, 7-Piece and 9-Piece designs.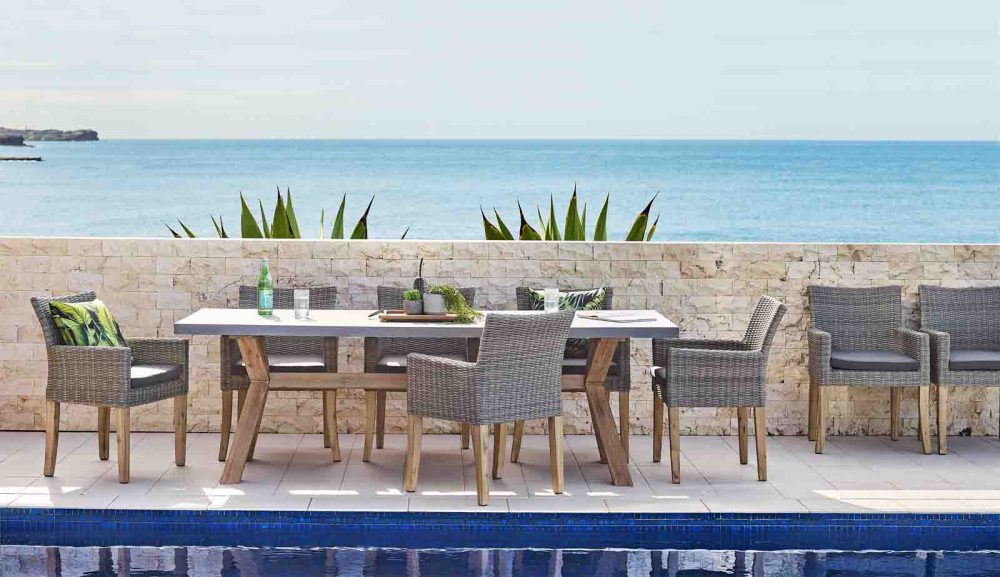 The Paso Outdoor Dining Table is an idyllic setting to snap Christmas Crackers long after the sun has gone down. The strong Acacia timber frame wonderfully complements the cement table top, effortlessly mixing natural timber with an industrial edge. It's a look that's not only right on trend, but is durable, stable and perfect for outdoor use. Mix and match the dining table with the modern Paso Outdoor Dining Chair and the Paso Outdoor Bar Chair. Both dining chair designs are made from weather-resistant wicker, allowing you to tailor the perfect al fresco Christmas dining suite for yourself. For smaller spaces, the Paso Outdoor Dining Table is also available as a bar option.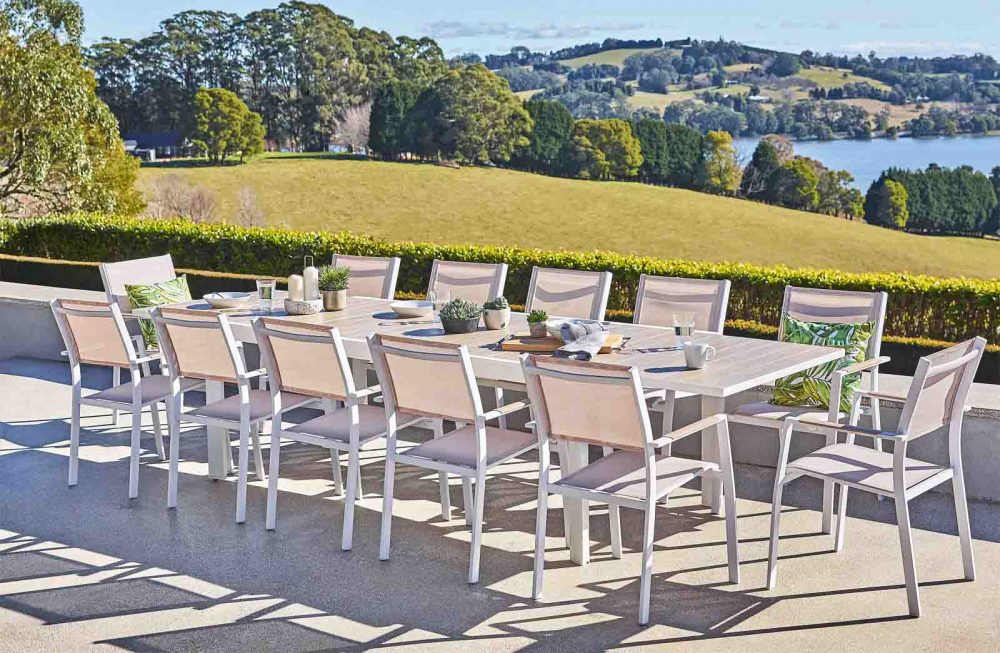 If all the family are coming to town, look no further than the 'Ebony' Outdoor Dining Setting. This large 13-Piece extension outdoor dining suite with coordinating chairs is great for larger patios and balconies. When buying Outdoor Furniture in Australia, you want to ensure weather-resistance and durability, and the 'Ebony' Outdoor Dining Setting certainly has you covered. The modern white aluminium frame is lightweight and rust-resistant, and makes for a low-maintenance sleek look. Break out the festive table runners and floral decorations; the 'Ebony' Outdoor Dining Setting is a must-have for the ultimate family Christmas feast!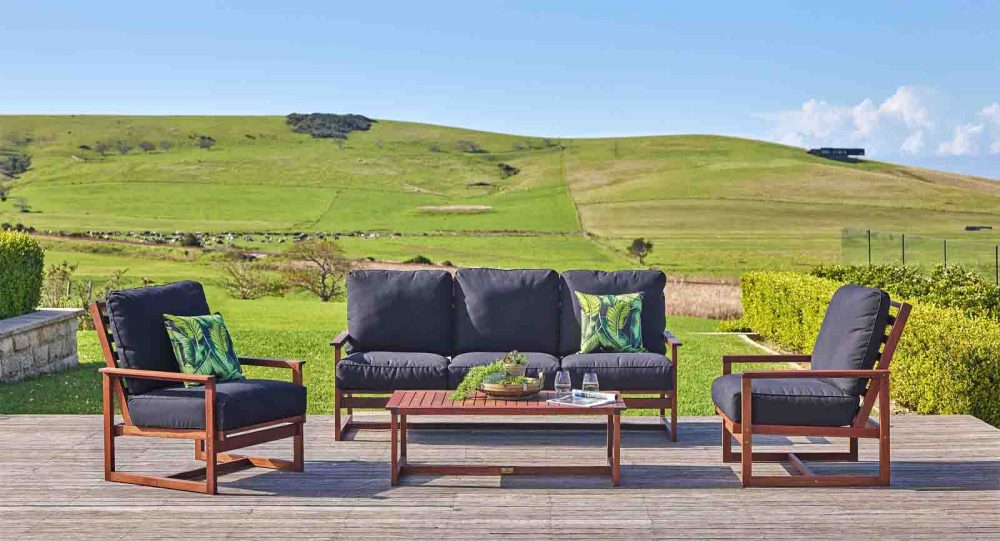 When the last morsel of Christmas lunch has disappeared and the plates have been cleared, the 'Marquise' Outdoor Lounge Setting is the perfect place to lounge away the afternoon.  Consisting of two armchairs, a rectangular coffee table and either a 2-seater or 3-seater sofa, this setting is made from beautiful Karri gum timber, and brings refined, natural style to any outdoor space.
Add a crisp pop of colour with the stunning 'Monstera' Outdoor Cushions, made from weather-resistant polyester fabric – making them perfect for outdoor use.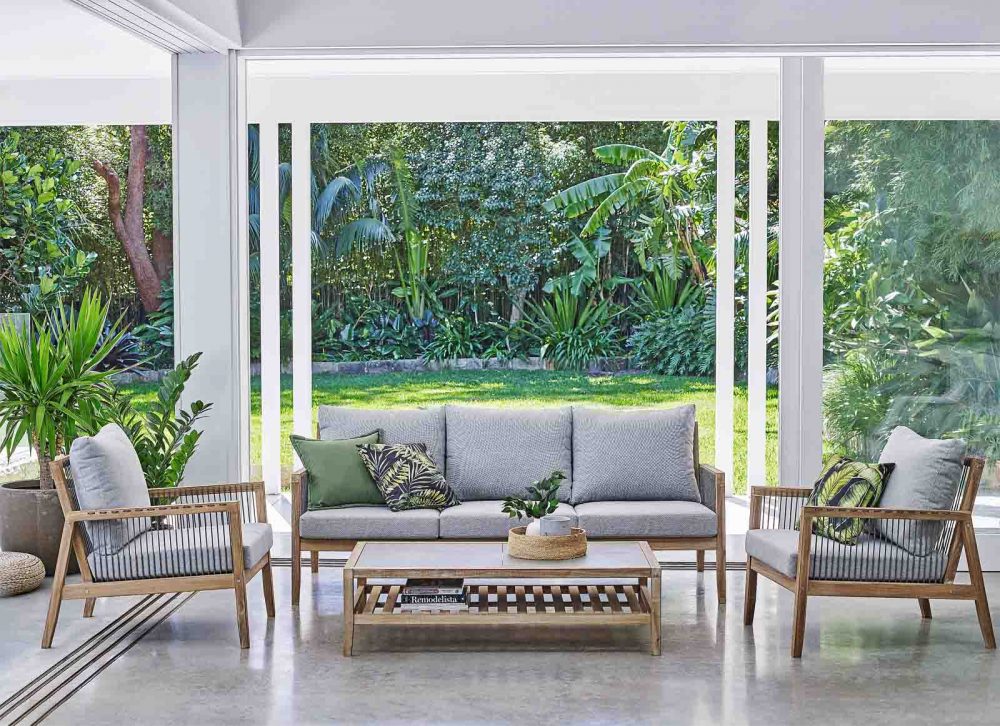 Take your outdoor Christmas entertaining space to the next level with the gorgeous 'Bianco' 4-Piece Outdoor Lounge Setting. Your guests are sure to be impressed by the effortless style of this lounge setting, available with a 3-seater or 2-seater sofa, plus two spacious armchairs and a rectangular coffee table with a tile top inlay. Made from Acacia timber and stylish rope detail, the lounge and armchairs feature tapered legs and comfortable back and base cushions. If you're craving a home style upgrade, the 'Bianco' 4-Piece Outdoor Lounge Setting might just be all you want for Christmas.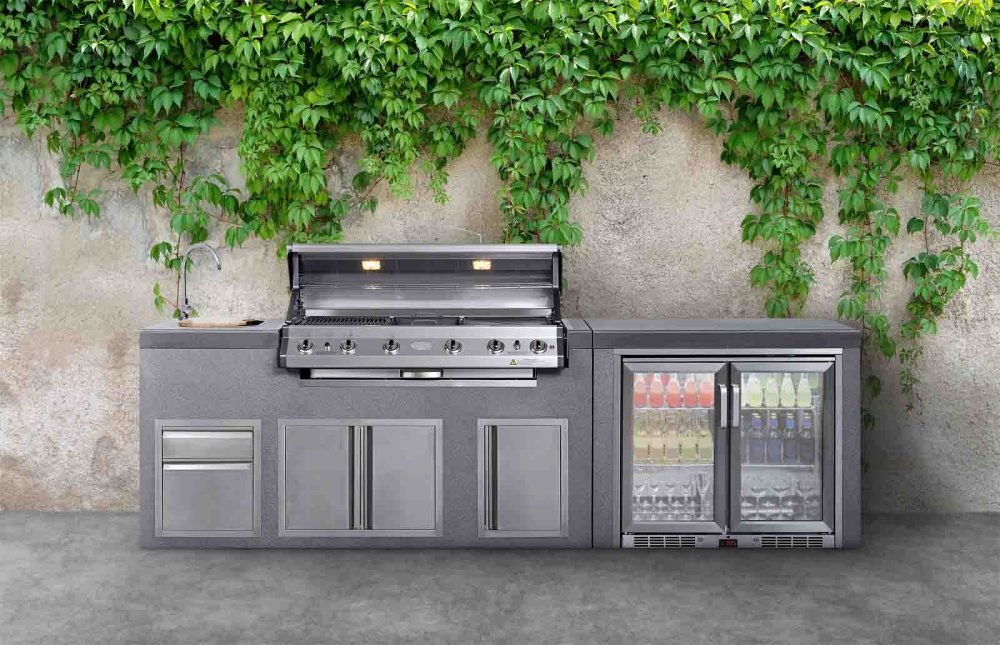 The Neo Kitchen with 6 LPG Burner Island Module BBQ is what every serious outdoor entertainer dreams of at Christmas! This outdoor kitchen has everything you need to prepare the perfect Christmas meal in the great outdoors, featuring a powerful 6-burner BBQ, a built-in sink, warming rack and a double door beverage cooler. Constructed from 304 grade stainless steel and with a large cooking area, this deluxe unit is sure to be a family favourite that's enjoyed for countless Christmases to come.
To learn more about Outdoor Kitchens – including the Neo – check out our recent look at 3 of the Best Outdoor Kitchens for Summer Entertaining.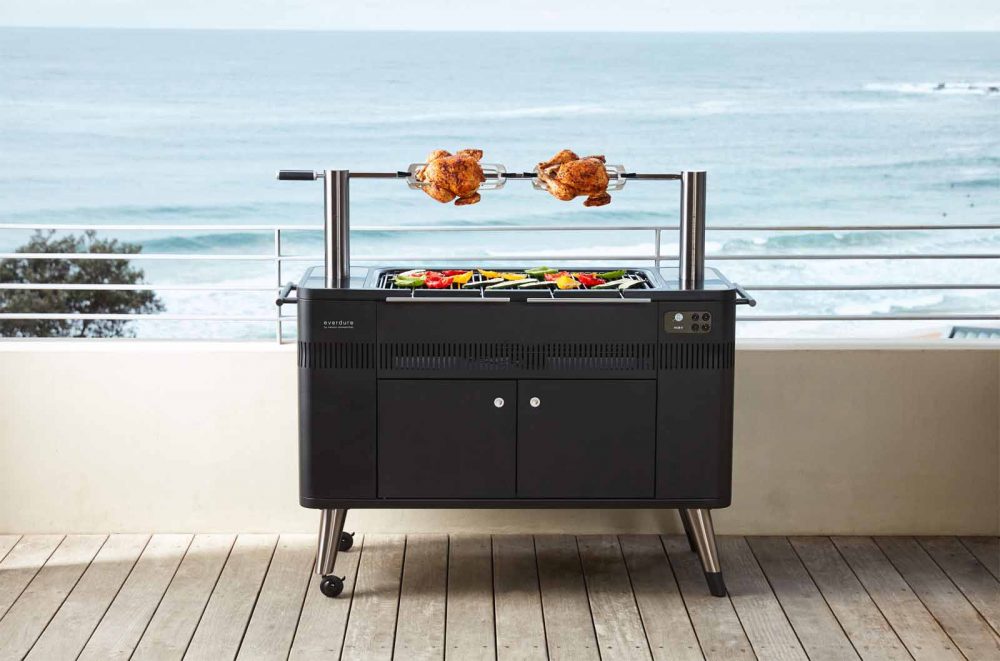 The Hub II Electric Ignition Charcoal BBQ is your Christmas balcony entertaining centrepiece, ready to cook in 10-minutes with fast flame charcoal ignition. This BBQ from the Everdure by Heston Blumenthal range features an elegant, contemporary design and a porcelain enamel firebox. The wide grill plate area makes it a great choice for mouth watering Christmas delicacies your guest will love, like these delicious herb and chilli prawns.
To learn more about BBQs, have a look at our BBQ guide, where we show you the perfect outdoor cookers for you – no matter whether you're a BBQ Beginner or a BBQ Pro.
Discover All You Need For Outdoor Christmas Entertaining
There truly is nothing like celebrating Christmas outdoors in Austraila. For Christmas entertaining ideas – and to truly get your al fresco space ready for the holiday season –browse our favourite Outdoor Entertaining Settings and BBQs online now or head in to your local Harvey Norman store to view the range in person and to get advice from our friendly, expert staff. Merry Christmas!
P.S. Impress the guests with must-have indoor furniture!
We realised that with your outdoor space all sorted, it'd be remiss of us not to point you to our blog on Must-Have Indoor Furniture for Christmas Entertaining. Yes, your guests are going to want to have Christmas at your place every year!