Balmy days, starry nights and endless hours of sunshine punctuated with a gentle breeze. The weather outside is summery and delightful – it's the perfect time to broaden your horizons and expand your living space by stepping outside the box and into the great outdoors.
At Harvey Norman we have identified five key outdoor ideas to get your al fresco entertaining area summer-ready. To bring you these hot and happening looks, we've paired our stylish outdoor furniture with high performing BBQs from the best brands on the market.
1. Hawaiian Holiday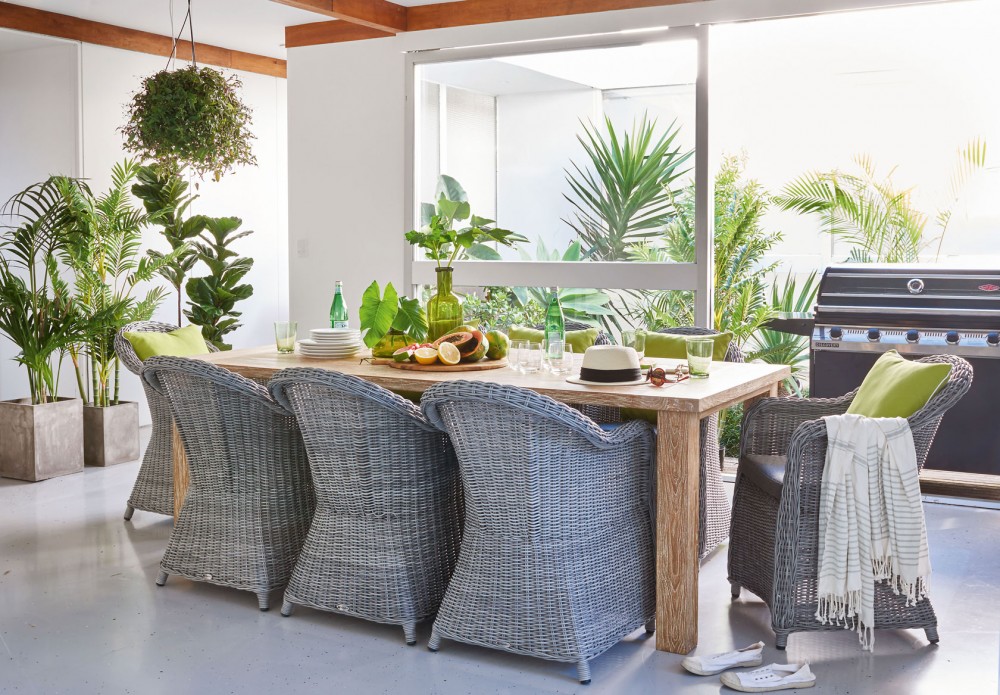 Say aloha to the 'Maui' outdoor furniture range and recreate a resort-style retreat, right at home. Achieve a relaxed ambience with the understated elegance of the teak timber table that's paired with synthetic wicker carver chairs. An easy addition to any decor in a neutral colour palette, this utterly inviting 9-piece dining setting will become the hub of your home. Friends and family will love to settle down here, lingering over blissful backyard brunches. Made from long-lasting synthetic wicker over a sturdy aluminium frame, the 'Maui' collection is also available as a 3-seater sofa, a 2-seater sofa and an armchair. These beautiful sofas can be paired with matching coffee and side tables to create a complete seating arrangement.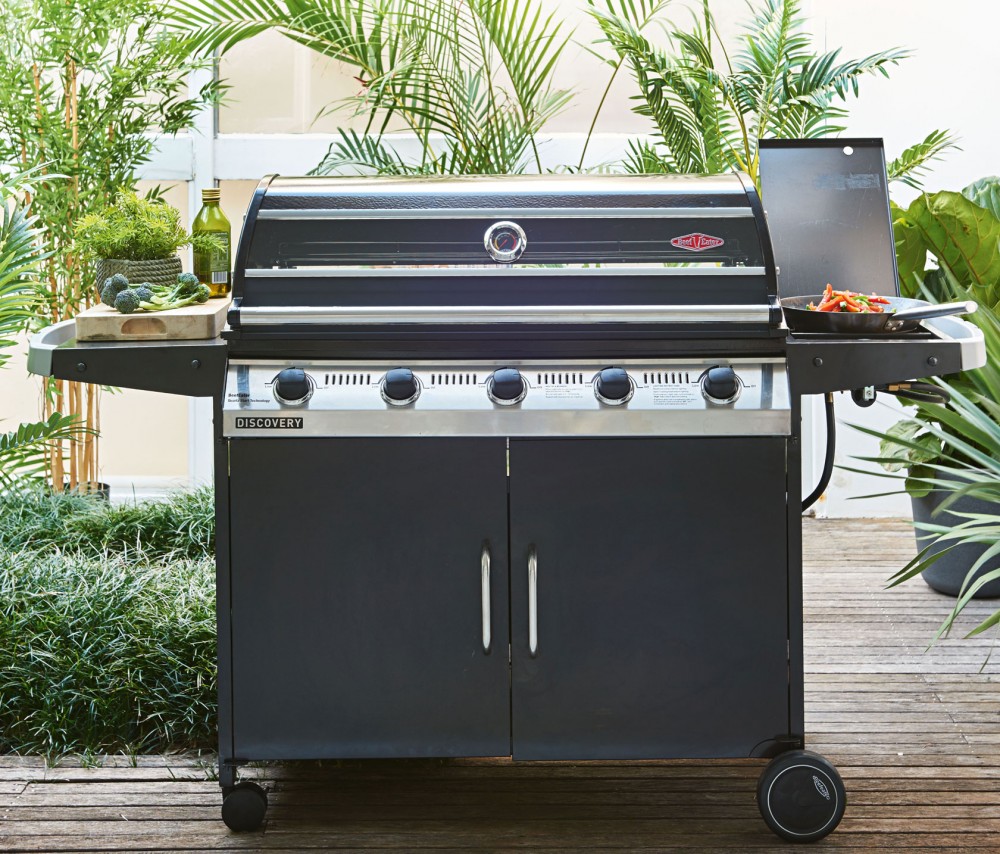 No Hawaiian Luau would be complete without a sumptuous feast of caramelised pineapple, fresh seafood and succulent meat cooked with tender loving care – but that doesn't mean you have to break your back slaving over a hot stove! Opt for the uncomplicated option with our Beefeater Discovery 1000R 5-Burner BBQ – it's packed with great features, including a vitreous enamel roasting hood, a powder-coated steel trolley and a rust-resistant porcelain enamel-coated cast-iron cooktop. It works extra hard so you don't have to!
2. Oceanfront Oasis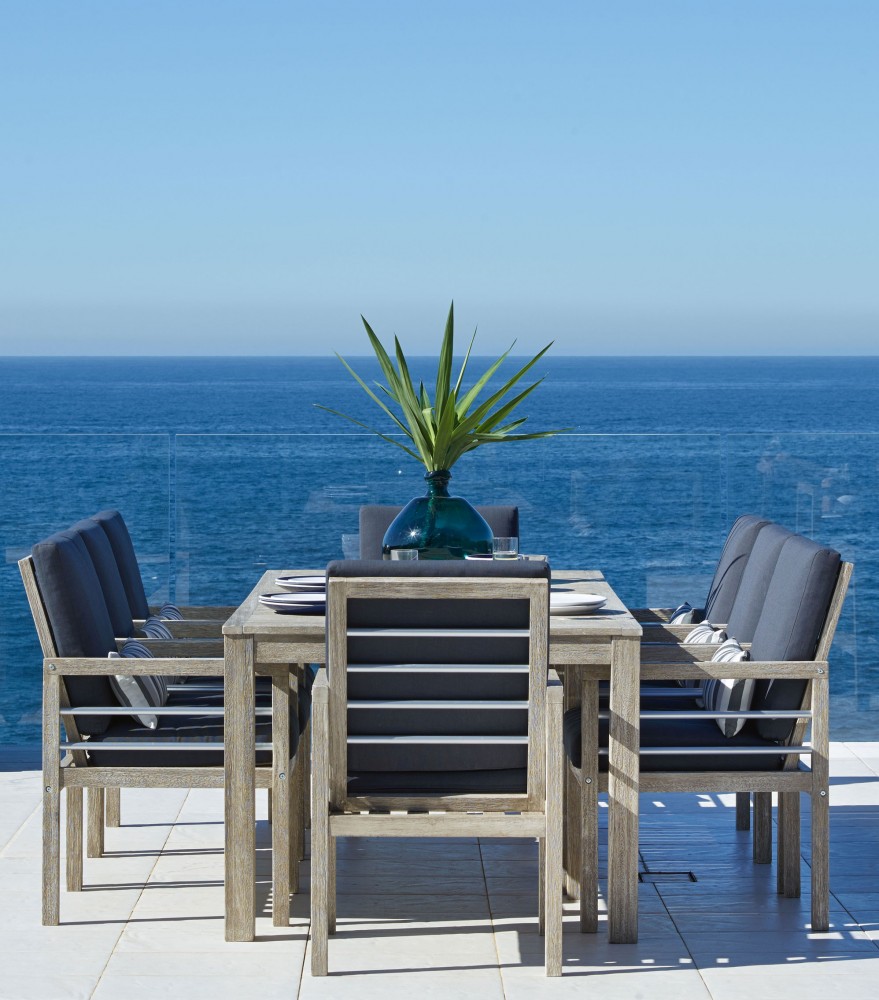 An outdoor oasis that evokes a sense of oceanfront luxury is easy to achieve with our gorgeous 'Hayman' outdoor range. Showcasing a clean and contemporary aesthetic with a grey brushed timber finish, this fuss-free range has plenty of pieces for you to collect, including a sunlounger that you can spend sunny Sundays lazing on as well as outdoor kitchen modules that work well as either a bar or buffet (as shown on top of the page). There's also a smart and stylish bar setting and a compact 4-piece outdoor lounge suite, meaning there's something for every home. Whether you have a small apartment-style balcony or a spacious patio or deck, the 'Hayman' will convert your space into an upscale entertaining area.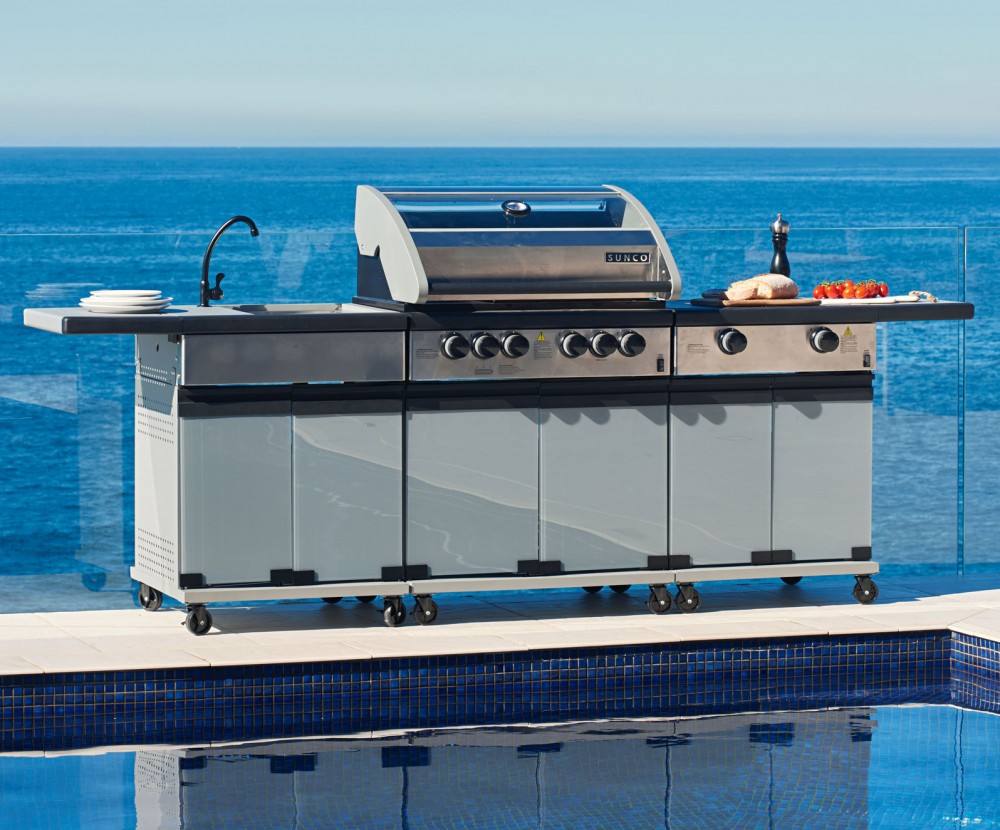 Make your next poolside party a splashing success with our foodie favourite – the Sunco XSpec 4-Burner Outdoor Kitchen. This resilient and reliable multi-burner BBQ allows you to easily whip up mouth-watering meals that will leave your guests mmming and ahhing, bite after bite. Jam-packed with fantastic features, this outdoor kitchen includes four powerful 15mj burners plus a rotisserie, wok burner and a teppanyaki hotplate with jet flame ignition. Keep an eye on your culinary creations with the viewing window on the rollback hood. Plus, keep your workstation clean with the built-in sink and tap that lets you do all your food prep and wash your utensils in the one spot.
3. Mediterranean Magic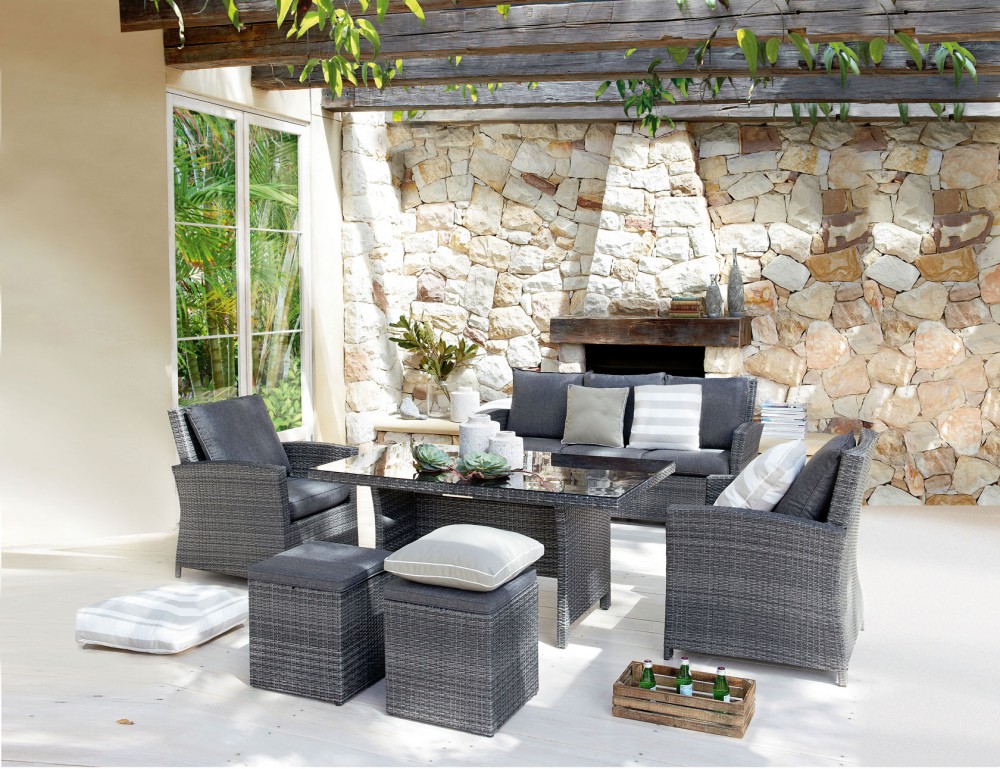 Add a touch of Mediterranean magic to your next summer soiree by creating a warm and welcoming al fresco area, replete with plush creature comforts. Our comfortable and cosy 'Malta' setting in a trendy charcoal colourway features hand-woven synthetic wicker over a strong aluminium frame and includes a 3-seater lounge, two armchairs, two ottomans and a rectangular dining table. It's the total outdoor package that you can spend quality time relaxing on with your nearest and dearest, all season long.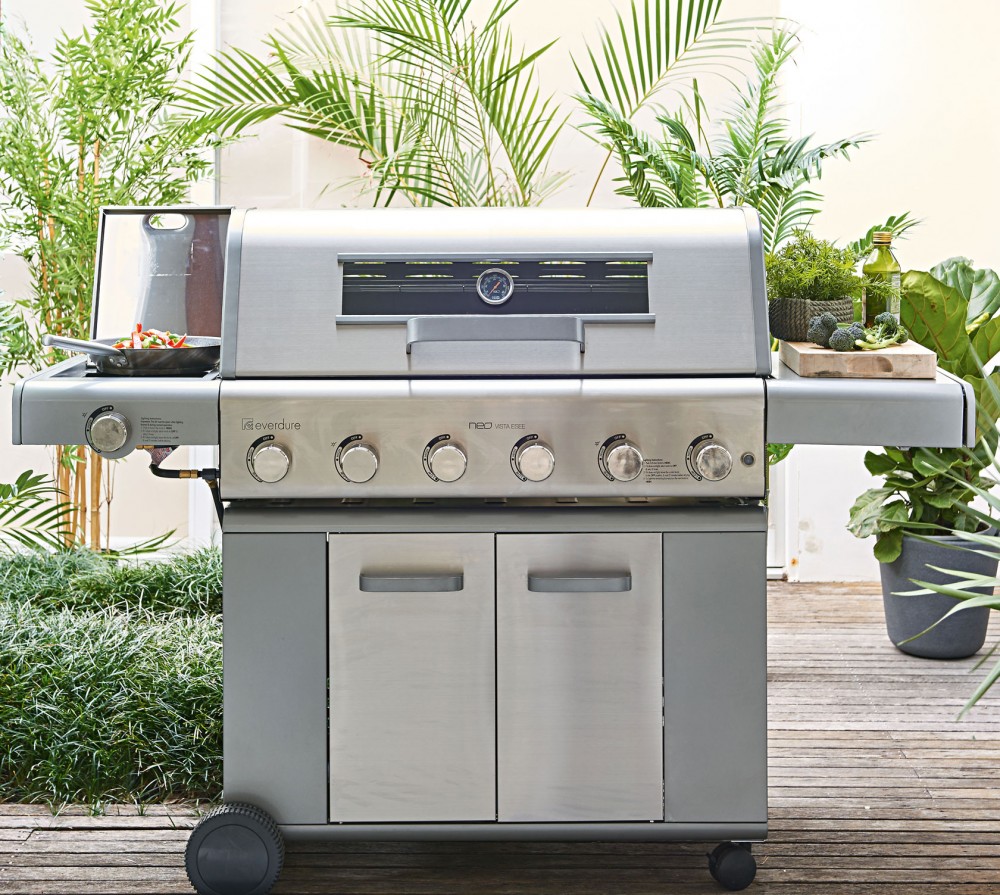 Take your Mediterranean-inspired menu of nutrient-rich flavours and zesty salads to new gastronomic heights with the right BBQ. Our Everdure Neo Vista eSee 6-Burner Hooded BBQ is a great companion for outdoor chefs. Features include rotary piezo ignition and a warming rack as well as oven-grade halogen internal lighting so you can monitor your food to ensure your charred vegetables are just right and the sangas and salmon cooks flawlessly.
4. Tropic Palms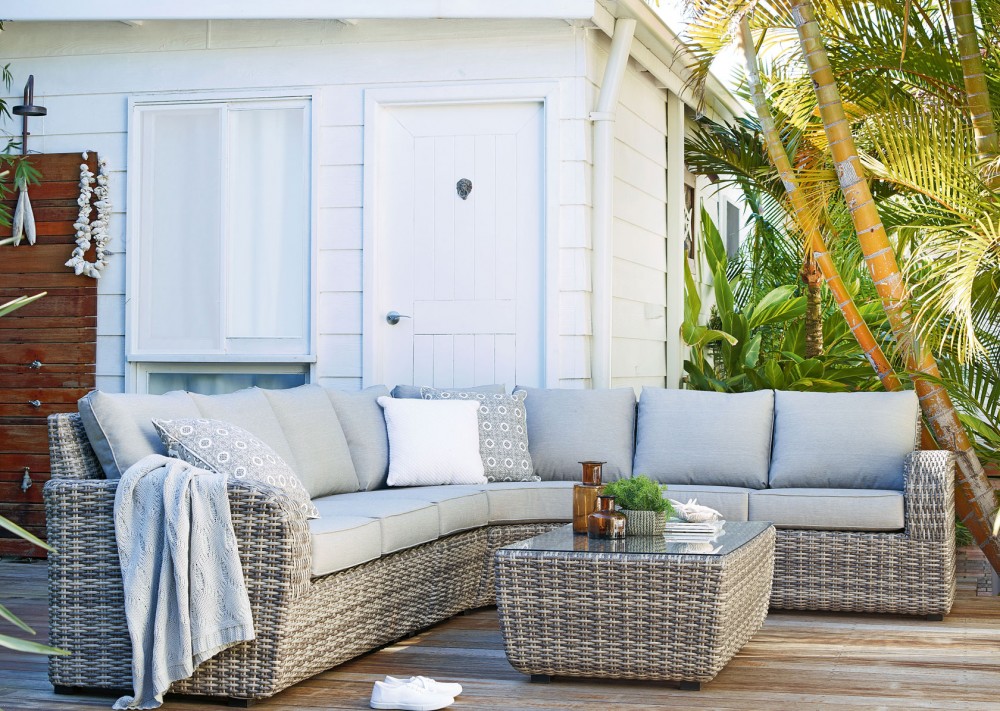 Escape the hectic chaos of everyday routine and transport yourself to a tropical paradise with our comfort-oriented 'Seaford' range. Crafted from synthetic wicker in a hushed hue, the tranquil aesthetic of this languid collection is evocative of gently swaying palm trees and leisurely coastal weekend getaways. Choose from the modular suite shown in the image above or a 4-piece lounge suite consisting of a 3-seater sofa, two armchairs and a coffee table. You also have the option of a lounge/dining setting featuring a rectangular dining table, a 3-seater sofa and two armchairs.
Equip your home hideaway with the right BBQ and eliminate the need to spend endless hours cooking indoors. Create delicious masterpieces full of fresh tropical flavours out in the open air, thanks to our Masport Deluxe 6-Burner Hooded BBQ. This impressive BBQ includes six 11.7mj burners with an additional 10.9mj sideburner, as well as a pizza stone and a griddle plate. Shown above in blue, the Masport Deluxe is also available in red or copper colours.
5. Sea Breeze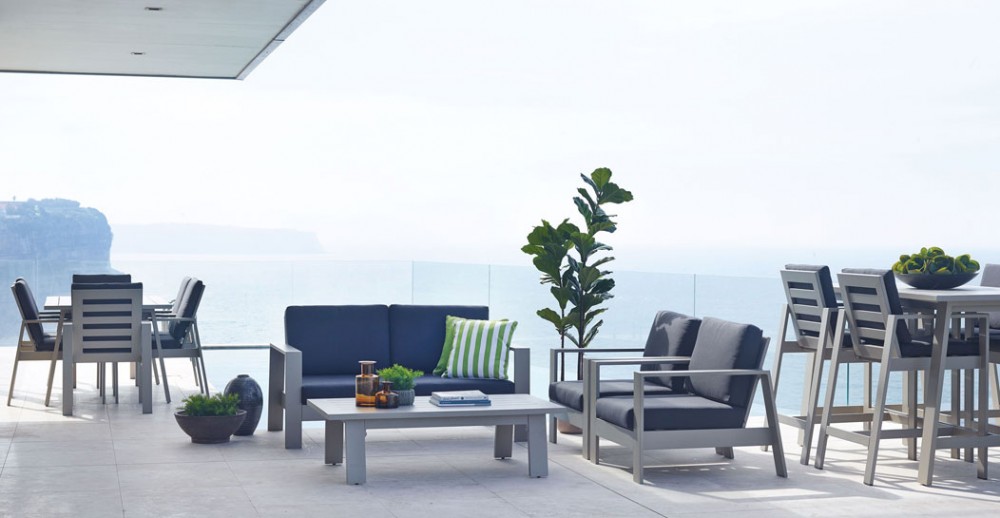 Chase away the winter blues and breathe new life into your tired old outdoor space with a hint of sea breeze – this look is all about azure skies, seaside serenity and a clean, crisp and sleek style. Our streamlined 'Macan' is a modern outdoor range that features a durable, rust-resistant aluminium frame construction in a muted hue as well as matching seat and back cushions in a deep ocean blue. Choose from the lounge suite or the 7-piece dining or 5-piece bar setting and get set for summer.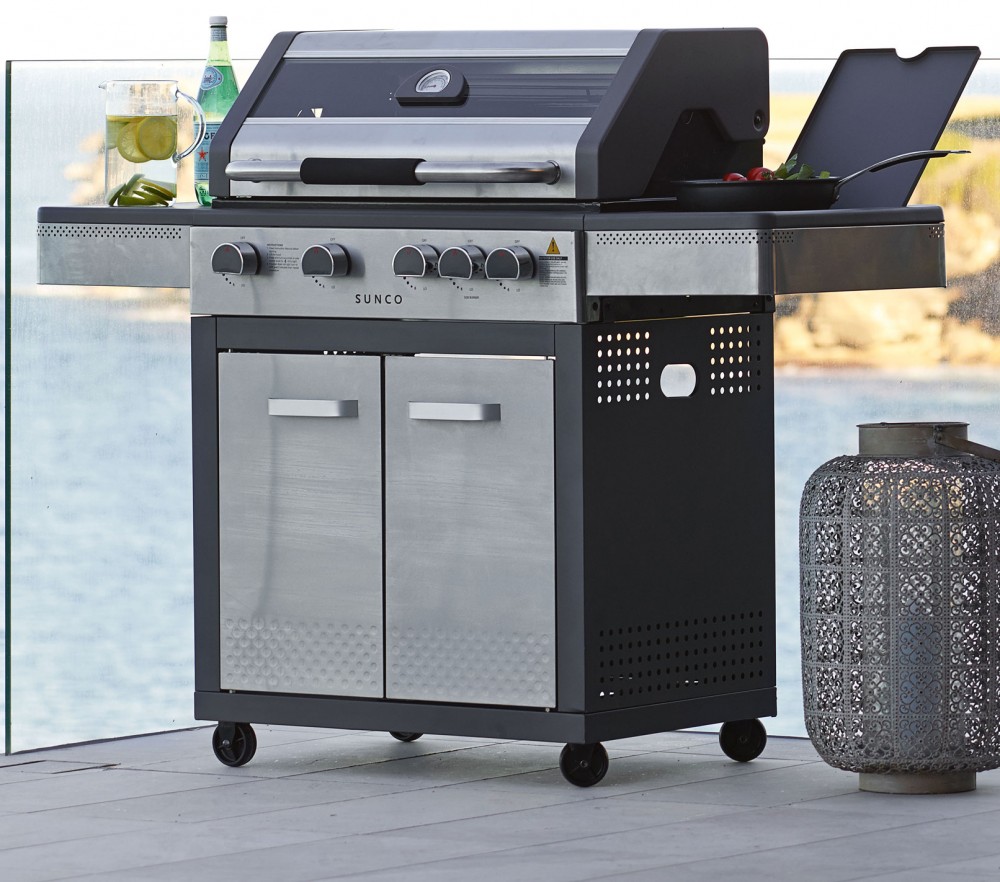 To complement your breezy seaside-inspired outdoor haven, choose the Sunco Chief 4-Burner Hooded BBQ. Features jet flame ignition, an insulated roasting hood with a viewing window, a premium gloss enamel-coated cast-iron cooking surface, and a versatile side burner. Plus, it's easy to assemble, clean and store, making it a must-have for anyone who wants a hassle-free entertaining season.
Feeling inspired to entertain al fresco this summer? Upgrade your backyard or balcony and wow your family and friends with Harvey Norman. Browse our stylish selection of sizzling outdoor furniture and BBQs online now. Head down to your local store and talk to our friendly outdoor furniture experts about the right choice to suit your lifestyle.