Hang the wreath on the door, decorate the Christmas tree and string up those lights – it's the most wonderful time of the year!
My favourite part of the holiday season is hosting parties and festive get-togethers – and I love seeing the most special people in my life gather to enjoy some good food, good weather and good company.
And in Australia, where our summer days are long and hot, there's no better way to celebrate than with a backyard BBQ lunch or an al fresco dinner under the stars.
When it comes to outdoor entertaining, Harvey Norman will point you in the right direction on how to host the ultimate Christmas party. This post features just about everything you need to know about outdoor Christmas entertaining – from choosing the perfect outdoor setting and looking after it, to proper BBQ care and mouth-watering BBQ recipes that will wow your guests.
Read on for the hottest Christmas entertaining ideas of the season.
Outdoor Furniture
For spaces big or small, we have the outdoor entertaining solution for you. Whether you're known as the host or hostess with the mostest, or if you prefer cosy gatherings with your nearest and dearest, we have a range of outdoor furniture settings to suit your space and style.
Perfect For Small Spaces
Don't have the luxury of a huge backyard in which to throw your Christmas party? Introducing the 'Mours' Outdoor Setting, the ideal solution to your small space dilemma.
Not only will this stylish, durable setting add instant appeal to your outdoor space, the folding backrests of the dining chairs will allow them to be stored neatly beneath the table when not in use to create the perfect space-saving solution.
Constructed from woven UV stabilised PE wicker and featuring a sturdy tempered glass tabletop, the 'Mours' is designed for life outdoors. Complement its neutral tones with our 'Hali' cushions in bright greens and blues to complete the on-trend look.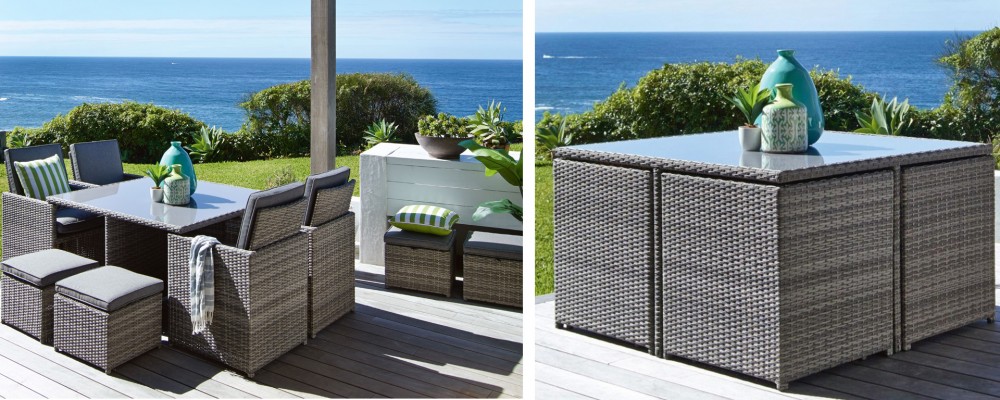 Suitable For Sprawling Spaces
If you're the kind of person who loves throwing big dinner parties, then the 'Laura' 13-Piece Extension Dining Setting is for you.
The clean and simple lines of this classic setting mean it will blend right in with any decor – whether you need it to fit in with your current space, or are planning on renovating and redecorating.
Plus, with the added convenience of an extendable table, you can cater to parties both large and small, while the super comfortable slingback chairs are designed for easy, stackable storage.
Match this al fresco dining setting with equally large accessories – think eye-catching vases and big yet simple bouquets of tropical plants.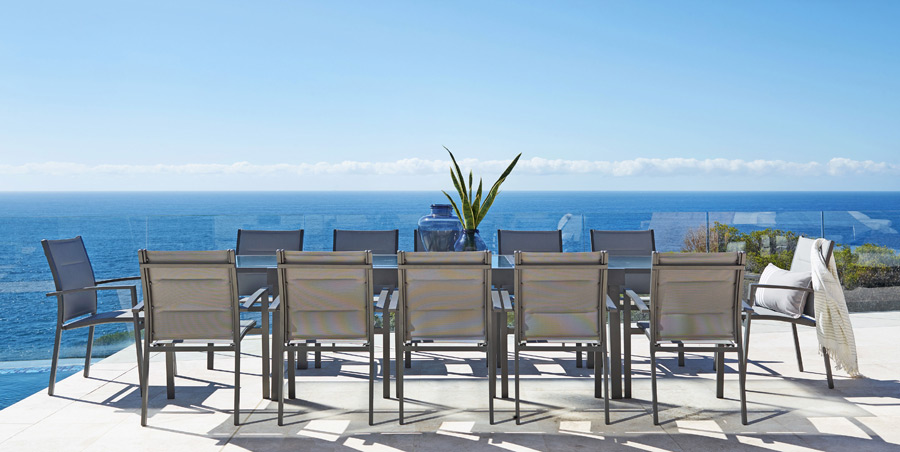 Sunday Session
Your outdoor space isn't complete without the 'Newport' Lounge Setting.
This spacious outdoor setting offers plenty of sitting for everyone, making it great for relaxing in the sunshine with the family or sharing a few drinks with friends.
With a durable wicker frame and bold charcoal-coloured upholstery, it's easy to mix and match accessories in different colours and patterns according to your taste. Choose patterned cushions in bright colours and match with vases and pot plants in similarly vibrant shades. Consider adding an outdoor rug to really bring the space together.
Neat And Cosy
Take full advantage of the long days and warm nights with the 'Quay' 4-Piece Lounge Setting.
Its charming design is beautifully simple yet immediately striking, ensuring its place as the new centrepiece of your outdoor space. This modern setting offers a casual beachy style, thanks to the slatted table-top and wicker design – making it ideal for the perfect Christmas BBQ.
Better yet, this setting will be at home in larger outdoor areas or smaller patios, whatever your space affords.
Capitalise on those beachside vibes and stick to coastal-inspired decorator items – such as shells, coral and vibrant succulent plants.
For something really unique, you could make your own driftwood centrepiece or Christmas tree!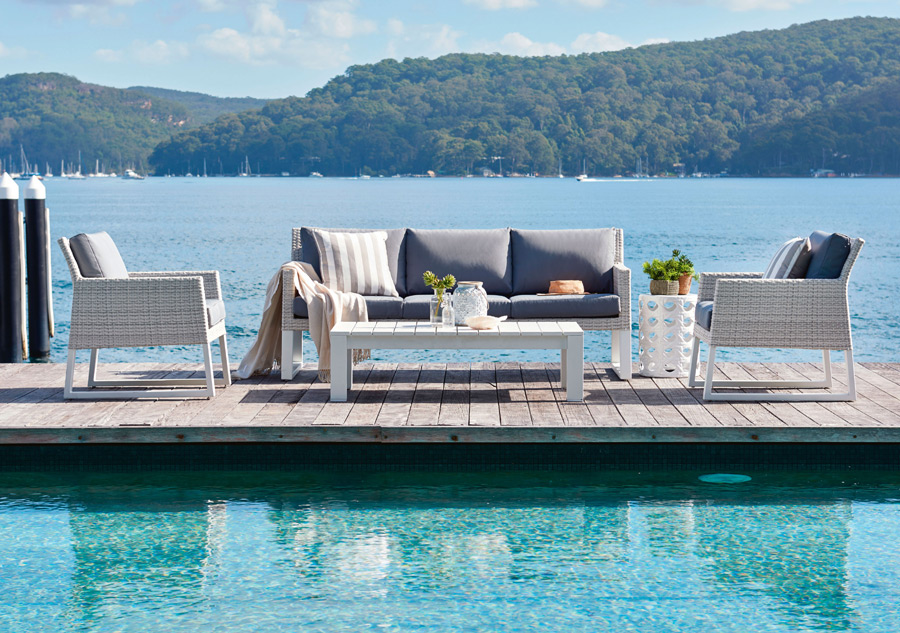 Our Best Tips On Outdoor Furniture Care
✓ DO keep your furniture covered as much as possible when not in use to maximise its longevity.
✓ DO dust your furniture regularly, as dust may cause the surface to pit.
✓ DO lift your furniture from the bottom when moving it around. Never drag it.
✗ DON'T use solvents, saddle soaps or other harsh chemicals to clean your furniture (for more tips on keeping your new furniture clean, talk to our friendly in-store team).
✗ DON'T place your furniture close to open fires, heaters or central heating ducts. Make sure that it is always at least 60cm away.
Barbecues
Whether it's a pleasant 26°C in the sun or a scorching 40°C plus, Australians love a barbecue. Whatever the weather, there's always an excuse for a barbie! What better reason for a backyard barbecue than Christmas?
Planning a BBQ Christmas dinner is an effective way to cater for a large group with relative ease, and it means that you won't be stuck in the kitchen away from the action.
And just because you don't have a big backyard doesn't mean you can't enjoy a good old barbecue.
We stock a range of barbecues that come in all shapes and sizes. So even if you have a small inner-city balcony or a big backyard in the suburbs, we can help find the right product for you.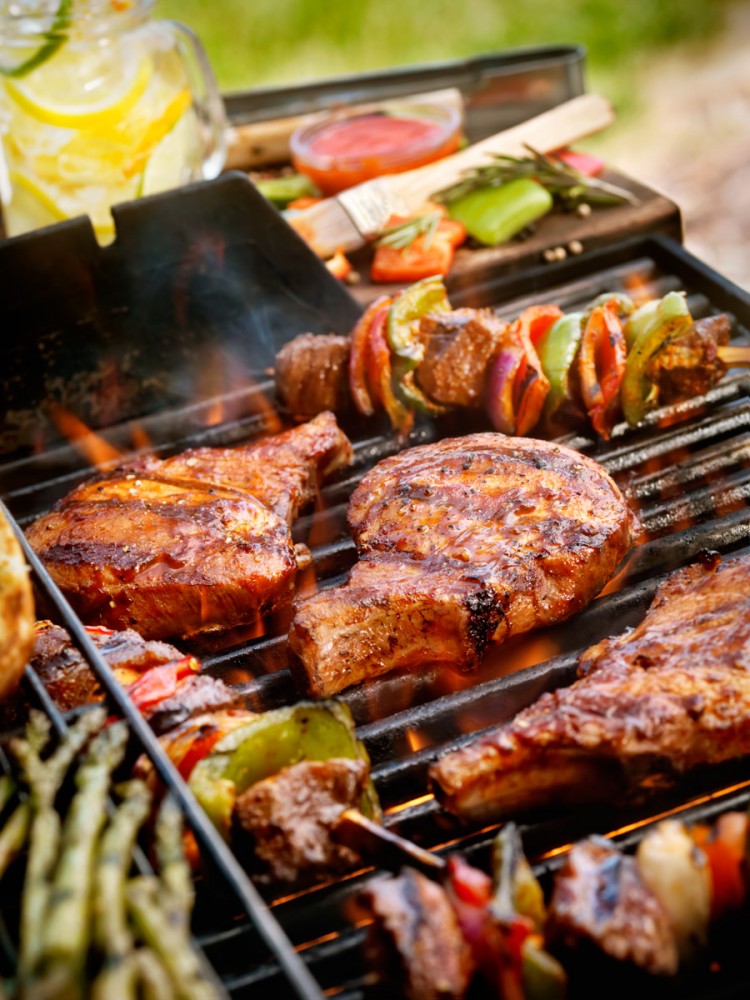 The Balcony BBQ
If you think your small balcony means you can't throw a stellar Christmas barbecue, then think again!
For smaller spaces, you can't go past the BeefEater BUGG. This compact little powerhouse gives you all the features of a bigger barbecue, just in a smaller package.
It features two 10mj stainless steel burners, heavy-duty ceramic coated cast iron plates for even heating, a handy temperature gauge and a reliable Quartz Start ignition.
The porcelain enamel coated hood also allows for different types of cooking, whatever's on the menu. For crispy and delicious grilling, cook with the hood up; or if you're cooking for a crowd, cook with the hood down for the perfect BBQ Christmas roast.
In addition to this, its compact design makes it versatile enough to use at home or on the road – whether you're having a picnic in the local park or are planning a Christmas road trip adventure.
Your barbecue can be used for so much more than grilling meat. Serve these delicious grilled zucchinis with creamy burrata cheese and zesty salsa verde. It's a guaranteed meat-free winner!
Find the recipe here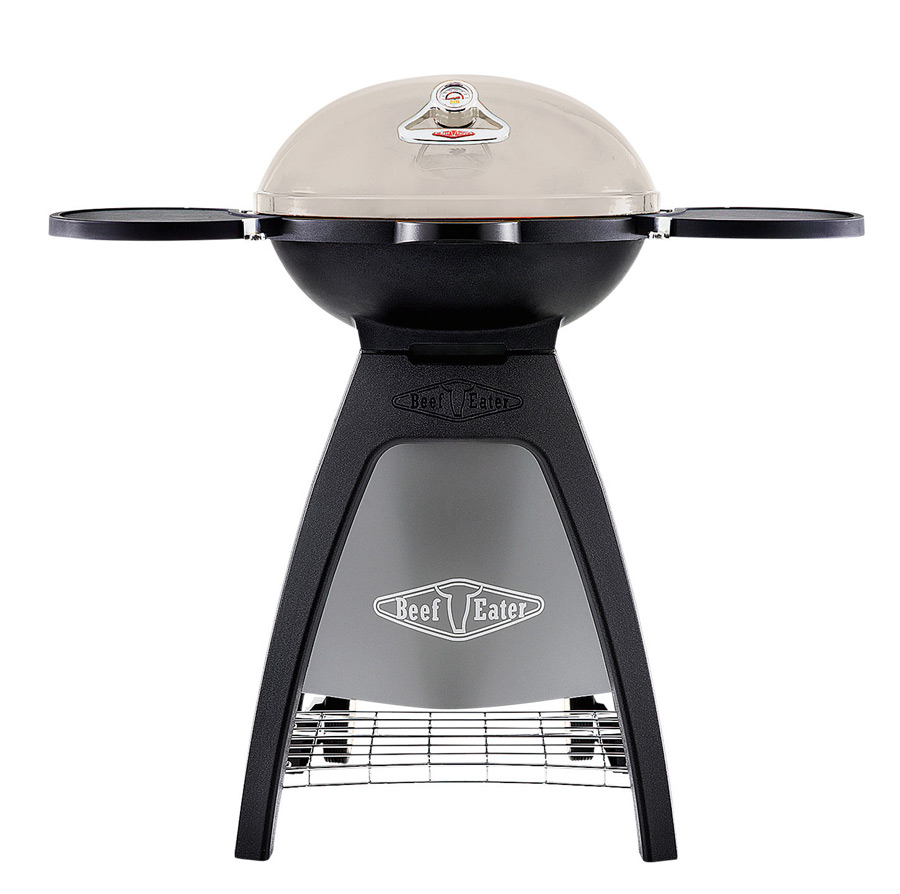 BeefEater's Top Maintenance Tips
✓ DO use the all-weather cover to protect your BUGG when not in use.
✓ DO pre-heat your BUGG to ensure that your meat does not stick to the surface.
✓ DO use a brass bristle brush to easily remove any leftover food.
✓ DO check your burners and QuartzStart ignition regularly to make sure there's no dirty build-up of grease or food.
✓ DO empty your oil collection tray every time you cook.
✗ DON'T use abrasive chemicals to clean your BUGG. Soapy water and elbow grease work just fine.
✗ DON'T go too crazy with the oil. Over oiling your food can cause flare-ups.
✗ DON'T place the cast iron plates in the dishwasher – no matter how good an idea your mate thinks it is.
The All-Rounder BBQ
With four stainless steel burners, a side burner and cast iron cooking grates, the Char-Broil Professional BBQ will keep everyone happy this Christmas!
TRU Infrared cooking technology helps to eliminate flare-ups, locks in juices and creates even heat across the surface of the plates, meaning you can achieve fantastic results every time; while the top-ported burners provide precision performance for accurate temperature control.
It also boasts two 430-grade stainless steel side shelves and a convenient cabinet, so you'll have plenty of room to store your utensils.
These herb-infused scallops cooked in the shell will wow your dinner guests with their gorgeous presentation and delicious aroma. And the best part about this recipe? It's super simple. The precision grilling of the Char-Broil Professional will help to cook these little morsels just right.
Find the recipe here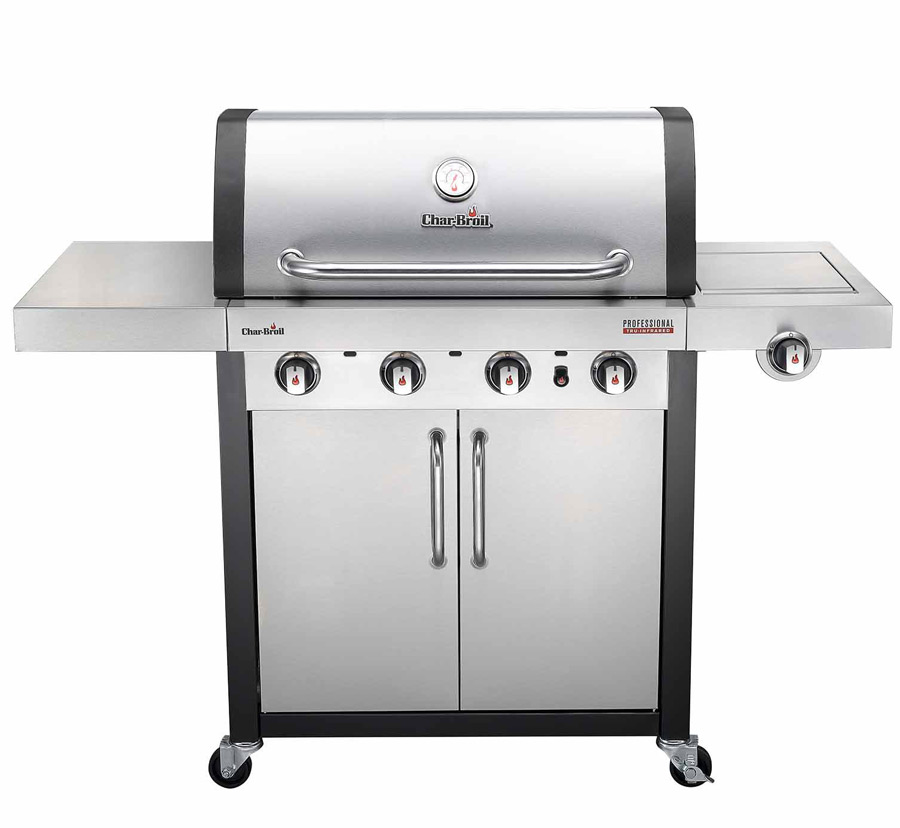 Char-Broil's Top Maintenance Tips
DO read your manual. No two BBQs are alike, and it's important to familiarise yourself with your new BBQ's unique features.
✓ DO conduct a leak test before you start cooking. The pork chops can wait – safety comes first.
✓ DO prep your grates with oil to prevent rust. It also makes them easier to clean.
✓ DO scrub the burners with a nylon brush to remove food debris and dirt.
✓ DO experiment with Chair-Broil woodchips placed on or between the cooking grates for a range of different, smoky flavours!
✗DON'T put off cleaning your BBQ. Proper maintenance and cleaning will keep your BBQ performing at optimal capacity for a long time to come.
The Big Boss BBQ
Whether it's grilled, roasted, seared or fried… if you're the kind of backyard chef who demands the very best out of their BBQ, you can't beat the Masport Commander.
This heavy-duty BBQ will become the talk of the town after you host your neighbourhood Christmas party. It features 6 premium burners, including a wok burner, a double-lined roasting hood with extra large viewing window and under-hood grill lights for when you're cooking in poor lighting.
On top of that, it also comes with an interchangeable insert cooking system including kebab racks and skewers, and a rotisserie kit.
It gets better. The Commander also features an integrated stainless steel smoker to give you the option of cooking with a wide range of flavours, or you can simply use it as a smoker.
But wait, there's more! We couldn't spotlight this awesome Masport BBQ without mentioning the ingenious built-in USB port, which means you can keep your device charged while cooking – the perfect solution for chefs who like to listen to music while they cook up a storm.
Oh, and one more thing – there's also an integrated bottle opener. Chin-chin!
When most Aussies think of Christmas, they think of seafood.
For home chefs who really want to impress, give this recipe a go. The end result is a colourful, mouth-watering dish that will have your guests raving about your cooking skills until next Christmas rolls around!
Find the recipe here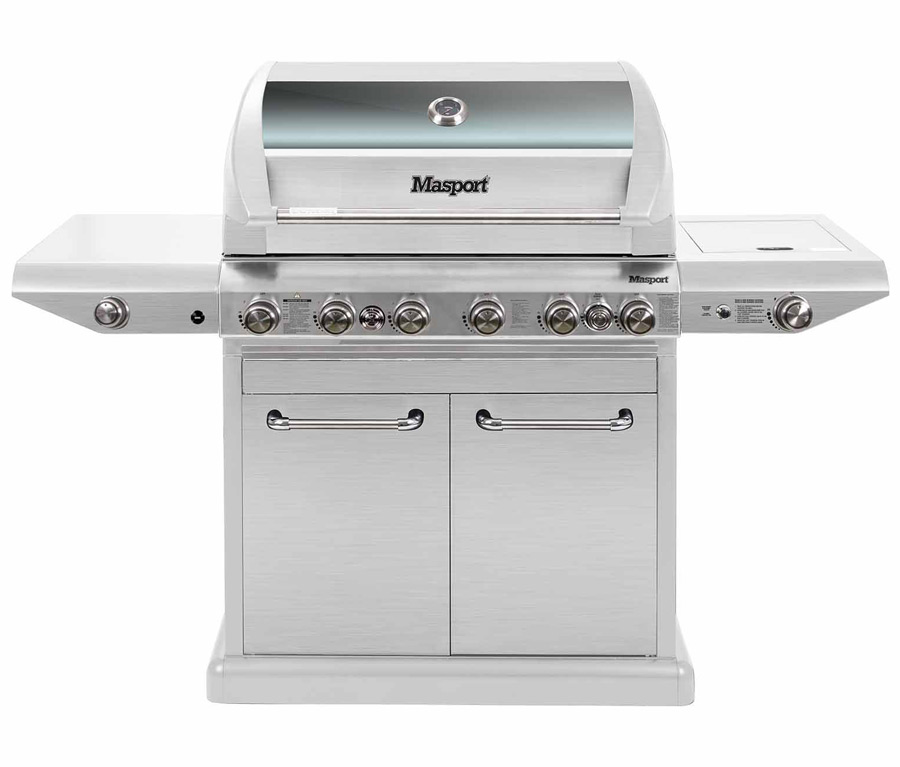 Masport's Top Maintenance Tips
✓ DO give your BBQ grills and plates a good wash with soapy water before first using them.
✓ DO always protect your BBQ when not in use with a weather-proof, high-quality cover.
✓ DO maintain the burners by burning off any leftover residue.
✓ DO use a pipe cleaner to clear obstructions (like dirt, grease and insects) from the portholes, primary air inlet or the neck of the stainless steel burners.
✗ DON'T use abrasive cleaners on any porcelain enamel surfaces.
✗ DON'T use carbon steel brushes or steel wool to clean any stainless steel surfaces.
Be The Host With The Most
So you've got the perfect outdoor setup for the year's most talked-about Christmas party… but how do you make sure it all runs smoothly?
While planning your party can be a tad nerve-wracking, it can also be a wonderful opportunity to plan a fabulous festive feast and to create fun new memories that you can cherish for years to come.
Our friends at Vitamix gave us some great hints on how to make sure your next party is a sure-fire winner. Read on for their handy tips and tricks when it comes to hosting the best ever Christmas party.
Tips On Hosting Your Christmas Party
Start planning early.Think about how many guests you're planning on inviting, and what kind of menu you're envisioning. You can start as early as 4-6 weeks in advance. You can never be too early or be too prepared!
Keep it simple. While it may be tempting to blow everyone's minds with a profiterole tower or a hand-carved Christmas tree made out of home-made toffee, it's best to keep things relatively simple. This means less stress for you when the big day arrives. A simple starter, an entree with a few sides, and a selection of two or three desserts is all you need, with the portions scaled to meet your gathering's needs.
Find a good butcher. If you don't already have a local butcher you use often, do a bit of research. You can also try going straight to a farm for fresh, local produce, or check your local farmer's market.
Don't forget the drinks! Pick up your wine in the weeks leading up to Christmas. Stick to the classics for simplicity if you're not sure what to go with: a pinot noir for your red option and a full-bodied chardonnay for white. We also have a couple of boozy concoctions you can try – the Summertime Peach & Prosecco Tipple is fruity and fresh, while this gorgeous cocktail parading as an adults-only sorbet is delicious!
Freeze food in advance. In the week or two before your party, there are a few tricks you can pull out of your chef's hat to make sure there is as little fuss and stress on the actual day of the dinner party. Baked biscuits make for a perfect sweet snack, and can be frozen ahead of time and thawed the day before your meal. You can use your Vitamix to make soft sugar biscuits, gingersnap biscuits and almond biscuits, taking advantage of the easy 60-second cleaning feature to save time between batches.
Prep the day before. Plenty of holiday dishes can be made the day before to cut down your to-do list on the day of the party. Get your nibblies sorted by whipping up a delicious Cashew French Onion Dip. Not only will you save time making it in advance, but the flavours will marinate overnight for optimum satisfaction.
Remember to have a good time! Don't let the pressure of throwing a dinner party get to you. After all, Christmas is all about having fun with your loved ones! To avoid stress on the day, make sure you get up early to avoid rushing around after your guests arrive. Chop heartier vegetables, like carrots, for cooking later in the day, and arrange your cookie platter for dessert. Set out empty dinnerware for each of your entrees and sides, with its future contents labelled on small pieces of paper. Once the food is prepared, you'll have your dinnerware ready to go, and you'll know which food goes in which dish!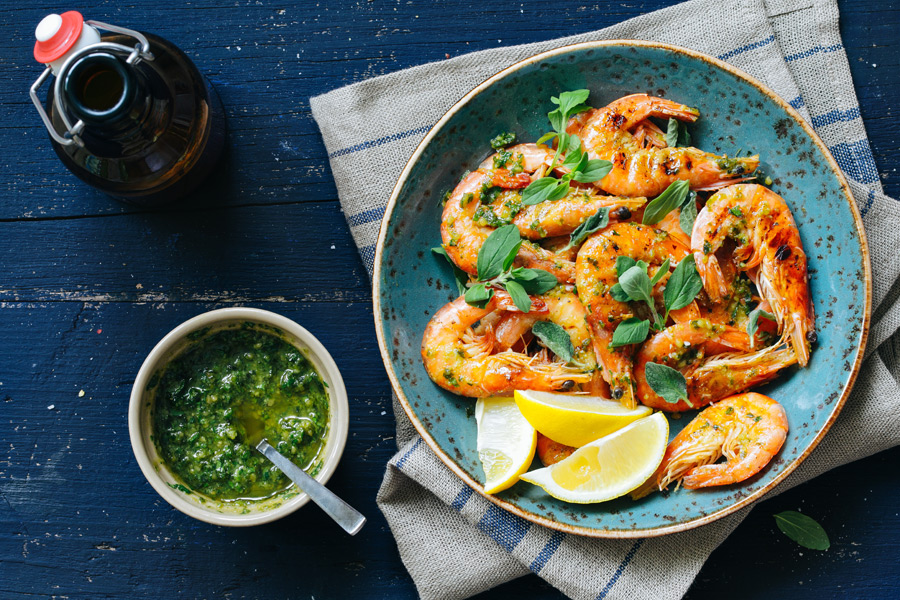 Vitamix's Top BBQ Side Recipes
Perfect for BBQs, these side dishes will complement the rich meats and sauces coming hot off the grill. Be a home-made hero and whip these simple yet flavoursome dishes up in no time.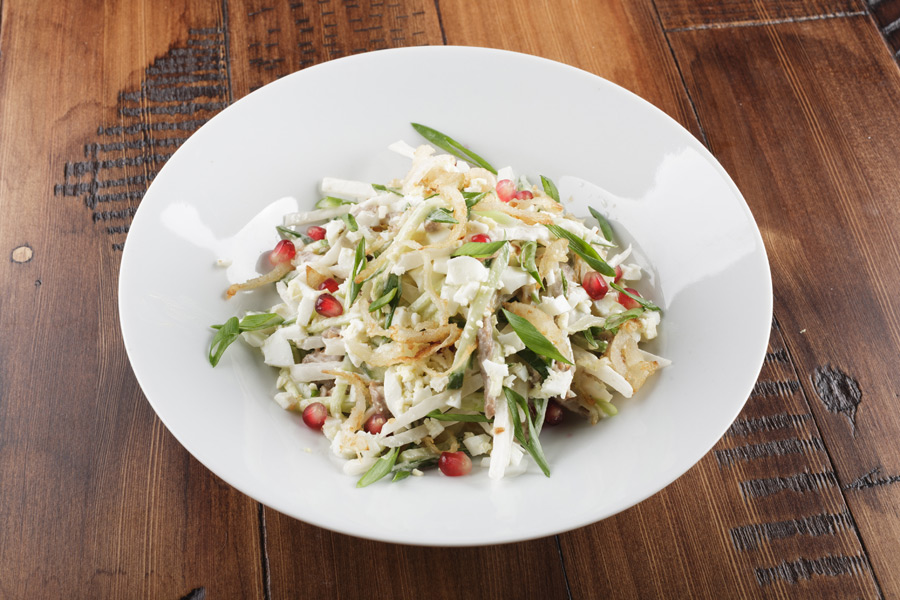 1. Coleslaws
Crisp cabbage, light cream and fresh herbs provide a fresh twist on classic slaw.
Select crisp, tart apples, such as granny smith, and chop into matchsticks. Toss together with grated carrots, poppy seeds, white vinegar and raisins for a slaw that tastes best served with ribs dripping with tasty sauce.
The sweet fruits and vegetables along with the tangy vinegar cut through the richness of barbecued meat; while a red cabbage coleslaw made with jalapeños and coriander will add a zesty zing to hamburgers.
2. Potato Salads
You can't have a backyard BBQ without potato salad!
If you're keen to try a new spin on a classic dish, try blending boiled new potatoes with smoky bacon or prosciutto, Dijon mustard and home-made mayonnaise.
If you're looking for a vegetarian alternative, ditch the meat and mix in fresh herbs instead, such as dill and tarragon, and try adding grilled corn.
For a lighter option, dress boiled waxy or fingerling potatoes with summer parsley and a perfectly balanced red wine vinaigrette.
3. Grilled Vegetables
Not sure which veggies will make the best accompaniment to your meaty barbecue? Go a little left field and choose some unexpected options.
Bitter, charred radicchio goes well with barbecued steak topped with a sweet sauce, while creamy eggplant moderates spicy grilled Italian sausages, and a mixture of wild mushrooms will enhance the flavour of char-grilled chicken.
You could even prepare a grilled vegetable platter with a selection of dressings for dipping made in your Vitamix blender, or finish with a parmesan balsamic vinaigrette. Try sprinkling crumbs of feta or goat cheese over grilled baby artichokes or asparagus for a lighter option.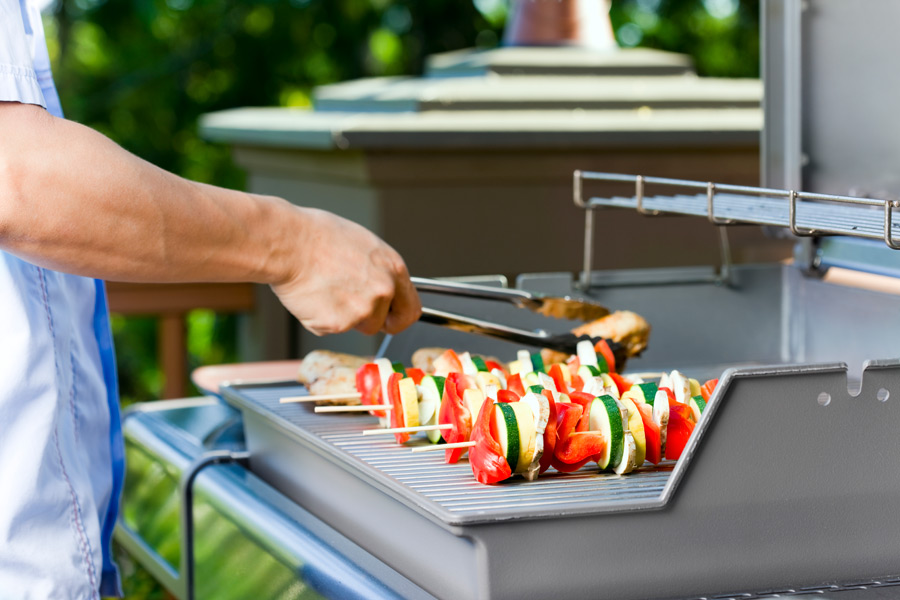 4. Fruits
Fresh, sweet fruits, such as pineapple, peaches, plums and nectarines grill surprisingly well. They also mix well with lime juice, raw red onion and grape tomatoes for a fresh, tangy salsa that makes for an awesome barbecue side.
You can also try grilling watermelon which minced jalapeño and coarse salt for a slightly different match for burgers or pulled pork.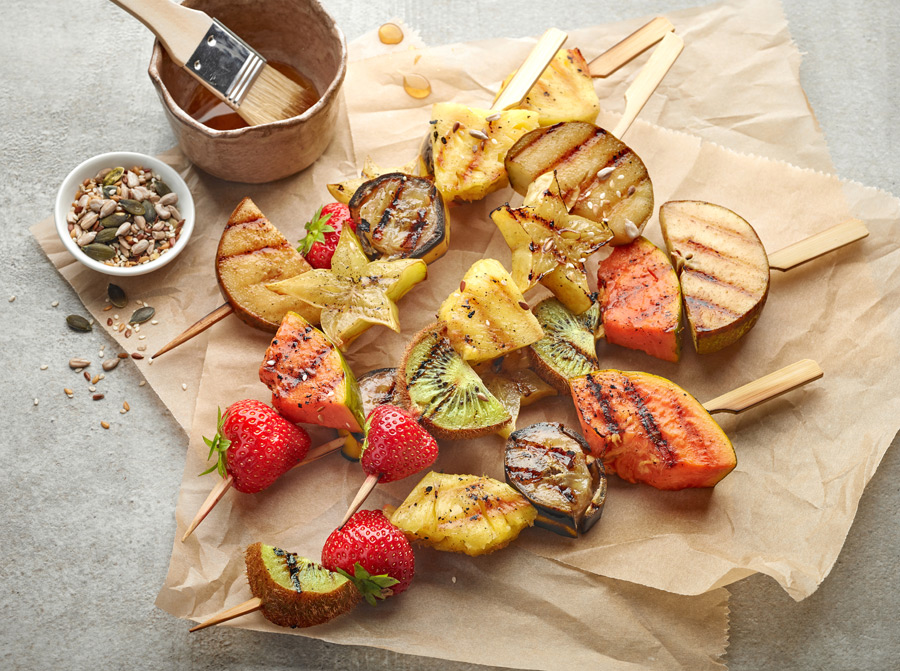 5. Bread
Good bread at a barbecue is just as important as the main exhibition. Whether you're serving it to accompany your nibblies or your grilled meat, it's important to choose just the right type.
You can brush breads, such as pizza crust, pita bread or Turkish bread with olive oil and grill lightly on each side. Match with delicious and hearty dip blends such as hummus or spicy tomato sauce.
Vitamix A2500i ASCENT Series High-Performance Blender
The Vitamix A2500i ASCENT Series High-Performance Blender is just the help you need in the kitchen. Prepare all the dips, sauces and biscuits we've mentioned, as well as dishes such as soups, smoothies, nut butters and baby food in this blitzing dynamo.
With adjustable speed controls and a pulse setting, this clever kitchen appliance will have no trouble at all blending a whole host of food items. You also have the option to choose from three built-in programme settings: Hot Soup, Frozen Dessert, and Smoothie.
Furthermore, it's kid-friendly – using interlocking technology to prevent the appliance from operating if the lid or container is not connected correctly.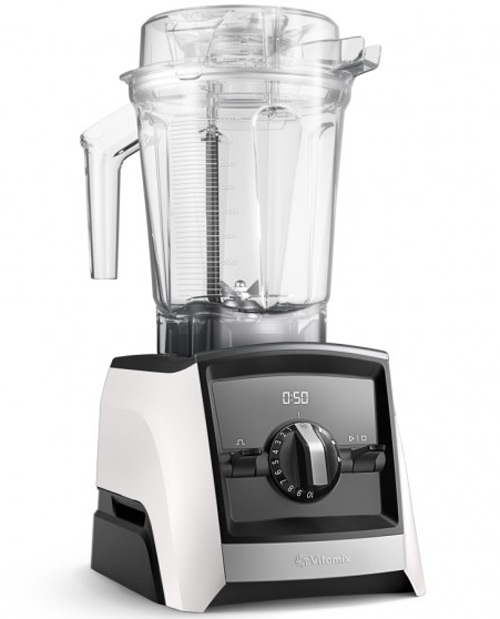 If these delectable recipes and awesome party ideas have got you more excited than ever to start planning your next Christmas party, then drop into your local Harvey Norman store to chat to our friendly staff about purchasing the perfect outdoor entertaining setting or finding the right barbecue for your outdoor area. You can also browse our website for our wide range of BBQs and exclusive models.