On the 11th day of Christmas my true love gave to me… ice cream slices!
At Harvey Norman, we're celebrating the 12 Days of Christmas with 12 delicious recipes. On the menu today: Berry, Chocolate and Coconut Ice Cream Log.
Serves 10-12.
Prep 30 minutes (+ 4 hours chilling & freezing).
Cook 1 hour 20 minutes.
Ingredients
1½ cups (240g) frozen blackberries.
¼ cup (55g) caster sugar.
125g punnet raspberries, plus extra, to serve.
⅓ cup slivered pistachios, plus extra, to serve.
125g fresh blackberries and mulberries, to serve.
¼ cup flaked coconut, to serve.
Coconut Ice Cream
400ml coconut milk.
6 egg yolks.
1 cup (220g) caster sugar.
600ml thickened cream.
Chocolate Cake
1¼ cups (290ml) water.
150g unsalted butter, chopped.
⅓ cup (35g) cocoa powder.
2¼ cups (335g) plain flour.
1 teaspoon bicarbonate of soda.
2⅓ cups (495g) caster sugar.
3 eggs, lightly beaten.
⅔ cup (160ml) buttermilk.
1 teaspoon vanilla extract.
Tools of the Trade
KitchenAid Stand Mixer + Ice Cream Bowl Attachment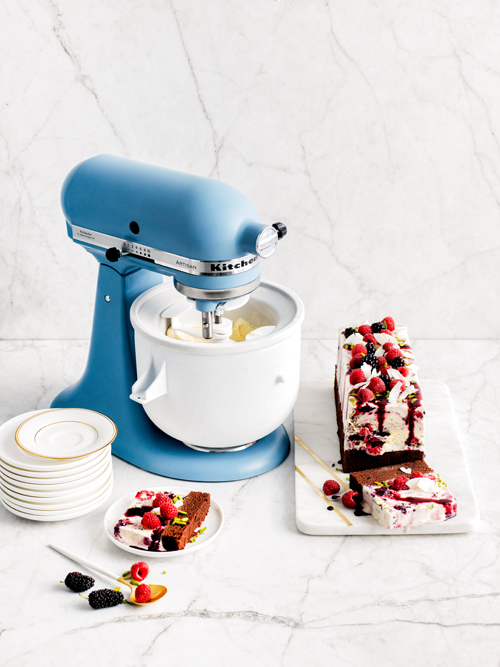 Method
▶ 1. To make the jam, place frozen blackberries and sugar in a medium saucepan over high heat. Bring to the boil and cook, stirring occasionally, for 8-10 minutes or until reduced. Place in a bowl and refrigerate until cold.
▶ 2. To make the Coconut Ice Cream, heat coconut milk in a medium saucepan over medium heat, stirring, until just below boiling point.
▶ 3. Place egg yolks and sugar in the bowl of the KitchenAid Stand Mixer fitted with the Wire Whisk and whisk on speed 2 for 1 minute or until thick and sugar has completely dissolved.
▶ 4. Reduce speed to 1 and gradually add hot coconut milk. Mix until well combined.
▶ 5. Pour the mixture into a clean saucepan and heat over medium heat, stirring continuously, for 5-6 minutes or until the custard thickens and lightly coats the back of a wooden spoon. Strain through a fine meshed sieve and refrigerate until cold.
▶ 6. Place the KitchenAid Ice cream Bowl attachment (see cook's notes) to the KitchenAid Stand Mixer.
▶ 7. Turn Mixer to speed 1 and slowly add cooled custard and cream to freezer bowl. Churn for 20 minutes or until a very firm soft-serve ice cream results.
▶ 8. Spoon half the ice cream into a lightly greased 8cm x 28cm, 8cm-deep container lined with baking paper. Swirl through half the jam, half the raspberries and half the pistachios. Repeat with remaining ice cream, jam, raspberries and pistachios. Smooth the top with a palette knife. Cover and freeze for 2-3 hours or until frozen.
▶ 9. To make the Chocolate Cake, preheat oven to 160°C (fan forced). Place the water, butter and cocoa in a small saucepan over medium heat and cook, stirring, until the butter melts. Pour into a large bowl. Add the flour, soda, sugar, eggs, buttermilk and vanilla and whisk until smooth.
▶ 10. Pour into a lightly greased 20cm x 30cm slice pan lined with baking paper. Bake for 45-55 minutes or until a skewer inserted into the centre comes out clean. Set aside to cool completely.
▶ 11. Trim the cake to a 10cm x 30cm rectangle and place on top of the ice cream (see cook's notes). Freeze for a further hour.
▶ 12. To serve, invert and top with extra raspberries, fresh blackberries, mulberries and coconut. Slice and serve immediately.
Cook's notes:
Make sure to freeze the bowl according to instruction booklet before making ice cream. You will have cake leftover. You can freeze it for later use or use it in truffles or trifles.
12 Days of Christmas Recipes
Is your mouth-watering? Celebrate the festive season with our complete 12 Days of Christmas recipes:
▶ Day 1: Coconut and Raspberry Layer Cake
▶ Day 2: Caramel, Hazelnut and Praline Affogato
▶ Day 3: Sparkling Champagne Cocktail with a Grapefruit Twist
▶ Day 4: Mini Chocolate Orange Puddings with Gold Leaf Oranges
▶ Day 5: Five-Spice Maple-Glazed Ham
▶ Day 6: Six Herb, Pea and Avocado Dip with Sliced Radish and Mixed Micro Herbs
▶ Day 7: Lemongrass-Cured Salmon with Coriander Blinis and Lime Crème Fraiche 
▶ Day 8: Fig, Raspberry and Meringue Trifles
▶ Day 9: Sloe Gin Turkish Delight and Coconut Jellies
▶ Day 10: Parmesan and Potato Rösti Nests with Rare Roast Beef
▶ Day 11: Berry, Chocolate and Coconut Ice Cream Log
▶ Day 12: Sour Cherry and Brownie Truffles