The fresh, floral yet slightly sharp taste of a juicy blood plum is truly divine – but have you tried a poached version of this fruit where the juices have bubbled and cooked into a jam-like consistency? If yes, then you know how good this tart will taste. If not, then prepare for a revelation!
Prepare your tart with ease with the Breville The Scraper Beater Bench Mixer from Harvey Norman.
Serves 8
Ingredients
4 blood plums, halved, stones removed
1 ⅓ cups (200g) plain flour
1 tbs caster sugar
100g cold butter, chopped
1 egg
½ tsp vanilla extract
2 cups (500g) mascarpone cheese
2 tbs icing sugar
½ tsp vanilla extract, extra
¾ cup (180ml) thickened cream
Syrup
¼ cup (55g) caster sugar
¼ cup (60ml) water
¼ cup (60ml) Cointreau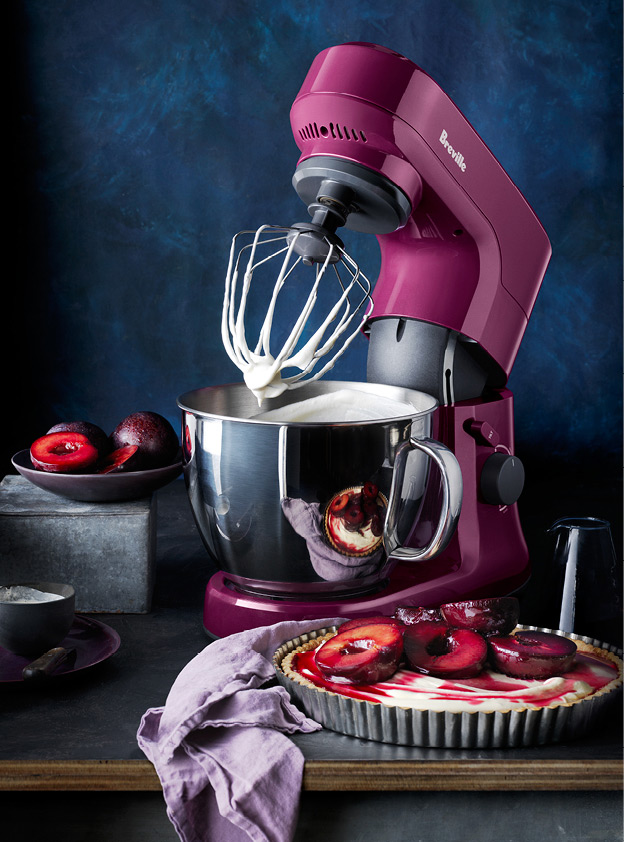 Method
1 To make the syrup, place the sugar, water and Cointreau in a small saucepan and stir over medium heat until the sugar is dissolved. Bring to the boil and cook for 5 minutes. Add plums and cook for 1-2 minutes each side until plums start to soften. Remove from syrup and set aside. Reserve syrup. Cover and refrigerate.
2 Place the flour, sugar and butter in a food processor and process until the mixture resembles fine breadcrumbs. Add the egg and ½ tsp vanilla and process in short bursts until the pastry just comes together. Turn out onto a lightly floured surface and work quickly with your hands to form a ball. Flatten the pastry, wrap in plastic and refrigerate for 30 minutes.
3 Preheat the oven to 180°C. Roll out the pastry on a lightly floured surface until 3mm thick. Line a 24cm round fluted tart tin with the pastry, trim the edges and prick the base with a fork. Refrigerate for 30 minutes. Line the pastry with baking paper, fill with baking weights or uncooked rice and bake for 15 minutes. Remove the paper and weights and bake for a further 8–10 minutes or until golden. Set aside to cool.
4 Place the mascarpone, icing sugar and extra ½ tsp vanilla in a bowl and stir to combine. Place the cream in the mixing bowl and, using the whisk attachment, whisk until soft peaks form. Fold through the mascarpone mixture. Spoon into the tart shell and smooth the top. Arrange the plums on the tart and drizzle with syrup.