Nothing beats a hot cinnamon doughnut on a cold winter's day, and this bomboloni recipe takes the humble teatime favourite to a whole new level. Think roasted slivered almonds, orange and vanilla scented ricotta, silky smooth dark chocolate sauce flavoured with espresso. Need we say more?
Serves 12-16
Ingredients
300 ml milk
100 g butter
500 g flour
275 g sugar
3 tsp instant dried yeast
3 egg yolks
1 tsp sea salt
vegetable oil, for deep frying
1 tsp cinnamon
Ricotta-Almond Filling
20 g slivered almond, roasted
20 g pure icing sugar, sifted
finely grated zest of ½ orange
350 g ricotta
1 tsp vanilla bean paste
Dark Chocolate Sauce
150 g dark chocolate (55% cocoa solids), finely chopped
125 ml pouring cream
30ml espresso coffee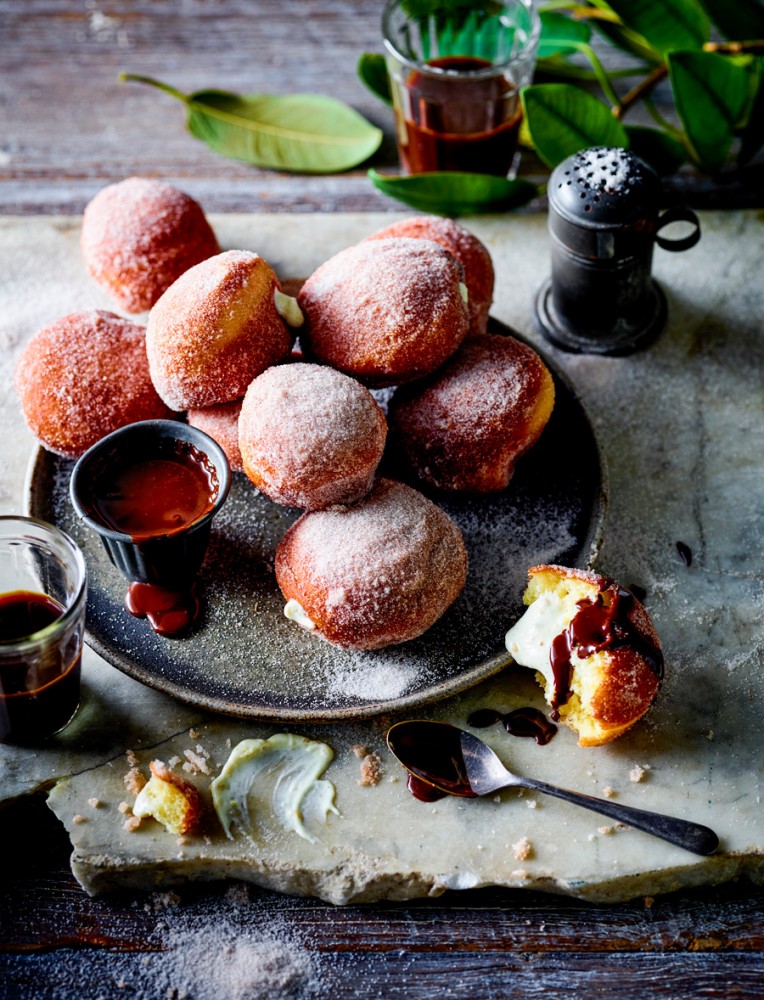 Method
1 Stir milk and butter together in a small saucepan over medium heat until butter melts. Then combine with flour, 75 g sugar and yeast in an electric mixer fitted with a dough hook. Add egg yolks and knead on medium for 1-2 minutes until a smooth but slightly sticky dough forms. Turn out onto a lightly floured surface, form into a ball and gently knead until a soft, smooth dough forms, about 4-6 minutes. Transfer to a lightly greased bowl, cover with plastic wrap and set aside in a warm place to prove (1½ hours).
2 Pinch dough back, then roll out on a lightly flour surface to a thickness of 1.5 cm. Cut out rounds with a lightly floured 6 cm diameter round cutter and place 2cm apart on a large, deep baking tray lined with baking paper. Re-roll remaining scraps of dough to form 18-20 donuts.  Cover with a tea towel and set aside in a warm place for 1hr 30 minutes until doubled in size.
3 Meanwhile, for ricotta filling, combine almonds, icing sugar and orange zest together in a food processor and blitz for 1 minute or until finely chopped. Add ricotta and vanilla, then process until mixture is smooth. Transfer to a piping bag fitted with a 10 mm plain nozzle then refrigerate until needed.
4 For chocolate sauce, place chocolate in a medium bowl. Bring cream and coffee to the simmer in a small saucepan over medium heat, then pour over chocolate. Let sit for 1 minute, then gently whisk until a smooth, glossy sauce forms then set aside.
5 Combine cinnamon and remaining sugar together in a large bowl. Heat oil in a large saucepan or deep-fryer to 170C. Deep-fry doughnuts in batches until golden and cooked through, about 2-3 minutes each side. Carefully transfer with a slotted spoon to the cinnamon sugar and toss to coat. Let donuts cool, then pierce the base of each doughnut with the piping tube and pipe some ricotta filling into each. Serve with chocolate sauce.
Tools of the Trade
This KitchenAid Stand Mixer in Cast Iron Black from Harvey Norman will do all the hard dough-making work for you, so you can get on with more important things such as taste-testing the ricotta filling and the chocolate sauce.