Are the family coming over to your place for Christmas this year? Preparing that festive feast will be easy with this Bourbon, Maple and Mustard Glazed Ham with Peach Chutney recipe, as well as our delicious side suggestions (we're talking Glazed Carrots, Parmesan Roasted Potatoes and one seriously yummy Fresh Green Salad!)
Serves 12.
Ingredients
8kg ham.
2 tbs mustard powder.
1 tbs onion powder.
1 cup (250mL) maple syrup.
1 cup (250mL) bourbon.
1 cup (250g) firmly packed brown sugar.
Seasonal herbs to serve.
Peach Chutney
(Makes 5 cups)
¼ cup (60mL) olive oil.
1 red onion, finely chopped.
1 tsp smoked paprika.
6 cloves.
1kg white peaches, chopped into 2cm pieces.
½ cup (125mL) apple cider vinegar.
½ cup firmly packed brown sugar.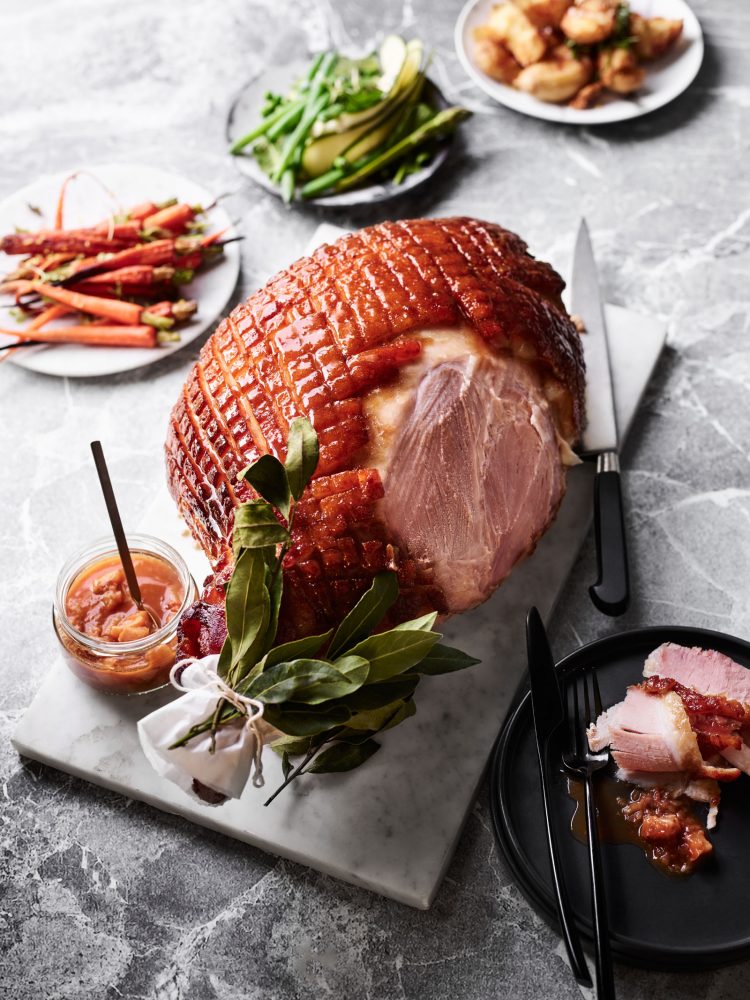 Method
1) Preheat AEG 60cm SteamCrisp Oven to 160°C (fan-forced).
2) Grease a large, shallow roasting pan. Line with greased foil, then baking paper. Sit the ham on a wire rack over roasting tray. Use a small, sharp knife to cut around ham shank.
3) Add 2 cups (500ml) water to tray and bake for 20 minutes to help separate the skin from the meat. Remove from oven, then, when cool enough to handle, carefully run knife under the skin, around the edge of the ham. Gently lift off the skin in 1 piece by running your fingers between the rind and the fat. Use a long sharp knife to score the fat diagonally, then again in the opposite direction.
4) To make the glaze, combine mustard powder, onion powder, maple syrup, bourbon and sugar in a large saucepan. Place over medium heat and cook, stirring, for 5 minute or until sugar dissolves. Stand until required.
5) Return ham to oven and cook for 45 minutes, or until score marks begin to protrude and show. Pour over glaze and cook, basting with glaze from pan every 20 minutes, for 45 minutes to 1 hour – or until ham is caramelised.
6) Meanwhile, for the chutney, heat oil in a saucepan over high heat, add the onion, paprika and cloves and cook for 3 minutes or until softened and aromatic. Add peaches and stir to coat for 1 minute. Add cider vinegar and sugar and ½ cup (125ml) water, bring to the boil then reduce heat to medium low. Cover with a lid and simmer for 10 minutes or until peaches have softened. Remove lid and cook for a further 15-20 minutes or until mixture has reduced. Stand to cool then transfer to containers and store in the fridge for up to 2 weeks.
7) Wrap ham leg with baking paper, tie with herbs and serve with chutney alongside.
SIDES FOR THE HAM
Glazed Carrots
(Serves 12)
3 bunch Dutch carrots, trimmed and peeled.
¼ cup (60mL) runny honey.
75g butter, melted.
2 tsp lemon zest.
1 tsp salt flakes.
Baby herbs to serve.
Method
1) Preheat AEG 60cm SteamCrisp Oven to 200°C (fan-forced).
2) Grease and line a shallow baking tray. Add all ingredients, except garnishes and toss to combine. Cover with foil and roast, tossing halfway, for 20 minutes or until carrots are glazed and tender.
3) Serve scattered with baby herbs.
Parmesan Roasted Potatoes
(Serves 12 as a side)
1kg chat potatoes.
1 cup (250g) finely grated parmesan.
100g unsalted butter.
¼ cup rosemary sprigs, plus extra to serve.
Method
1) Preheat oven to 100°C (steam).
2) Steam potatoes for 22 minutes or until just tender. Remove and preheat oven to 200°C (fan-forced). Transfer potatoes to a roasting tray, toss with parmesan, butter and rosemary and use a fork to squish slightly. Roast, tossing halfway, for 45 minutes or until potatoes are golden and crisp. Scatter with salt to serve.
Fresh Green Salad
(Serves 12 as a side)
100g baby spinach.
1 bunch asparagus, trimmed, steamed and refreshed.
200g green beans, trimmed, steamed and refreshed.
1 cup frozen peas, thawed.
2 zucchinis, thinly sliced into ribbons.
2 tbs lemon juice.
⅓ cup (80mL) olive oil.
1 burrata (found at Italian delis and grocers).
Baby mint leaves to serve.
Method
1) Arrange spinach on a serving plate and top with par-cooked vegetables and zucchini ribbons.
2) Whisk lemon juice, oil and 1 tsp each of salt and pepper in a small bowl and spoon over salad.
3) Stand for 5 minutes to pickle slightly then place burrata in the centre of the platter, scatter over mint leaves and cut burrata at the table as you serve.
Tools of the Trade
Cook your Christmas ham to perfection with the AEG 60cm SteamCrisp Oven, available at Harvey Norman.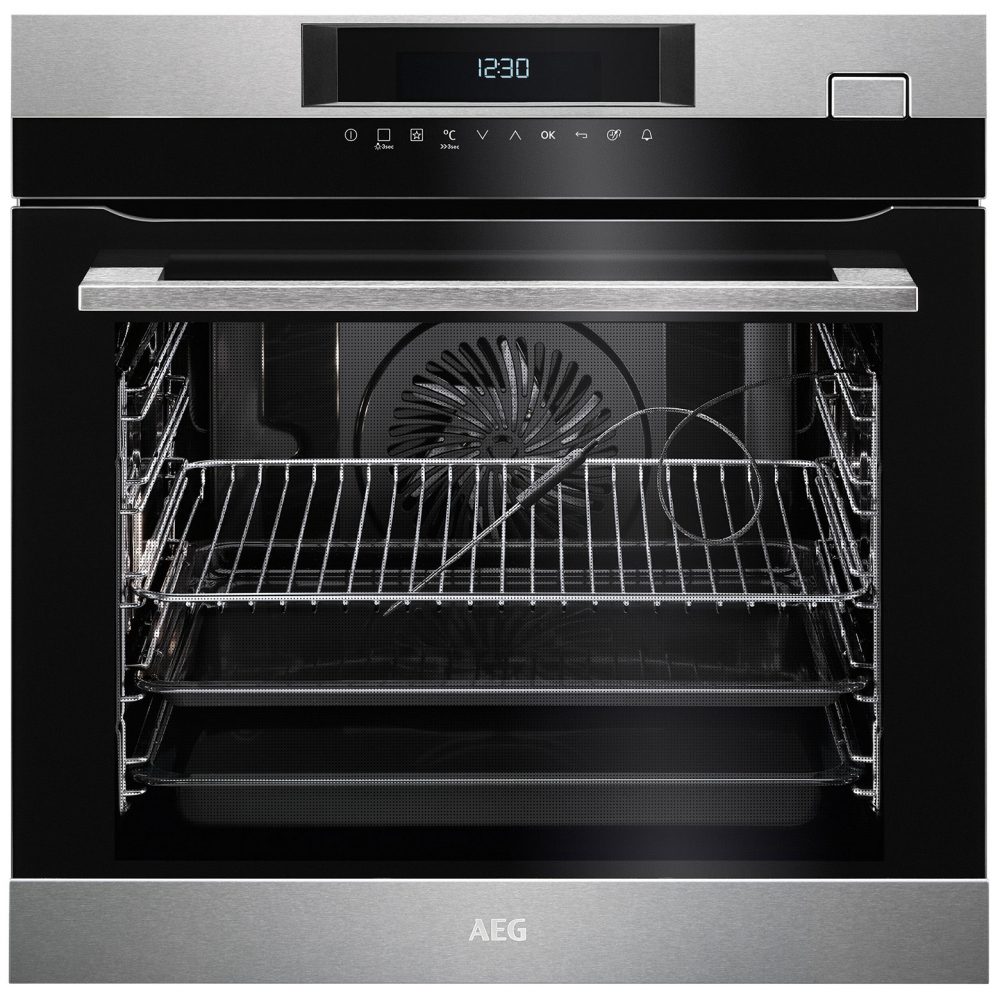 12 Days of Christmas Recipes
Want some more ideas for your Christmas feast? Check out our 12 Days of Christmas recipes and celebrate the festive season in style!
▶ Day 1: Coconut and Raspberry Layer Cake
▶ Day 2: Caramel, Hazelnut and Praline Affogato
▶ Day 3: Sparkling Champagne Cocktail with a Grapefruit Twist
▶ Day 4: Mini Chocolate Orange Puddings with Gold Leaf Oranges
▶ Day 5: Five-Spice Maple-Glazed Ham
▶ Day 6: Six Herb, Pea and Avocado Dip with Sliced Radish and Mixed Micro Herbs
▶ Day 7: Lemongrass-Cured Salmon with Coriander Blinis and Lime Crème Fraiche 
▶ Day 8: Fig, Raspberry and Meringue Trifles
▶ Day 9: Sloe Gin Turkish Delight and Coconut Jellies
▶ Day 10: Parmesan and Potato Rösti Nests with Rare Roast Beef
▶ Day 11: Berry, Chocolate and Coconut Ice Cream Log
▶ Day 12: Sour Cherry and Brownie Truffles