To celebrate the festive season, award-winning pastry chef Lauren Eldridge has created a series of special Christmas desserts to wow family and guests. On today's menu: Brandy and Vanilla Croquembouche.
Serves 12
Prep time 2-3 hours
Cook 1 hour
Choux Pastry Ingredients
80ml milk
250ml water
1tbsp caster sugar
½tsp salt
135gm unsalted butter, diced
175gm plain flour
5 large eggs
Craquelin Ingredients
180gm unsalted butter, at room temperature
240gm light brown sugar
210gm plain flour
Vanilla & Brandy Pastry Cream Ingredients
60gm cornflour
600ml milk
125gm egg yolks
132gm caster sugar
2 vanilla pods, split and seeds scraped (or 2 tsp vanilla paste)
185gm butter
2tbsp brandy
¼tsp grated nutmeg
Caramel Ingredients
1kg caster sugar
350ml water
160gm liquid glucose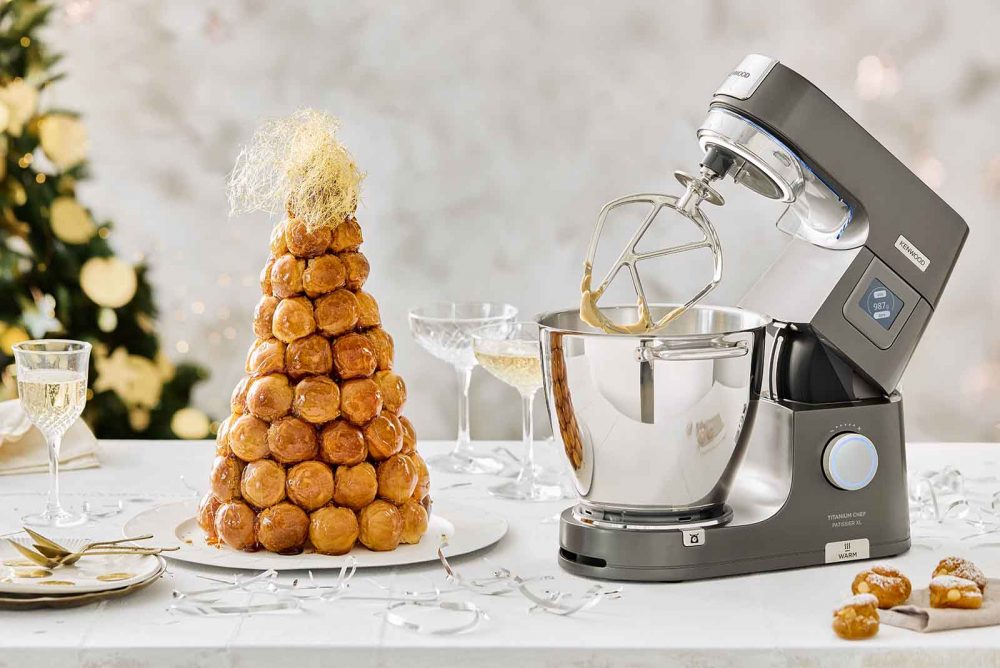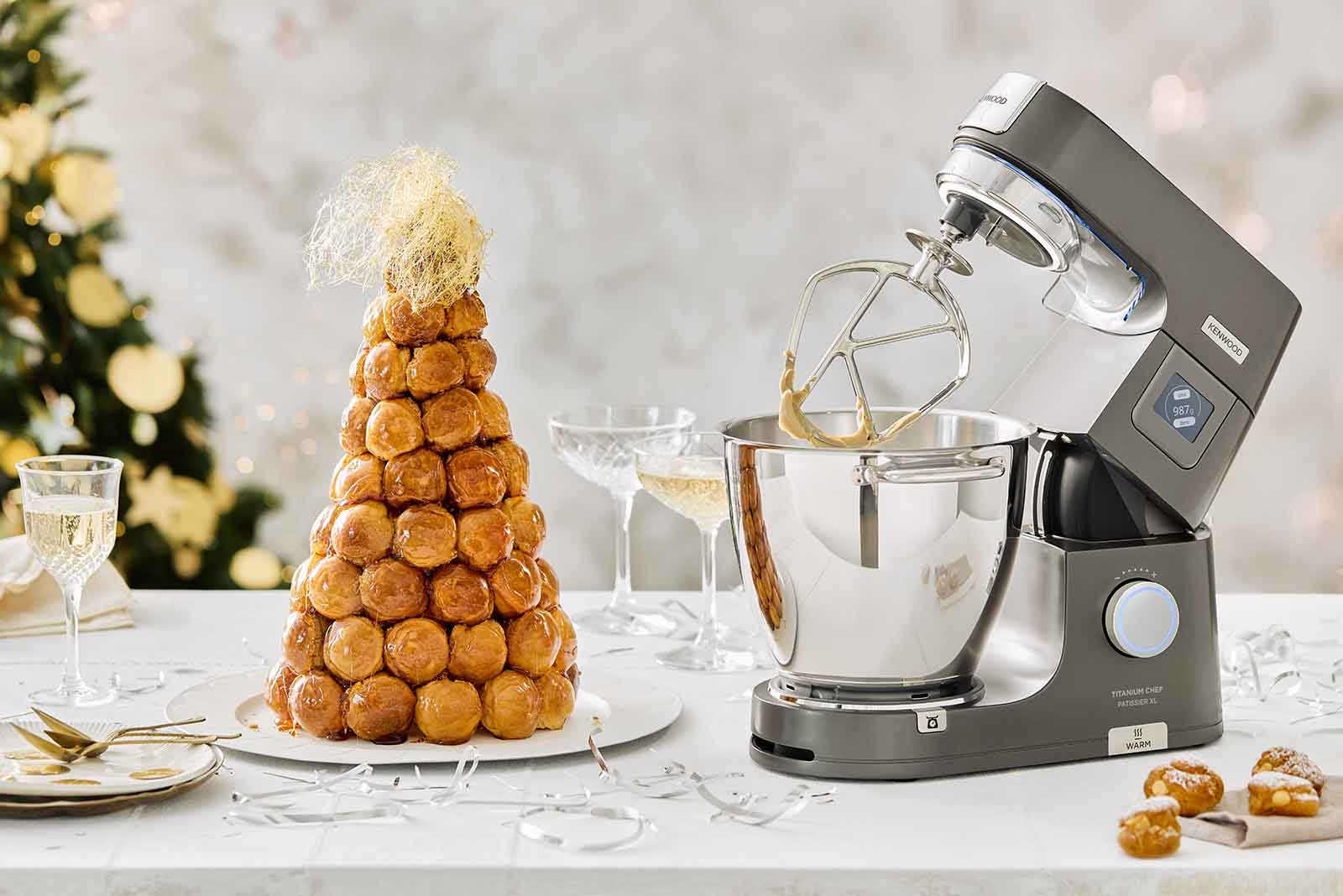 Brandy and Vanilla Croquembouche Method
1. For craquelin, beat butter and sugar in the bowl of your stand mixer fitted with a paddle attachment until pale and creamy, then stir in flour and mix until dough forms. Roll dough between two sheets of baking paper to 2-3mm thick and refrigerate until firm (15 minutes). Cut out 2cm-diameter rounds from craquelin. Makes 112 rounds. Keep frozen until ready to bake choux.
2. To make choux pastry, preheat oven to 210°C. Line three baking trays with baking paper.
3. Combine milk, water, sugar, salt and butter in a large saucepan over medium-high heat to melt butter. Bring mixture to a rolling simmer, add all the flour and stir continuously until flour is incorporated and dough starts to form. Continue cooking for 2-3 minutes until dough comes away from the base and sides of pan.
4. Transfer to the Kenwood Stand Mixer fitted with the paddle attachment and beat on a medium speed for 1 minute to release some of the heat. Add eggs one at a time, beating well after each addition and continue beating until well combined. Transfer to a piping bag fitted with a small round nozzle.
5. Pipe 2cm-diameter rounds onto the baking tray and ensure each choux is evenly sized as this will help with the assembly. Makes 120 rounds.
6. Place a piece of craquelin on top of each piped choux and transfer trays to oven. Reduce temperature to 190°C and bake for 20 minutes, rotating the trays after 10 minutes. Once puffed and dark golden, turn off oven, prop door ajar and leave to dry out for a further 20 minutes.
7. Remove choux puffs from oven, poke a small hole in the bottom of each puff and place on a wire rack ready to fill.
8. For vanilla and brandy pastry cream, whisk cornflour and 60ml milk in a bowl, add egg yolks and whisk until smooth. Combine remaining milk, sugar and vanilla in a large saucepan and heat gently until hot. Pour a quarter of the hot milk into the egg yolk mixture and whisk quickly to combine. Transfer back to pan and continue to cook the mixture, whisking constantly, until thick and smooth (3-4 minutes). Transfer to a clean bowl and add butter, a few pieces at a time, whisking to combine.  Cover with baking paper or plastic wrap and refrigerate to cool.
9. Once cool, remove and discard the vanilla pods and place half the custard mixture into a separate bowl then add brandy and nutmeg, stir to combine. Transfer the mixtures into two separate piping bags, ready to fill the baked choux puffs.
10. Fill half the choux puffs with the brandy custard and the remaining with the vanilla custard, ready to decorate and assemble.
11. For caramel, bring half the water and sugar to the boil in a heavy-based saucepan over medium-high heat, brushing down sides of the pan with a wet pastry brush to remove any sugar. Add 80 gm glucose and continue cooking until a light golden brown (around 170°C on a sugar thermometer). Do not stir the sugar syrup once it is boiling or the sugar will crystallise. Remove from heat.
12. Carefully dip top of the vanilla-filled choux puffs in the caramel and place on a tray caramel-side up to harden. Repeat with remaining choux. Once all choux puffs have been dipped in caramel, begin to assemble the croquembouche.
13. Make another batch of caramel using the remaining ingredients. Carefully dip one side and the base of the choux puffs, one by one, and stick together to form a circle on the serving platter. (Pictured croquembouche has 14 filled profiteroles on the base.) Continue to dip more profiteroles in the caramel and build another layer in the spaces of the previous layer, allowing the walls to lean slightly inwards so the tower will end in a point. Each layer of the tower should have one less profiterole than the one before. (Tip: After each layer, stand back from the croquembouche to check that it is not starting to lean to one side.)
14. For caramel threads, place two wooden spoons or spatulas on the bench with half the handle hanging over the edge. Dip the tip of a fork into caramel and hold it up to allow it to drip into a thin thread. Quickly flick the fork back and forth over the overhanging handles so that it catches. Carefully lift the threads off the spoons and gently shape into a ball. Place on top of the tower.
Note The choux can be made a day ahead and stored in an airtight container once baked and cooled. The following day, refresh in the oven for 10 minutes at 150⁰C and cool before filling. If the caramel starts to set too hard to dip the choux puffs or create threads, return pan to low heat and melt again until liquid enough to dip.
Showstopping Christmas Desserts
Discover more showstopping Christmas dessert recipes created by Lauren Eldridge!
► Gingerbread and Coconut Layered Cake
► Chocolate Truffle Christmas Wreath
► Pavlova Stack with Peaches and Almond Praline
Summary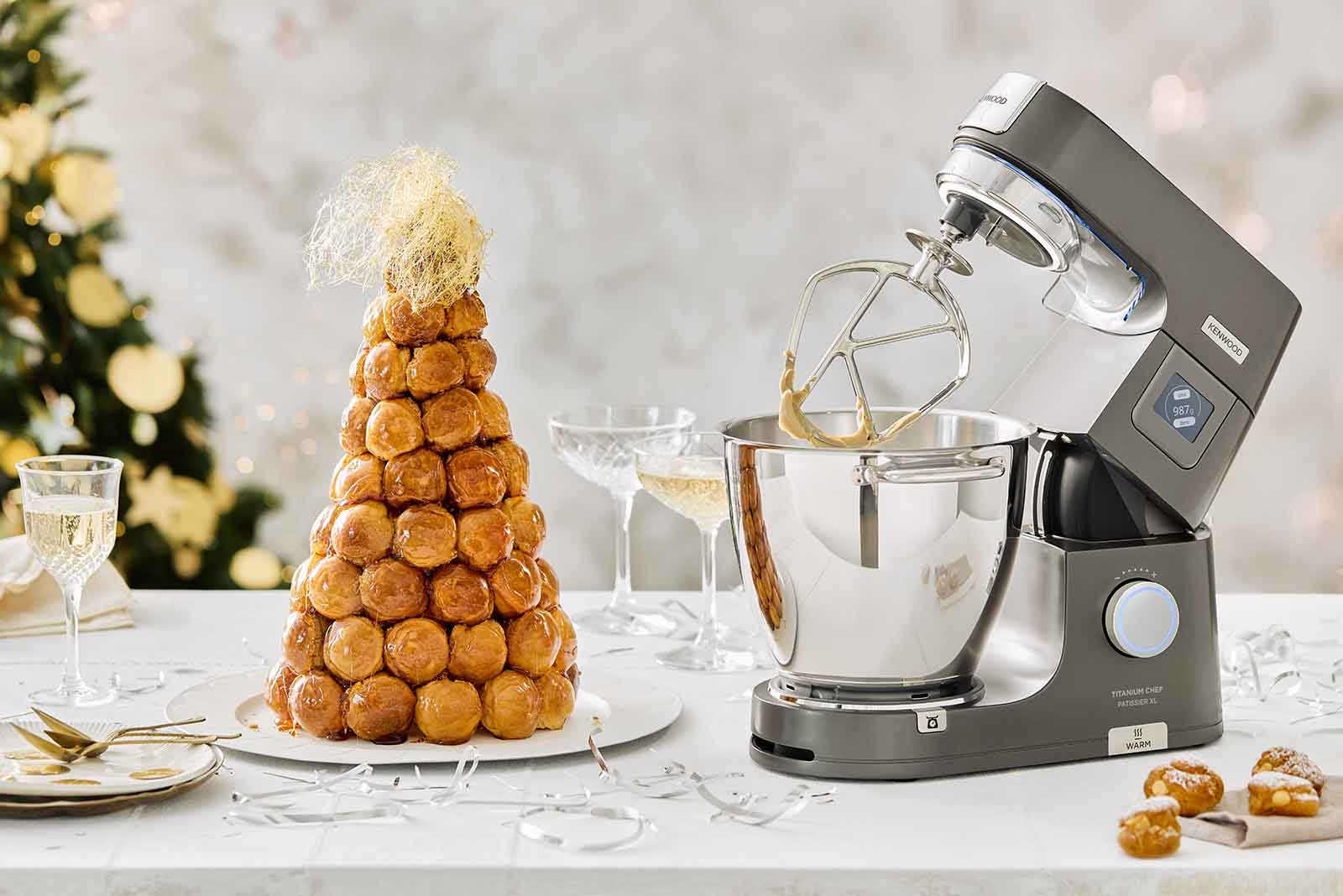 Recipe Name
Brandy and Vanilla Croquembouche
Author Name
Published On
Preparation Time
Cook Time
Total Time
Average Rating





Based on 1 Review(s)