This one-pan-dinner balances the beautiful buttery richness of roast chicken with the red wine vinegar, lemon and garlic-infused tart taste of capsicums perfectly.
Serves 4
Prep 30 minutes
Cook 1 hour
Ingredients
80g butter, softened
1 tablespoon chopped fresh oregano
1 long red chilli, seeded, finely chopped
2 teaspoons finely grated lemon rind
2 garlic cloves, crushed
4 chicken marylands
2 red capsicums, thickly sliced
1 large red onion, cut into wedges
2 tablespoons extra virgin olive oil
1 tablespoon red wine vinegar
400g tomato medley, halved
1 tablespoon drained capers
Cooked couscous, lemon wedges and fresh flat-leaf parsley leaves, to serve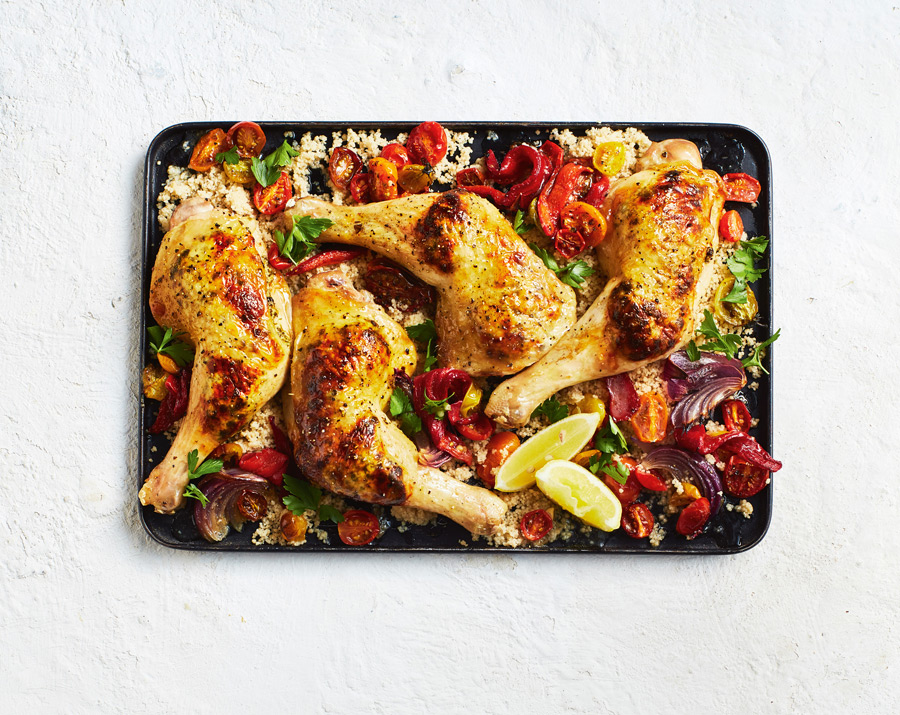 Method
1 Preheat oven to 200C/180C fan-forced. Line a large roasting pan with baking paper.
2 Combine butter, oregano, chilli, lemon rind and garlic in a small bowl. Using your hands, loosen skin of chicken. Spoon butter mixture under skin and rub between skin and the flesh. Place chicken in prepared pan. Season with salt and pepper. Roast for 30 minutes.
3 Arrange capsicum and onion around chicken in pan. Drizzle with oil and vinegar. Roast for a further 20 minutes. Add tomatoes and capers. Roast for a further 10 to 15 minutes or until chicken is golden and cooked through.
4 Serve with couscous and lemon wedges, sprinkled with parsley.
Tools of the Trade
Achieve perfectly crispy skin and tender chicken succulence with the Omega 600mm 4 Function Oven from Harvey Norman.