Father's day is just two Sundays away! Still undecided on what to get him? Why not prepare him a delicious meal the whole family can enjoy and claim your title as the daughter or son of the year with this super yummy burger and slaw recipe?
Serves 8
Prep 25 minutes (plus 15 minutes standing)
Cook 8 hours 10 minutes (or 4 hours 10 minutes on high)
You'll need a 5.7litre slow cooker for this recipe, such as this Crockpot.

Ingredients
1 tablespoon extra virgin olive oil
1.5kg piece beef brisket
1/2 cup golden syrup
2 tablespoons barbecue sauce, plus extra to serve
1 tablespoon smoked paprika
1 teaspoon garlic powder
8 bread rolls, warmed, split
Sliced dill pickles, to serve
Pineapple Slaw
150g green cabbage, finely shredded
150g red cabbage, finely shredded
2 tablespoons cider vinegar
1/2 small (400g) pineapple, peeled, cut into matchsticks
1 small carrot, grated
2 green onions, chopped
1/4 cup fresh dill sprigs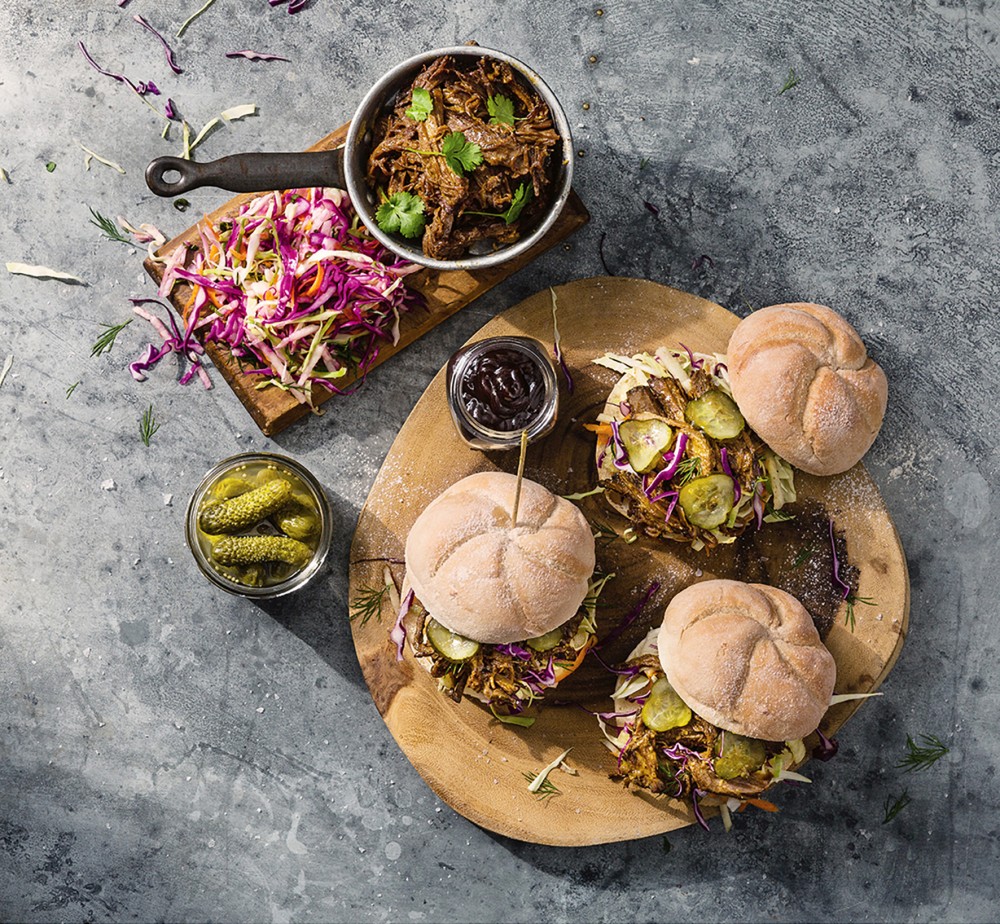 Method
1 Heat oil in a large frying pan over medium-high heat (see note). Cook beef for 5 minutes each side or until browned. Transfer beef to slow cooker.
2 Combine golden syrup, barbecue sauce, paprika and garlic powder in a small bowl. Pour over beef. Season with salt and pepper. Cook on low for 8 hours (or high for 4 hours), turning beef every 2 hours until very tender.
3 Make Pineapple Slaw: Toss cabbages and vinegar together in a large bowl. Season with salt and pepper. Set aside for 15 minutes to soften slightly. Add pineapple, carrot, onion and dill. Toss to combine.
4 Transfer beef to a board. Remove and discard excess fat. Using 2 forks, shred beef. Return to sauce in cooker. Toss to coat.
5 Divide slaw among roll bases. Top with beef, pickles and extra barbecue sauce. Sandwich with roll tops. Serve.
Cook's note: If your slow cooker bowl is flameproof, use it to brown off the beef instead of a frying pan.
Handy Helper
This Crockpot from Harvey Norman is just the ticket for creating yummy dude food for dad this Father's Day. Why not get one for dad too? He'll thank you for it as he gets creative in his kitchen.