On the 2nd day of Christmas my true love gave to me… decadent affogatos!
At Harvey Norman, we're celebrating the 12 Days of Christmas with 12 delicious recipes. On the menu today: Caramel, Hazelnut and Praline Affogato.
Makes 2.
Prep 10 minutes.
Cook 20 minutes.
Ingredients
½ cup caster sugar.
¼ cup hazelnuts, chopped.
2 tablespoons dulce de leche.
4 scoops vanilla bean ice cream.
2 tablespoons hazelnut liqueur.
2 x 45ml shots of espresso coffee.
Chocolate-coated coffee beans, to serve.
Method
▶ 1. Preheat oven to 200°C (fan forced). To make hazelnut praline, place sugar on a small baking tray lined with baking paper. Bake for 15 minutes or until sugar darkens and melts.
▶ 2. Add hazelnuts and return to the oven for 5 minutes. Remove and set aside to cool.
▶ 3. Spoon caramel into the base of 2 x 250ml glasses. Top each with 2 scoops of ice cream, then pour over half the liqueur and a coffee shot.
▶ 4. Break the hazelnut praline into shards. Sprinkle on top, along with the chocolate-coated coffee beans, to serve.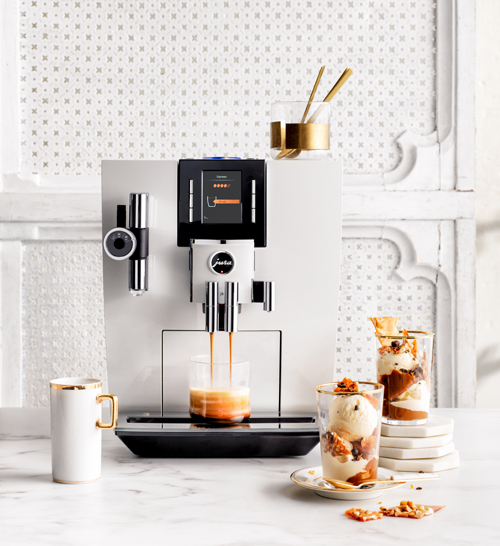 12 Days of Christmas Recipes
Is your mouth-watering? Celebrate the festive season with our complete 12 Days of Christmas recipes:
▶ Day 1: Coconut and Raspberry Layer Cake
▶ Day 2: Caramel, Hazelnut and Praline Affogato
▶ Day 3: Sparkling Champagne Cocktail with a Grapefruit Twist
▶ Day 4: Mini Chocolate Orange Puddings with Gold Leaf Oranges
▶ Day 5: Five-Spice Maple-Glazed Ham
▶ Day 6: Six Herb, Pea and Avocado Dip with Sliced Radish and Mixed Micro Herbs
▶ Day 7: Lemongrass-Cured Salmon with Coriander Blinis and Lime Crème Fraiche 
▶ Day 8: Fig, Raspberry and Meringue Trifles
▶ Day 9: Sloe Gin Turkish Delight and Coconut Jellies
▶ Day 10: Parmesan and Potato Rösti Nests with Rare Roast Beef
▶ Day 11: Berry, Chocolate and Coconut Ice Cream Log
▶ Day 12: Sour Cherry and Brownie Truffles