What's more comforting in winter than a big bowl of hot pumpkin soup with loads of crusty bread? If you're a soup lover, you have to try this recipe – it features maple syrup, toasted pepitas and smoked paprika to really bring the wow factor.
Serves 6
Prep 20 minutes
Cook 1 hour 20 minutes
Ingredients
2.25kg butternut pumpkin, peeled, roughly chopped
4 garlic cloves, unpeeled
1/4 cup extra virgin olive oil
2 tablespoons maple syrup
1 large brown onion, chopped
3 medium white potatoes, chopped
1 1/2 litres chicken stock
25g butter
3 thick slices crusty white bread, crusts discarded, cut into cubes
Sour cream, toasted pepitas and smoked paprika, to serve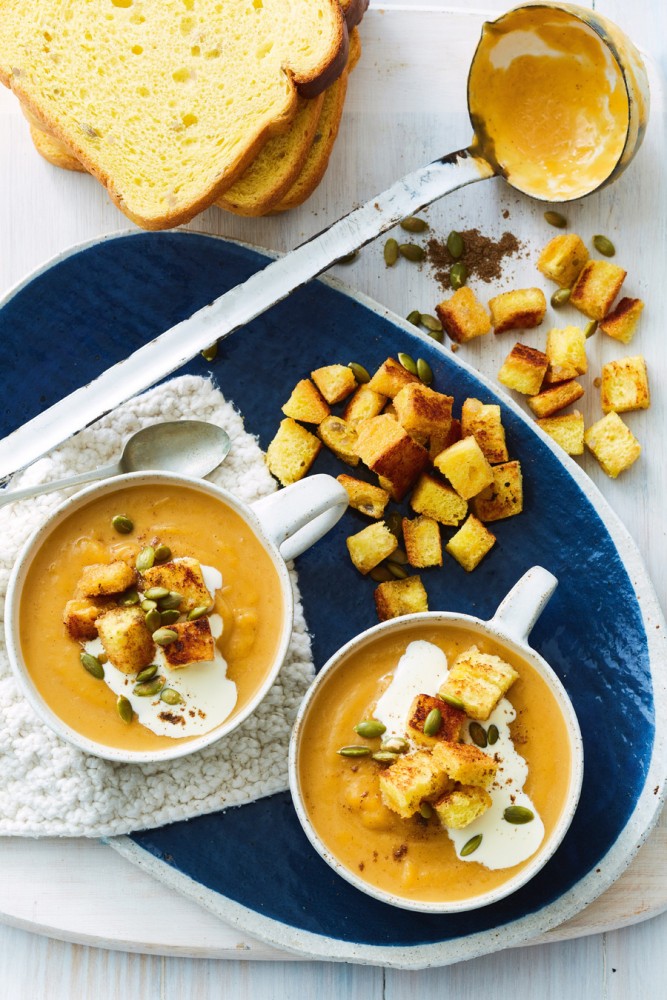 Method
1 Preheat oven to 200°C/180°C fan-forced. Line a large baking tray with baking paper. Place pumpkin and garlic on tray. Drizzle with 2 tablespoons oil and maple syrup. Season with salt and pepper. Toss to coat. Roast for 35 to 40 minutes or until pumpkin is golden and tender.
2 Heat remaining oil in a large saucepan over medium-high heat. Cook onion, stirring, for 5 minutes or until softened. Add potato. Cook, stirring occasionally, for 5 minutes. Squeeze garlic from skins. Add to potato mixture. Cook for 1 minute.
3 Add stock and 2 cups water. Cover. Bring to the boil. Reduce heat to low. Simmer for 20 minutes or until potato is tender. Stir in pumpkin. Cook for a further 10 minutes. Remove from heat. Stand for 10 minutes.
4 Meanwhile, melt butter in a large frying pan over medium-high heat. Cook bread, tossing, for 2 to 3 minutes or until golden. Drain on paper towel.
5 Using a stick blender, blend soup until smooth. Serve soup dolloped with sour cream and sprinkled with croutons, pepitas and smoked paprika.
Tools of the Trade
Equip your kitchen with all the right tools to get the best results every time, and this this Westinghouse 900mm Induction Cooktop from Harvey Norman is definitely an investment worth making.