Monty Koludrovic, the executive chef at Iceberg Dining Room and Bar in Bondi and the Dolphin Hotel in Surry Hills loves the freshness of Australian seafood and is sharing an octopus recipe, not only because it's utterly delicious, but also because of it's availability and sustainability. Monty recommends world-class Fremantle Octopus.
Try out the recipe below at your next dinner party and impress your guests with your advanced culinary expertise!
Serves 4
Ingredients
Octopus
4 Large Fremantle Octopus 'hands'
100ml extra virgin olive oil
good pinch salt
good pinch freshly ground black pepper
½ anchovy, chopped
pinch dried chilli
flake salt to season
1 lemon cheek to finish
Salad
1 punnet rainbow cherry tomatoes
extra virgin olive oil
1 tsp white wine vinegar
1 large Royal Blue potato
Red Sauce
1 clove garlic, minced
1 chilli, chopped
200ml tomato puree
Garnish
3 anchovy fillets, premium quality, cut into 4
150g cheeks of mixed local olives (ALTO Misto olives recommended)
½ cup vegetable oil for deep frying
100g rinsed capers, drained well
bronze fennel fronds
oxalis or woodland sorrel leaves
nasturtium leaves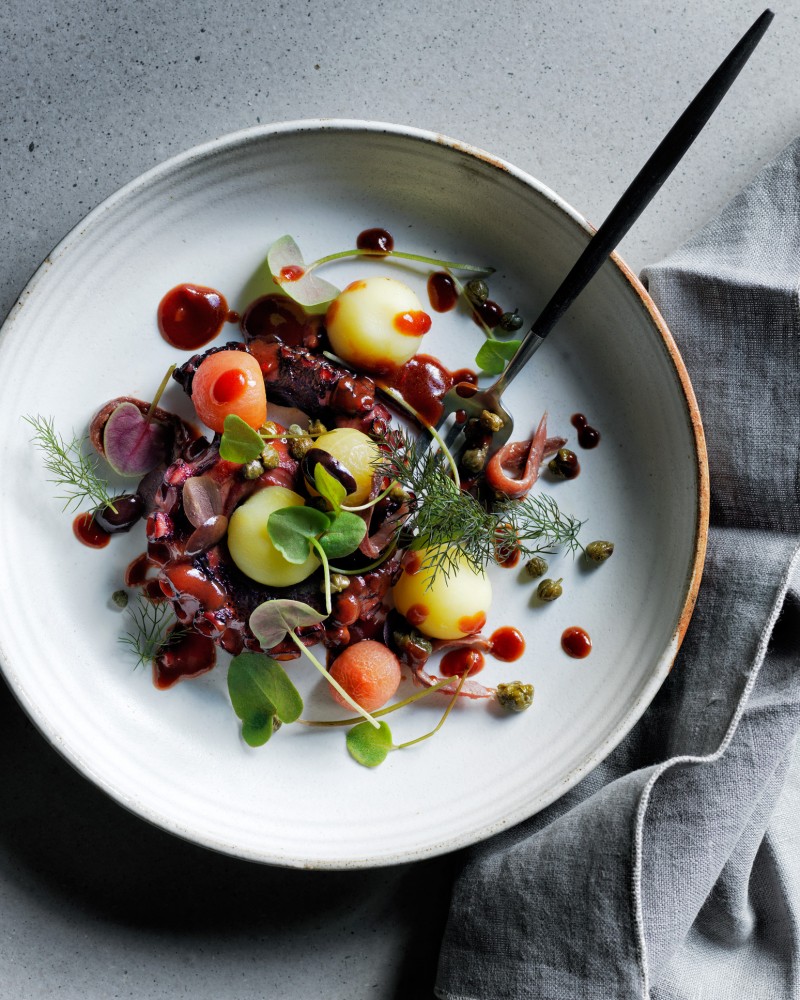 Method
1. For the octopus, cut legs into individual tentacles and run under cold water for 5 minutes. Rub tentacles between 2 tea towels to remove excess slime until dry.
2. To wrap them into a 'scroll' shape, start with the thickest part of the tentacle and slowly wrap around itself, suckers pointing out, until you get to the end and tuck thin end between 2 rows of suckers. Season.
3. Place octopus scrolls in a sous-vide bag with olive oil, seasoning, anchovy and chilli. Seal on full suction. Cook the legs at 85°C for 3 hours in a sous-vide poacher (such as the Breville 'The One' Precision Poacher).
4. Plunge bag into ice water and chill for 1 hour. Remove from bag and pat dry. Reserve the juices.
5. For the salad, blanch the cherry tomatoes in boiling water for 10 seconds and refresh in plenty of ice water. Once cool, peel, toss in olive oil and a few drops of white wine vinegar and place in dehydrator for 2 hours to intensify and dry slightly.
6. Scoop 12 balls of potato with a parisienne scoop and poach in pot of seasoned water until tender. Set aside.
7. Rinse, drain and chill garnish herbs.
8. For the red sauce, fry minced garlic and chopped chilli in a wide pan.
9. Add the octopus cooking juices and reduce by half. Add tomato puree and cook until thick and glossy and starting to split. Taste for seasoning and set aside.
10. To finish and garnish, deep fry the capers until no bubbles come from them, drain on paper towel and set aside.
11. Brush octopus with oil and chargrill as needed. Season with flake salt and squeeze over lemon cheek.
12. Place grilled octopus on a serving plate. Press potato balls in between coiled layers to create a gap.
13. Drizzle with the red sauce. Top with warmed semi-dried tomatoes. Scatter with anchovy pieces, olive cheeks and fried capers.
14. Scatter garnish herbs and add some fresh cracked pepper and a drizzle of olive oil.
Discover Sous Vide Cooking
If you're an adventurous cook who likes to push the boundaries of the ordinary to create extraordinary culinary experiences for your family and friends, then you will love the Breville 'The One' Precision Poacher from Harvey Norman. Something as temperamental as seafood will benefit greatly from the gentle sous vide method of cooking, which will enhance the fresh flavour of your produce.