There's simply nothing better than grilled prawns on a hot Australian Christmas Day! Get ready to fire up the barbie and let the festivities begin with this Charred Lemongrass and Lime Prawn recipe.
Serves 6
Prep 20 minutes (plus refrigeration)
Cook 10 minutes
Ingredients
1 stick lemongrass, white part only, very finely chopped
1/4 cup lime juice
1 tablespoon brown sugar
2 garlic cloves, crushed
36 large green prawns, peeled, deveined (tails intact)
1 red bullhorn pepper (see Cook's note)
Salad leaves and lime wedges, to serve
Spicy Coriander Dressing
3/4 cup fresh coriander leaves, finely chopped
2 tablespoons rice wine vinegar
2 tablespoons sweet chilli sauce
1 tablespoon lime juice
2 teaspoons fish sauce
1cm piece fresh ginger, finely grated
1 green onion, thinly sliced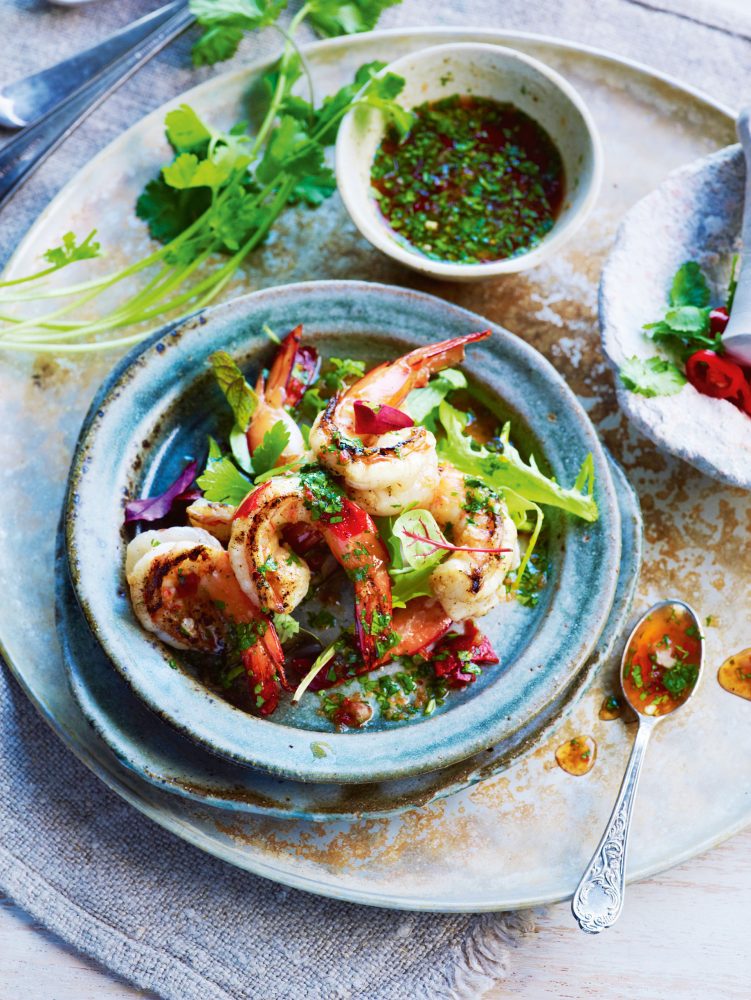 Method
1) Combine lemongrass, lime juice, sugar and garlic in a glass or ceramic bowl. Add prawns. Season with salt and pepper. Toss well to combine. Cover. Refrigerate for 15 minutes.
2) Meanwhile, preheat a greased barbecue grill on high heat. Cook pepper, turning, for 5 minutes or until charred all over and tender. Transfer to a snap-lock bag. Seal bag. Set aside for 5 minutes. Peel and discard skin and seeds from pepper. Roughly chop flesh. Transfer to a large bowl.
3) Make Spicy Coriander Dressing. Place coriander, vinegar, chilli sauce, lime juice, fish sauce, ginger and green onion in a bowl. Whisk to combine.
4) Cook prawns on barbecue grill, turning, for 2 to 3 minutes or until just cooked through. Transfer to bowl with pepper. Drizzle with 2 tablespoons dressing. Toss to combine. Serve prawns with salad leaves and lime wedges, drizzled with remaining dressing.
Cook's Note
Bullhorn peppers are also known as banana chillies. You could use a small red capsicum instead.
Tools of the Trade
Ready to cook a summer feast on the barbie this Christmas? You and your guests will love grilling those delicious prawns with the Riverina Outdoor Kitchen with Hooded BBQ, available from Harvey Norman.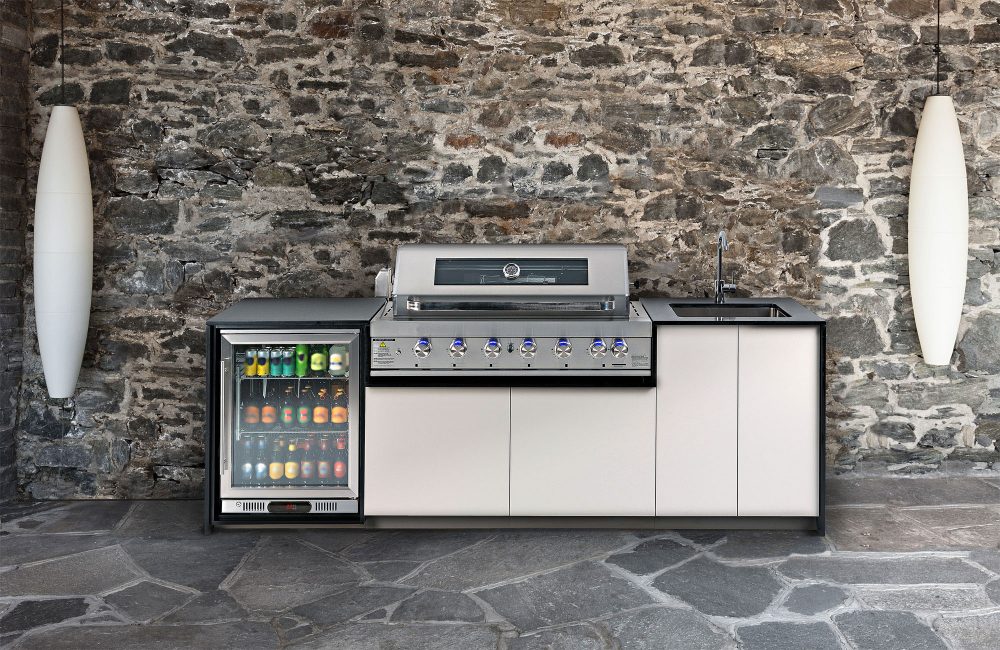 Summer BBQ Recipes
Loving the summer BBQ life? If you're after another delightful recipe, try this Whole Grilled Flank Steak with Wild Garlic Chimichurri.