Add a bit of festive flair to your baking repertoire with this cheerful chocolate and cranberry wreath. Made from yeast-risen dough that's loaded with cranberry and raspberry jam as well as dark chocolate chunks, and decorated with frosted rosemary – this beautiful baked goodie is gorgeous enough to be hung on your front door but will probably be gobbled up before you get that far!
Prep time 45 mins + 1 hour 30 mins proving time
cook time 45 mins
Serves 8
Ingredients
425g strong bread flour, plus extra for dusting
7g sachet dried instant yeast
¼ cup caster sugar
250ml milk, warmed
2 egg whites plus 1 egg lightly beaten for eggwash
2 tbs demerara sugar
100g each raspberry jam and cranberry jam,
plus extra to serve
125g dark chocolate, very finely chopped
Frosted Rosemary
4 sprigs rosemary
1/2 cup caster sugar
1 egg white, lightly beaten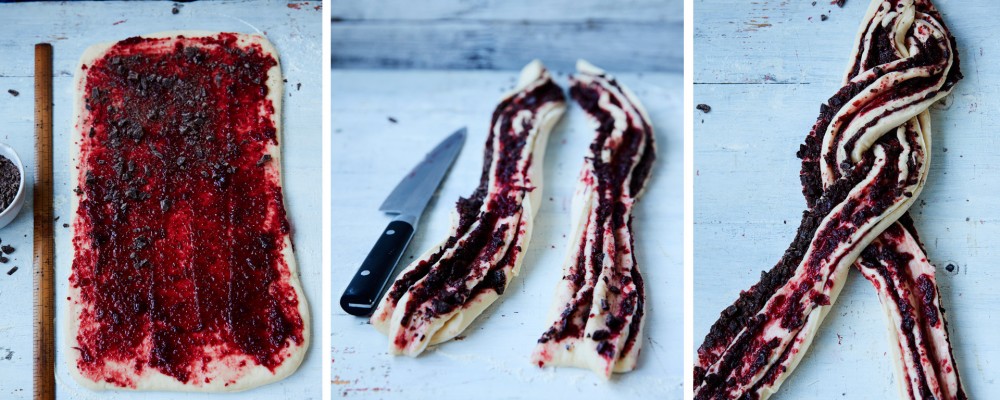 Method
STEP 1 Place the warm milk, sugar and yeast in the bowl of the stand mixer and whisk to combine. Set aside for 5 minutes in a warm place until frothy.
STEP 2 Sift the flour and 1 tsp salt into the stand mixer bowl and add the egg whites. Knead on low speed for 10 minutes until smooth.
STEP 3 Place in a lightly oiled bowl for 1 hour or until doubled in size. Meanwhile, for the frosted rosemary, whisk the egg white then brush over the rosemary. Dust with sugar and set aside to dry. Knock back the dough on a floured surface.
STEP 4 Roll into a 60cm x 30cm rectangle, making sure it doesn't stick to the surface. Spread the raspberry and cranberry jams thinly over the rectangle then scatter the chocolate lengthways.
STEP 5 Tightly roll up the dough starting from the long side into a long swiss roll. Cut the dough in half along its length and face the cut sides outward.
STEP 6 Press the 2 strands together at one end, then gently twist the pieces of dough around each other. Place on a floured baking tray and gently shape it into a circle, joining the two ends to form a wreath. Cover with cling film and set aside for 30 minutes to prove.  Heat the oven to 180 (160 fan). Gently brush the dough with egg wash and sprinkle over the demerara sugar. Bake for 20 minutes or until risen and golden, then loosely cover with foil and cook for 25 minutes. Remove and cool then serve with extra jam and frosted rosemary.
Tools of the Trade
The Kenwood Chef XL Sense from Harvey Norman comes with a host of high performing titanium tools, including a flat k-beater, balloon whisk, folding tool, creaming beater and a dough hook, which will come in handy for tackling all those kneading jobs that require so much effort!