Chocolate. Hazelnut. Espresso. Three things that on their own are delightful. However, when combined together, the results are out of of this world – as this amazing Chocolate and Hazelnut Espresso Cake recipe goes to show!
Serves 12
Prep 20 minutes (plus standing and cooling time)
Cook 55 minutes
Chocolate and Hazelnut Espresso Cake Ingredients
200g butter, chopped
200g dark chocolate, chopped
2 single shots (60ml) espresso coffee
4 eggs, separated
1 cup raw caster sugar
2 teaspoons vanilla extract
1/4 cup cocoa
1/2 cup plain flour
2/3 cup hazelnut meal
Caramel sauce, to serve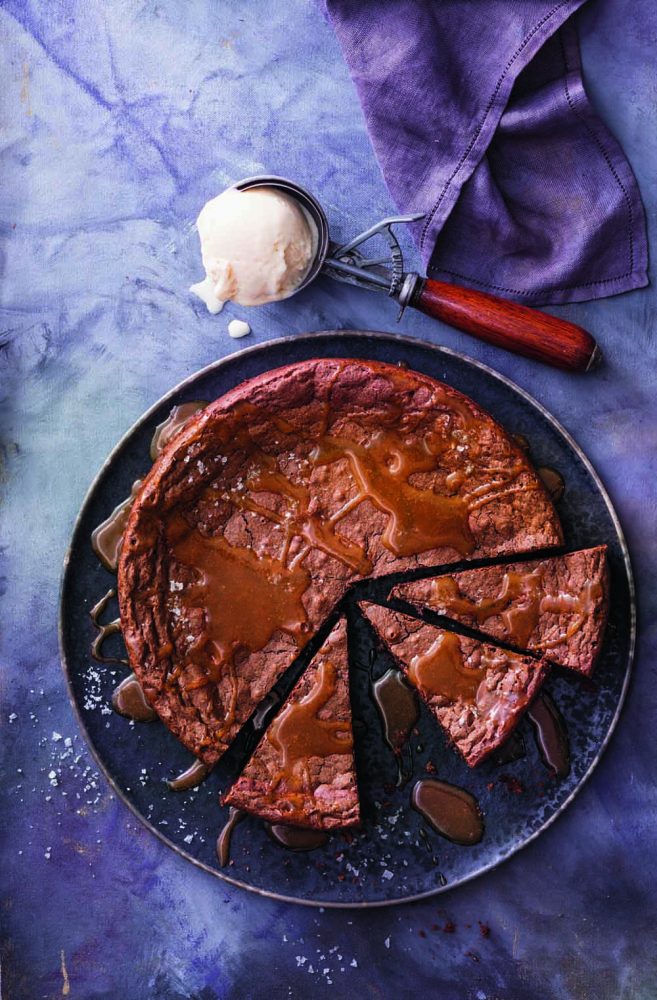 Chocolate and Hazelnut Espresso Cake Method
1) Preheat oven to 170C°/150°C fan-forced. Grease a 6cm-deep, 22cm round springform pan. Line base and side with 2 layers of baking paper.
2) Place butter, chocolate and coffee in a microwave-safe bowl. Microwave on high (100%), stirring every 30 seconds with a metal spoon, for 1 minute 30 seconds or until melted and smooth. Stand for 5 minutes.
3) Using an electric mixer, beat yolks, sugar and vanilla for 5 minutes or until thick and creamy. Gradually beat in chocolate mixture until combined. Sift cocoa and flour over chocolate mixture. Add hazelnut meal. Stir until just combined.
4) In a separate bowl, beat egg whites until just-firm peaks form. In 2 batches, fold egg white into the chocolate mixture. Pour mixture into prepared pan. Place on a baking tray. Bake for 50 minutes or until cake is just firm to touch. Cool completely in pan. Place cake on a serving plate. Drizzle with caramel sauce. Serve.
Tools of the Trade
If you know where to look, you can buy good chocolate – but it's much harder to come across great espresso. However, we reckon one way of getting the perfect brew every time is by using Breville 'The Oracle Touch' Automatic Espresso Machine. A tremendous coffee machine, it'll produce espresso that will completely enhance your cake. Browse it online with Harvey Norman.