The classic pav is taken to new heights with the addition of melt-in-your-mouth coconut cream, plump summer strawberries and fragrant passionfruit pulp.
Try this recipe with the help of KitchenAid Mini Stand Mixer and make short work of mixing egg whites into stiff white peaks.

Serves 12
Prep 25 minutes (plus cooling and standing)
Cook 1 hour 20 minutes
Ingredients
6 egg whites
Pinch of cream of tartar
1 1/2 cups caster sugar
2 teaspoons cornflour
1 teaspoon white vinegar
1 teaspoon vanilla extract
2 passionfruit, halved
Sparkling Strawberries
250g strawberries, hulled, sliced
1/2 cup sparkling white wine
2 teaspoons icing sugar mixture
Coconut Cream
600ml thickened cream
2 x 165ml cans coconut milk
2 teaspoons icing sugar mixture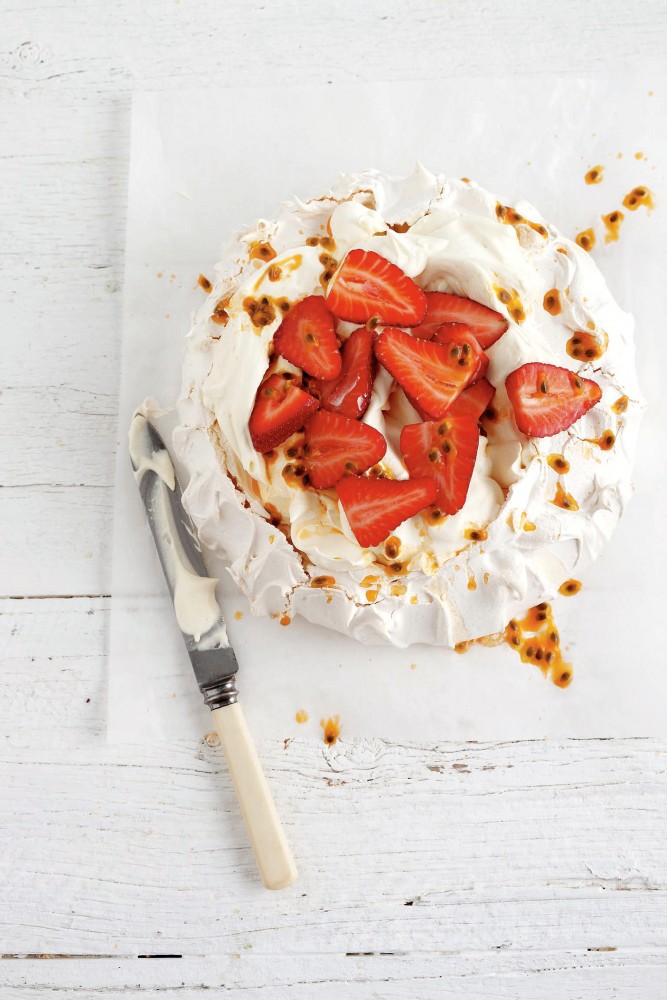 Method
1 Preheat oven to 120°C/100°C fan-forced. Line a large baking tray with baking paper. Draw a 20cm circle onto paper. Turn paper over, marked-side down.
2 Using an electric mixer, beat egg whites and cream of tartar until just-firm peaks form. Gradually add sugar, 1 tablespoon at a time, beating until sugar is dissolved after each addition. Add cornflour, vinegar and vanilla. Beat until just combined.
3 Dollop meringue onto prepared tray to cover the circle. Using a spatula, make furrows up the side of the meringue. Bake for 1 hour 20 minutes or until pavlova is just firm to touch. Turn oven off. Cool pavlova in oven with door ajar.
4 Make Sparkling Strawberries: Place strawberries, wine and icing sugar in a glass bowl. Toss to combine. Set aside for 30 minutes to allow flavours to develop.
5 Make Coconut Cream: Using electric mixer, beat cream, coconut milk and icing sugar together until soft peaks form.
6 Carefully transfer pavlova to serving plate. Dollop with coconut cream. Strain strawberries. Arrange strawberries over cream. Drizzle with passionfruit pulp. Serve.