We're about to show you a Condensed Milk Bread and Butter Pudding recipe that our tastebuds absolutely adore – and we think yours will too!
This favourite is the third in our four part air fryer dessert recipe series. You can view the full series of recipes right here – and, if you're looking for an excellent air fryer for your home, you can shop our range of Philips Air Fryers here.
Prep 45 mins
Cook 45 mins
Serves 4
Condensed Milk Bread and Butter Pudding Ingredients
200g butter brioche loaf
50g dark chocolate, coarsely chopped
395g can sweetened condensed milk
250ml (1 cup) pouring cream
4 eggs
1 teaspoon vanilla essence
Burnt Caramel Sauce Ingredients
110g (1/2 cup) caster sugar
80ml (1/3 cup) double cream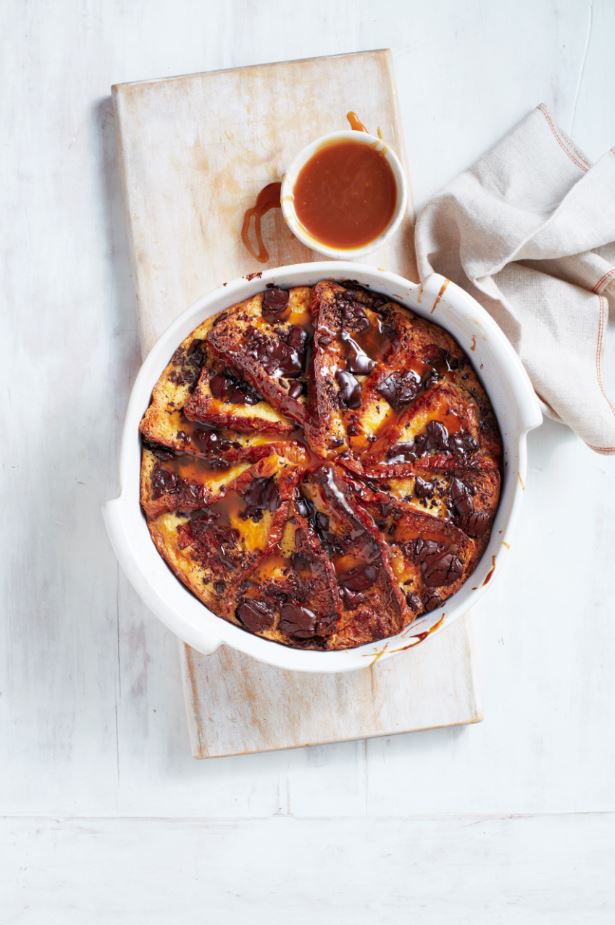 Method
1. Grease a round 1.6L ovenproof dish about 5cm deep. Trim end of the brioche then use a serrated bread knife to cut into 1cm-thick slices.
2. Place the slices in the prepared dish, overlapping in a concentric circle pattern and sprinkling three-quarters of the chocolate between the slices as you go.
3. Whisk together condensed milk, pouring cream, eggs and vanilla in a large bowl. Pour mixture through a fine sieve over bread slices and set aside for 30 minutes to soak.
4. Preheat a 7-litre air fryer to 160°C. Cover the dish tightly with lightly greased foil. Gently place the dish into the air fryer basket. Bake for 25 minutes, remove foil. Sprinkle the remaining chopped dark chocolate over the brioche slices. Bake for a further 20 minutes or until set and golden.
5. Meanwhile, stir sugar and 60ml (1 ⁄4 cup) water in a saucepan over low heat for 5 minutes or until sugar dissolves. Boil, without stirring, for 5 minutes or until deep golden.
6. Remove from heat. Carefully stir in double cream (mixture may split). Set aside for 15 minutes to thicken slightly. Drizzle over the pudding to serve.
More Air Fryer Dessert Recipes
• Inside Out Apple Crumble Recipe
• The Ultimate Chocolate Impossible Pie Recipe
• Passionfruit Self-saucing Pudding Recipe
Plus, shop Philips Air Fryers here!