In this edition of our Savouring Summer recipe series, we'll show you how to cook up Crispy-Skinned Salmon with Green Vegetables & Pesto Dressing!
Prep time: 25 minutes
Cook time: 25 minutes
Rest time: 5 minutes
Serves: 4
Crispy-Skinned Salmon with Green Vegetables Ingredients
4 x 150g pieces salmon
1-2 tablespoons grapeseed oil
1 tablespoon sea-salt flakes
400g baby chat potatoes
100g green beans, trimmed
100g sugar snaps, trimmed
100g snow peas, trimmed
1 zucchini, trimmed and sliced
1 bunch asparagus, woody ends trimmed, halved lengthways
1½ cups pesto dressing
Garlic flowers, to garnish (optional)
Pesto Dressing Ingredients
(Makes 1½ cups)
100g rocket leaves
30g basil leaves
15g parsley leaves
50g parmesan, grated
2 cloves garlic, peeled
40g pine nuts, toasted
250ml extra virgin olive oil
¼ cup lemon juice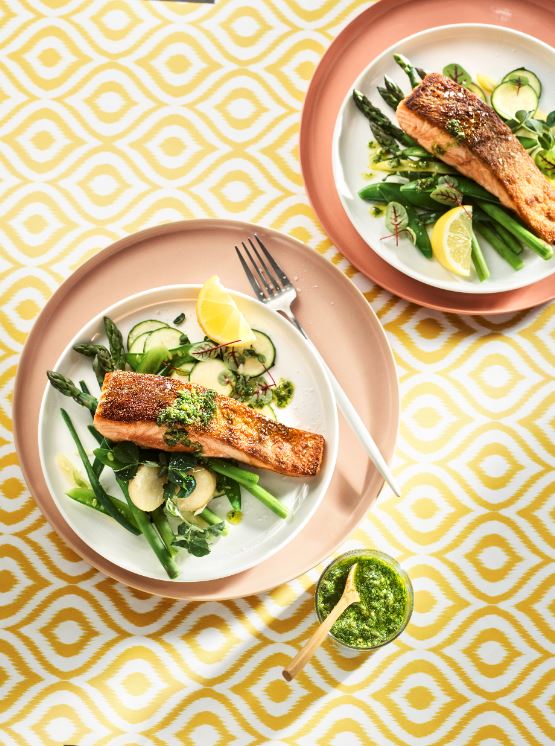 Crispy-Skinned Salmon with Green Vegetables & Pesto Dressing Method
To make the pesto, place rocket, basil, parsley, parmesan, garlic and pine nuts into your Kenwood Multipro Express Weight+ Food Processor and pulse until finely chopped.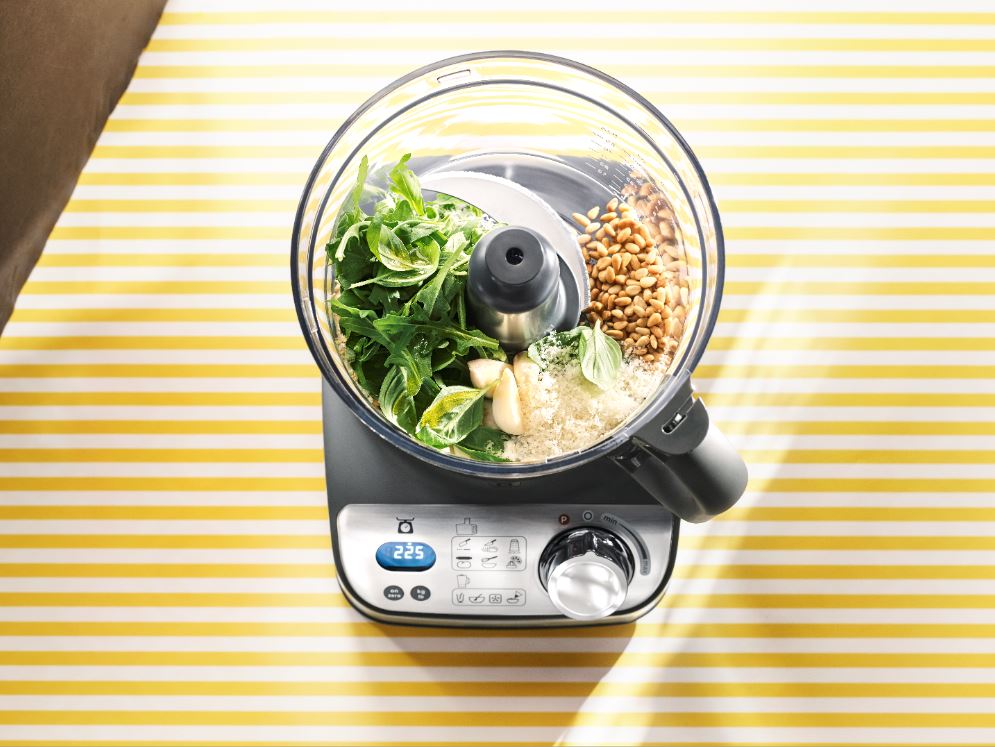 With the motor running, slowly add olive oil until you reach a desired consistency.
Add lemon juice and season to taste. Spoon into a bowl and set aside.
Place the salmon skin-side down onto paper towel for 15 minutes to remove moisture from skin. Add oil to large frypan and place over high heat.
Sprinkle salt over the skin of the salmon pieces and then place it skin-side down in the pan first, and cook for 2-3 minutes on each side or to your liking. Cover and set aside to rest for 5 minutes.
Meanwhile, steam the potatoes for 8 minutes then add green vegetables and steam for 4-5 minutes or until tender. Place a couple of spoons of pesto onto plates, top with steamed vegetables and salmon.
Drizzle with more pesto and olive oil, plus garlic flowers, if desired.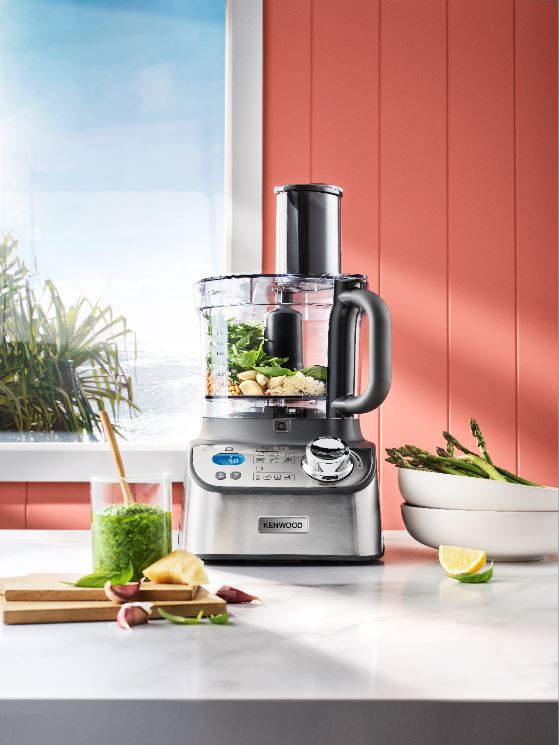 Savouring Summer Recipes
Discover more amazing creations from our Savouring Summer recipe series. It's time to let the sunshine in! 
• Berry, Vanilla & Espresso Cheescake Loaf Recipe
• Homemade Spaghetti Alle Vongole with Chorizo & Chilli Recipe
• Mini Lemon Curd & Meringue Tarts Recipe