Looking for some easy air-fryer recipes? You've come to the right place! Below, you'll find two such recipes that are oh-so-delicious.
The first of these recipes is for Crispy Garlic and Rosemary Air-fryer Vegetable Chips. The second: Crispy Southern Air-fryer Chicken. Put them together and you've got Air-Fried Chicken and Chips!
Cooking with an Air-Fryer Oven
For these easy air-fryer recipes, we should point out that we haven't used just any regular air-fryer.
Instead, we've used the Westinghouse 900mm 12-Function Steam Assist Pyrolytic Oven with AirFry technology. That's right – an oven with air-frying prowess!

Available at Harvey Norman, this Westinghouse innovation is perfect for the following mouth-watering recipes.
Crispy Garlic and Rosemary Air-fryer Vegetable Chips Recipe
Serves 6
Prep 15 minutes
Cook 1 hour (plus standing)
Ingredients
1 large sweet potato, unpeeled
2 large beetroot, washed, unpeeled, trimmed
½ teaspoon salt flakes
Pinch garlic powder
Rice bran oil spray
2 sprigs fresh rosemary, plus extra sprigs to serve
Fresh thyme sprigs, to serve
Method
1. Preheat oven on air-fryer mode to 120C.
2. Using a mandolin on the finest setting, slice sweet potato and beetroot (leaving skin on) into rounds. Combine salt and garlic powder in a small bowl.
3. Place sweet potato slices and 1 rosemary sprig in a large bowl. Generously spray with oil. Using hands, toss until slices are well coated in oil. Arrange in air-fryer basket. Sprinkle with half the salt mixture. Repeat with beetroot and remaining rosemary leaves. Arrange in air-fryer. Sprinkle with remaining and salt mixture (You can slightly overlap chips, but if you have too many, cook in 2 batches). Air-fry for 60 minutes or until chips are dried out and crispy (chips will crisp up after cooling). Stand chips for 15 minutes to dry out. Discard rosemary sprigs. Top with fresh thyme and extra rosemary sprigs to serve.
Cook's note:
Store in an airtight container or serve immediately. Chips are best eaten on the same day they are made.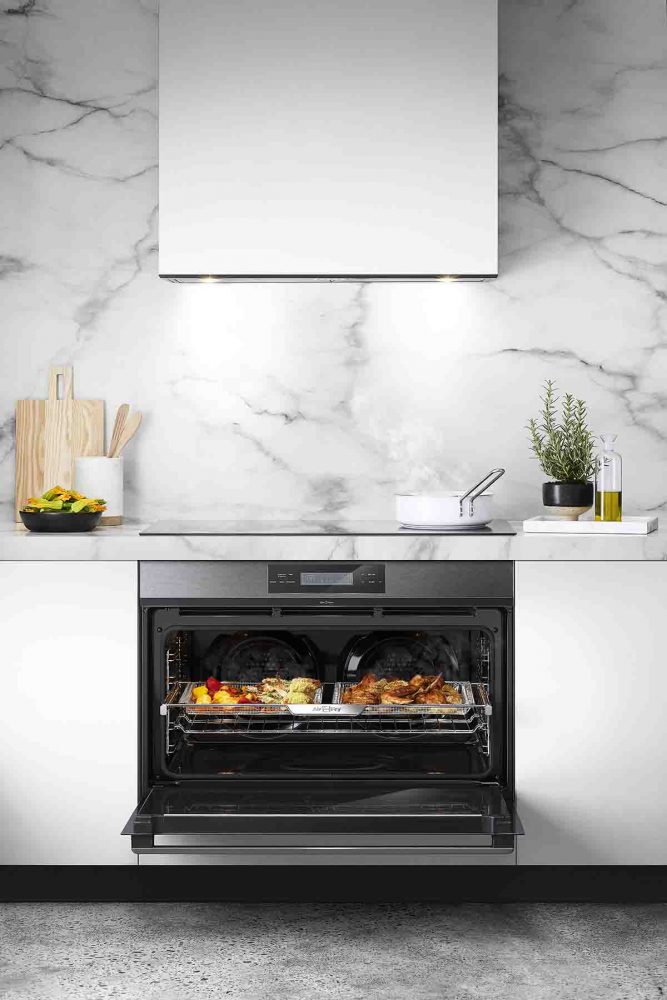 Crispy Southern Air-fryer Chicken Recipe
Serves 6
Prep 10 minutes (plus marinating)
Cook 15 minutes
Ingredients
1kg chicken wings
1 cup buttermilk
1 cup self-raising flour
30g packet taco seasoning mix
Method
1. Place chicken and buttermilk in a bowl. Toss to coat. Cover and chill for 6 hours or overnight.
2. Preheat oven on air-fryer mode to 180C. Combine flour and seasoning mix in a large bowl. Lightly spray air-fryer basket with oil. Working with 1 piece at a time, drain excess buttermilk from chicken then roll in flour mixture to coat all over. Place in basket. Repeat with remaining chicken and flour mixture. Lightly spray chicken with oil. Place basket in oven. Cook for 15 minutes or until chicken is golden and crispy and cooked through.
More Easy Recipes
For more easy recipe solutions, check out some of previous recipe ideas. Prepare for your mouth to water!