It's not a secret that at Harvey's HQ we love coffee, so when Rebecca Cox, editor-in-chief of Super Food Ideas magazine tells us: "A barista worthy brew needn't only be enjoyed as a hot beverage – it can also step up as the centrepiece of classic indulgent desserts" – we can't help but take her up on that offer with this gorgeous tiramisu log recipe!
The Jura Z8 automatic coffee machine from Harvey Norman will really come in handy for this recipe!
Serves 8
Ingredients
½ cup (125ml) strong, freshly brewed espresso, made using a Jura Z8 Automatic Coffee Machine
¼ cup (60ml) Tia Maria liqueur
12 sponge finger biscuits
Mascarpone Liqueur Cream
¾ cup (180ml) thickened cream
1½ tbs caster sugar
250g mascarpone
2 tsp Tia Maria
Chocolate Mousse
1 cup (250ml) thickened cream
100g dark chocolate, melted, cooled
1cm thick brownie, trimmed to fit (see note)
To Serve
1 cup (250ml) cream
1 tsp icing sugar mixture
Dutch cocoa, for dusting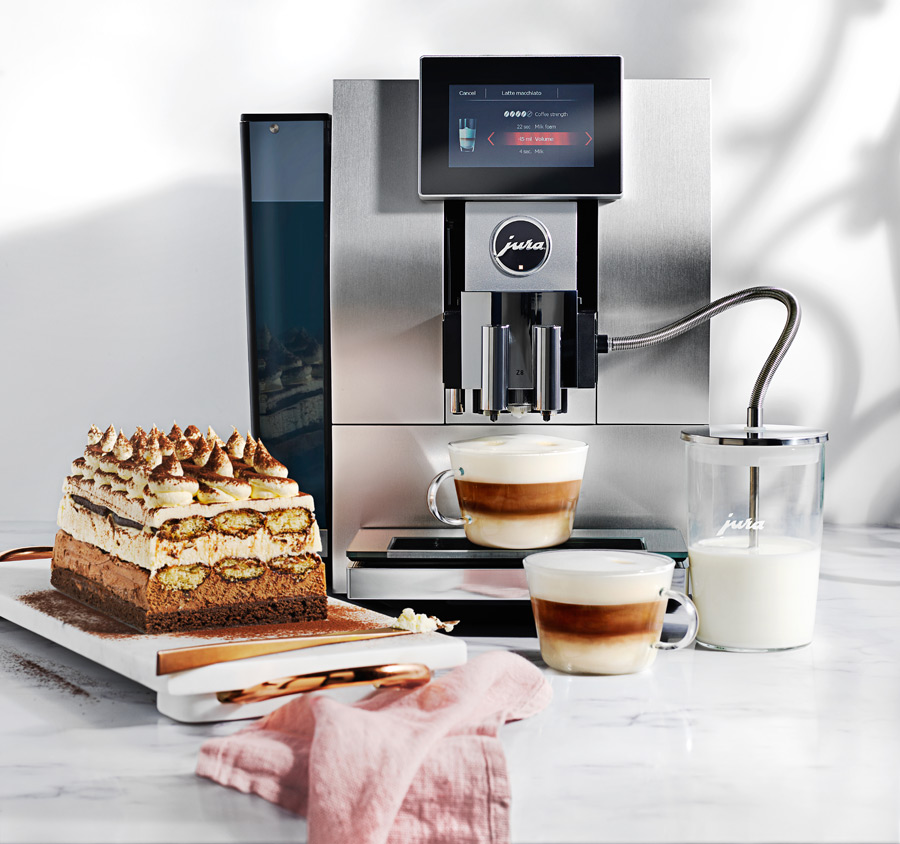 Method
Mascarpone Liqueur Cream
1 Grease and line a 21 x 11cm (top measurement) loaf pan with baking paper.
2 To make mascarpone liqueur cream, place cream and sugar in a bowl of an electric mixer. Beat until soft peaks form. Place mascarpone in a medium bowl and fold in cream and liqueur until combined.
3 Spread one-third cup cream mixture evenly over base of pan.
4 Combine espresso and liqueur in a shallow bowl and dip 6 sponge fingers in mixture. Place over cream mixture, trimming to fit.
5 Top with remaining cream mixture, then dip another 6 biscuits in coffee mixture. Place over cream mixture.
Chocolate Mousse
1 Whip cream in a bowl of an electric mixer until soft peaks form. Whisk in cooled chocolate until combined (see note). Spread over biscuits then gently top with brownie. Cover with plastic wrap and chill overnight.
To Serve
1 Whip cream and icing sugar in a bowl of an electric mixer until firm peaks form. Spoon cream into a piping bag fitted with a plain nozzle.
2 Turn out tiramisu onto a serving plate. Pipe rounds of cream on top and dust with cocoa
Note: When making the chocolate mousse, it is important that the cream and chocolate are at similar temperatures, otherwise the chocolate will set into the cream in chunks. Leave cream at room temperature, while making the tiramisu. We used a packet-mix brownie and baked in a shallow tray. You could also use a store-bought one and trim to fit pan.