Looking for a meal that the whole family will love? These awesome Fish Tacos are your answer. Fun to make and even more fun to eat, Fish Taco Night is about to become the most exciting night of the week!
Serves 4 (3 tacos per person)
Ingredients
12 small soft tacos
700g white fish
2 small avocados
1 tbsp lemon juice
100g mixed baby tomatoes
1 baby cos lettuce
¼ purple cabbage
8 tbsp grated cheese
1 tsp smoked paprika
1 tsp cayenne pepper
1 tbsp olive oil
4 pickles
2 corn cobs
4 tbsp aioli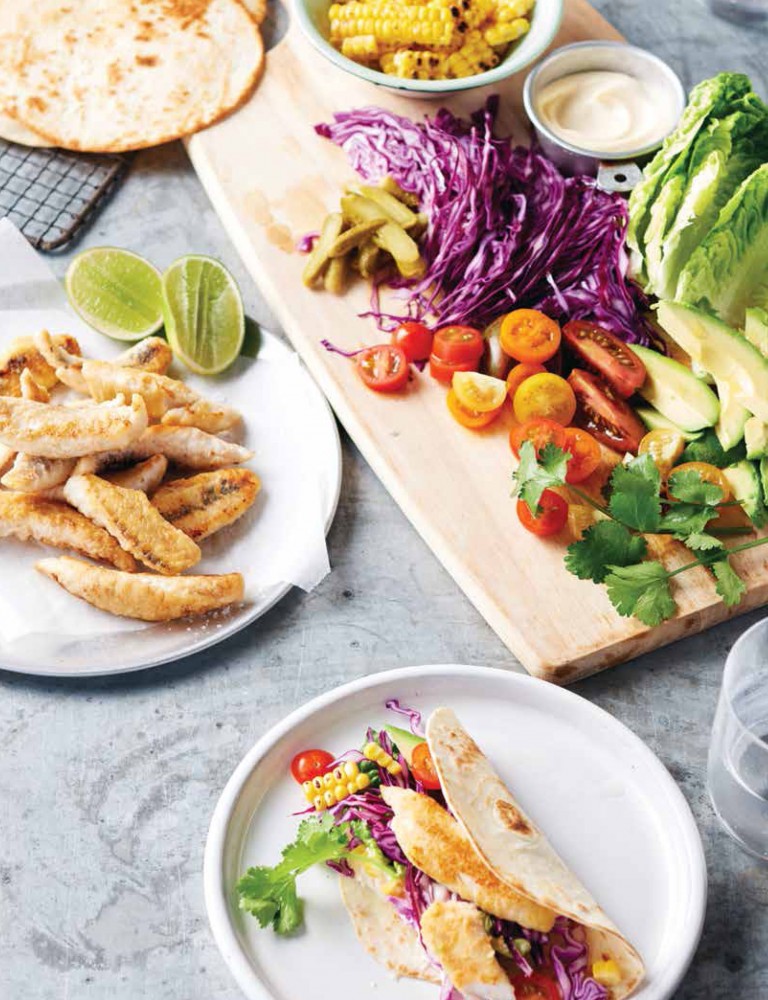 Method
1 Remove the coriander leaves from the stalks. Chop the coriander and set aside.
2 Slice the tomatoes in half.
3 Rinse and dry the cos lettuce. You can serve the cos whole or thinly sliced.
4 Place aioli into a serving bowl.
5 Thinly slice the pickles.
6 Remove the seeds from the avocados, slice into thin wedges.
7 Boil the corn for 5 minutes until tender and set aside.
8 Dice the fish into 1.5cm chunks. Sprinkle the fish with salt, pepper, cayenne and smoked paprika. Drizzle with remaining lemon juice.
9 Place oil into a medium non-stick fry pan. Heat to a medium heat and fry the fish until golden and cooked through.
10 Heat a grill pan to high. Spray with oil and cook soft tacos for 30 seconds each side until coloured, serve on a plate. Place corn onto grill plate and allow to get some colour.
11 Place all bowls of ingredients into the middle of the table and assemble your own tacos.
Kids in the kitchen can:
Pick the coriander sprigs from the stalks
Wash and dry the lettuce
Scoop out the avocado wedges
Make the fish seasoning and toss the pieces of fish into the crumb
Assemble all the ingredients on share plates
Older children (10+) may also slice the tomato
Tools of the Trade
Cook up a storm for the family with Westinghouse's ever-reliable range of ovens – including this Westinghouse 600mm 8-Function Double Oven from Harvey Norman.