On the 5th day of Christmas my true love gave to me… an oh-so-yummy glazed ham!
At Harvey Norman, we're celebrating the 12 Days of Christmas with 12 delicious recipes. On the menu today: Five-Spice Maple-Glazed Ham.
Serves 16.
Prep 20 minutes.
Cook 1 hour.
Ingredients
9kg leg of ham.
70 cloves.
⅔ cup (160ml) maple syrup.
½ cup (110g) firmly packed brown sugar.
1 cup (250ml) orange juice.
3 star anise.
2 cinnamon sticks.
2 teaspoons fennel seeds.
1 teaspoon ground ginger.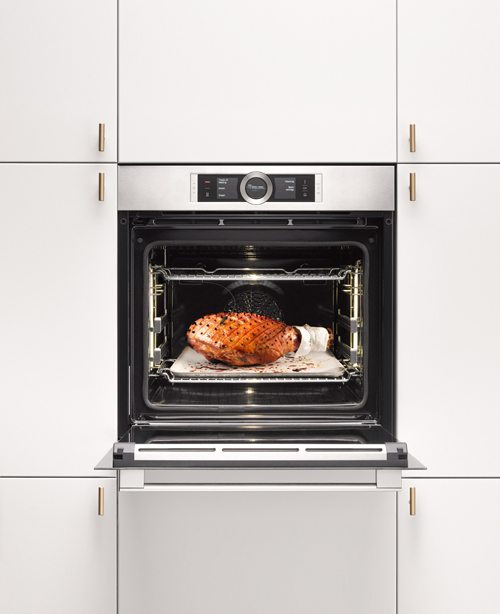 Method
▶ 1.Preheat oven to 180°C using Bosch 4D hot air and steam level 1. Line a large shallow roasting pan with baking paper.
▶ 2. Cut through the rind of the ham about 10cm from the hock end of the leg. To remove the rind, run your thumb gently underneath. Start pulling the rind from the widest edge of the ham, continuing to pull the rind carefully away from the fat up the hock end. Remove completely. Score across the ham in 4cm diamonds, cutting through the surface of the fat, not the meat. Stud the diamonds with cloves.
▶ 3. To make the glaze, stir maple syrup, sugar, juice, star anise, cinnamon, fennel and ginger in a medium saucepan over high heat. Bring to the boil. Reduce heat to medium and cook for 8-10 minutes or until thickened slightly.
▶ 4. Place the ham in the lined roasting pan, covering the hock end with baking paper. Pour over the glaze to coat completely. Roast, uncovered, for 45 minutes or until the ham is browned all over, brushing occasionally with the glaze and rotating the dish if needed during cooking.
▶ 5. Slice to serve.
12 Days of Christmas Recipes
Is your mouth-watering? Celebrate the festive season with our complete 12 Days of Christmas recipes:
▶ Day 1: Coconut and Raspberry Layer Cake
▶ Day 2: Caramel, Hazelnut and Praline Affogato
▶ Day 3: Sparkling Champagne Cocktail with a Grapefruit Twist
▶ Day 4: Mini Chocolate Orange Puddings with Gold Leaf Oranges
▶ Day 5: Five-Spice Maple-Glazed Ham
▶ Day 6: Six Herb, Pea and Avocado Dip with Sliced Radish and Mixed Micro Herbs
▶ Day 7: Lemongrass-Cured Salmon with Coriander Blinis and Lime Crème Fraiche 
▶ Day 8: Fig, Raspberry and Meringue Trifles
▶ Day 9: Sloe Gin Turkish Delight and Coconut Jellies
▶ Day 10: Parmesan and Potato Rösti Nests with Rare Roast Beef
▶ Day 11: Berry, Chocolate and Coconut Ice Cream Log
▶ Day 12: Sour Cherry and Brownie Truffles