A little fruity, a little flaky and a little creamy – this dessert recipe will lend the perfect finishing touch to your next dinner party.
Also, mother's day is less than a month away, why not surprise mum with a tray of these sweet little tarts and to sweeten the deal even further, why not gift her the KitchenAid Artisan Mini Stand Mixer from Harvey Norman
This beautiful recipe can also be found in the May edition of Better Homes and Gardens magazine.
Makes 12
Prep time 40 mins plus 2 hours chilling
Cook time 35 mins
Ingredients
3 sheets good-quality ready-rolled puff pastry
2 egg yolks, lightly beaten
2 tbspn caster sugar
Icing sugar mixture, to dust
Micro herbs, to garnish
Custard Cream
3 egg yolks
¹/³ cup caster sugar
2 tbspn plain flour
1 tbspn cornflour
1¼ cups milk
1 tsp vanilla bean paste
200ml thickened cream, whipped to firm peaks
Blueberry Compote
500g frozen blueberries
½ cup caster sugar
1 tsp vanilla bean paste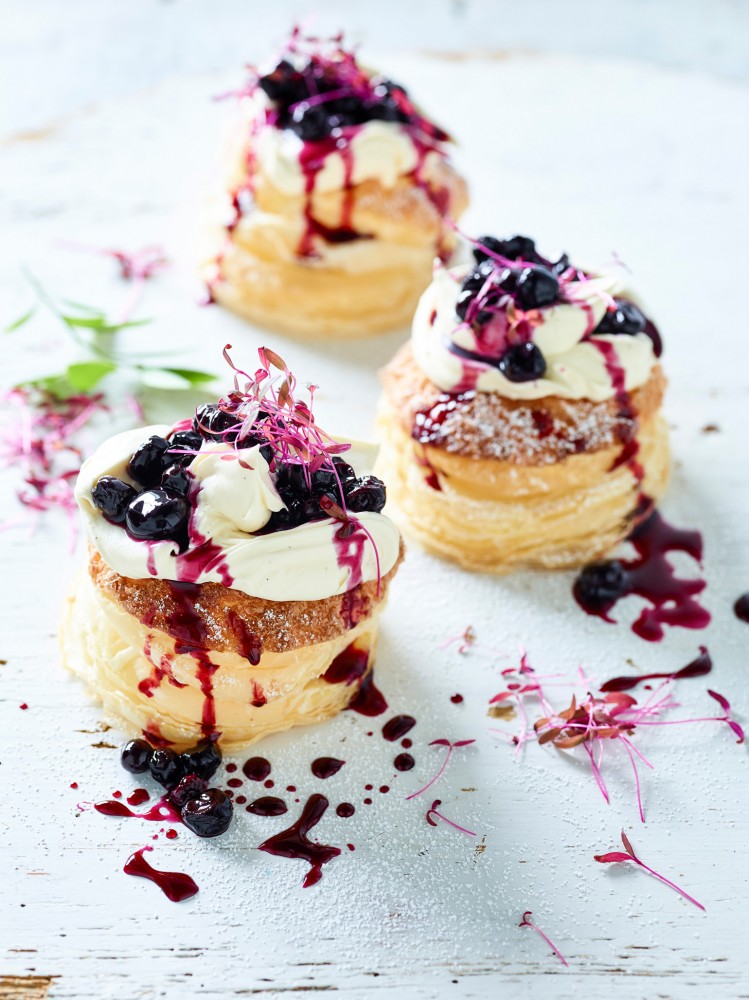 Method
STEP 1 Preheat oven to 180ºC fan forced. Line two oven trays with baking paper. Lay pastry sheets on a flat surface and, using a 10cm round cutter, cut four rounds from each sheet of pastry. Brush rounds with a little beaten
egg yolk and sprinkle with sugar. Transfer to oven tray
and bake for 10 minutes, until puffed and golden. Set aside to cool completely on trays.
STEP 2 Meanwhile, to make custard cream, put egg yolks and sugar in the bowl of an electric mixer, and beat using whisk attachment on high speed until pale and creamy. Add flour and cornflour and whisk to combine.
STEP 3 Heat milk and vanilla in a medium saucepan over low heat until just simmering. Remove from heat, gradually pour over egg mixture, whisking constantly, until smooth. Return to saucepan, increase heat to medium and cook stirring constantly for 8 minutes, until mixture thickens. Transfer to a bowl, press a piece of plastic wrap directly onto surface to prevent a skin from forming. Refrigerate for 1 hour or until cold.
STEP 4 Gently fold whipped cream through chilled custard mixture until combined.
STEP 5 To make blueberry compote. Combine all ingredients in a medium saucepan. Stir over low heat, until sugar dissolves. Increase heat to medium and cook for 10 minutes or until syrupy. Transfer to a bowl and refrigerate for 30 minutes to cool completely.
STEP 6 Put pastry discs on a serving platter, dollop with custard cream, spoon over a little of the blueberry compote allowing syrup to drizzle down the side. Dust with icing sugar. Garnish with micro herbs. Serve immediately with remaining blueberry compote on
the side as desired.