Chef Luke Powell of LP's Quality Meats Restaurant & Bar in Chippendale believes that the key to creating a good roast is the quality of the meat itself. That's why he chooses Borrowdale free range pork to prepare the slow-cooked succulence that is his Italian-style 12-hour porchetta. Hiding a spice mix of garlic, toasted fennel seeds, chilli flakes and fresh rosemary in its centre, the tender pork roll pairs perfectly with garlicy green beans.
Serves 6-8
Ingredients
3kg piece boneless Borrowdale free-range
pork belly
¼ cup fine salt
2 tbs extra virgin olive oil
garlic green beans to serve
chilli to garnish
Spice Mix
50g peeled garlic
25g toasted fennel seeds
15g chilli flakes
15g salt
10g cracked black pepper
5g fresh rosemary leaves
1 tbs extra virgin olive oil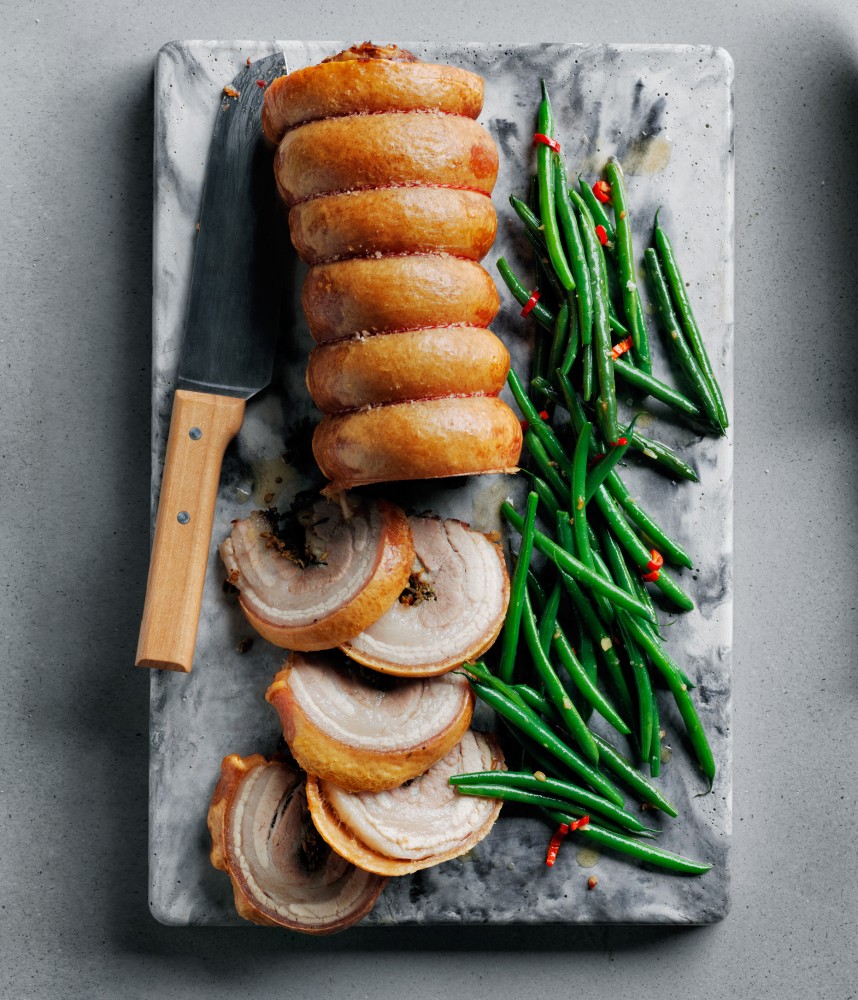 Method
1. Prepare spice mix in a food processor or pound ingredients together in a mortar and pestle until a paste is formed (not too fine). Set aside.
2. Cut one long strip of the pork belly lengthways, about a 5th of the width. Rub spice paste on the ribs side of the belly and place strip in the middle.
3. Carefully roll up the belly into a cylinder, ensuring both edges are meeting. Truss with butcher's twine along the length of the belly to hold it in place.
4. Place the 'porchetta' in a tray that fits and coat skin liberally in the fine salt. This is going to draw out the moisture and dry the skin to achieve a nice, crispy crackle. Leave in salt for 2 hours.
5. Brush the salt off and place the porchetta on a wire rack above a roasting tray in the oven at 70°C for 10 hours.
6. Remove the pork from the oven and preheat to 225°C.
7. Coat the skin of the porchetta in olive oil and, still leaving on the wire rack and roasting tray, place into the oven for about 30-40 minutes. You are only looking for the skin to puff and crackle, so once it is hot and at the desired colour, it is ready. Rest for 20 minutes before slicing. Serve with beans and garnish with chilli.
Kitchen Essential
Luke believes that it's important to treat quality ingredients with respect and cook them with care. He feels that the accuracy of timing and temperature is essential to achieving the desired result, which is why the Neff Combi Steam Oven from Harvey Norman is an essential equipment for everyday home chefs looking for precision and efficiency.