To celebrate the festive season, award-winning pastry chef Lauren Eldridge has created a series of special Christmas desserts to wow family and guests. On today's menu: Gingerbread and Coconut Layered Cake.
Serves 12
Prep time 60 minutes
Cook 45 minutes
Gingerbread Cake Ingredients
810 gm plain flour
5 tsp baking powder
2 tsp fine salt
7 tsp ground ginger
7 tsp ground cinnamon
2 tsp ground cloves
2 tsp nutmeg
1 tsp cardamom
385 gm unsalted butter, at room temperature
335 gm granulated sugar
245 gm dark brown sugar
7 large eggs, at room temperature
540 gm golden syrup
2 ½ tsp vanilla paste
400 gm milk
Shredded coconut, for decorating
3 coconut chocolate truffles, for decorating
Coconut Buttercream Ingredients
6 egg whites
1/2 tsp fine salt
270 gm caster sugar
415 gm butter, softened
105 gm coconut oil, at room temperature (solid)
Gingerbread Biscuit Ingredients
350 gm plain flour
1 tsp bicarbonate of soda
1½ tsp ground ginger
1 tsp cinnamon
¼ tsp cloves
¼ tsp nutmeg
150 gm dark-brown sugar
125 gm unsalted butter, softened
1 egg
80 gm golden syrup
1/2 cup icing sugar
1 tbs hot water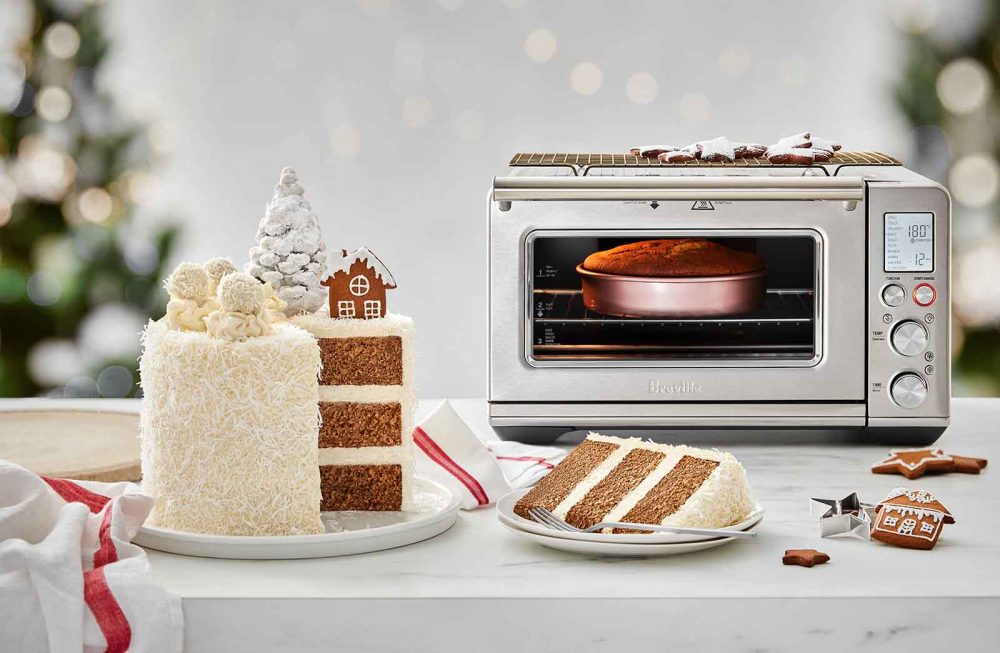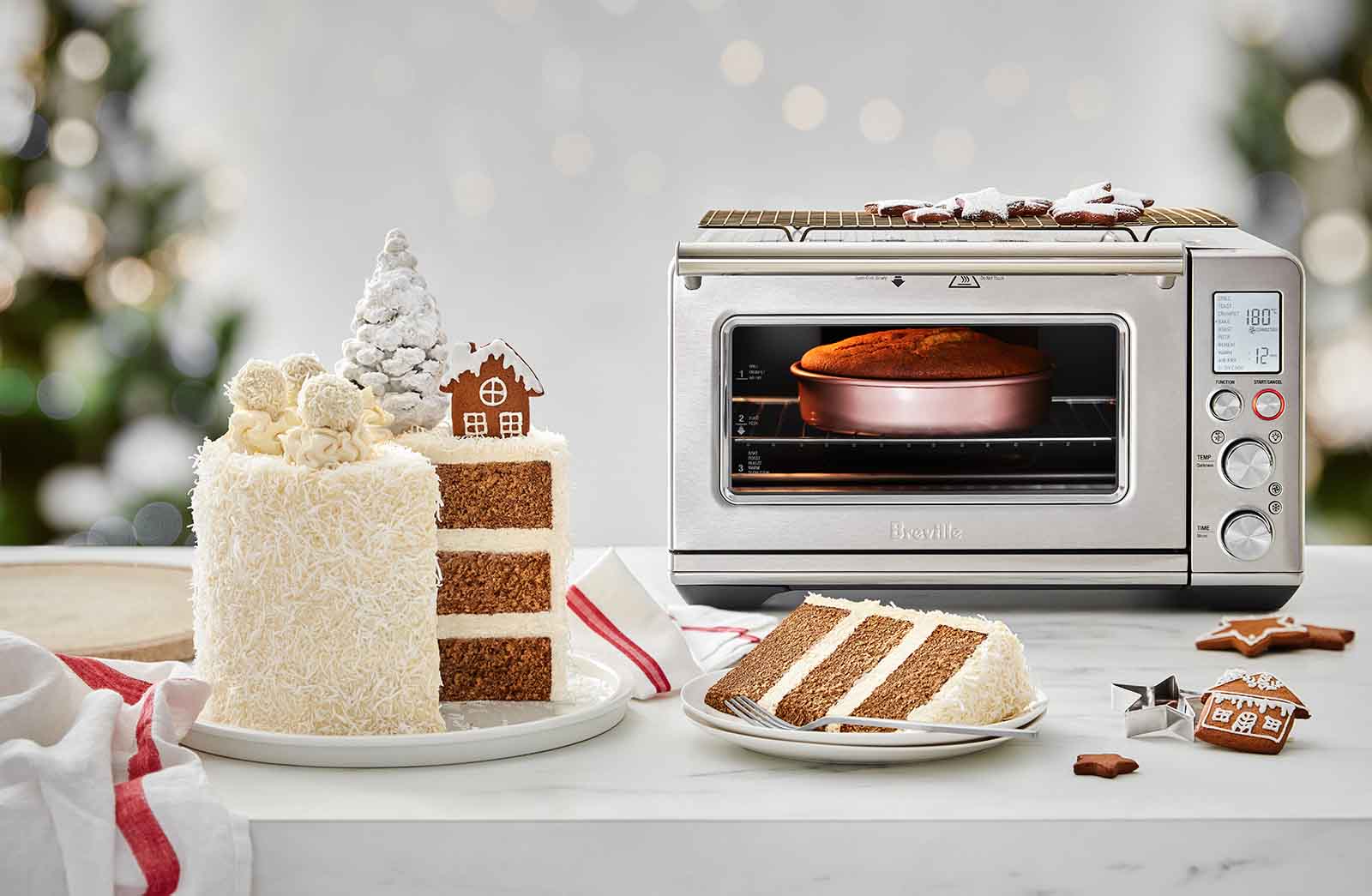 Gingerbread and Coconut Layered Cake Method
1. To make gingerbread cake, preheat oven to 180⁰C fan-forced. Grease three 20cm-round cake tins and line the base and sides with baking paper.
2. In a large bowl, sift together the flour, baking powder, spices and salt. Set aside.
3. Place the butter and sugars in the bowl of a stand mixer fitted with the paddle attachment and beat for 5 minutes or until pale and fluffy, scraping down the sides of the bowl regularly.
4. Add eggs one at a time, mixing well between each addition, then add golden syrup and vanilla and mix until combined.
5. Alternate adding the dry ingredients and milk on low speed, beginning and ending with the flour mix. Mix well with each addition.
6. Divide the cake batter between the three tins. Bake for 35 minutes or until a skewer inserted comes out clean. Stand the cake in the pan for 5 minutes before turning out onto a wire rack to cool. Once completely cool, use a serrated knife to trim the top of the cakes so they are flat.
7. For coconut buttercream, combine egg whites, sugar, and salt in the bowl of a stand mixer and place over a saucepan of simmering water, ensuring bowl does not touch water. Whisk until mixture is just above blood temperature and the sugar has dissolved.
8. Spread 150gm icing onto 2 of the layers and top with the final cake. Place 200gm icing into a piping bag fitted with a star nozzle and set aside. Use the remaining icing to cover the sides and top of the cake. Gently press the shredded coconut into the icing on sides and top of cake.
9. To decorate top of cake, pipe three large rounds of icing and top with the coconut chocolates. Sprinkle over more coconut and add the gingerbread biscuits.
10. Place on the stand mixer fitted with a whisk attachment and whisk for 10 minutes until stiff peaks form and the bottom of the bowl is cool to the touch. Add coconut oil, a tablespoon at a time, whisking well between each addition. Add butter, a tablespoon at a time, scraping down the bowl as needed. Continue whisking until light and fluffy. Store refrigerated if not using immediately, but bring to room temperature before spreading on the cake.
11. To make gingerbread biscuits, sift together flour, bi-carbonate of soda and spices. In a separate bowl, beat together the sugar and butter until pale. Add egg and mix well to combine, followed by the golden syrup. Stir in the flour mixture until a dough forms. Wrap in plastic wrap and store refrigerated for 30 minutes.
12. Preheat oven to 180⁰C and line baking trays with baking paper. Roll the dough between two sheets of baking paper to 5mm thick. Cut out shapes with Christmas-themed cutters, transfer to baking trays and bake for 12-15 minutes. Cool completely. For icing, combine sugar and water in a bowl until smooth, then cover with plastic wrap until ready to use to prevent it drying out. To decorate, spread icing over gingerbread and transfer to a wire rack to set.
Showstopping Christmas Desserts
Discover more showstopping Christmas dessert recipes created by Lauren Eldridge!
► Chocolate Truffle Christmas Wreath
► Brandy and Vanilla Croquembouche
► Pavlova Stack with Peaches and Almond Praline
Summary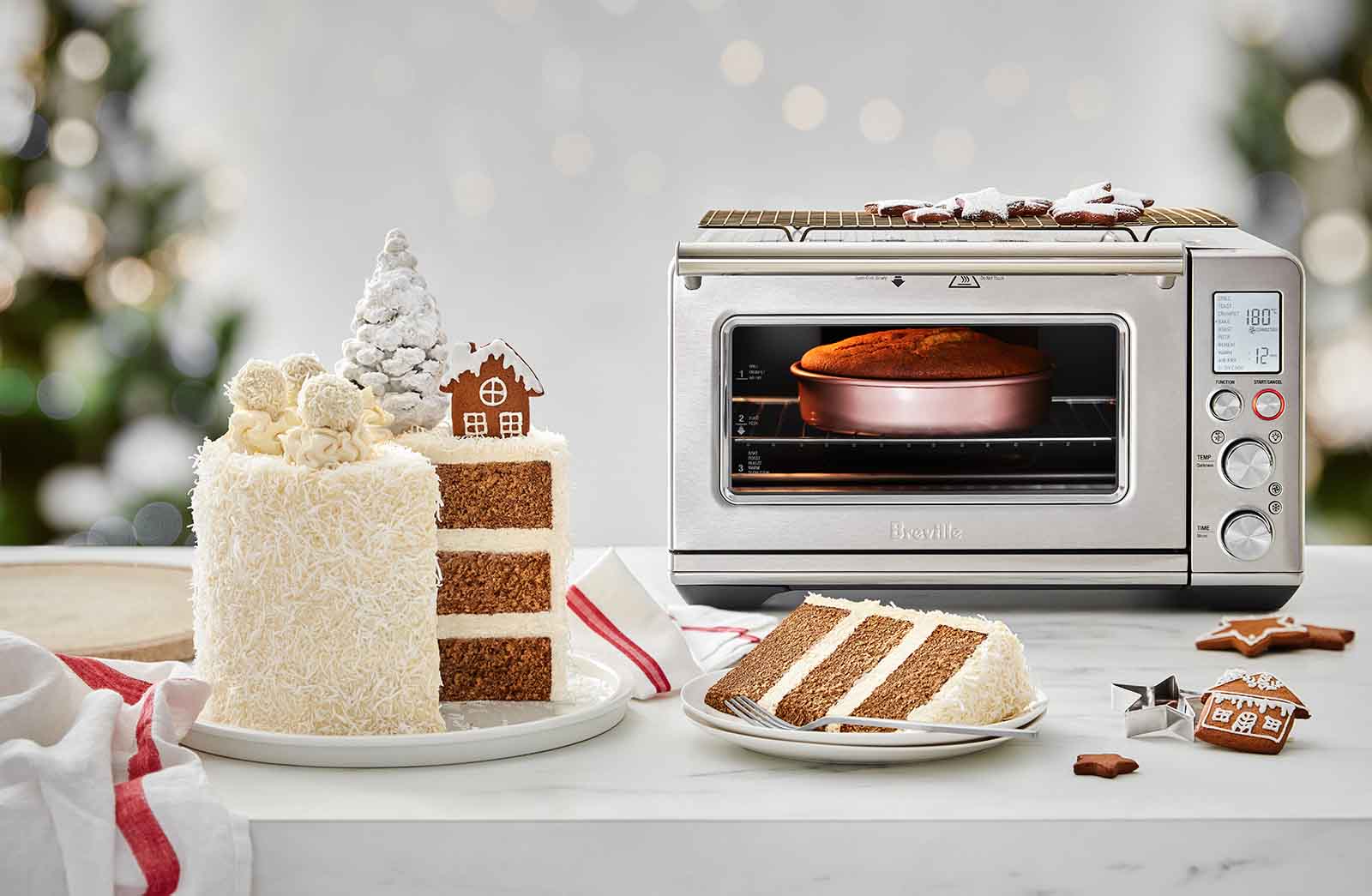 Recipe Name
Gingerbread and Coconut Layered Cake
Author Name
Published On
Preparation Time
Cook Time
Total Time
Average Rating





Based on 1 Review(s)