Get ready to entertain this Christmas with our six part Christmas recipe series…
In this post, we'll show you how to make a superb Gingerbread Cake with Spiced Rum Buttercream!
Serves 16
Prep time 2 hrs
Cook 1 hr (plus cooling, chilling)
Gingerbread Cake Ingredients
375 gm unsalted butter, coarsely chopped
375 gm (1¼ cups) treacle
1¾ cups dark muscovado sugar
3¾ cups plain flour
2 tbsp ground ginger
3 tsp ground cinnamon
1 tsp ground nutmeg
3 eggs
450 ml milk
3 tsp bicarbonate of soda
Spiced Rum Meringue Buttercream Ingredients
2 cups caster sugar
8 eggwhites
450 gm unsalted butter, chopped, at room temperature
¼ cup spiced rum, plus ½ cup extra for brushing
To Decorate
¾ cup dulce de leche
½ tsp sea salt flakes
6 ripe figs, sliced
1 pomegranate, halved and seeds removed
125 gm blackberries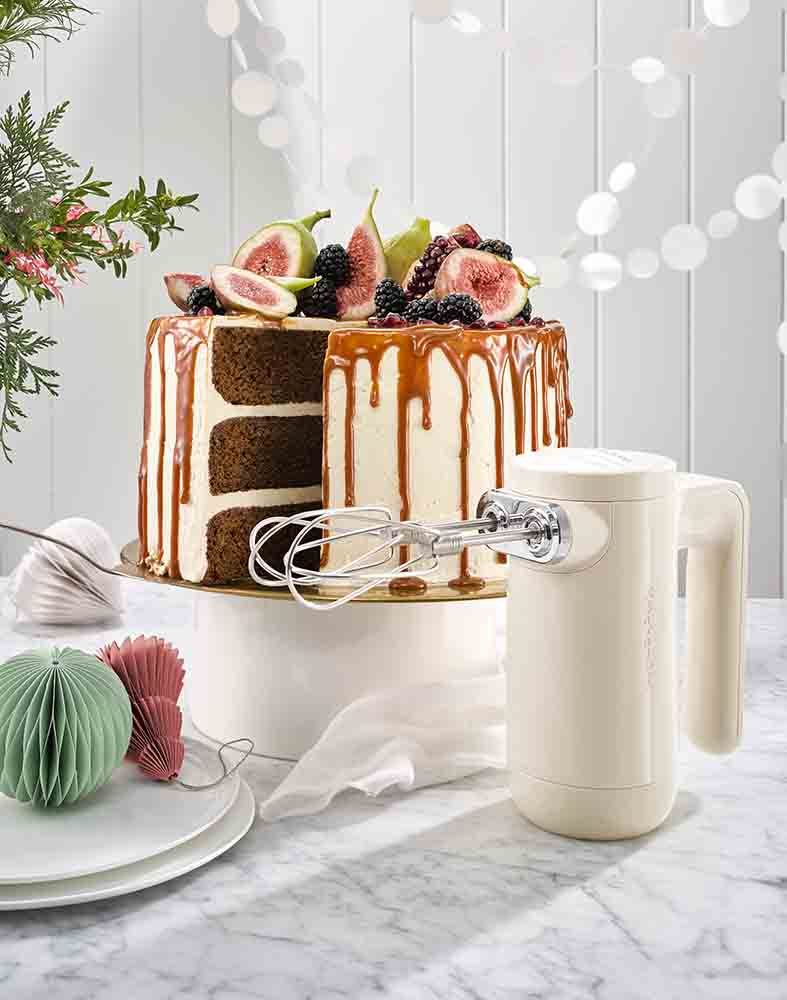 Method
1) Preheat oven to 160°C (140°C fan-forced) and grease and line three 20cm-diameter cake tins with baking paper.
2) For gingerbread cake, stir butter, treacle and sugar in a saucepan over medium heat until sugar dissolves. Set aside and cool for 10 minutes. Sift flour and spices into a bowl. Pour in syrup mixture and eggs. Using KitchenAid 7-speed Cordless Hand Mixer, beat on medium speed to combine. Heat milk in a saucepan over low heat to just below simmering point, remove from heat and add bicarbonate of soda. Beat into batter on medium speed, until smooth. Divide batter evenly between prepared cake tins and bake for 40 minutes or until a skewer inserted into the centre comes out clean. Cool in the tins (5 minutes), then turn out onto a wire rack to cool completely.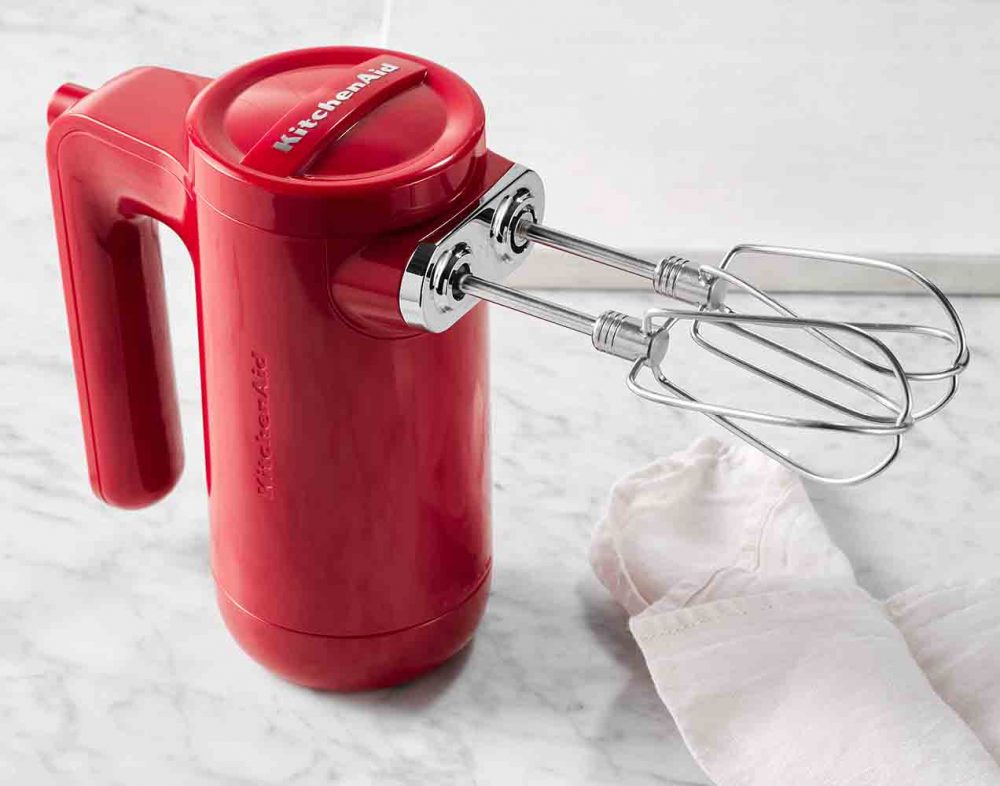 3) For buttercream, gently whisk sugar and eggwhites in a heatproof bowl over a saucepan of simmering water until the sugar has dissolved and the mixture is slightly warm to touch. Remove from the heat. Using KitchenAid 7-speed Cordless Hand Mixer, beat on high speed until the mixture triples in volume, is cool to touch and forms stiff glossy peaks (about 8 minutes). Beat in butter in three batches until smooth, then beat in rum to combine. Cover and set aside in a cool place.
4) To assemble, place one cake on a cake stand or serving plate, brush with 2 tbsp of extra rum, spread with a fifth of buttercream, then top with another layer of cake. Continue layering, finishing with a layer of buttercream, then spread remaining buttercream around the sides of cake with a palette knife to neaten. Refrigerate for 1 hour to set.
5) Place dulce de leche into a bowl and whisk with salt to loosen to drizzle consistency. Pour half over top of cake, spreading with the back of a spoon. Use a squeeze bottle to pipe drips of remaining caramel down the sides. Decorate top with figs, pomegranate and blackberries and serve, cut into wedges.
Tip The gingerbread cake can be baked up to 3 days ahead. The ginger flavour will deepen and improve after a couple of days.
Christmas Recipe Series
► Cucumber and Finger Lime Gin Frappé + White Peach Aperol Spritz
► Salmon and Avocado Roulade with Wasabi Cream
► Grilled Lobster and Steamed Kipfler Salad with Furikake-lime Mayonnaise
► Gingerbread Cake with Spiced Rum Buttercream
► White Chocolate and Berry Pavlova Wreath