Full of broccoli, baby spinach and kale, this silky smooth soup is made even more flavoursome with the inclusion of rich coconut milk and chilli-coated haloumi croutons. Achieve the perfect consistency with your KitchenAid Pro Line Blender.

Serves 4
Prep 15 minutes (plus standing)
Cook 50 minutes
Ingredients
2 tablespoons extra virgin oil
1 brown onion, chopped
2 garlic cloves, crushed
1 sebago potato, peeled, chopped
1 litre chicken stock
1 head broccoli, stem and florets roughly chopped
60g baby spinach, plus extra to serve
2 stalks kale, stems removed, leaves roughly chopped
250g haloumi, cut into cubes
1 long red chilli, seeded, finely chopped
1/4 cup coconut milk
Fresh flat-leaf parsley leaves, to serve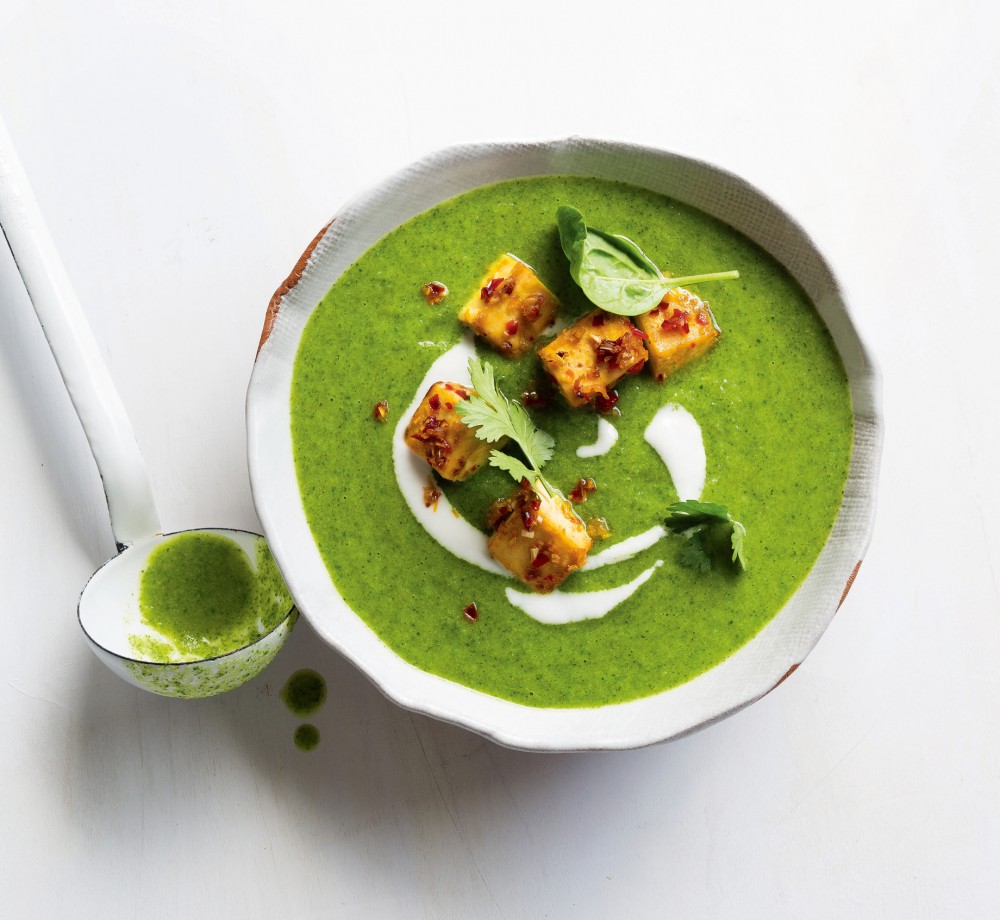 Method
1 Heat half the oil in a large saucepan over medium-high heat. Add onion. Cook, stirring for 5 minutes or until softened. Add garlic. Cook for 1 minute or until fragrant. Add potato. Cook, stirring for 2 minutes. Add stock. Increase heat to high. Cover. Bring to the boil. Reduce heat to low. Simmer for 15 minutes.
2 Add broccoli to soup. Simmer, covered, for a further 10 to 15 minutes or until vegetables are tender. Add spinach and kale. Cook for 2 to 3 minutes or until wilted. Remove from heat. Stand for 5 minutes.
3 Blend soup, in batches until smooth. Return to pan over low heat. Season with salt and pepper. Cook, stirring occasionally, for 5 minutes or until hot.
4 Meanwhile, heat remaining oil in a large frying pan over medium-high heat. Cook haloumi, turning, for 3 to 4 minutes or until golden all over. Add chilli. Cook, tossing, for 1 minute or until haloumi is well browned. Divide soup among serving bowls. Drizzle with coconut milk. Top with haloumi mixture, extra baby spinach and parsley. Serve.