Get ready to entertain this Christmas with our six part Christmas recipe series…
Now, it's time for the main course! A recipe for Grilled Lobster and Steamed Kipfler Salad with Furikake-lime Mayonnaise that your guests are simply going to love.
Serves 4
Prep time 35 mins
Cook 15 mins
Grilled Lobster and Steamed Kipfler Salad Ingredients
4 uncooked lobster tails (about 200 gm each)
300 gm baby kipfler potatoes, scrubbed, cut into 1cm-thick slices
1 tbsp chilli oil, plus 1 tsp extra
20 gm butter, melted
2 red radishes, cut into julienne
1 tbsp mayonnaise
4 thin lime wedges, to serve
Shiso cress and micro-coriander, to serve
Furikake-lime Mayonnaise Ingredients
¾ cup mayonnaise
2 tsp furikake, plus extra to serve (see note)
2 tsp finely grated lime zest
1 tbsp lime juice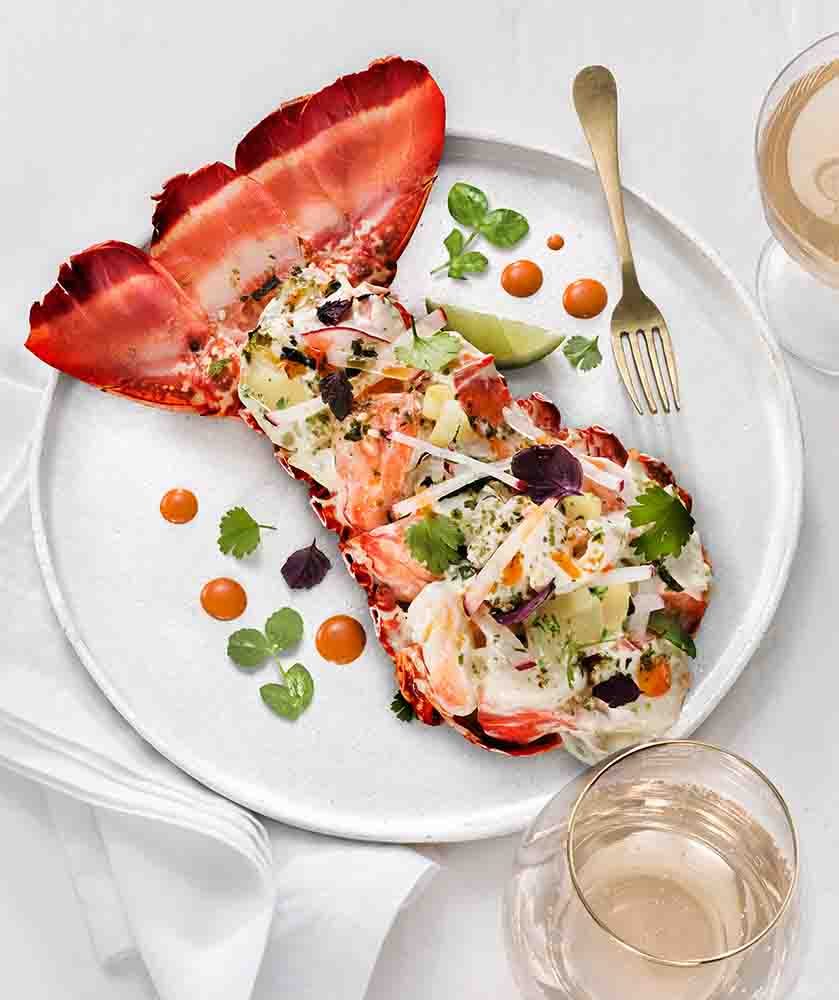 Method
1) Place the deep pan into the Morphy Richards Multifunction Cooking Pot and pour water into the pan to the steam level indicated and bring water to the boil on high. Skewer lobster tails to prevent from curling up while cooking.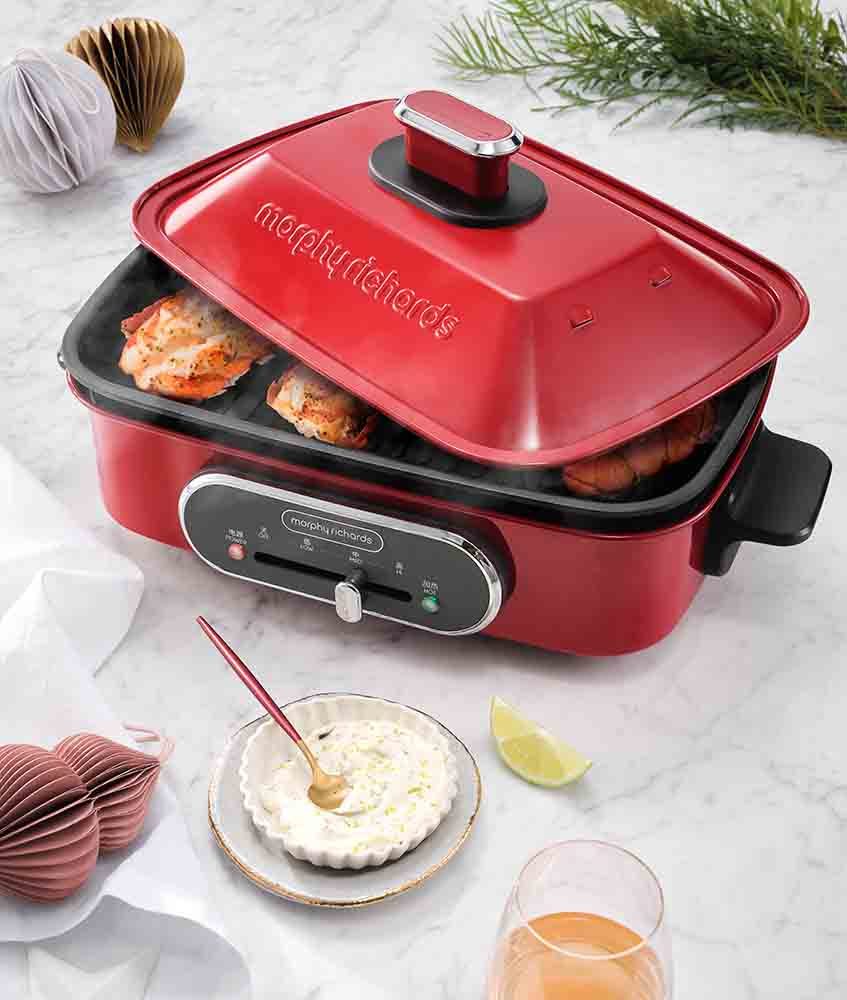 2) Place lobster tails onto steam rack and steam on medium heat until lobster is almost cooked through (8 minutes).
3) Refresh lobster in iced water to cool. Remove lobster meat from shells by cutting down either side of the flat belly with kitchen scissors. Remove cut section of shell and gently prise flesh away a section at a time and reserve shells for serving.
4) Meanwhile, steam potato slices on steam rack on high, until tender (10 minutes).
5) Place the grill tray attachment onto the Morphy Richards Multifunction Cooking Pot base and preheat on medium. Thickly slice lobster meat and toss in combined chilli oil and butter. Sear lobster slices on the grill for 30 seconds each side, basting with the chilli oil mixture.
6) For furikake-lime mayonnaise, whisk all ingredients together in a bowl. Add lobster meat and steamed potatoes and gently toss to coat.
7) Arrange lobster shells on serving plates and fill with lobster mayonnaise mixture, then scatter over radishes. Whisk extra chilli oil into 1 tbsp mayonnaise and pipe droplets of chilli mayonnaise onto plate around lobster. Garnish with sisho cress and micro-coriander and serve with lime wedges.
Note Furikake, a rice seasoning, is available from Japanese grocers and health-food shops.
Christmas Recipe Series
► Cucumber and Finger Lime Gin Frappé + White Peach Aperol Spritz
► Salmon and Avocado Roulade with Wasabi Cream
► Grilled Lobster and Steamed Kipfler Salad with Furikake-lime Mayonnaise
► Gingerbread Cake with Spiced Rum Buttercream
► White Chocolate and Berry Pavlova Wreath