Snags and cutlets are great barbecue staples but if you're after something a little different then these salmon kebabs with a creamy yoghurt based sauce is a definite winner.
Ingredients
750 g boneless skinless salmon fillets, cut into 3cm cubes
½ tsp dried chilli flakes
2 tbsp olive oil
Cracked black pepper, to taste
8 metal skewers
4 small zucchini
lemon wedges, to serve
fresh dill sprigs, to garnish
Dill Sauce
200 g tub Greek-style natural yoghurt
1 tbsp lemon juice
2 tbsp finely chopped fresh dill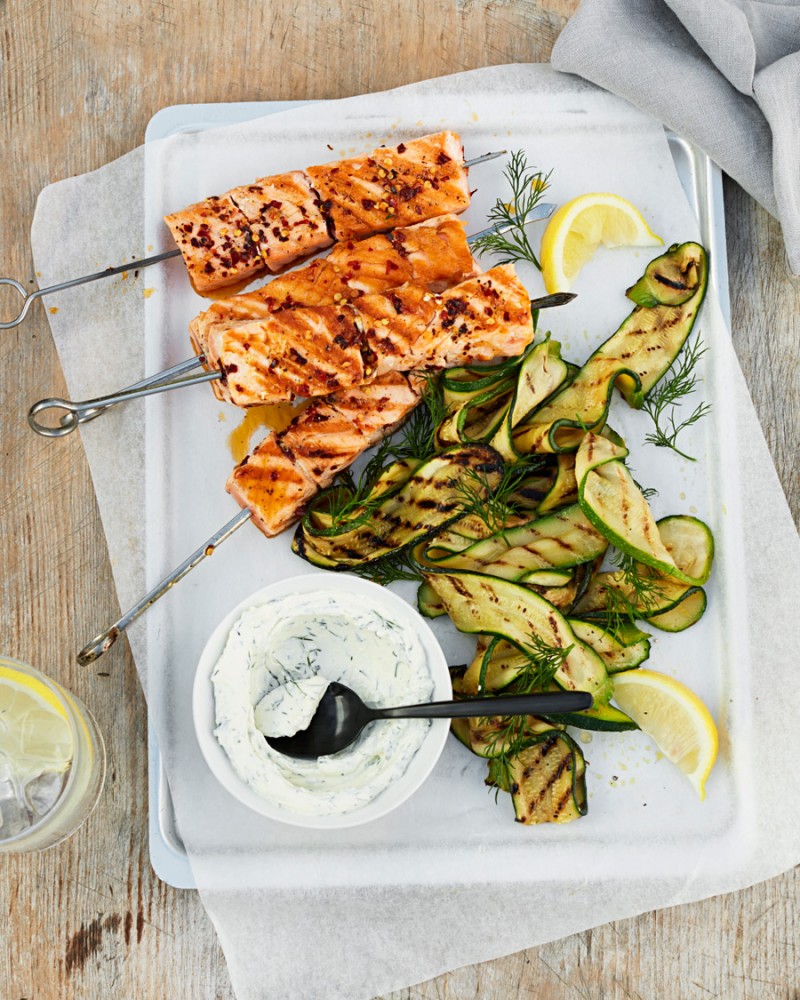 Method
1 Combine salmon, chilli and half the oil in a large bowl. Season with pepper. Toss to coat. Thread four pieces of salmon onto each skewer. Set aside.
2 To make dill sauce, combine all ingredients in a small bowl. Whisk well.
3 Using a mandolin, slice zucchini lengthways into long ribbons, about 3mm thick. Toss in remaining oil in a medium bowl.
4 Heat a large, lightly oiled grill plate over a medium to high heat. Add zucchini in three batches. Cook for about 1 minute on each side, or until just tender. Remove. Cover to keep warm.
5 Add kebabs to same hot grill plate. Cook for about 6 to 8 minutes, turning occasionally, or until cooked to your liking.
6 Serve kebabs with zucchini and lemon wedges. Drizzle with dill sauce. Garnish with dill sprigs.
Tools of the Trade
It's almost spring/summer and that means it's almost barbecue season. Why not make this the year when you replace your rusty old BBQ with a high-performing one from Harvey Norman?
We love the Masport Ambassador 6-Burner BBQ.