You had me at hazelnut and honey! But then caramel, pears, cinnamon and star anise got invited to the party and now it's a true celebration of winter flavours. Once you've tried it, you'll agree that this is the ultimate dessert and the perfect sweet ending to any dinner party.
Serves 16-20
Ingredients
400 g self-raising flour, sifted
200 g hazelnut meal
400 g softened butter
440 g caster sugar
150 g honey
8 eggs
½ tsp sea salt
800 g crème fraiche
600 ml thickened cream
Caramel Pears
750 g caster sugar
250 g honey
3 each of cinnamon sticks and star anise
6 sprigs thyme
8 packman pears, peeled, cored and kept whole
200 ml thickened cream
25 gm butter
1/2 tsp sea salt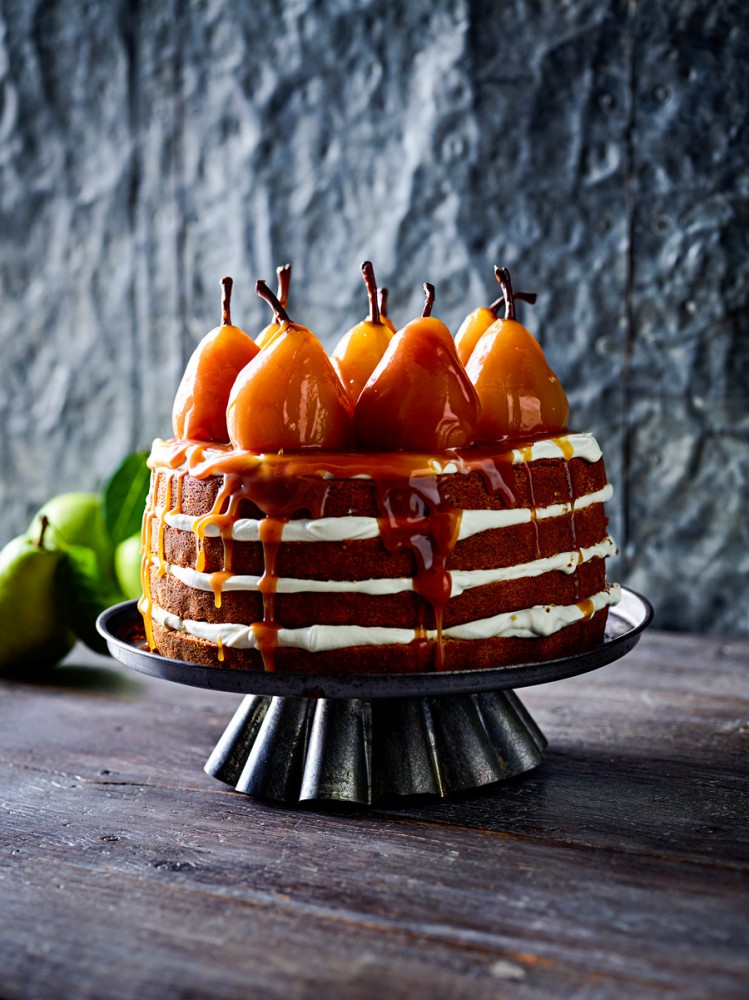 Method
1 For spiced caramel pears, combine sugar, honey, spices, thyme and 1.5 litre of water in a large saucepan over medium-high heat.  Stir occasionally until sugar has dissolved, then simmer gently for 15 minutes to allow flavours to develop.
2 Add pears to poaching syrup, bring back to the simmer, top with a round of baking paper and a small plate to ensure pears are fully submerged. Reduce heat to low and simmer for 40– 50 minutes or until pears are tender.
3 Transfer pears to a bowl and strain half poaching syrup over pears and let cool in the syrup (3-4 hours).  Strain the remaining syrup into a large deep saucepan, then simmer over medium- high heat for 18- 22 minutes until mixture turns to caramel. Remove from the heat, carefully add cream and butter and stir to combine, then set aside to cool.
4 Preheat oven to 160C.  Grease two 25cm-diameter round cake pans and line with baking paper.
5 Combine flour and hazelnut meal together in a medium bowl and whisk to combine.
6 Beat butter, sugar, honey and salt in an electric mixer for 4-5 minutes until pale and fluffy.
7 Add eggs, one at a time, beating well between additions until all incorporated.
8 Add flour mixture and 300 g of crème fraiche in alternating batches.
9 Divide batter between tins, then bake for 55 minutes – 1 hour or until centre springs back when gently pressed. Rest in tins for 15 minutes then invert onto a wire cake racks to cool completely.
10 Whisk remaining crème fraiche, cream and 60ml (1/4 cup) caramel in an electric mixer for 2-3 minutes until firm peaks form, then refrigerate until ready to assemble.
11 To serve, cut each cake in half horizontally to form four layers. Place one layer of cake on a serving plate, brush with a little reserved poaching syrup and spread with one quarter of the crème fraiche mixture. Repeat with remaining cake layers, syrup and crème fraiche mixture. Top cake with pears and drizzle with caramel and serve.
Cook's Note: pears and caramel can be made a day ahead and stored in the fridge. Bring the caramel to room temperature before using.
Coffee and cake, anyone?
Serving coffee with your cake? The Breville Precision Brewer Thermal from Harvey Norman will come in handy with its multiple coffee modes, dual filter and gold standard cup option.