In this editions of our Savouring Summer recipe series, we'll show you how to make your very own Homemade Spaghetti Alle Vongole with Chorizo & Chilli!
Prep time: 30 minutes
Chill time: 30 minutes
Cook time: 20 minutes
Serves: 4-6
Pasta Ingredients
450g type 00 flour, plus extra for dusting
4 extra-large eggs (minimum 700g)
3 extra-large egg yolks
Pinch of salt
1-2 tablespoon water, chilled
Semolina (for dusting)
Sauce Ingredients
1 tablespoon olive oil
200g chorizo, finely chopped
2 eschalot, chopped
4 cloves garlic, crushed
1 long red chilli, finely chopped, plus extra to garnish
350ml dry white wine
2kg purged littleneck clams
60g butter, chopped
Micro herbs, to garnish (optional)
Lemon wedges, to serve (optional)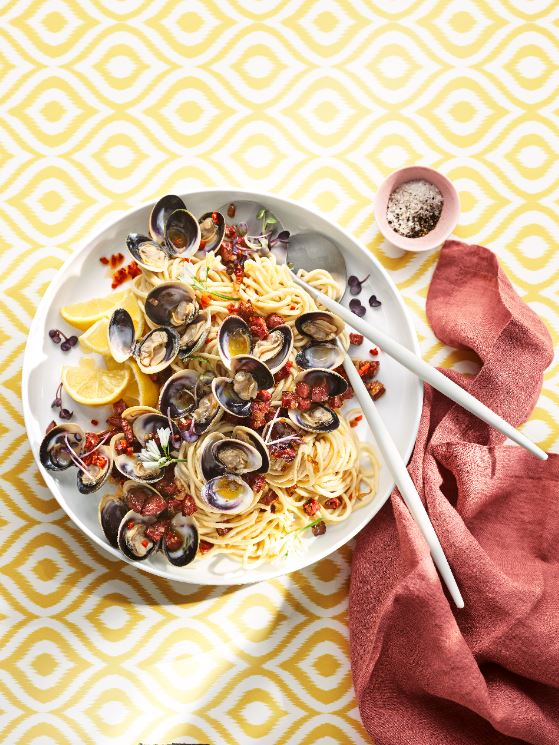 Homemade Spaghetti Alle Vongole with Chorizo & Chilli Method
To make the pasta, add all pasta ingredients to the bowl of your KitchenAid Artisan Stand Mixer.
Using the dough hook, bring ingredients together on the lowest setting. Increase speed by one or two settings and knead dough for about 3-4 minutes. Add a little water if you need, until mixture forms into a smooth round ball. Transfer to a kitchen bench dusted with flour and shape into a ball.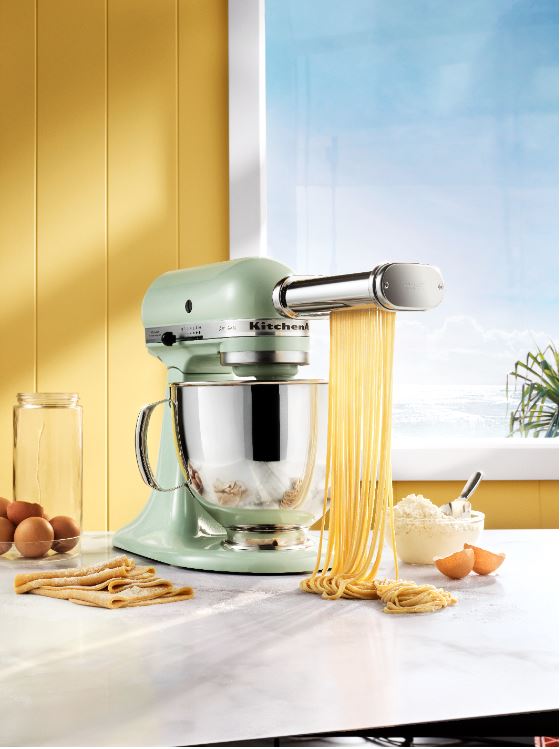 Cover dough and chill for 30 minutes.
Bring a large stock pot of salty water to the boil.
Divide the dough into 4 even pieces. Follow manual instructions on how to prepare dough for spaghetti, dusting pasta dough and attachments well with flour before passing through pasta roller and spaghetti cutter attachment. Toss spaghetti strands in semolina.
Cook pasta in two batches for 3 minutes or until al dente. Drain and reserve ½ cup of cooking water. Wipe the pot clean.
To make the sauce, heat oil in a large stock pot over medium heat and add chorizo and eschalot, cooking for 2-3 minutes until golden and crispy. Add garlic and chill. Cook for 30 seconds until fragrant.
Add wine and bring to the boil. Add clams, toss and cover with lid. Cook for 5-6 minutes until clam shells have opened.
Toss through butter and cooked pasta until some of the juices are absorbed. Add a little pasta water if looking dry. Season to taste.
Serve garnished with herbs, extra chopped chilli and side of lemon wedges, if desired.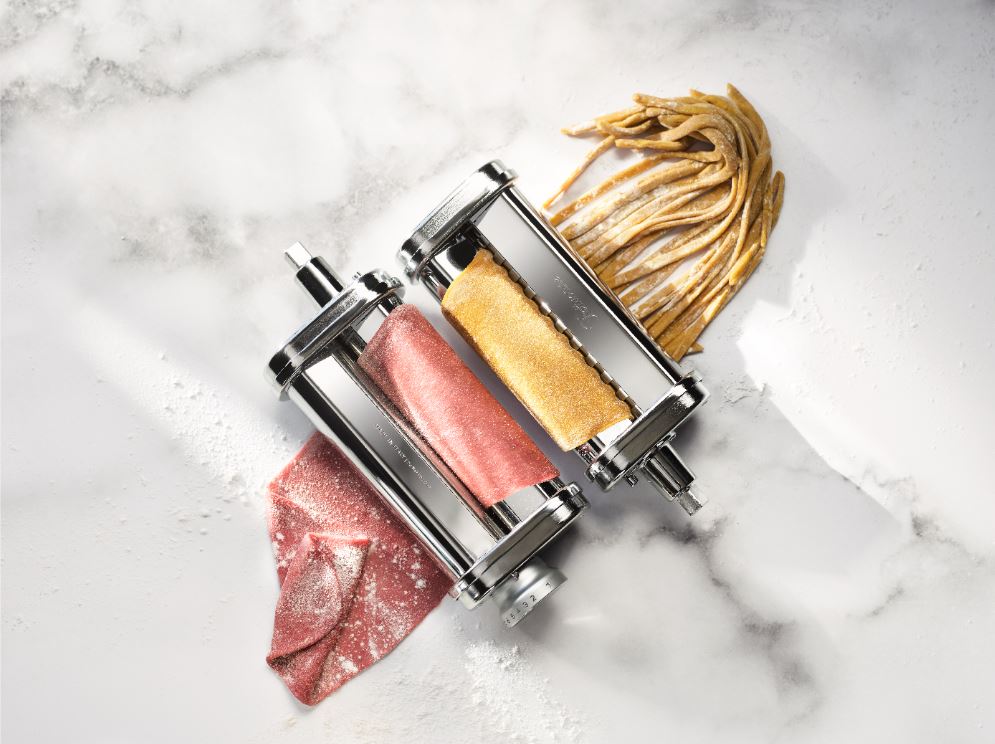 Savouring Summer Recipes
Discover more amazing creations from our Savouring Summer recipe series. It's time to let the sunshine in! 
• Berry, Vanilla & Espresso Cheescake Loaf Recipe
• Crispy-Skinned Salmon with Green Vegetables & Pesto Dressing
• Mini Lemon Curd & Meringue Tarts Recipe